The Xiaomi M365 was launched in 2017 and is still one of the best bangs for the buck scooters available. With a large owner base, this is the best scooter to customize with a sea of aftermarket parts.
Check out our detailed Xiaomi M365 review below:
Xiaomi M365 Review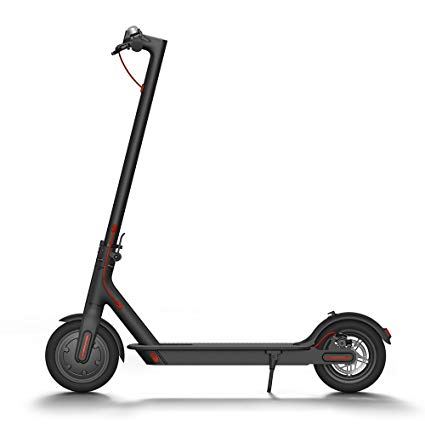 Xiaomi m365
Top Speed
15.5 mph
25 kph
Range
18 mi
30 km
Charging Time
5 hrs
 
Weight
26.9 lb
12.2 kg
Motor (Single)
250W
500W (Max)
Battery
42V
280 Wh
Tire Diameter
8.5 in
3.4 cm
Load Capacity
220 lb
100 kg
If you live anywhere near a major metropolitan area, chances are you've seen a Xiaomi M365 scooter parked on a corner or being ridden around town. 
That's because two of the major scooter rental companies, Bird, Lyft and Spin, have used these M365 model scooters as their model of choice. This should be a good indicator that these scooters are easy to operate.
If that isn't praised enough, the M365 scooter has also won numerous design awards, including the prestigious Red Dot "Best of the Best" award, 2017 Good Design – Best 100, and the 2017 iF Design award. 
The popularity of this award-winning scooter is due to its focus on elements designed to maximize the rider experience.
Unlike scooters that choose to focus solely on safety, or speed, or gadgets and gizmos, the M365 has embraced the entirety of the design process and succeeded in creating a scooter that is an overall winner in the areas of speed, safety, and ease of use. 
Best of all, these features are seamlessly integrated into one attractive package.
Pros
Durable Design
Portable
Under $500
Cons
Small Battery
Limited Range
Xiaomi M365 Review
Speed
Let's start with one of the most important features of any electric scooter: speed. The M365 isn't going to win the Indy 500, but it does clock in at a very respectable max speed of 15.5 MPH. 
The manufacturer points out that this is 5 times faster than average walking speed. So even though it won't break any land speed records, the M365 will get you where you want to go faster than your feet. 
And since most municipalities have regulations regarding how fast scooters can go, additional speed would only get you into trouble.
Design
This scooter has a sleek design that focuses on the practical needs of the electric scooter enthusiast. You won't find any flashy, non-functional design elements on this scooter. 
Every feature serves a purpose and is placed with ease of use in mind while also achieving a modern look and feel.
Controls
The controls are simple, which means it doesn't take much time to be proficient at operating this scooter like a pro. 
The power button takes center stage with an easy to understand battery life indicator right above the power button. 
It even comes with a smartphone app that lets you monitor your trip mileage, how much battery life is left, and your average speed. 
You can even lock the scooter through the touch of a button using the app and a Bluetooth connection.
Portability
Like most scooters, the M365 folds up for easy portability. The folding design is truly genius. Simply push the folding lever and lower the handlebars. 
The bell (it has a bell!) housing is designed to click into a latch on the back mudguard. Once the bell housing is firmly inside the latch, the scooter is secure and ready to transport.
Weight
The weight of the M365 is one of the most attractive selling points to people who have to carry their scooter on and off public transportation or up to several flights of stairs. 
Many electric scooters sacrifice lightweight design by including heavier construction. The M365 weighs a mere 26.9 pounds, making it one of the lightest scooters on the market.
Battery
The M365 scooter charges in five hours, so you can charge the battery to full power overnight or while at school or work. 
Once fully charged, the array of high capacity lithium-ion batteries allows the rider to travel up to 18.6 miles per charge. 
The smartphone app allows you to monitor the battery and lets you know if there are any battery problems.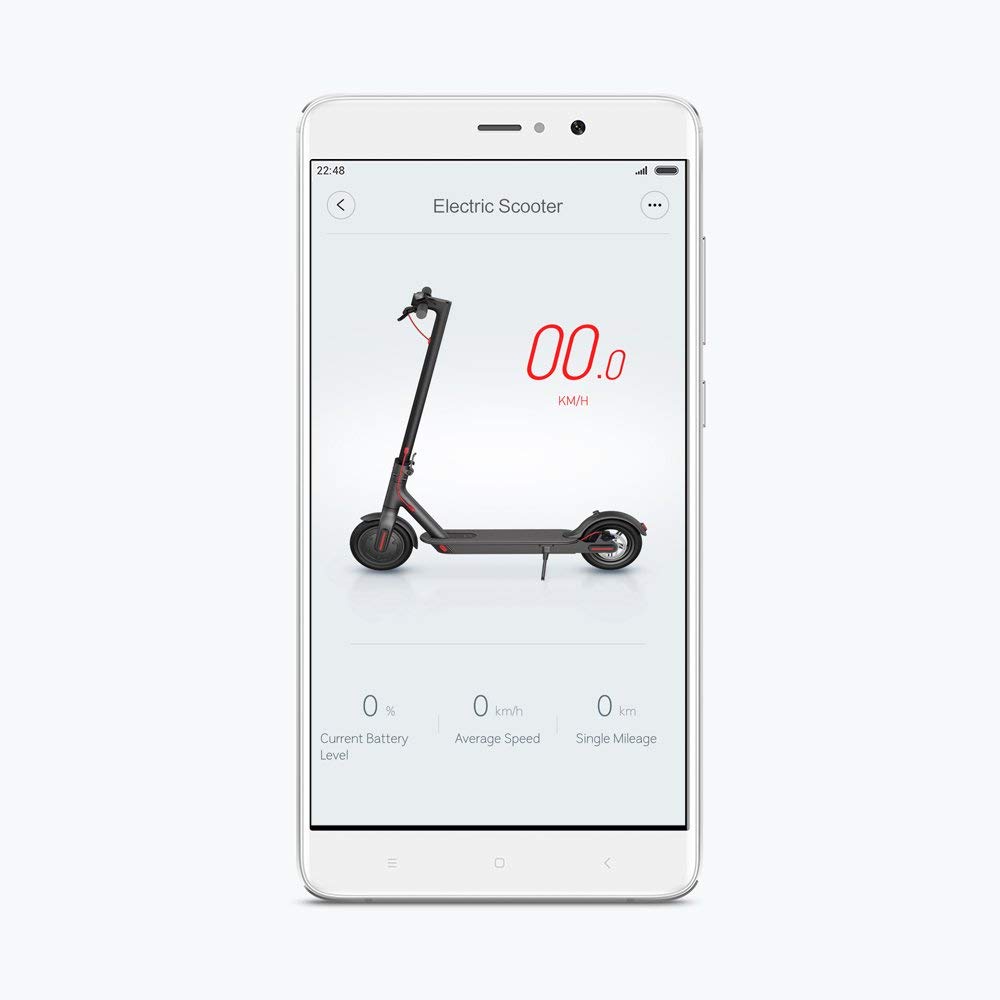 Energy Efficiency
One of the most unexpected features of the M365 is that it can create its own power. Just like a car charges the battery during acceleration, the M365 scooter does as well. 
During acceleration, the battery converts kinetic power into electrical power. And that's not all, the regenerative braking system also allows the batteries to generate power while braking. 
So whether you are speeding up or slowing down, you're adding power to your batteries and extending your scooter's mileage.
Brakes
The brakes on the M365 are designed with maximum safety in mind. With rear anti-lock disc brakes, you can stop in as little as 13 feet. 
This is a critical safety feature for people riding their scooters through city traffic. 
This level of safety coupled with the regenerative braking system makes for a winning combination for consumers.
Tires
The M365 sports 8.5" tires in the front and the rear. These large all-weather tires provide excellent shock absorption for an ultra-smooth ride. 
The tires also have anti-slip treads which are great for wet pavement or loose terrain. Best of all, the M365 ships with an extra set of tires so you won't have to wait for a replacement in the unlikely event you get a flat.
Lighting
An important safety feature that many scooter buyers overlook is a headlight/taillight combo. Headlights and taillights don't just allow you to be more easily seen at night, they also help increase your visibility to cars and other riders during the day. 
The M365 scooter provides a 1.1-watt headlight with visibility of up to 19.5 feet. The taillight is brake activated and flashes to increase awareness and visibility for those around you.
Frame Construction
Last, but certainly not least on the list is the frame that provides the foundation for all of the other features of the M365 scooter. 
The aerospace-grade aluminum construction allows it to be both strong and lightweight. The material also boasts a high resistance to corrosion which adds to its all-weather appeal.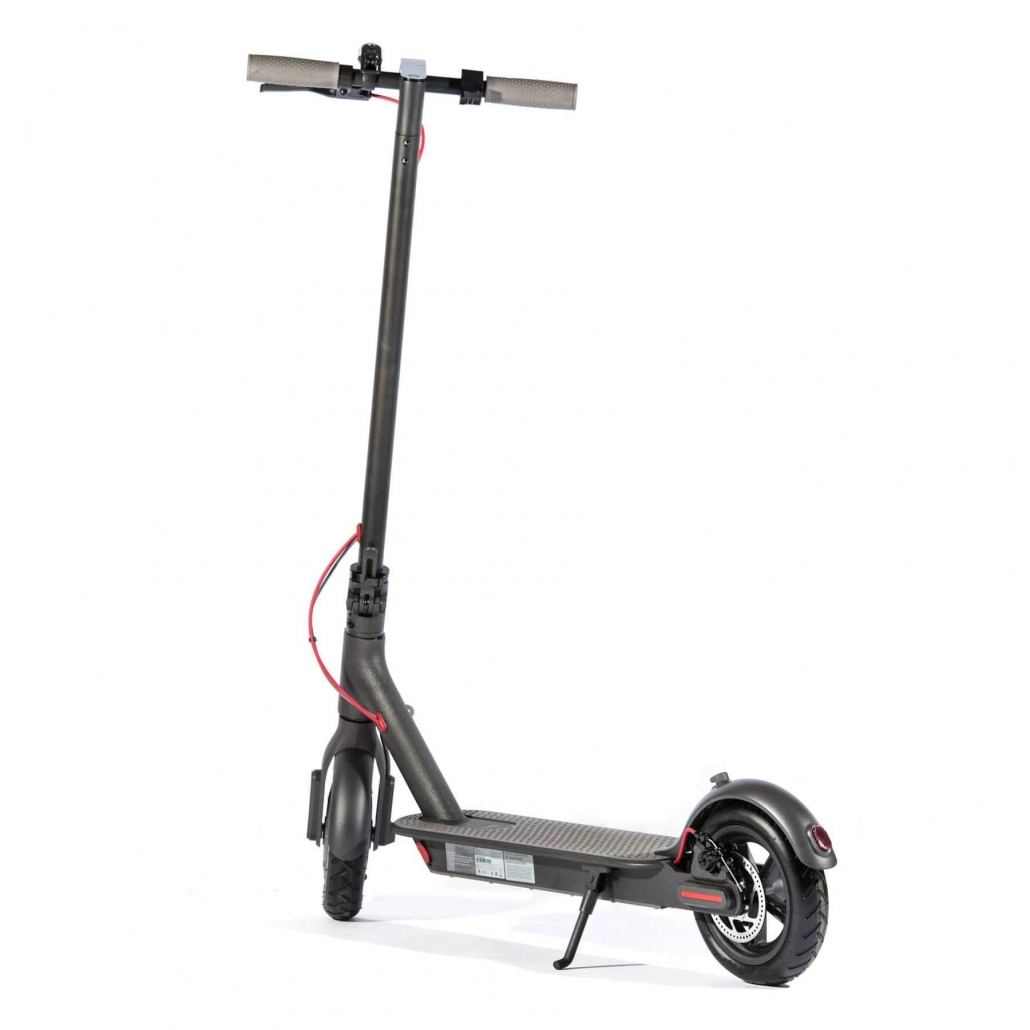 Xiaomi M365 Electric Scooter Summary
Judging solely from the number of them on the road today, the M365 scooter is a clear leader in the electric scooter industry. After reviewing all of the features of this scooter it is easy to see why. 
Below is a short and honest Xiaomi M365 electric scooter review:
The M365 has been thoughtfully crafted with the rider in mind and has included safety features that will keep new riders safe and little extras that will appeal to more seasoned riders as well. 
Related Content: Top Electric Scooter Accessories of 2019
All in all, the Xiaomi M365 Review shows that the scooter should be on your shortlist if you are in the market for an electric scooter.