How Usain Bolt is Changing the Electric Scooter Game
We needed another word for electric scooter and e-bike rentals, apparently, but this one seems on target: "micromobility". And the micromobility dot-com name very quickly went to Usain Bolt.
Since last year when his football (read: "soccer") career ended Bolt, a.k.a. the Fastest Man Alive has been officially retired from sports and thoroughly busy in the business world – including bolt electric scooter. 
Very snazzy looking scooters, too, in three models with a nice eye-catching yellow so you can let everyone know you're coming. (Bolt claims the color isn't just for looks; it's for safety.)
Design? Definitely not boring. "Sci-fi movie cool props" exciting, really, and the spiffy super-mod looks carry off a nice big (smooth-riding) wheel size and room to put both feet facing front. 
These things even have a storage box for stuff.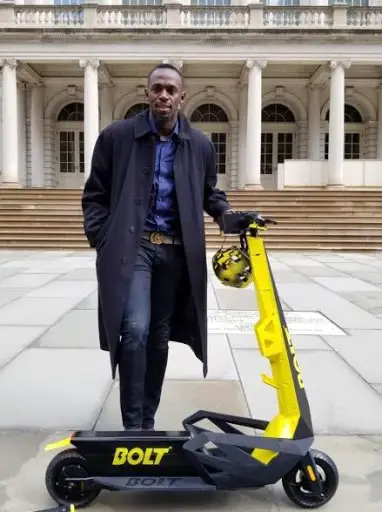 Bolt Scooters – Electric Scooters
The scooters were rolled out in New York City and are trying to get on the ground in Paris, London, Los Angeles, Washington D.C. and Chicago, with plans to take on 20 cities. 
Some cities, like NYC, are decidedly an uphill battle, but the scooters were operational in eight cities as of June: Miami, Alexandria, Arlington, Richmond, Nashville, Atlanta, Portland, and Paris7.
In July, Los Angeles was the first market to get the new Chariot model, so apparently, they are having some successes. As recently as August, Bolt rolled out a fleet of scooters in Memphis.
The scooters come in three models: the Bolt Original, Bolt One, and Bolt Chariot. The prime ride, the "Chariot" scooters do have some unique features. 
For one thing, Bolt claims they work great and they're safe even if the rider is wearing high heels because the standing areas face forward on each side of the platform.
Related Content: Superpedestrian to electric scooter fleets maintenance, a large expense?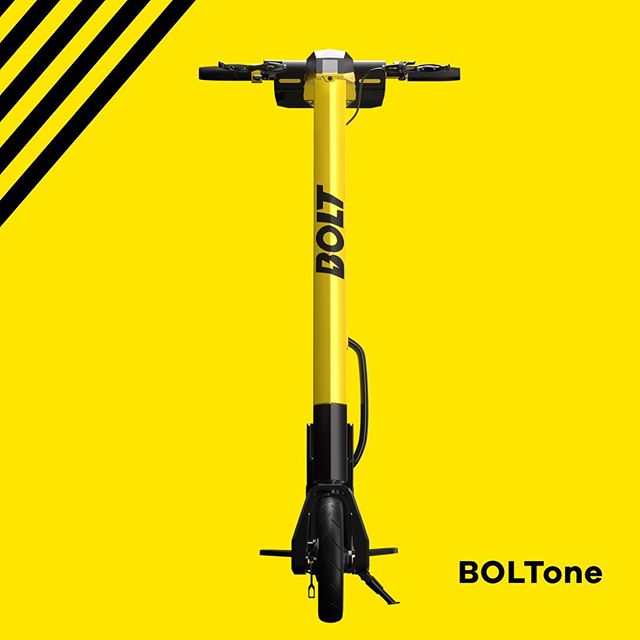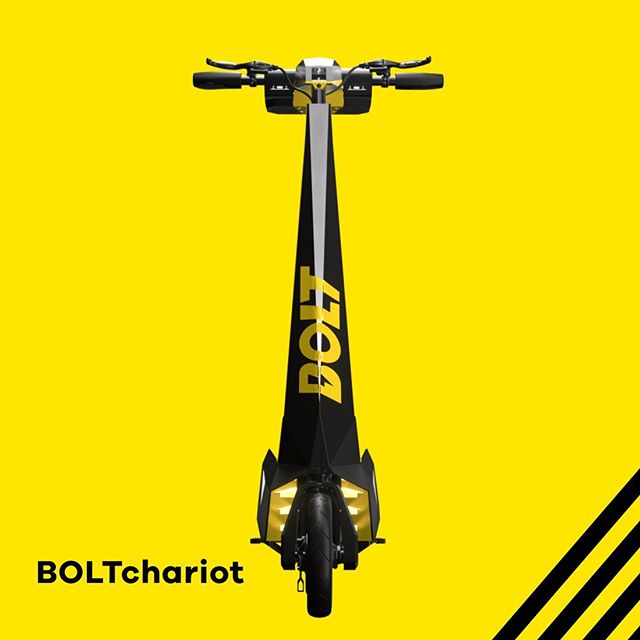 The Bolt Chariot has full ten-inch wheels—certainly larger than standards found on others—bolstering the company claim of a better ride. The batteries are swappable and chargeable, and big, with a 40-mile range. 
And the Chariot has some features every first-world consumer will love: Cup holders and a phone charger. We can't say that an open-topped cup will work well and one must wonder; will a big bump send your travel mug into orbit? 
But there are *two* cup holders atop the steering column. Kudos to the Bolt crew for figuring out what consumers just gotta have.
Following Bird's lead with the Bird One, Bolt will allow the public to purchase scooters for personal use. The innovations offered in Bolt's scooters go far beyond anything Bird or other scooter providers are offering. 
To battle thieves, they come equipped with built-in cameras and Bolt Mobility OS with a touch screen. The biggest idea is Bolt offering buyers the ability to put their scooter into the Bolt fleet and earn income on the side. 
Details have not been released on how this program will work.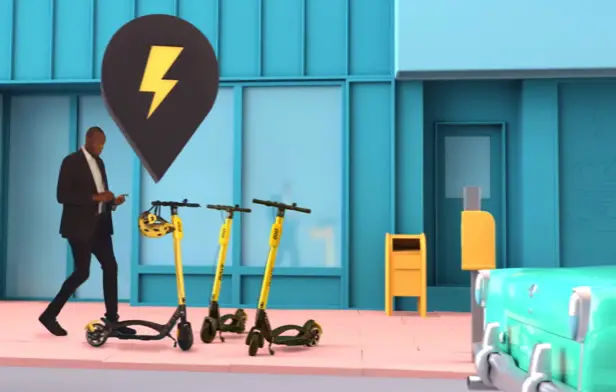 Bolt is offering two scooter models for sale. The base model is the BOLTone with a price of $999 and the premium model is the BOLTchariot at a price of $1299. 
Both come with on-demand mechanics, tech support, and a two-year warranty.
From the surface, everything appears great. Not so fast, there, scooter man. 
There were some unforeseen issues that will apparently slow down brand growth for a long time to come outside of the United States.
Bolt had to rebrand the whole thing in Paris because there was already a "Bolt" trademark in the French market, and the French court ruled against the Olympian. 
Micromobility sidestepped the issue by quickly rebranding their scooters as "B by Usain Bolt", but they'll have the same headache in 54 cities that already are occupied by the Bolt name competitor.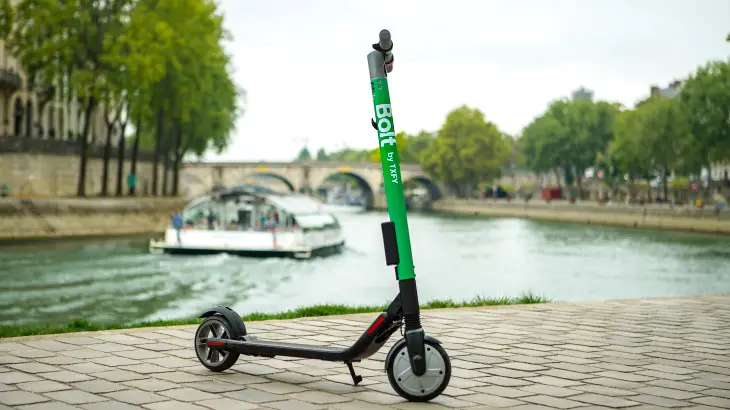 Usain Bolt
There are other problems, of course. Indeed, in London, electric scooters are a total no-no, so Bolt came out with a very snazzy e-bike instead. The challenge, though, is pretty big, since other e-bike companies are already entrenched. 
One, Santander/Boris, has even already installed dedicated bike racks extensively throughout the city, leaving competitors like Lyft and Uber e-bike offerings scattered about like chaff by comparison. 
Bolt's nice yellow bikes will have to suffer the same fate, including the prospect of vandalism. Some e-bike companies have already baled on the London scene such as:
ofo, 
oBike
Urbo, and other more.
Usain Bolt stopped sprinting in 2017, but his sports career came to end "for real" more recently with his January 2019 announcement on the Olympic Channel, when Bolt asserted his sports days were officially over. 
Still based in Kingston, Jamaica but loving world travel, Bolt has been appearing all over the place since retiring from 'just' doing sports, and not just because of the e-scooter thing.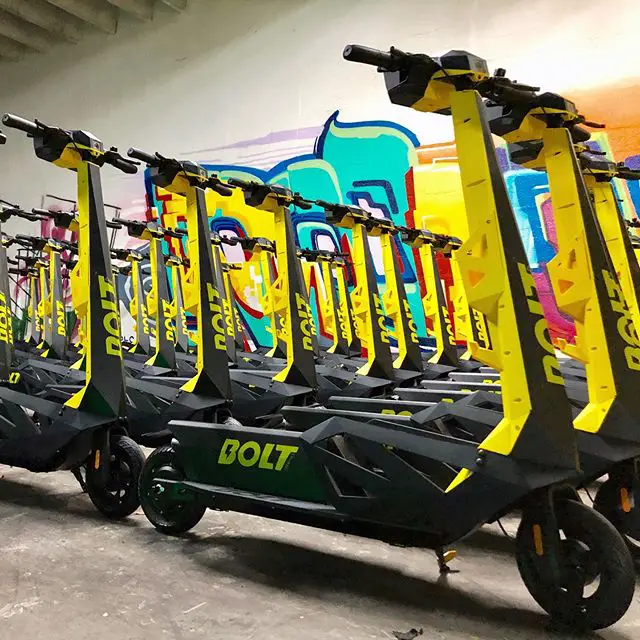 His foundation put up $1 million for Special Olympics Jamaica, e-bikes (under the same business name), a restaurant and record shop in Kingston and London, he bopped into the music biz this summer, fronts for PayPal's Xoom and oh, yeah – the music stuff was to promote his champagne (from G.H. Mumm) called Olempe Rosé. 
Below is a short video about Usain Bolt's new design in Paris:
Always looking to be unique, Bolt's bubbly is infused with cognac flavor and has a distinct tang, apparently quite popular in Jamaica.
That jam-packed list doesn't seem to be enough to keep the Bolt-man occupied: His bolt electric scooter company also rolled out a micro-electric car in Paris  in May 2019 at the VivaTech show. Watch out Lime!