The Turbo Wheel Lightning made its way onto the list of Fastest Electric Scooters with the best speed for the money. At a top speed of 40 mph (65 kph), you'll be hard-pressed to find a faster way to move around the city.
Turbowheel Lightning
Top Speed
40 mph
65 kph
Range
45 mi
72 km
Charging Time
3 hrs
Weight
77 lb
35 kg
Motor (Dual)
1000W
3600W (Max)
Battery
52V
22.4 AH
Tire Diameter
10 in
25.4 cm
Load Capacity
330 lb
150 kg
Have you ever dreamt of going 40 mph on an electric scooter? How about cutting your walking commute in third without your car ever leaving the driveway?
In a world where time is a valuable commodity, electric scooters offer a fresh solution. They are small, portable, and fast. Not to mention – insanely fun to ride! 
You may have seen electric scooters zip around your college campus and city streets, but they have come a long way from their simple 15 mph/250 W beginnings. Power, speed, and stability is the name of the game, and we're here for it!
When it comes to high power, the Turbowheel Lightning electric scooter is a beast. And with speeds that reach upwards of 40 mph (64 km/h), it's no wonder why its a rising favorite among adrenaline junkies and thrill-seekers.
Everything You Need to Know About the Turbowheel Lightning Electric Scooter
It's safe to say that the Turbowheel Lightning is not your traditional electric scooter. This high-intensity machine lets its riders hit the throttle and fly – and we're talking FAST. 
But it isn't just the dual-1000W continuous motor that allows the Lightning to rival the speed of a tiger. It's swingarm suspension and large pneumatic tires absorb bumps and impact for a delectably smooth ride. 
And with a rapid-charging lithium-ion battery pack, you can enjoy propelling this dream-machine for an outstanding 46 miles! 
Before we get into why anyone would want or need something as robust and dangerous as this, let's take a look at some of my all-time favorite features of this particular build.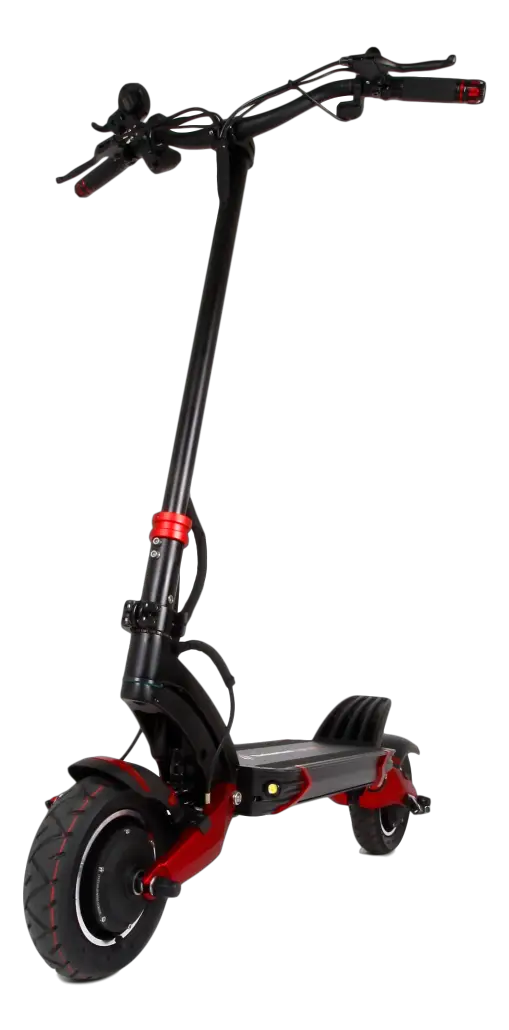 Where can I ride the Lightning Electric Scooter?
Don't be fooled into thinking the Turbowheel Lightning is designed only for thrill-riders and sensation-seekers. Off-roaders, stunt-devils, and weekend cruisers alike appreciate the Lightning's design-minded architecture.
The Turbowheel Lightning is a pure off-road worthy beast, designed to go where other riders can't. Dirt hills and grassy terrain were practically made for this scooter. Both the front and rear wheels are equipped with suspension. 
While the front uses a torsion bar, the rear has both a hydraulic damper and spring with an added adjustable screw setting. The large 10" x 2.5" tires help to absorb impact from the road to the deck, tackling the steepest gradients, curbs, and off-road terrain with ease. 
No worries if on-road cruising is more of your speed. This scooter provides levels of stability and road safety that is unheard of in today's mass production of electric scooters. 
The combination of regenerative motor braking, plus front/rear disc brakes, work together to bring the scooter to a brisk stop in dicey situations while reducing wear and tear on the disc brakes.
The Turbowheel Lightning truly lives up to its name as one of the toughest and fastest electric scooters out there. The force of two motors can be overpowering at first, easily storming any incline (up to 45 degrees), and giving you an adrenaline-charged each time you accelerate. 
You really have to brace yourself and grip the handles hard, because this baby will throw you off if you're not careful. It's important to take the time to accelerate responsibly until you get the hang of it.
Fortunately, this ride is equipped with three-speed modes and a number of power limiting features, depending on your terrain and desired speed. 
The LED color display allows for three modes: Mode 1 (up to 22 mph/35 km/h, Mode 2 (up to 30 mph/48 km/h) and Mode 3 (40 mph and beyond). 
For full power engages both motors, half power engage just one or reduce the low-end power by engaging Eco Mode.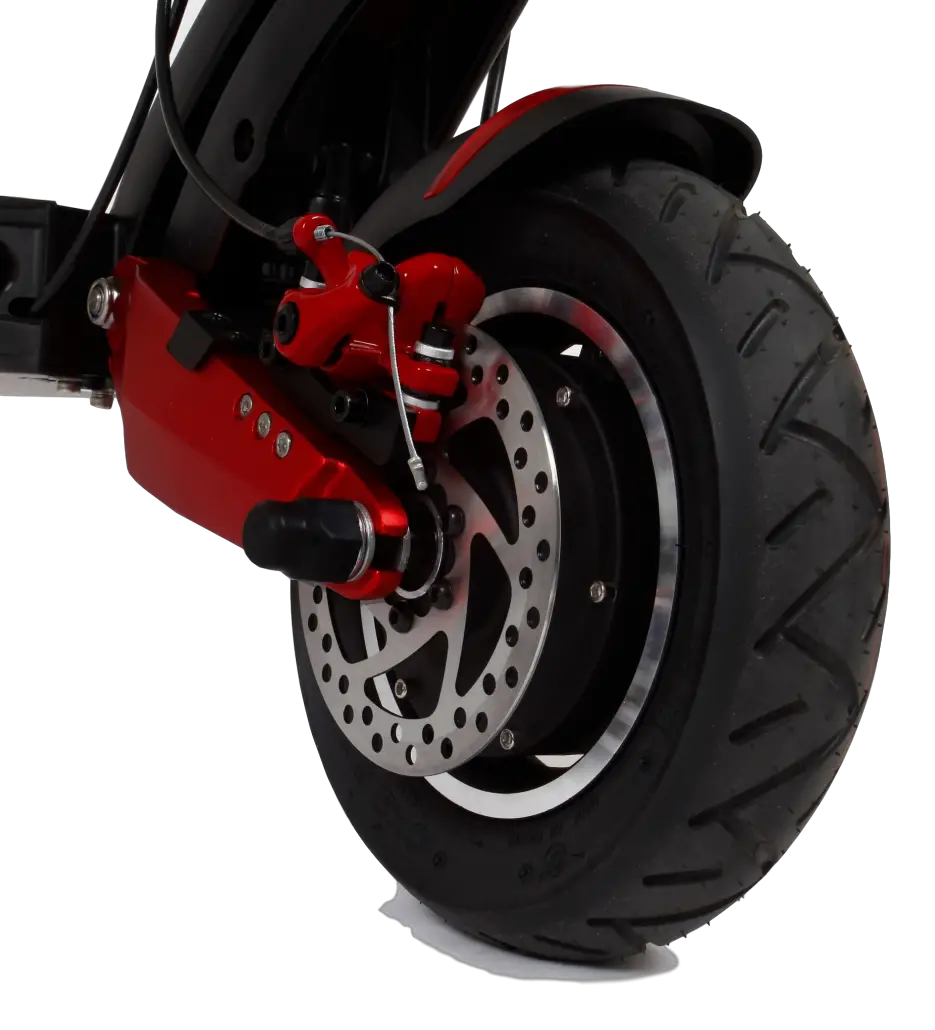 The only downside of incorporating such powerful motors and long-range batteries is that the scooter is HEAVY – we're talking a whopping 77 lbs! 
This might not seem like too much of a hassle if you just need to lift the scooter and put it in the back of your vehicle; thankfully the folding stem and dual heavy-duty locking mechanisms make it more compact. 
But I wouldn't want to lug it up several flights of stairs. So if you live in the upper-level of an apartment complex, you may want to revisit your scooter options.
Does it have extra features?
In a sea of monochrome designs from its competitors, the Turbowheel Lightning makes a bold statement. 
It's a two-toned look, which features charcoal black and metallic cherry red accents on the fittings and the torsion suspension bar, will have you looking as cool as you feel as you fly through the streets.
The scooter is also equipped with a large easy-to-see color dashboard and integrated front to rear deck lights. 
The rear brakes pulsate when tapped, to alert anyone who may be behind you of your presence and that you are about to slow down. 
But for your added safety at night, you will want to install a brighter handlebar headlight for better vision in the dark.
Extra features like the voltage readout display and key ignition switch are another example of added touches that make your riding experience that much more efficient and are actually not found on comparable more expensive models.
Is the Turbowheel Lightning worth it?
Some people may say that taking your chances on a 40 mph electric scooter is cheating death. They are correct, in a sense. 
Below is a short video about the Turbowheel Lighting Scooter:
To be honest, I rarely get my scooter to its top speed, and you don't have to either. The Lightning's dual motors, expert suspension, and precision brakes are beneficial for more than just high speeds; it's designed to keep you safer on the road. 
For many of us, the Turbo Wheel Lightning is just another more exhilarating way to get around. For me? It's totally worth it.
https://scootertalk.org/wp-content/uploads/2019/09/Lightning-Side-Left.png
2087
2048
OSMfpClcC8
https://scootertalk.org/wp-content/uploads/2019/09/logo-site-2-1.png
OSMfpClcC8
2019-09-24 13:59:13
2019-12-11 08:39:47
Turbowheel Lightning Review