How to Pay for Spin Scooters
If you're like us, you probably see people zipping around town on the Spin electric scooters and think, "I need one of those!" But then you remember that they are quite tricky at first to pay for. So, one question that often comes up is, how to pay for Spin Scooters?

In this blog post, we will explore different ways to pay for this dockless, scooter-sharing technology. Keep reading to learn more!
What You Need Before Paying
If you want to use your credit card, there are some things that you need. You'll need to get or already have an account with one of these companies: Visa, Mastercard, Discover, or American Express.

You can also have an account with Google Pay or Apple Pay, or you can use Paypal.
The only other thing you'll need is a smartphone with the Spin app downloaded onto it so you can be charged for rides taken. Other than that, just make sure that your account has enough money in it because if not, then this process won't work very well.
How to Pay for Spin Scooters: Payment Methods
You will first want to load at least $10.00 into your Wallet, which means that you first have to load one of the available payment methods.

Google Pay / Apple Pay
This is considered "the future of payments" because it allows users to conveniently make purchases using only their smartphones! No cards are necessary.
If you already entered a default debit or credit card into Google Pay or Apple Pay, it should appear in the spin app as a payment option.
Open the Spin app and go to menu > Wallet
If Google Pay / Apple Pay is already setup on a smartphone, the respective payment icon will appear here, and you don't need to do anything extra.
Load your balance depending on how much you need to ride around town today!
Note: If you don't see the Google Pay or Apple Pay method in the spin app wallet, you will need to set it up on your smartphone. Once set up, this convenient payment method will immediately show up in the spin app. 

PayPal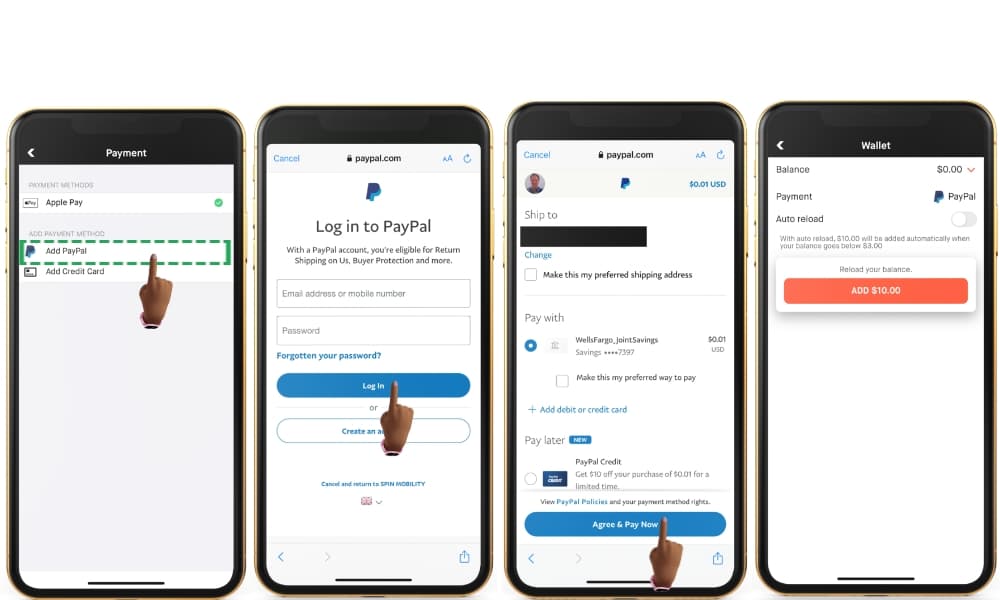 Spin also accepts PayPal as a payment method for their electric scooters. To use PayPal as your payment method:
Open the Spin app and go to menu > Wallet > Payment
Select "Add PayPal" from the list and enter your PayPal login credentials
Allow Spin to gain permissions of your PayPal account. When linking with a bank account, you will have to agree to pay $0.01.
You will see a confirmation screen with terms & conditions – read them then tap on "I agree" at the bottom if you're cool with them.
You will be redirected to your PayPal account and you can view your balance here. If it's green, then Spin is authorized! To make a payment, tap on the "Make Payment" button. Remember that you must have enough money in your PayPal balance for it to work properly.

Credit Cards / Debit Cards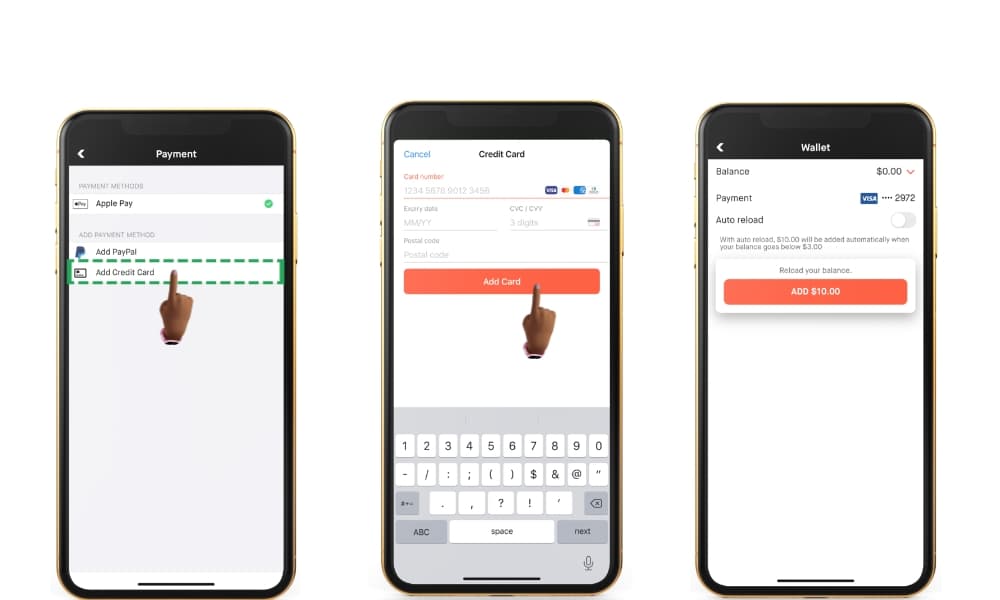 If you own a credit card (Visa, Mastercard, Discover, or American Express) or own a debit card (i.e., one with Visa or Mastercard logo), then this is an easy means of payment.
To use your credit card, here's what you should do:
Open the Spin app and go to menu > Wallet > Payment
Select "Add Credit Card" from the list
Add your credit/debit card as your payment method. — and load your balance depending on how much you need.
Note: you can only add $10 of balance in increments. If it is your first time using Spin, your first ride will be free of charge.
Which Payment Option Do You Prefer?
We personally prefer using Google Pay or Apple Pay and connect it to the Spin app to pay for rides because it's so easy. We just need to click on the option that says "start ride" and it's all set to take off.
It's also really nice being able to track ride progress through the map section of their app. The scooter renters are always very helpful as well, usually telling us where we can find the closest scooter or if one isn't around, how much longer until another one comes by.
What if You Don't have a Smartphone and/or Credit card? 
If you don't have a smartphone, and you don't have a credit card, but you can have received an Access Code, you can use Spin's text-based (Sms) system to unlock their bikes. You can also use the SMS system if you already have ride credit on your account.
If you don't own a smartphone, but you have access to a credit card, you may be able to buy ride credits in person at a local Spin office using cash (or credit and/or debit cards, where available). The minimum purchase amount is $10. You can then use that ride credit via their SMS system to unlock and ride.
How Much Does it Cost to Rent a Spin Electric Scooter?
Typically, a ride on a Spin Scooter costs $1 to use plus an additional $0 to $0.39 per minute depending on where you're riding. Small applicable taxes and fees may also be added on the trip, also based on where you're riding.

Note: The Spin app should display the cost to ride in your area when you tap a scooter blip icon on the map.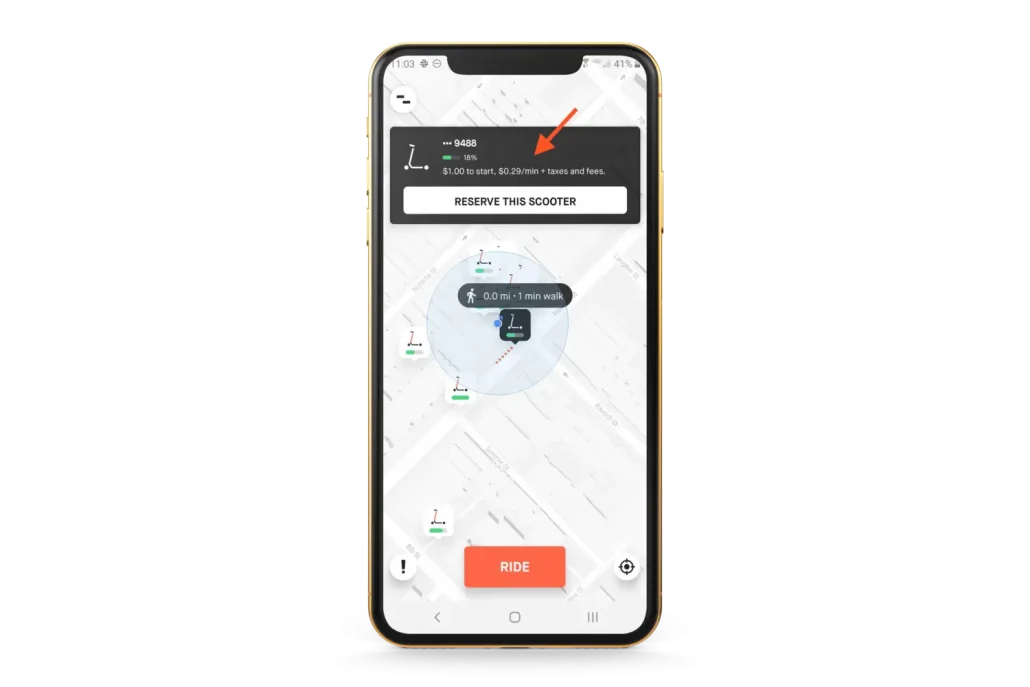 Once you're signed up, funded for at least $10, and you have met all rider requirements, you can open the spin app and find and tap the scooter icon closest to you. This will tell you how much charge is left (full charge should last you a full day) and how much your per-minute fee will be.

If the cost per minute is 0.29, the total for a 10-minute ride is an affordable $3.90. 

Walk to the scooter and scan its QR code, located between the handlebars. This will unlock your scooter and you can begin your trip.
Taking Advantage of Spin E-Scooters
As of 2022, Spin electric scooters offer deals from time to time when signing up for their newsletter on their app or website.
Because Spin is always trying to introduce new customers to their products and services, they will often run a promotion in order to get you hooked! I recommend checking out the "Electric Scooter Deals " page if you are interested in staying updated with what's going on at Spin.
Wrapping Up
So, that's basically it! That is how you can pay for Spin electric scooters using their three different payment methods- Google Pay / Apple Pay, Paypal, and credit card / debit card. Just pick your preferred mode of payment based on your own preferences and lifestyle.
Credit and debit cards are pretty easy to use because they don't require anything special. Meanwhile, smartphone solutions such as Google Pay, Apple Pay, and PayPal are the easiest to use now because there's no hassle in setting them up or entering personal details. You just need your phone with access to the internet, and everything works fine.
If you have any questions about how to pay for Spin e-scooters, please feel free to send us a message using the contact form on our "Contact Us" page. We will make sure to respond as soon as possible with an answer or relevant source. Have fun riding your scooter and stay safe!