Varla Eagle One Review – 2021 Buyer's Guide
Varla Eagle One is an all-terrain electric scooter that you can take along for your daily commuting as well as off-road adventures.
It offers everything that you might be looking for while buying an electric scooter – safety, speed, and style.
Check out our buyer's guide and review below to get an in-depth idea about this awesome electric scooter.
IMAGE
PRODUCT

Top speed of 40 mph
2 x 1000W dual hub motors
Informative and intuitive LCD

View Latest Price →
Varla Eagle One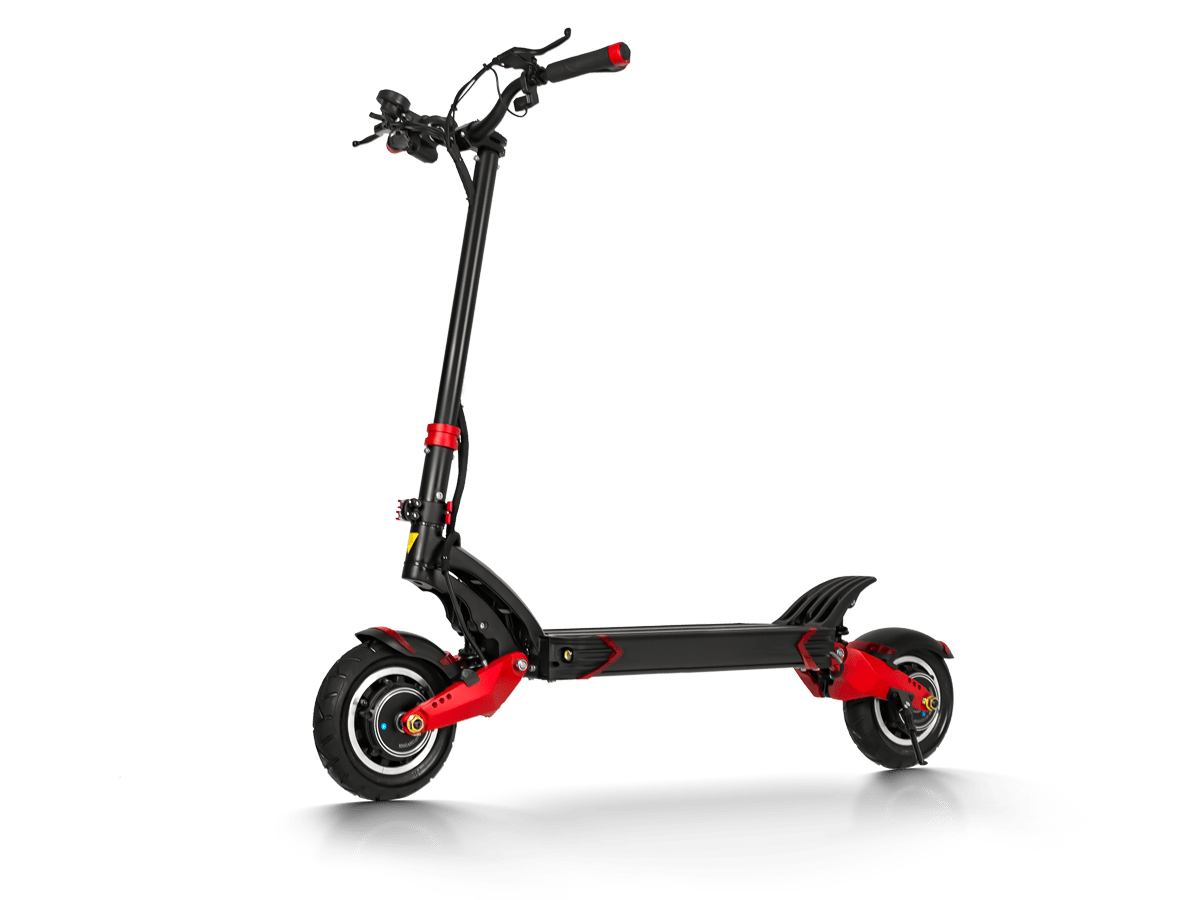 Specs and Dimensions
​Following are the main specs of Varla Eagle One:
Motor: Dual Hub Motor, 1000W x2
Top Speed: 40 MPH
Max Range: 40 miles
Climbing Angle: 30-degree
Charger: 2.0A quick charger
Charging Time: Eight-nine hours (single charger), four-five hours (two chargers)
Weight: 77 lbs.
Battery: 52V/18.2Ah Lithium-ion battery
Tire Diameter: 10 x 3 Inches Pneumatic Tire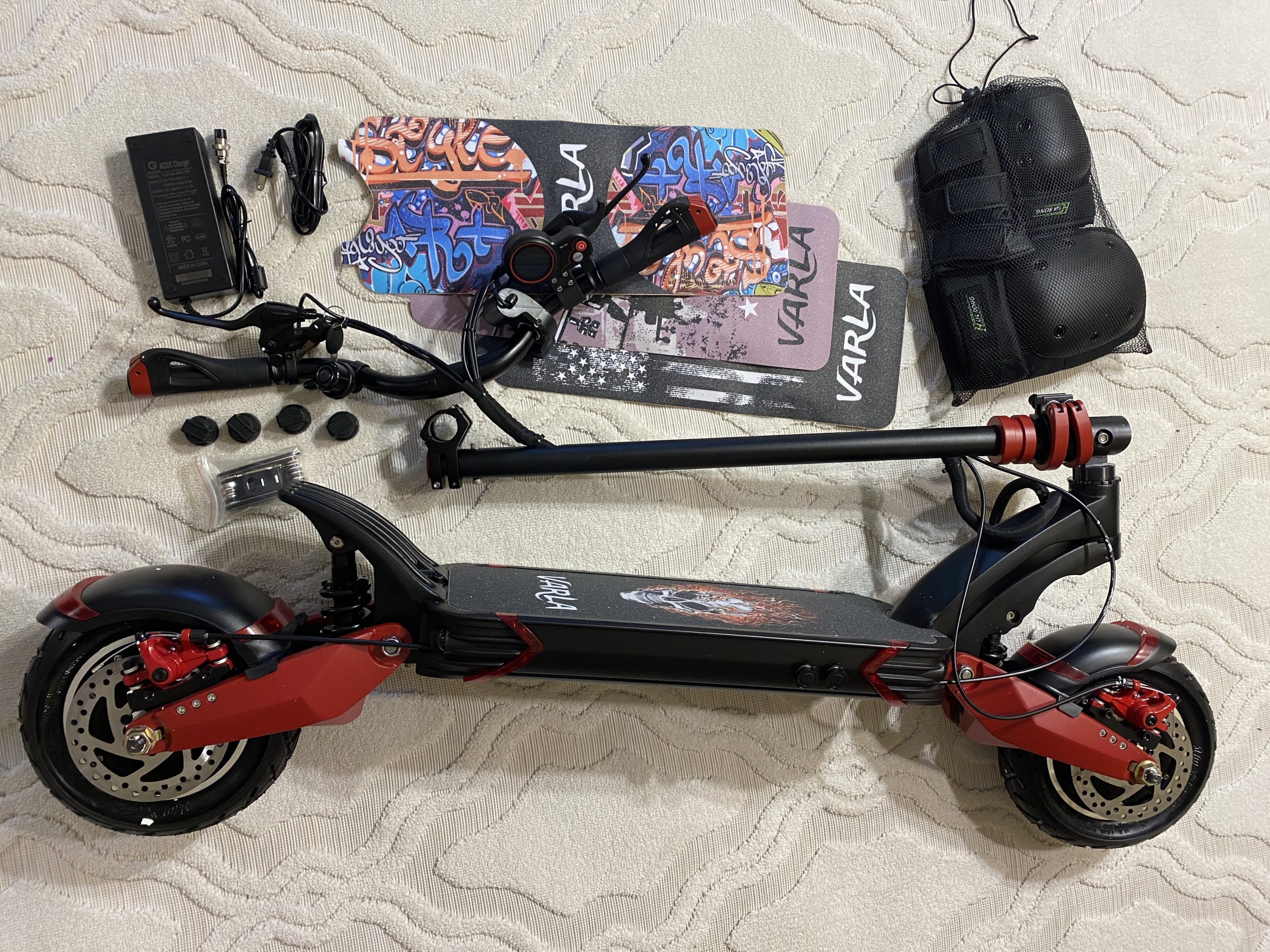 Load Capacity: 265 lbs.
Massive Deck: 21.6" x 9.1"
Suspension: Independent Suspension
Brake: Dual Hydraulic Brake + ABS
Frame Material: Aluminum Alloy
Display: LCD Backlight
Lighting: LED, Front, and Rear
Folded Dimensions: 50.4" x 25.5" x 20.1"
Warranty: Two Years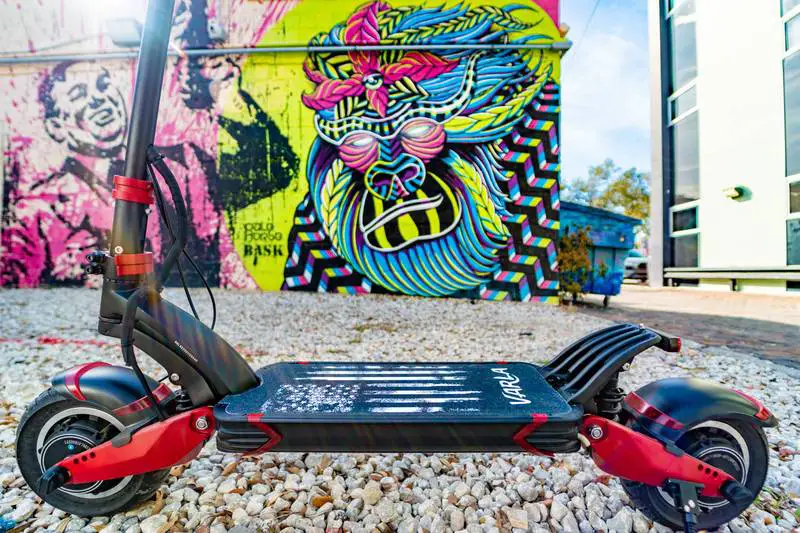 Main Features
If you're looking for a safe commuting scooter with some extra fun features, you can never go wrong with Varla Eagle One Electric Scooter.
From the high-quality dual hub motor to the impressive off-roading ability and incredibly fair price, there's something for everyone to like about the Eagle One. The amazing features include:
A 52V/18.2Ah capacity Lithium-ion battery with which you can expect a minimum of 30 miles from one charge. However, this range can even extend depending on your average speed and usage. 

A dual 1000W hub motor having a maximum power output of 3200W allows you to ride this scooter smoothly while off-roading as well as on the steep inclines. This scooter has so much power that you won't stop boasting about it.

The Eagle One comes with a sturdy pair of 10-inch pneumatic tires that allow you to ride smoothly without faltering. The grip, control, and sensitivity are great and these tires are capable of absorbing concerning bumps that you may come across while riding on the streets.

The hydraulic brakes work well for this powerhouse electric scooter. With an anti-lock braking system (ABS), and effective heat dissipation, the hydraulic brakes will keep you safe while riding. 

The independent suspension is yet another feature that contributes to the smoothness of the ride. A combination of a dual hub motor, pneumatic tires, and independent suspension will make the relatively large bumps feel like flat land.
This eco-friendly electric scooter has standard LED lights that are pretty bright. The headlights and taillights are also quite responsive to braking.
Additionally, these lights are said to have a lifespan of about 30,000 hours. 
Considering the features and specifications of Varla Eagle One, the price is appropriate and a bit on the generous side.So, if you want a pocket-friendly scooter that is power-packed with all these amazing features, Eagle One is the one for you.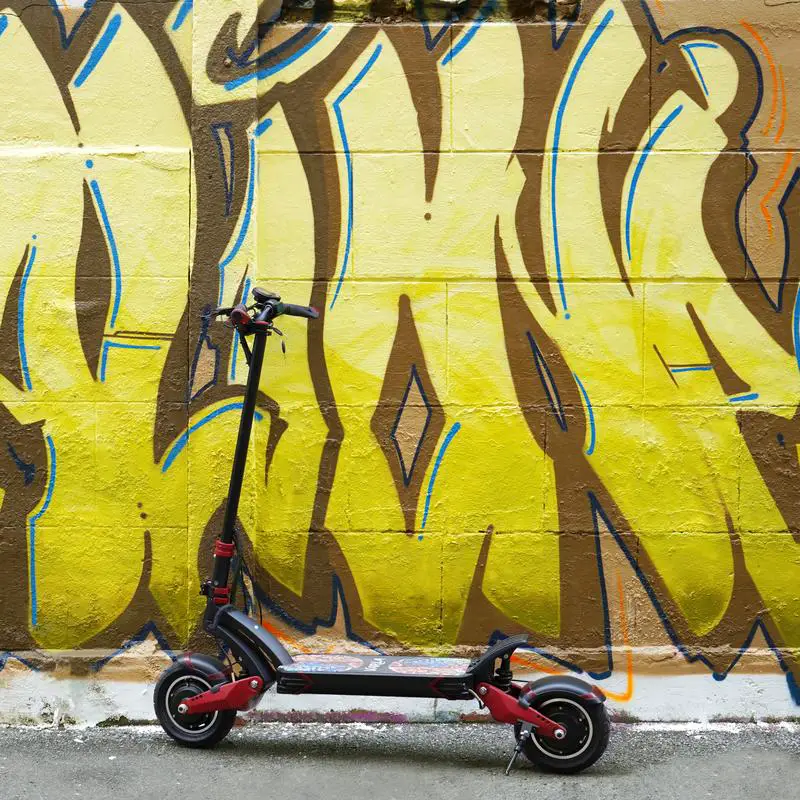 Pros
The incredible features of Varla Eagle One electric scooter that can be listed under pros include:
Exceptional Long Range
As stated above, Eagle One is equipped with a 52V/18.2Ah capacity Lithium-ion battery that allows you to conveniently ride more than 40 miles per full charge. This range can vary depending on your usage as well as your average speed. But, if your scooter is fully charged, you can seamlessly enjoy and venture out while feeling the charm of nature.
Big Power
This outstanding electric scooter will let you explore its power game as it is loaded with the dual 1000W hub motor that tops out with a peak power output of 3200W. If you like zooming past other vehicles along the road, this power-packed scooter will not disappoint as it is not only capable of off-roading but also for steep inclines up to 30 degrees. Get ready to conquer the roughest terrains with this powerful beast.
Smooth Ride
Regardless of what the road conditions are, you can experience comfortable riding with Eagle One. It is not only equipped with 10-inch pneumatic tires but also uses an excellent independent suspension system that has the potential to absorb the bumps of the road to the greatest extent. So, if you're off-roading on the roughest terrains, you don't have to worry about the uneven surfaces as your scooter will provide you with a smooth ride.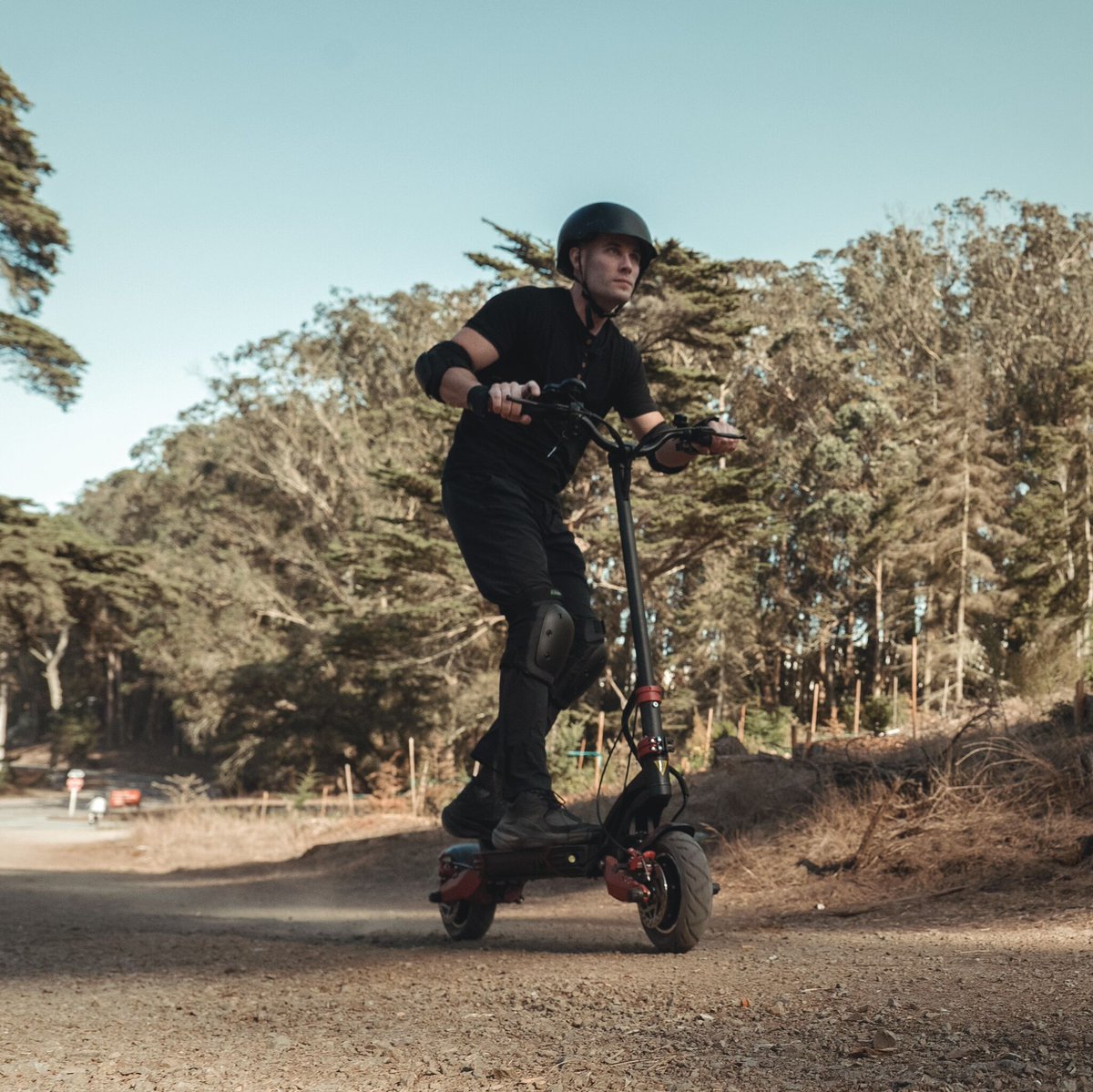 Photo credit: twitter.com
Upgraded Dual Hydraulic Brake for Enhanced Safety
The electric scooter yet surprises us on the safety part as it uses dual disc brakes that come with efficient braking power.
As the braking distance is short, your scooter will stop as soon as you brake. This provides enhanced safety especially when you're off-roading in rough terrains and the situation demands you to stop instantly. 
Additionally, it is also equipped with an ABS as well as effective heat dissipation that contributes to improving the safety performance. 
Worth the Money
In simple words, the electric scooters of this value don't come around often. 
Loaded with some of the exquisite features much better than the scooters of its class and with an impressive off-roading capacity, you'll be surprised to know that this sleek-design scooter comes at an incredibly fair price.
The benefits don't end here. If you pre-order it, you get a protective gear set, an inner tube, and four scooter deck stickers for free. Isn't that great?
Lastly, it includes a two-year warranty that covers the controller, throttle, and frame, a one-year warranty that covers the charger, motor, and battery, and a one-month or 100km warranty on the brake pad, inner tube, fenders, and kickstand.
With these benefits, it's needless to say that as a customer, you are sure to feel happy and safe buying Varla Eagle One electric scooter.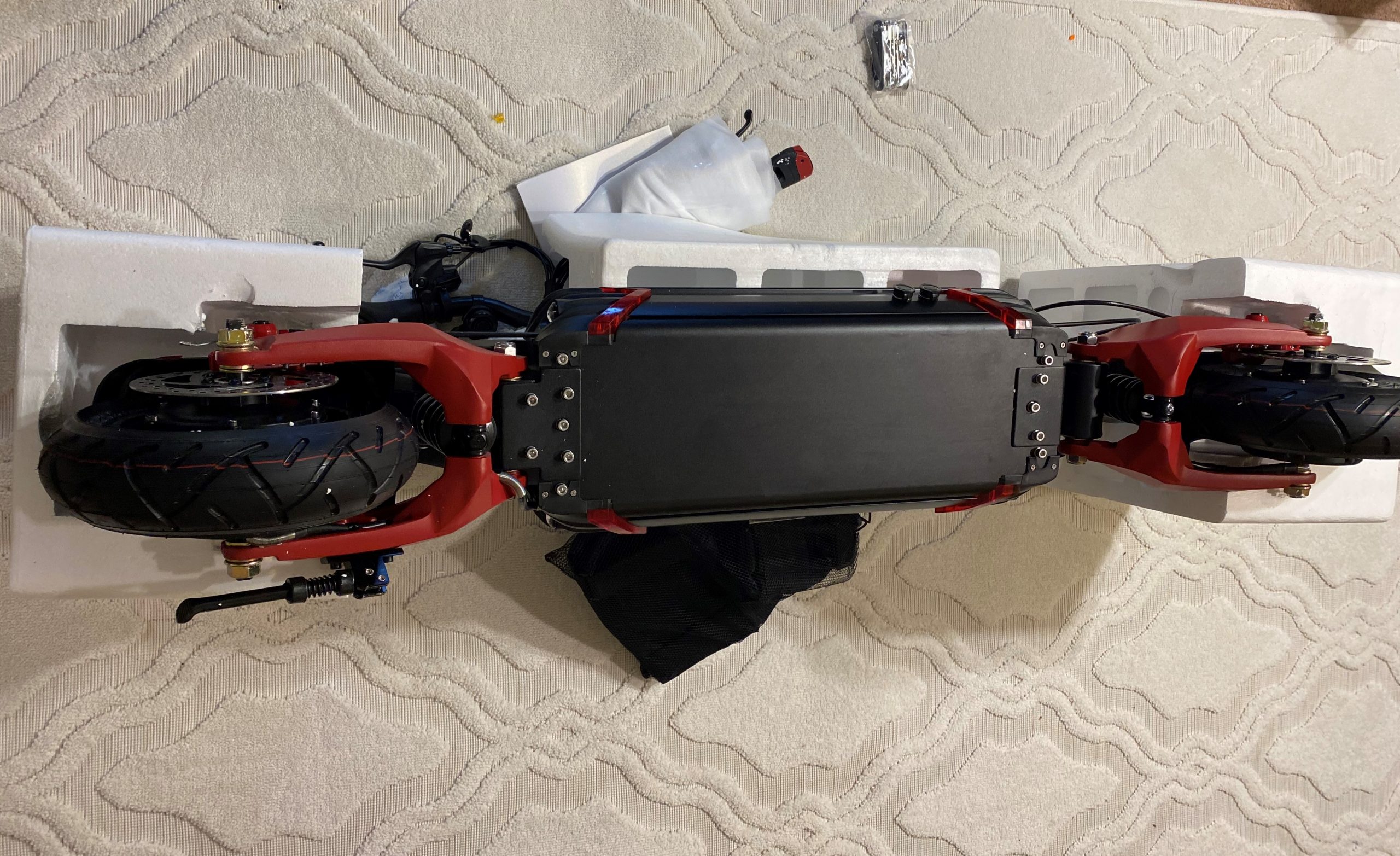 Cons
Customers have recommended buying Varla Eagle One as it is loaded with amazing features. There are no such specific cons except:
Weighs a Decent Amount
When compared to the other electric scooter models, the Eagle One weighs 77 lbs. which means, it is around 30 lbs. heavier than most other models available in its class. Weight cannot necessarily be an issue for everyone riding a scooter.
However, it may affect some people's riding performance if they are unable to manage it. Also, carrying this scooter for your off-roading adventures will be a bit more difficult as compared to other lightweight models. 
Not Recommended for Beginners or Lightweight Scooter Enthusiasts
In a way, this is indirectly related to the first point. As this electric scooter weighs more, it may be difficult for first-time users to manage it.
Also, if you're used to lightweight scooter rides, you may take some time to adjust to its weight while getting a knack of it. 
Apart from balance, the additional weight can also have a little impact on your performance. It may not only make braking difficult but you may also need to ensure that your turnings are accurate. 
Varla Eagle One
What is the Varla Eagle One Best For?
Looking at its specifications and features, Varla Eagle One seems to be an ideal option to consider for exploring the city and traveling through different terrains of your choice. So, it is best for both:
Outdoor Off-roading Adventures
As this outstanding electric scooter boasts some great features like a dual hub motor, great power, long-range, dual hydraulic brake, 10-inch pneumatic tires and capability of climbing 30-degrees inclines with ease, your off-roading adventures are going to be smooth as well as safe.
You don't have to worry about the bumpy roads or uneven terrains when you have such a great scooter companion along with you. 
Upgraded City Riding
Not only off-roading, but this versatile scooter is equally good for your routine city rides. The hydraulic brake gives you the power to stop instantly whenever required.
The 9.1-inch-wide deck is broad enough to keep your feet side by side. Moreover, the simple and sleek design lets you move around the city in style. In short, Eagle One allows you to stay stylish and safe at the same time while making sure that you are having a fun ride. 
Overall, Varla has successfully introduced an exceptional e-scooter that has the potential for all your off-roading and city riding needs including safety, speed, smoothness, and style. What more can you ask from a budget-friendly electronic scooter?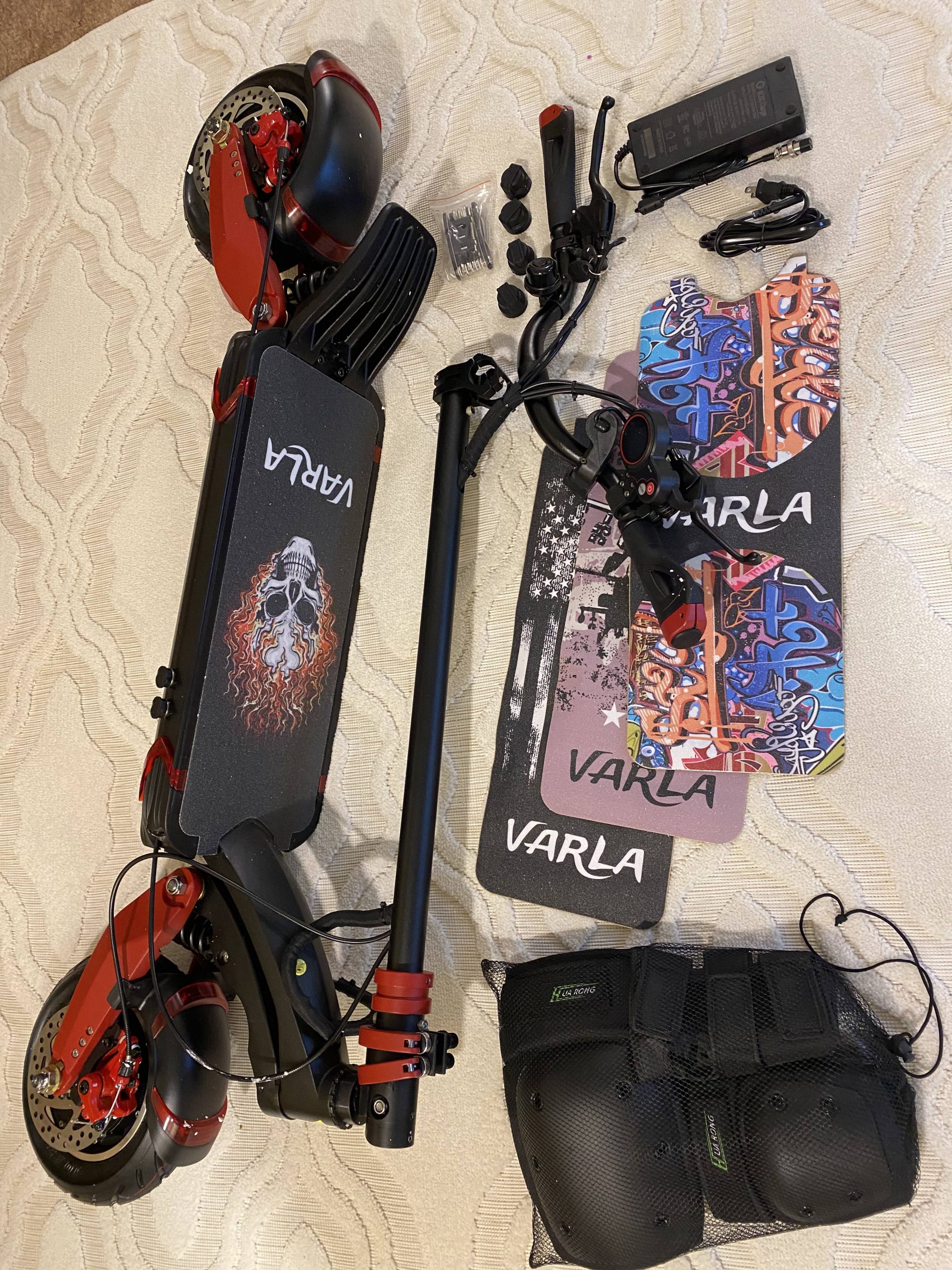 What Do I Need to Know Before Buying a Varla Eagle One?
Are you still making up your mind to buy Eagle One? Here's an overview of this versatile electric scooter that will help you make an informed decision.
Varla Eagle One is an all-terrain electric scooter that can be used for both off-roading adventures as well as commuting in the city. 

It comes with some astounding power-packed features like a dual hub motor, a 52V/18.2Ah capacity Lithium-ion battery, 10-inch pneumatic tires, hydraulic brakes, and independent suspension.

This e-scooter is available at an incredibly fair price, considering the specifications and features that it brings along. You'll hardly find any e-scooter of this class in this price range.

When you pre-order this scooter, it comes with extra goodies like a protective gear set, an inner tube, and four scooter deck stickers.

It includes a two-year warranty.

Although it provides a smooth and safe ride, it is equally important to note that it is a bit heavier than other e-scooters. Weight is not a primary concern as you can get used to it gradually. However, it is not ideal for those who are beginners or are seeking a lightweight electric scooter. 
Razor RX200 vs Varla Eagle One – Comparison Overview
| Specifications | Razor RX200 | Varla Eagle One |
| --- | --- | --- |
| About the Product | It is an off-road scooter that can travel over gravel trails, dirt paths, and grassy terrain easily. | It is a versatile electric scooter that can be used for both off-roading adventures as well as daily commuting in the city. |
| Motor | Chain-driven, new gear ratio for high-torque trail use | Dual hub motor 1000W x2 |
| Braking System | Rear disc brake | Dual hydraulic brakes |
| Charging Time | Minimum 12 hours | 8-9 hours (single charger), 4-5 hours (two chargers) |
| Suspension | No suspension | Independent suspension – front and rear |
| Weight | 46 lbs. | 77 lbs. |
| Max. Speed | Up to 12 MPH | 40 MPH |
| Max Range | Up to 8 miles | 40 miles |
| Battery Capacity | 24V (two 12V) sealed lead acid, rechargeable Lithium-ion battery | 52V/18.2Ah Lithium-ion battery |
| Tires | 8-inch pneumatic rubber off-road | 10-inch pneumatic tires |
| After-sales Service | Dealer support if applicable | Brand support |
| Warranty | 6-months limited manufacturer's warranty | 24 months |
Conclusion
Looking at the above comprehensive guide, it can be said that if you're looking for a budget-friendly versatile e-scooter, going with Varla Eagle One can be your best bet.
After all, you're getting a perfect combination of power, safety, smoothness, and style – all combined in one scooter. In our opinion, that's one lucrative deal to grab.
So, are you ready to make it your travel partner?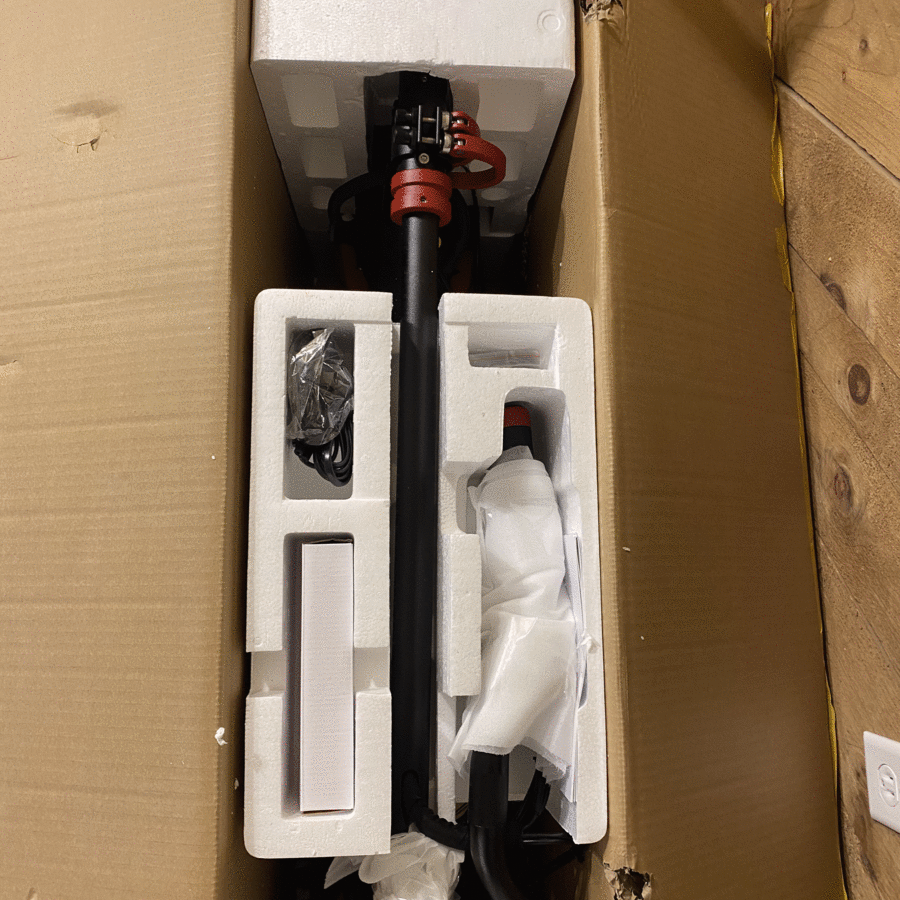 People Also Ask
Can't find the answer you've been searching for? Don't worry. These are some of the frequently asked questions that arise in the minds of the customers while reviewing Varla Eagle One electronic scooter:
Is the Varla Eagle One Worth it?
Looking at the features, specifications, and the price at which they are offered, Varla Eagle One is surely worth it.
Who Makes the Varla Eagle One?
Ben, an electronic scooter enthusiast is the founder of Varla, along with his team, designed and manufactured Varla Eagle One.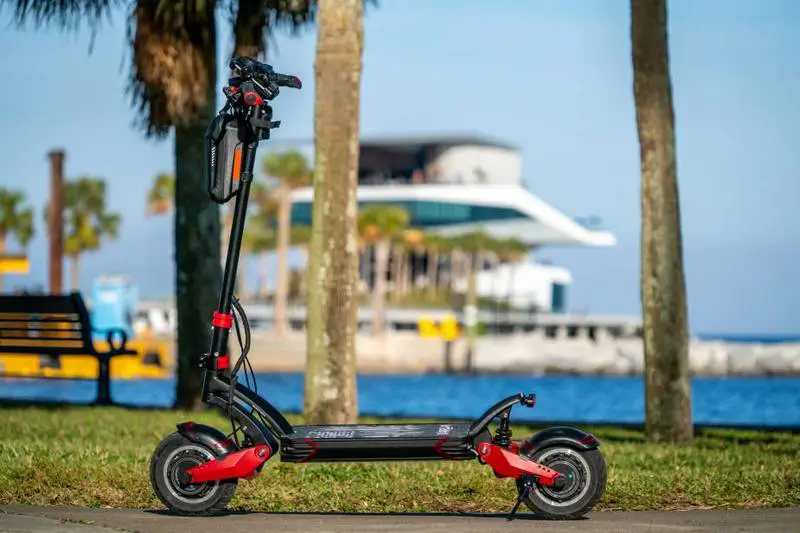 When Was the Varla Eagle One Created?
Varla Eagle One was created in 2020 when the Covid-19 was at its peak. It was introduced specially to provide people with a better and safer mode of transport. 
 Is a Varla Eagle One Hard to Use?
No, using this e-scooter is not at all complicated. If you still need any assistance while using, go through the user manual and other informative blogs on its website: www.varlascooter.com