The Best Way to Commute: Varla Pegasus Scooter
The Varla Pegasus is the newest product on the market. Released in June of 2021, this model meets the needs of many commuters who have been asking for years for a scooter that can navigate city streets at a sufficient speed and for longer distances. Well, Varla took on that challenge and came out with the Pegasus.
Hitting a top speed of 28 MPH, you can get where you're going quickly and even at a distance of up to 28 miles away. You may be familiar with the Varla One, and now it's time to see the next big thing from the same brand.
This guide will help you understand the basics of this product and help you decide if it's a good fit for your commuting needs.
Specs and Dimensions
Motor: Dual 500W hub motor, 1000W x2

Top Speed: 28 MPH

Max Range: 28 miles

Climbing Angle: 25-degrees

Charger: Charger 2.0A

Charging Time: 7-8 hours

Weight: 66 lbs.

Battery: 48V/15.6Ah Battery

Tires: Puncture-Proof Solid Tire

Max Load: 280 lbs

Suspension: Dual suspension

Brake: Dual Disc Brakes

Frame Material: Aluminum+Magnesium Alloy

Display: Smart LCD display

Safety Lighting: Headlight & Taillight

Warranty: 2 Year
Main Features
The Varla Pegasus fills a void in the market. If you are looking for a way to commute to work, school, or just scoot around town, you've got to check out this scooter.
The 280 pound weight limit accommodates most users and with a decent speed of MPH, you can get where you're going in a hurry. Hills up to a 25 degree angle are no problem for the Varla Pegasus, which takes the uphill and downhill challenges like a champ.
Varla put safety at the forefront when creating this scooter. From the solid tires which mean you'll never end up stuck with a flat tire or lose control due to a blow-out to the dual disc brakes with heat dissipation which ensure you can easily stop in both wet and dry conditions, you can feel in control when riding. The Pegasus also features both a headlight and a tail light to keep you seeing and being seen when riding in dark or inclement conditions.
There is no lack of comfort features in this model either. Throttling is done with a simple push of a thumb to reduce hand fatigue and allow you to keep a firm grip on the handlebars. Dual suspension keeps you from being jarred by each and every bump in the road and the silicone deck provides a comfortable surface for your entire ride.
This scooter folds up easily with only three steps, which secures with an included lock clamp. Varla even included a deck hook for easy carrying and storing.
The powerful 48V/15.6Ah battery takes about eight hours to charge and can run for a whopping 28 miles on a single charge. Charge the battery overnight and then hop on for a ride to work or school. Allow it to charge during your activities, and it's ready to go when you are.
Pros:
Here are some pros you can enjoy with this model. Don't miss out on these benefits from the Varla Pegasus.
8-Inch Solid Tires
Solid tires mean you never have to worry about airing up a low tire or dealing with a flat unexpectedly. You also won't experience decreased traction due to varying levels of air in warmer or cooler conditions.
The 3.5-inch wide tires glide easily over rough terrain and up and down hilly areas, taking you everywhere you need to go.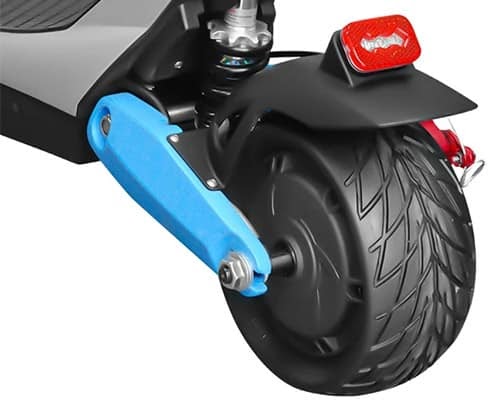 LCD Display
The large LCD display gives you everything you need to know at a glance. One look tells you the speed, range, and how much battery power you have left so you can plan your outings accordingly.
Compact
The Pegasus folds and unfolds with three simple steps. This means you can fold it up at home or at work/school and store it almost anywhere. No need to find a secure place to chain your scooter to prevent theft. The locking clamp keeps it safely folded until you're ready to use it and the deck hook is perfect for carrying and storing the scooter at your destination.
Power
A dual 500-watt motor provides up to a 1600-watt peak power output, pushing you to speeds of up to 28 miles-per-hour. Scooting around is rarely so smooth and fast, and the Pegasus makes you feel like you are flying down the road. The 48V 15.6Ah battery keeps everything working seamlessly and allows you to go up to 28 miles on a single charge!
Generous Weight Capacity
Most scooters can only hold the smallest of users, leaving out a huge demographic. The 280-pound weight limit means users of various ages and sizes will be able to benefit from the convenience and ease of use the Varla Pegasus offers. Scooting isn't just for kids anymore.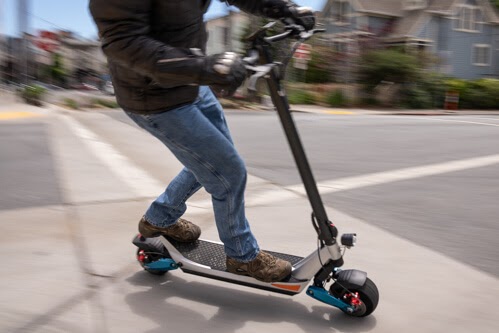 Cons:
No matter how well-made a product is, there are always a few downsides to keep in mind. Here are a couple you might want to know about.
Battery Life
While the battery can last for up to 28 miles, this means you can only take shorter trips without recharging. This can be inconvenient if you travel longer distances or have many errands to run on a single charge. Waiting 7-8 hours for the battery to recharge can mean you can't always accomplish everything at once.
Cost
Value and quality don't come cheap and the price can cause some potential buyers to pause. However, when you consider the smaller carbon footprint of a scooter versus a car, it more than makes up for it. The cost might trip you up at first but considering the other options like a car or motorcycle, the Pegasus is still a bargain.
What is the Varla Pegasus Best For?
Short Commutes
The Varla Pegasus is best for shorter commutes and errands. While 28 MPH is fast for a scooter, it can't keep up on faster roads or highways. If you have a mid-length drive to work or school, this is an excellent option.
Urban Areas
Also, if you live or work in an area with limited parking or narrow access roads, the small size of this scooter might be exactly what you need. You also don't have to worry about where you will store it, since the Pegasus can fold up and be hung anywhere, even inside your apartment.
What Do I Need To Know Before Buying a Varla Pegasus?
So, to break this down, what should you keep in mind before committing to buy this model?
The scooter can travel up to 28 miles on a single charge. However, this is in optimal conditions and based on a 175-lb rider. Actual distance may vary by user so be sure to take it out for test drives before depending on the max distance for important tasks.

Solid tires are great for reliability but have little give so the ride can feel a bit bumpy. Don't worry, you'll get used to it though.

Although the maximum weight limit is 280-lbs, the recommended maximum weight is 250-lbs. If you're a little on the heavier end, you may experience some decreased performance, so be aware of this.

While the price may seem somewhat high initially, when compared to other forms of transportation, it is still incredibly affordable for the convenience it offers. Cars and motorcycles cost much more, while public transportation is slow and unreliable.

This model is great at all times of day and in all weather conditions. Many scooters lack lights or can't handle wet conditions but the Varla Pegasus provides you with front and rear lighting as well as boasts a waterproof rating of IP54. This is no fair-weather-only scooter.
Razor RX200 vs Varla Pegasus – Comparison Overview
Every product has competitors and one of the top competitors to the Varla Pegasus is the Razor RX200. Razor is a popular name but how does the RX200 measure up to the Pegasus? Here are some key comparisons.
| | | |
| --- | --- | --- |
| Specs | Varla Pegasus | Razor RX200 |
| What It Is | This is a long-range scooter for commuting around paved roads and city streets. | This scooter is made for off-road, high-torque trail riding for short distances. |
| Maximum Speed | 28 MPH | 12 MPH |
| Battery Life | Up to 28 Miles | 40 Minutes |
| Weight Capacity | 280 Pounds | 154 Pounds |
| Braking System | Dual Disk | Hand Operated Rear Disk |
| Tires | 3.5-inch Wide Puncture-proof Solid Tires | Heavy-Duty Alloy With 60 PSI |
| Battery | Rechargeable 48V/15.6Ah Battery | Rechargeable 24V (Two 12V) Sealed Lead Acid |
| Range | Maximum 28 Miles Per Charge | Maximum Of 8 Miles Per Charge |
| Warranty | 2 Years | 90 Days |
There you have it. The features you need to decide between the two models. Although they are similar in function, they each have a unique type of user and operation. It seems obvious that the Pegasus comes out on top in nearly every aspect except for off-roading. So unless you're an off-road scooter enthusiast, you can be sure the Varla model will meet and exceed your expectations.
Conclusion
The Pegasus may be fairly new on the market but user reviews gush about how wonderful the scooter is. This scooter is cutting edge and is excellent at reducing the carbon footprint on our environment with its small size, foldability, and riding range. You can't go wrong if you need a reliable, powerful scooter for commuting around town.
People Also Ask
Even after reading the information above, you may still have a few questions. That is completely normal. We all want to be sure we have the information we need when making a purchase. So, here are answers to some of those questions.
Is the Varla Pegasus Worth it?
Yes! You may think the price is high for a scooter, but with the long distance, battery life, and portability it offers, it is definitely worth the cost.
Who Makes the Varla Pegasus?
The company name is Varla, but the mastermind is Ben, the company's founder. Ben wanted to provide people with cost-effective outdoor products for scooter enthusiasts.
When Was the Varla Pegasus Created?
The Varla Pegasus came out in June of 2021 to address the specific needs of commuters by creating a unique scooter.
Is a Varla Pegasus Hard to Use?
Not at all. The throttle is operated with the simple push of a thumb and most everything else is intuitive. If you have problems, consult your user manual or contact the Varla team through their contact page.