Gotrax GXL Commuting Electric Scooter Review
With a sleek, modern, and stylish aesthetic, the Gotrax GXL Commuting Electric Scooter is a unique option for the everyday commuter.
In comparison to other electric scooters, the style of this model is something you'll be sure to appreciate as it looks great and operates just as well.
There are numerous convenient features you'll love to have within your hands to help you get from work to home with ease.
Gotrax GXL Commuting Electric Scooter
This electric scooter has a design that makes it ideal for commuting to work or to run everyday errands.
Depending on your preferences, you could also argue that its design is sturdy enough for long weekend excursions with the family.
There are a few notable advancements made to the Gotrax GXL Electric Scooter that sets it apart from the competition.
Other electric scooters are known to offer a substantially lower mileage and may not last as long as this one does.
You'll also find that it is far more portable than many of the other larger models that have a ton of features that you'll never genuinely use.
Who Is This Electric Scooter Meant For?
Anyone will be able to benefit from using the GXL Electric Scooter, especially if you're searching for an upgrade to your existing scooter.
With an impressive high-quality build, you'll be able to get hours of amusement out of a single charge.
Also, you'll find that the battery in this model charges rather adequately, which makes it easy to have on hand for whenever you need to run errands.
This scooter's portability is another one of its notable features, as you'll easily be able to fold it down if you have to get on a bus or train.
You will also love how easy it is to store in the trunk of your vehicle if you're taking a trip to your favorite park or bike path.
What's Included?
When you order the GXL Electric Scooter, there aren't any extra accessories included with your order.
With that said, everything you need is already built into the scooter, not to mention you'll receive the charger in your package.
The only other feature we wish this scooter had was a removable seat, so you could choose between sitting and standing while riding.
Overview of Features
Here are the key features of this scooter:
On a single charge, you'll be able to travel up to 12 miles, depending on the terrain and the weight of the rider.
You will also find the scooter can reach maximum speeds of just over 15 miles per hour, which is more than fast enough for an everyday commuter.
With a maximum weight of 220 pounds, most adults will find this model to be incredibly easy to use to their advantage.
Many scooters can take upwards of 10 hours to obtain a full charge, but the lithium-ion batteries in this unit offer more than adequate charging speeds.
Within four hours, you should have a full battery, allowing you to get back to riding your scooter in less time.
When the GXL Commuting Electric Scooter is folded down, it measures in at 15"x44"x6", which is perfect for storing in your trunk.
You might even find this model can easily fit under your desk at work instead of having to keep it in a storage locker.
If you're the type of person who enjoys riding in the dark, you'll appreciate how convenient this model is for nighttime rides.
With the addition of the ultra-bright headlight, you will have optimal visibility in low light, and you'll also be noticeable to other motorists.
Are you tired of using low-quality tires on your scooter that makes you feel every bump in the road?
With the eight-inch air-filled shock-absorbing tires on this scooter, every ride will be far more convenient and comfortable.
Over time, you'll surely experience the ergonomic benefits of the tires on this model.
Although it's not recommended you ride your scooter in a rainstorm, if you're caught in a drizzle, you won't have to worry about the battery or motor in this unit.
It has a design that is IP54 water-resistant, which makes it safe to ride through puddles and very light rain.
Pros:
May create excessive noises
Quite powerful
Quick to charge
Has a decent level of speed
Folds easily
Built-in speedometer
Cons:
Tires can go flat quickly
Faulty braking system
Difficult steering
How to Use It
Once you receive your GXL Commuting Electric Scooter, getting it ready to ride is incredibly simple.
You'll want to make sure you plug it in to charge before riding it for the first time to preserve its battery over the long run.
As soon as the unit has achieved a full charge, you'll be more than ready to start riding around for hours.
It's highly recommended you keep an eye on the tire pressure of the scooter, as the tires don't appear to be pneumatic and can go flat overnight.
You will also want to be sure to plug the scooter in so that it can charge during the evening and be ready to ride in the morning.
Alternative
Even though the Gotrax GXL Electric Scooter is a relatively well-rounded model, there are plenty of alternatives to consider.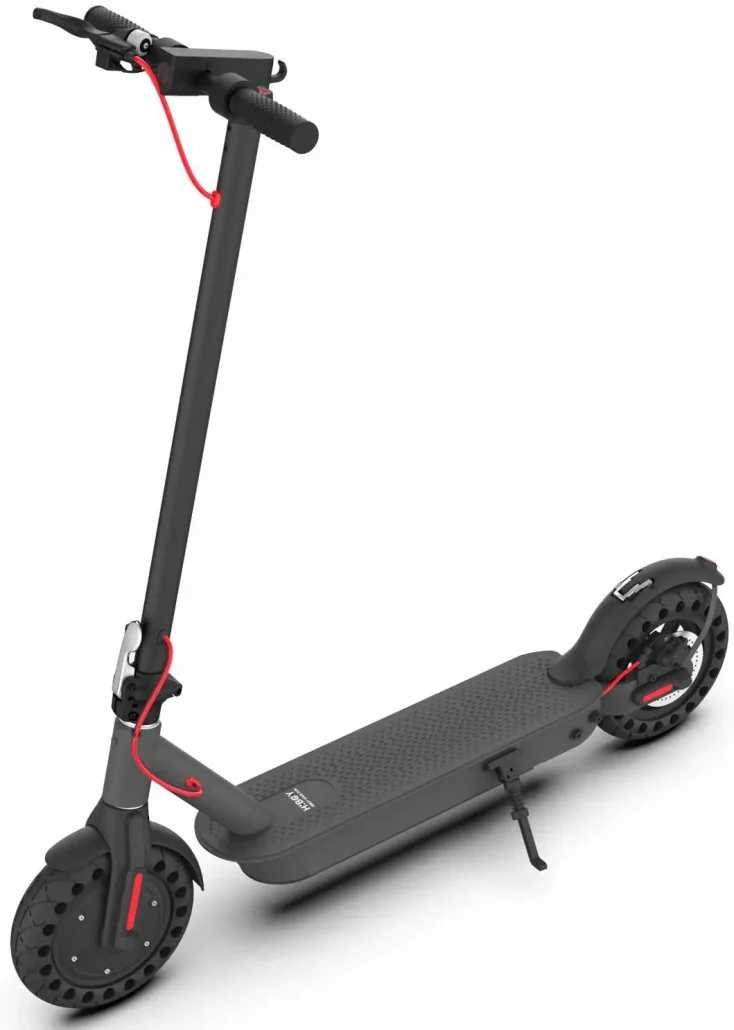 One of our favorite electric scooters for commuting is the Hiboy S2 Pro Electric Scooter, and some of its best features include:
19-Mile Range: With the ability to travel up to 19 miles, this scooter is a fantastic alternative for someone looking for extended travel.
Impressive Braking: The innovative braking system in this scooter responds quicker than most other scooters.
Cruise Control: If there's a specific speed you like to travel at, you'll appreciate the built-in cruise control.
App Compatibility: With the help of the Max Electric Scooter app, you can connect to your phone via Bluetooth to check the charge of your scooter before every ride.
Verdict
If you're in the market for a reliable scooter that charges quickly and has excellent performance, the Gotrax GXL Commuting Electric Scooter is a good choice.
After you get the hang of riding the scooter, you'll appreciate its handling and how easy it is to fold down to become portable.
Commuting has never been easier than with the help of this innovative scooter design!