With so many types of scooter grips available on the market, finding the one perfect grip could be quite time-consuming. In this article, we will discuss everything about scooter grips from comfort, control, style to the cost of each grip. 
We will provide you with all information needed to help find yourself the perfect scooter grip to have a safe, comfortable, and smooth scooting experience. We have also reviewed the top scooter grips present in the market. 
Read on below to find out more about these and go through their pros and cons and why they stand out to get a better grasp of which one you should buy. 
At a Glance: Our Top Picks for Scooter Grips
Comparison Chart of the Best Scooter Grips
IMAGE
PRODUCT

Our Top Pick

Comfortable and wide design
Soft and plush feel
Durable design for longer use

View Latest Price →

Very easy to install and use
Cushioning for more comfort
Quality materials for longer use

View Latest Price →

Best Budget Option

Best for the Money
Made with soft compound for comfort
Works with most bar and brake setups

View Latest Price →

Best Odi Scooter Grip
Feels soft and comfortable
Quality ribbed grip pattern

View Latest Price →

Available in different colors
Install in one minute
Soft and good grip

View Latest Price →
When is it Time to Replace My Scooter Grip?
Replacing your scooter grip is not a task you will be doing quite often, but it is something that needs to be done from time to time. Knowing how and when to replace your product is very important for those who often use their scooter. 
If you have been using your scooter daily and you find that your hands are getting sore or you feel the rubber sometimes slides a bit, then it is time to get rid of the old grips and invest in new ones for both safety and comfort.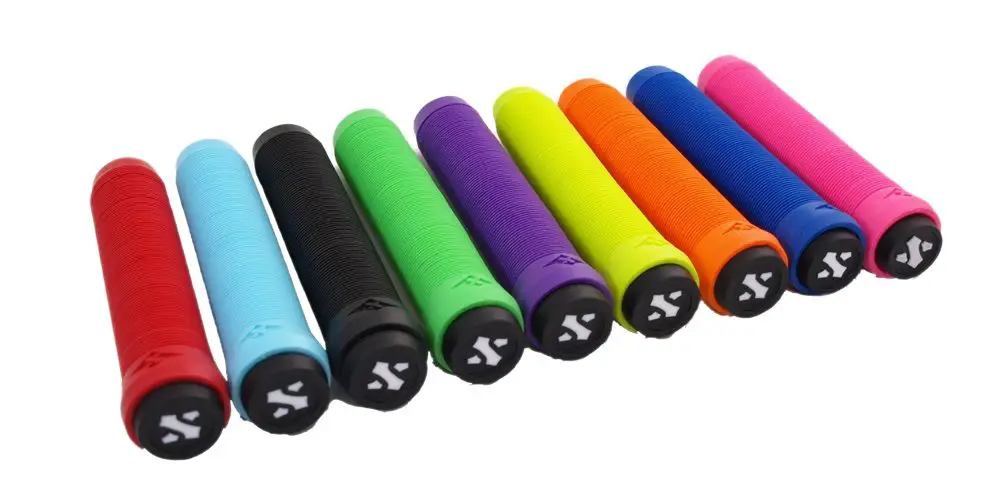 Worn out rubber grips can not only cause sore hands but are also quite dangerous. You don't want them sliding off while you are on your way through the city or in the middle of a stunt to impress your friends. It is quite simple; if your old grips are worn, and hurt you, it's time to replace them. It will only be a two-step process.
Why Did These Scooter Grips Make Our List?
We have shortened the list down to the top products you should opt for. Our list is composed of items of different kinds so that they can cater to different users. 
It is advised that you choose the item properly after reading the buyer's guide mentioned below. We have listed down important factors that you must not overlook, along with the review of the best products in the market. 
The grips mentioned below are chosen based on three main factors:
Price
We have made sure that the items are cost-effective and are easily affordable for the everyday user. With so many kinds available in the market, you can easily find yourself spending a lot of money on grips that you can get for a lower price.
Comfort
All the mentioned items on our list are comfortable and have not received negative feedback. They are well suited for general scooter riders and prevent sore hands and blisters.
Durability
As mentioned earlier, you don't want yourself to be changing grips monthly. The list made has the best quality products from well-known companies. Once you invest in these items, they will last longer than you expect.
Review of the Best Scooter Grips
Here are the top rubber grips that we think will suit your needs. Keep reading more to find out all there is to know about them, their pros and cons, and what customers have to say about these specific products.
Best Overall:
Fuzion Pro Scooters Hex Grips
What Recent Buyers Report
Recent buyers of the Fuzion Pro Hex Grip are delighted with their purchase. They love the intricate design and grip that the rubber provides. They also enjoyed how it made their scooters look new and very different. They are sturdy and have gotten quite excellent customer feedback.
Why it Stands Out to Us
Unlike many other items, the Fuzion Pro comes in quite a large size, which changes the overall experience of your ride. The Hex pattern makes it extremely comfortable, along with providing you added support and precision. 
With this, there's no going the wrong way. If you are a sports enthusiast and love challenging your limits, these are a must-have. They provide added support, and the variety of colors allows you to match it with your scooter to make it look more stylish than ever. They are quite cheap, and you just can't go wrong with them.
Bottom Line
Hex Grips by FuzionPro is a versatile grip that is well-suited for many scooter bars. Its unique formula and optimized design allow you to take your riding experience to the next level. Stop riding thin and get yourself grips that will last a lifetime.
Runner-up:
The Cult Vans by ODI
What Recent Buyers Report
Users tend to love the Van X Cult Flangeless Grips. They are everything that the manufacturer claims they are. They are durable and robust and look great on scooters. They come in a relatively smaller size as compared to other items, and the honeycomb pattern makes sure your palms remain sweat proof.
Why it Stands Out to Us
The Van x Cult grips are made from a proprietary rubber compound that allows for added control and efficiency. The waffle pattern is well-designed for superior comfort and traction. They look aesthetically pleasing and do not give you calluses. 
They are comparatively a bit hard due to the compressed rubber, but you don't want a soft grip on a scooter. They are durable and can also fit BMX or mountain bikes. They are quite grippy and will last longer than other products on our list. If you want both style and comfort, these are perfect.
Bottom Line
These Vans grips are made by ODI in the USA from their proprietary rubber and feature the classic old school Vans waffle/honeycomb pattern for maximum comfort and control. These make the perfect gift to give your sport-loving adventurous friends.
Best for the Money:
ODI Soft Flangeless Longneck Grips
What Recent Buyers Report
Recent consumers love the new and improved design of the ODI soft Flangeless longneck Grips. They are reliable and durable as well as soft, which makes riding for long hours of fun. They loved the cushion feel the item has. Installation was a bit of a hassle, but once done, they won't budge or move around.
Why it Stands Out to Us
With such a low price, the ODILong Longneck grips deliver outstanding performance. They are compatible with many types of scooters and bikes and are manufactured from rugged material to withstand the test of time. This product prevents blisters because they are soft and make the entire experience quite comfortable. 
For those with delicate hands, this is the perfect grip. They come in a jet black color, so they complement any color scooter you have, and with the ODI logo printed on the sides, there's nothing fancier. They are one of the few items that come with plugs included, which are a plus, especially at such a low price.
Bottom Line
Along with a mushroom-like design, the ODI longneck grips are soft and provide great comfort in riding. They are made of rugged material and do not slip or wear quickly. They are the softest grips available in the market that are designed to last long. 
Best ODI Scooter Grip:
ODI MX Longneck
What Recent Buyers Report
Buyers of the Longneck grip are in love with their new comfortable grip. They like the fact that it is easy to slide on and give you more precision and comfort when riding. They love how it is suited not only for scooters but bikes, BMX, and much more. They love the mushroom pattern, which is both soft and safe to use.
Why it Stands Out to Us
The Longneck Grip is known for the excellent comfort it provides. It covers the entire bar, has a customizable length, and comes with bar plugs. The plugs give added protection, and the mushroom spiral pattern prevents blisters and aches, eliminating sweaty palms. 
Installation is straightforward, and having the XL option makes the grip longer and easy to use. Moreover, the ribs on it deform easily under your hand, providing the rider with a thin cushy bar feel. With these, you don't have to worry about having gloves on; they will ensure comfort, precision, and more control.
Bottom Line
In all, this ribbed pattern grip comes without flanges. Having classic mushroom-style collapsible ribs and solid construction of ODI's compound allows for added comfort. They are an increasingly popular grip for athletes around the world.
Editor's Pick:
Kutrick Soft Flangeless Longneck Grips
What Recent Buyers Report
Consumers love these grips. They have been using it for quite some time now, and state that they seem to show no sign of wear or tear. They have stayed in their exact position without slipping out even after long hours of riding. They look cool and are very comfortable to use.
Why it Stands Out to Us
The Flangeless Grip is soft and very stylish. It is comfortable to use and is very sturdy and long-lasting. It is said to provide a better grip than the foam ones available on the market. They have excellent build quality and come with a plug. They require no installation process; all you need to do is get rid of your old grip and slide these on. 
Kurtrick has made quite a reputation in creating other sport gears, and these grips tell everything there is to know about the brand. These grips are great if you like challenging your limits and performing stunts; in fact, they are a must-have for sports enthusiasts.
Bottom Line
Overall, the Kurtric grips come with two solid grips and bar end plug, making it look incredibly stylish and functional on your scooter. It provides you with comfort and excellent control, making your overall riding experience fun.
What Are the Benefits of Having Quality Grips?
Most scooters come equipped with grips on the bar to ensure a comfortable ride; however, pre-installed grips are not all that beneficial when it comes to quality and comfort. Here is why having a quality grip is a must.
Comfort
As mentioned earlier, pre-installed grips are of poor quality and are just there to provide you a thick enough grip to ride the scooter. Comfort is one of the most important factors to consider when buying grips. If you spend a long time riding your scooter, then you must invest in quality grips to ensure that you are comfortable and don't end up with sore palms and blisters.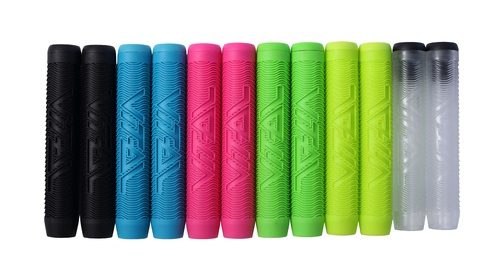 Control
Another critical reason to have quality grips on your scooter is to have added control. This is very important; most pre-installed grips are made of poor quality material, and after a week or so, they will start slipping out. You don't want grips that slip out when you're in motion. For that reason, having quality grips that stay on and provide you more support and safety is a must.
Durability
Changing grips is not something you will want to do weekly. However, if you do not get quality grips, you might find yourself spending more time changing them instead of enjoying the ride. Investing in quality grips will save you time and will last longer than you'd expect.
How to Install Scooter Grips
Replacing grips is not a task that you run into often, but it is something that needs to be done from time to time. Knowing how and when to change your grips effectively will get you back to riding faster. Here are some of the tips you can follow when replacing your scooter grip.
The first step is simple: getting rid of the old grips. If you're not planning to use the old grip again, then this step is effortless; you can use a knife or scissors to cut the grip off and discard them. It is vital that you are very careful and don't end up hurting yourself or the scooter.
However, if you are planning to save the grips and reuse them, you need to get a bottle of hairspray and peel them backward and spray underneath. This lubricates the bar, and they easily slide off.
Once you've removed the old grips, the next step is to get on with the new one. For this, you need to lubricate the grip and the bar using hairspray thoroughly. Once they are lubricated, you need to carefully place both grips on the bar and position them to your liking before the hairspray dries up.
Once the new grips have been carefully installed, you need to give it at least 20 minutes to dry up, and after that, you're good to go.
To get a better grasp on how to install these grips, you can watch the video down below. 
Conclusion
Everyone that loves riding scooters knows that getting the best grips and investing in those who allow comfort and control is essential. You want your ride to be smooth and fun instead of painful and uncomfortable. We hope this article was helpful, and you now have some idea as to which grips to invest in and what to look for when customizing your scooter.
People Also Ask
With so much information present on the internet, you can get confused. To help you out, we have compiled frequently asked questions down below for your ease. 
How Do I Stop My Scooter Grips From Slipping?
People often complain about their grips slipping off after installation. An easy way to prevent this is to let them stay on overnight after installing them, which will ensure that the grips do not fall and will leave it a long time to settle in. You can also use tape to tighten your grips.
How Do I Clean My Scooter Grips?
Cleaning grips is important; however, don't over-clean them. Taking off grips frequently loosens them up, and then they become slippery. It is best suited to clean your grips once you see that they are dirty, and even then, try not to stretch or be rough with them. Use a steady and gentle hand and make sure to use hairspray when putting them back on.
What Does the Brand ODI Stand For in Scooter Grips?
ODI is a southern California company that was started in the late 1970s and has made quite a name in the grip industry. ODI stands for Observe, Design, and Innovate. It is one of the few companies that focus on innovation and have new, unique grips designed for utmost perfection.
Other Scooter Related Reviews
Interested in more scooter content? Here are some other scooter related articles: