Riding a scooter is not only enjoyable but is surely an environment-friendly way to commute to your destination. 
If you're a nature-lover and enjoy hilly rides to feast your eyes on stunning views from a height, then riding a scooter for climbing hills is an efficient means of transport. It saves time and energy and gives you a pleasant trip with the wind in your face. 
Luckily, many electric scooters offer unique features to traverse rocky hills and ride plain roads as well for everyday use.
At a Glance: Our Top Picks for Scooter For Climbing Hills
Comparison Chart of the Best Scooters For Climbing Hills
IMAGE
PRODUCT

Our Top Pick

Offers about 40 minutes of continuous use
Rear-wheel drive for improved control
Big and strong deck and frame

View Latest Price →

Has 'economy mode' to slow down acceleration
Equipped with strong 1600-watt motor
Frame is foldable for easy transport

View Latest Price →

Best Budget Option

Best for the Money
Speed is easily adjustable
Smooth driving with dual-shock absorber

View Latest Price →

Conveniently portable design
Can support up to 220 lbs
Handlebar display allows easier monitoring

View Latest Price →

Battery can fully recharge in 2-3 hours
Made from high-grade alloy aluminum
Easy to fold and carry around

View Latest Price →
What Makes a Scooter Great for Climbing Hills? 
Not all scooters are made for climbing hills, because going against the gradient on a slope requires extra input, motor power, and torque. To go uphill, it is important to have certain features in your scooter to help maintain a steady speed without slowing down on your ride. A scooter's climbing power depends on the following qualities. 
Engine Power
The main factor that enables scooters to climb uphill is the power and efficiency of the engine. A good power engine has a 500 to 600-watt performance, which can easily bear heavier weights without affecting the climbing capability.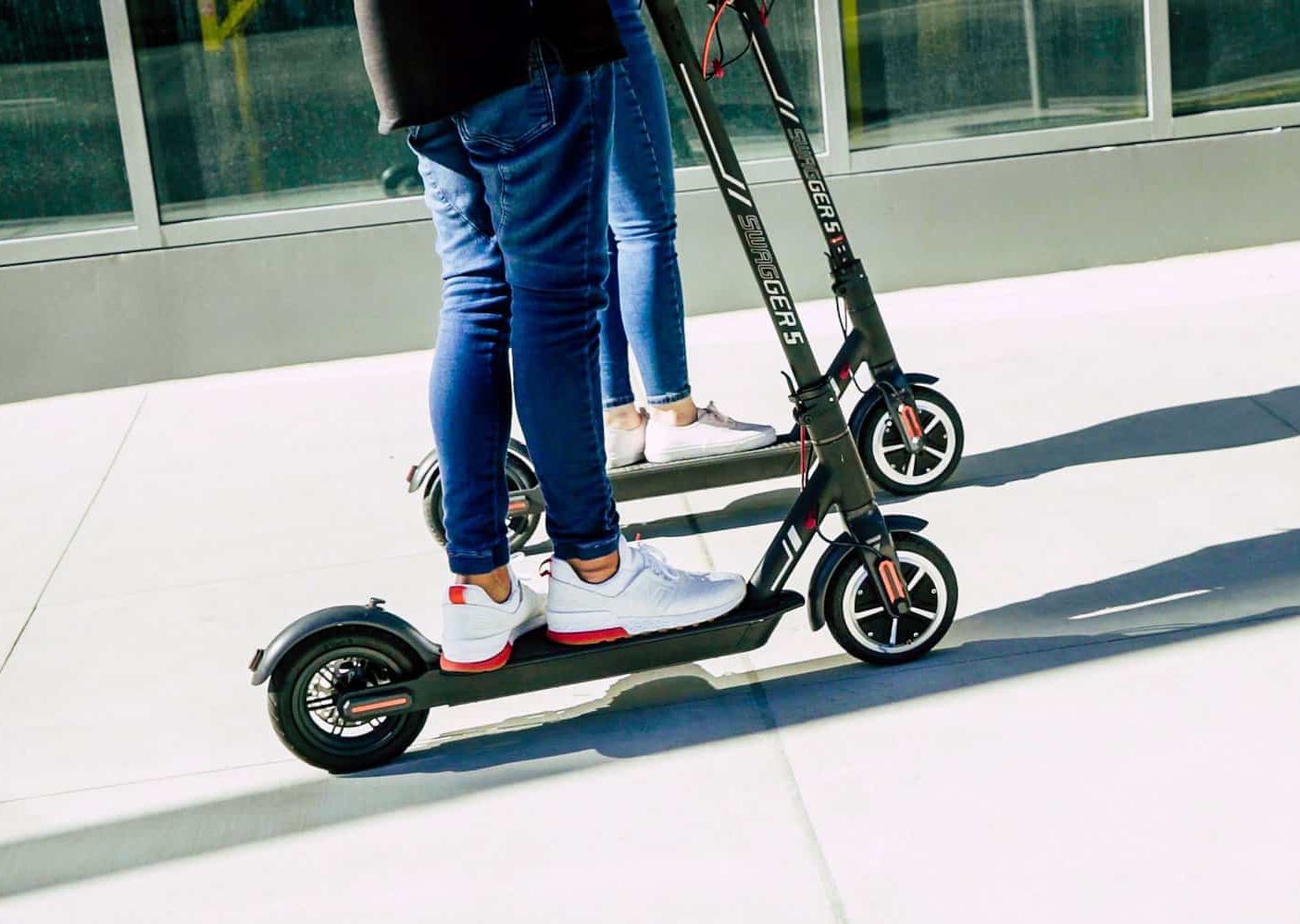 Climbing Angle
This is an essential feature to help one climb hills. The perfect climbing angle is 45-degrees, which can easily take over steeper hills and rocky roads with exceptional performance. However, each hill has a different gradient, so you need to be careful while deciding on the power of your scooter. A 20 to 30-degree inclination angle can be covered easily by the majority of scooters.
Wider Space
A good deck ensures a larger space for standing and balancing yourself when you're on an inclined path. The wheels on the scooter should be widely spaced to distribute weight and avoid falling off on steep roads due to imbalance. Wheels offering greater friction with grooves for a firmer grip make the ride much stable.
Review of the Best Scooters for Climbing Hills 
Climbing hills is not an easy task since it requires fighting against friction and gravity. The best scooters for climbing hills need to be efficient in performance and rugged in construction, to ride on rocky paths against the inclination with minimum imbalances. For your convenience, we have presented a list of the top scooters bound to give you a smooth experience while traversing hills. 
Best Overall:
Razor E300
What Recent Buyers Report
Many buyers agreed that this scooter has everything to make it the best choice for climbing hills. With a speed of 15 mph, it's neither too fast nor too slow, avoiding the dangers with kids. The wide-spaced deck offers great control and makes it easier to balance on steeper roads. It moves effortlessly on slopes with no noticeable decrease in power. 
Why it Stands Out to Us
Offering a safer and eco-friendly way to commute makes this scooter a favorite among teens and children. The construction framework consists of metal, thus enhancing the ruggedness and longevity of the scooter. The hand throttle and responsible handbrake features come in handy on hills, and the big 10-inch tires ensure a comfortable ride on uneven paths. 
Having a weight-bearing capacity of 220 lbs makes it an adequate choice for all sizes and age groups of teens. This scooter provides an extended battery life of 40 minutes, which assures you a reliable traveling distance on steep hills and gets you safely back home.
Bottom Line
This scooter is surely an all-in-one package, owing to its speed, motor power, weight capacity, and wide tires. Riding this on hills won't let you down, offering you balance and support to prevent your child from falling over. Just make sure to fully charge the battery before going for a ride. 
Runner-up:
UberScoot 1600w
What Recent Buyers Report

UberScoot is totally worth the money and a reliable scooter for climbing uphill due to the massive power and long-lasting battery performance. The weight of the unit is really stable and allows it to blast uphill with great speed and minimum resistance.
The double braking system further enhances the safety along with knobby tires that offer great control and friction on rocky terrain. One can effortlessly cover 12 miles on it with a single charge, saving you from the hassle of the battery dying out midway.
Why it Stands Out to Us
The variety of features packaged within one scooter is surprising when it comes to UberScoot. The front and rear headlights, double braking system, detachable seat, battery saver option, and an LED battery indicator contribute to making this the runner-up on our list.
Speed is not an issue with this scooter since it clocks up to 30 mph, which is pretty unique compared to others in the market. With such storming speed, it won't slow you down while going uphill. The grooved tires are an amazing feature added by this brand to provide extra friction and safety against gravity.
This powerful scooter can easily bear 265 lbs, and with a sturdy design and great acceleration, it is a wonderful partner to climb hills.
Bottom Line
Overall, this device proves to be a great option for everyday use on plain roads, and also for commuting on uneven off-road pathways. When it comes to hilly areas, the grip of the wheels, massive motor power, and a battery life of 12 miles in a single charge won't let you down. 
Best for the Money:
QIEWA Q1Hummer
What Recent Buyers Report

Satisfactory and positive reviews from a vast majority of buyers dominated when it comes to this product. It is durable, fast, and powerful on the hills moving with great acceleration. At the same time, it can be slowed down due to the firmly gripping tires.
With a superb climbing capacity, it can easily traverse inclined hills with 35- and 45-degree angles as well. The battery life is reliable, which surely is a delight for adventurous souls.
Why it Stands Out to Us

Packed with all the features one could probably ask for; the QIEWA Q1Hummer is best for the money. It offers everything within a reasonable price range from a sturdy construction to the efficient lithium batteries.
It can carry 550 lbs; hence it can be used by kids and adults alike. With the gargantuan power of 800 watts accompanied by 37 mph, it will carry you to the steepest hills effortlessly.
Moreover, it features an anti-theft remote key fob to relieve you of the tension of getting your scooter stolen. A double hydraulic brake system and braking light maximize safety controls.
Bottom Line
If you're looking for a good solution for climbing hills on picnics and enjoying scenic views in your locality at a reasonable price, this is the scooter for you. The value of this product surely delivers in performance, and it won't disappoint you once you ride it in style.
4. Gotrax GXL V1
What Recent Buyers Report
Being a really convenient medium of transport to your school, shops, or the park, this scooter also proves itself while climbing up in hilly areas. It can overcome steep paths with a steady speed, torque, and a whopping 250-watt motor, which fuels the scooter against the gradient. 
Many customers expressed positive remarks and were impressed by the speedometer, bright headlights, and the locking of the steering that guarantees extra safety.
Why it Stands Out to Us
With larger tires offering an increased grip on the slopes, the Gotrax GXL V1 is a great choice for commuters traveling uphill. It can carry significantly heavy loads up to 220 lbs and maintains a 15-mph speed on hills. 
The battery recharges quickly and can carry you for 9-12 miles, which is a pretty fair distance for kids. It can also be folded down and stored without any hassle, enhancing its practicality and convenience. You can surely rely on this scooter for transporting you on hills and slopes because of a sturdy power motor, and a strong construction framework.
Bottom Line
Overall, this scooter is a reliable and comfortable device to carry you uphill with minimum resistance and fear of falling off. The powerful motor wins over the gradient, and you are bound to enjoy this simple scooter for an economical price. However, the noise is pretty audible and can get disturbing for some users.
5. XPRIT Electric Scooter
What Recent Buyers Report
A majority of the buyers recommended this product based on its efficient portability and value for the price. It goes at a great speed for kids and teens, and the 250-watt power motor fights greatly against any inclination. 
The deck area is spacious, paired with anti-slip tires, which improve balance and stability. The flashing light on the rear wheel along with side reflectors allows one to ride it even at night with greater visibility.
Why it Stands Out to Us
The battery of this scooter recharges pretty fast within two to three hours and makes it available for further use. It is best to cover shorter distances to nearby hills within a range of 15 miles, but you can also opt for a power-saving feature, which makes the battery lasts for a longer time. 
Constructed with high-grade alloy aluminum, it is pretty lightweight but can surprisingly bear 220 lbs without any trouble. With its convenient braking system and anti-slip tires, it reduces the risks of potential injuries and toppling over on steeper areas. Furthermore, its 11-degrees climbing angle can help it conquer the majority of the hills in your locality with a steady ride.
Bottom Line
To sum up, this scooter is a wonder for everyday use to your class, work, or nearby coffee place, but it's not much efficient for cruising steep hills. The compact size and aluminum framework distinguish it from the rest by upgrading its performance and functionality. It is still a great buy and excels in certain features but may not have the adequate strength to conquer large slopes.
What Do I Need to Know Before Buying?
Equipped with the right amount of knowledge, you'll feel fully armed to make the right choice while buying an electric scooter for climbing hills. Certain variables affect the scooter's performance, so you need to be cautious to stick to reliable features that minimize trouble and discomfort on your ride. 
Whether you're looking for a scooter for daily commute on flat roads or something to overcome rocky roads on a steep slope, some basic know-how should be kept in mind. 
Climbing Angle
The angle of inclination actually determines how much effort you'll need to ride against the slope. A larger climbing angle demands more manpower and a stronger motor, while smaller angles of 10 to 20-degrees can be overcome by low-power scooters as well. If your neighborhood has steeper hills, then a 20 to 30-degrees climbing angle would make a good choice. 
Battery
This is also a considerable feature because you don't want to end up with a dead scooter on your trip. Longer battery life allows you to travel to larger distances with fewer riding problems. Lithium batteries are particularly used nowadays since they are lightweight and quickly chargeable. Try to avoid lead batteries since they can slow you down due to their heavier weight.
Suspension
Going on steeper hills usually results in a large number of accidents associated with falling off the scooter due to imbalance. This can be overcome by choosing a scooter with suspension that acts as a shock absorber on uneven terrain. The suspension makes sure that the entire body weight is not focused on the rear wheels, which prevents one from toppling over.
Weight Capacity
Depending on your age and height, make sure to consider buying a scooter that can bear your weight. If your scooter cannot carry your weight, it will eventually slow you down on slopes; hence it is recommended to choose a larger weight-bearing capacity. Moreover, the scooter should be lightweight in construction for easy portability.
Conclusion
We hope that our list of the top scooters benefits you in finding what suits your needs and demands. Depending on your locality, budget, and age, you'll be able to find a pretty good scooter if you keep in mind the compact list of advantages and disadvantages we've presented above. It's only a matter of keeping the ride smooth with a functional scooter because once you've reached the top, a breathtaking view awaits you!
People Also Ask 
Buying an electric scooter for everyday use on the neighborhood roads does not demand many features. But when it comes to climbing hills, certain queries and questions need to be answered to satisfy you before you make a purchase. Read below to find answers to some frequently asked questions.
Do I Need to Upgrade my Battery to Climb Hills?
This depends on your scooter's battery life. The battery is the fuel source for your scooter, so you definitely need to invest in it for improving its longevity. If your scooter has a poor battery life, then upgrading it to something long-lasting would be perfect for climbing hills. However, if you're considering buying a scooter, you need to look for motor power and torque. 1.2 kWh lithium batteries make a great choice for greater inclination. 
Does Weight Affect How Fast a Scooter Can Travel Up Hill?
Yes, weight plays a significant role in determining the climbing power of a scooter. The heavier the rider is, the greater would be the load on the wheels and the motor. Increased weight will not only slow down the scooter but would also cause imbalances and falling over. Hence, you need to buy a model with a greater weight-bearing capacity to withstand heavier loads. Also, be cautious about choosing a lightweight scooter with a lighter construction framework and lithium batteries to reduce load. 
Are Tire Types Important for Going up Hills With a Scooter?
The scooter climb is based on the tires and how well they can adhere to the rocky road and steepness. Choose tires that have grooves in them since they allow a much firmer and steady grip on the road. Hills usually have unpaved roads, so a good amount of friction and resistance in the tires will benefit the rider to stop whenever they please, even on wet and slippery paths. Larger and wider wheels also improve balance by equally distributing the weight on a larger area.