Balance scooters are commonly available on the market with two wheels, over which there are articulated pads for the rider to stand on. These scooters balance themselves and therefore are the easiest to ride. 
Many people are now following the trend of balancing scooters such as the hoverboard and looking for the best ones for themselves. Are you one of those people? If yes, then you have come to the right place. 
In this article, we will review the best balance scooters there are available in the market. Make sure to check out the buying guide to help you decide better the most suitable one for you. 
At a Glance: Our Top Picks for Balance Scooters
Comparison Chart of the Best Balance Scooters
IMAGE
PRODUCT

Our Top Pick

Main board provides high stability
LED lights change according to the music played
High quality durable board material

View Latest Price →Read Customer Reviews

Charges fast with 2-hour fast charging technology
Provides more comfort due to larger foot space
400W dual motor for maximum acceleration, speed and drifting

View Latest Price →Read Customer Reviews

Best Budget Option

Best for the Money
High top speed of 7.45 mph
Bluetooth speakers allow playing of music while riding

View Latest Price →Read Customer Reviews

Best Self Balance Scooter With Bluetooth
Large weight range of 120 kilograms
Fast charging as it takes 3 hours to be full

View Latest Price →Read Customer Reviews

Best Self Balance Scooter With Handle
Comfort increased with pneumatic tires
Can be operated in any weather as it is waterproof

View Latest Price →Read Customer Reviews

Best Electric Balance Scooter
Fitted with two riding modes
Far range of 12 miles

View Latest Price →Read Customer Reviews

Best Self Balance Scooter for Kids
Design offers a safe and stable ride
Supports Bluetooth technology for playing music

View Latest Price →Read Customer Reviews
What is a Balance Scooter, and How Do They Work? 
Before heading towards the reviews, let's first understand how these scooters work.
The design of balance scooters features two wheels that are equipped with electric motors. The speed and direction of these scooters are managed by built-in sensors that depend on the rider's body (either tilting forward or backward), and they adapt accordingly. The rider places his feet on articulated pads or the pressure pads on the wheels. 
When the tilt sensors detect the rider's position, they send signals to another part of the scooter called the speed control board. This board then sends a signal to the mainboard and hence drives the scooter itself. 
Hoverboards are also self-balancing scooters. However, they are different in terms of design and size.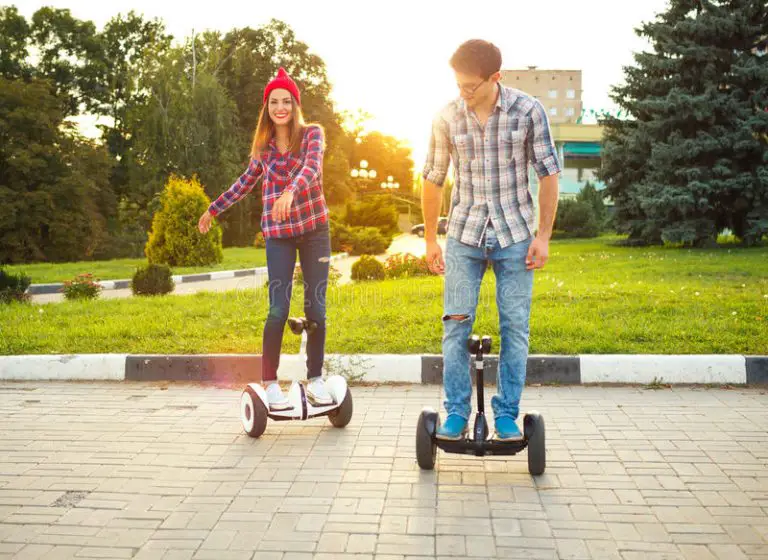 How to Choose a Balance Scooter 
To buy the best quality balance scooter, there will be some considerations that you need to make. The following list of features is what you need to check before you make the purchase. 
Battery
Balance scooters are powered by electric batteries that need recharging. Therefore, when you are looking for the best scooter, make sure it is powered by a reliable battery. It should have a good run time, take less time for charging, and be durable so that replacement costs are minimal. 
Tires
The tires determine the surfaces you can ride the hoverboard on. Check for the size of the tires, and make sure that they are suitable for riding the surface that you are most likely to travel on. Moreover, some tires are of poor quality and puncture very easily. 
Warranty
All electronic appliances or motorized vehicles such as this come with some kind of warranty or policy supporting them. Customer support and technical help are also common with such products. Make sure to learn about these policies in detail so that you can get the maximum value for your money. 
Quick Take – Best Balance Scooters
Before you get too far, here are the three best balance scooters:
Review of the Best Balance Scooters
Here are the reviews of some of the best balance scooters available on the market today:
With the extraordinary build quality and extra smart features, such as Bluetooth connectivity and built-in speakers, this hoverboard is our top pick! 
What Recent Buyers Report
Interestingly, a lot of users of this hoverboard were younger, between the ages of 12-15. This suggests that the hoverboard is great for younger kids and teenagers. Moreover, people also used this indoors and were able to enjoy it to the fullest.
Other reports also suggest that Bluetooth connectivity is very convenient. They were able to swiftly connect their smart devices. 
Why it Stands Out to Us
There are multiple features that make this hoverboard an incredible product. It is packed with essential features, such as non-slip pads and rubberized tires. However, there are also other extraordinary features, such as Bluetooth connectivity, built-in speakers, and lights. 
The lights also help ensure that the rider can use this during night time, and outdoors when there is little light. These lights also add style and ensure a great appearance for the hoverboard. The model is also certified by international standards, which makes it a highly reliable choice. 
Bottom Line
Summing it up, the TOMOLOO hoverboard comes with an excellent quality build, considering the quality of tires and the body as well. It also has a fast-charging, lithium-ion battery. 
This unit makes a great choice for both younger users and adults. 
With certified powerful batteries, large foot space, and quick charging capabilities, this is one of the best professional-level hoverboards on the market. 
What Recent Buyers Report
People have highly appreciated the positive and responsive customer support that they received from the company. Some also used this hoverboard for the first time and were able to fully enjoy it. 
In addition to this, reports suggest that the model is durable and longer-lasting than many people expected. 
Why it Stands Out to Us
This is a more higher-end, sophisticated hoverboard that features a rugged look, thus ensuring sturdiness and durability. The rubberized and wider tires make it incredible for riding on multiple types of surfaces and terrains. 
Moreover, it is very sleek in design, with its low-profile black and gray appearance that gives the rider a great style. This appearance makes it suitable for adult use as well. 
Another important feature of this hoverboard is its weight capacity. It can be used by people who weigh up to 240 pounds, and it is, therefore, more versatile in terms of usability. 
Bottom Line
In conclusion, we think that this is a versatile hoverboard that is suitable for younger people as well as adults. It has an eye-catching look and is also highly reliable with its certifications. The rubber tires are also very important for the rider to ride on multiple terrains and surfaces. 
Incredible features, including smart technology connectivity and customizable lights, are all available at an affordable price range with this model. 
What Recent Buyers Report
The product overall received mixed reviews. Some buyers report that the hoverboard is slightly heavy for younger people and kids. However, adults were able to make great use out of it. Reports suggest that people enjoyed how the lights were customizable and really bright as well. 
Why it Stands Out to Us
The most prominent feature of this budget-friendly hoverboard is the weight capacity of up to 265 pounds. This makes it great for adults and people that are larger in size. 
It also has extra smart features, such as Bluetooth connectivity, built-in speakers, and LED lights, but it is still available at an affordable rate. This makes it stand out in the market and makes it one of the best as well. People who need to buy a hoverboard for their kids or have a tight budget should definitely pick this one. 
Bottom Line
Overall, this is a great hoverboard for those who have a tight budget and need to get their hands on the best features. It has an incredible range of features, including smart connectivity and customizable LED lights. 
The reports on this hoverboard are also very positive, suggesting that the ride is very smooth on all surfaces.
Best Self-Balance Scooter With Bluetooth:
Felimoda Hoverboard
The Felimoda hoverboard is backed by responsive customer support, as well as incredible build quality featuring chrome and matte finish varieties.
What Recent Buyers Report
Buyers were highly satisfied with the carry bags that came with the purchase. It enabled them to easily carry the hoverboard with them anywhere they wanted to. 
Also, reports suggest that the hoverboard was very easy to get used to. Many beginners were able to ride it easily. 
Why it Stands Out to Us
There are multiple features that have made us add this hoverboard to our list. But the most prominent thing about it is its versatile range of colors and finish. It is available in chrome and matte finishes, along with unique and vibrant colors. So, you can fully personalize the experience by choosing the color that best matches your personality. 
Furthermore, the Felimoda hoverboard has spacious foot pads that are covered with a non-slip material. This makes them more stable and secure for the riders. 
We also find the customer support of this brand really impressive. This ensures that the hoverboard can be a great pick for beginners and first-timers. 
Bottom Line
Overall, this versatile hoverboard is a great pick for those who need smart features but also need to remain within a budget. It falls in the medium price range and still is equipped with excellent functions such as LED lights. 
Best Self-Balance Scooter With Handle:
SEGWAY Ninebot S
Knee controls and an intelligent mobile application makes this one of the most advanced yet affordable scooters on the market. 
What Recent Buyers Report
Some of the buyers for this SEGWAY scooter were actually older-aged people. They found it very safe and stable and were able to make the most out of it. Meanwhile, people also showed satisfaction with the price-to-performance ratio. 
Some reports also suggest that the mobile application is truly user-friendly and works great.
Why it Stands Out to Us
There are numerous reasons to pick this SEGWAY hoverboard as one of the best in the market. From brand reliability to a versatile and advanced design, this scooter has it all. 
Firstly, it features an outstandingly comfortable design with its large foot area, and a handlebar as well that further adds on to the safety and stability for the rider. In addition to this, the knee control feature is one-of-a-kind. It helps the rider get more control over this self-balancing scooter.
We also find the anti-theft feature on the mobile application truly impressive. It gives great peace of mind to the owner. The app is also good for other reasons, such as for remote controlling the vehicle and self-diagnostics. 
Bottom Line
All in all, this scooter is by one of the most renowned brands in the market. It is, overall, an excellent product that comes with technologically advanced features.
Also, it is not as highly-priced as one might expect by looking at the features. So, it promises great value for your money!
Improved stabilization, rubber bumpers, and efficient battery indicators are some of the noteworthy features of this hoverboard by Swagtron. 
What Recent Buyers Report
The most highly appreciated thing about this hoverboard was that it takes very less time to charge, but remains fully charged, even after lots of hours of use. This made the lives of many buyers easier. 
Some buyers were also older people, in their late 40s who used this hoverboard. Their reports suggest that they found it really safe and comfortable to ride. 
Why it Stands Out to Us
An important factor to consider when buying a hoverboard is how easy it is to use. When it comes to this model, we think that it will be a great pick for beginners since it has good customer support, and also comes with a detailed user manual. This should help newbies learn their way to ride a hoverboard. 
Another very important aspect is the ease of charge. The hoverboard charges in an hour, and as the buyer reports tell us, the battery lasts for a long time. With this quality, you are bound to have great fun and peace of mind.
Also, gear stabilization is a significant improvement in this product. It will make riding on challenging terrains much easier. 
Bottom Line
Backed by several positive customer reviews and feedbacks, this hoverboard by Swagtron surely qualifies as one of the best with its user-friendly design. Plus, the battery life is the most distinctive feature. 
With all the necessary certifications and fire-safety tests, this affordable yet excellent hoverboard is a great gift for kids. 
What Recent Buyers Report
This scooter is for both adults and kids. The LED lights and funky colors make this a great gift for young kids, while the adults can enjoy the powerful motor that provides good speed. 
Reports also tell us that the Bluetooth connectivity is very smooth and reliable, while the speakers have a high sound quality compared to other similar products.  
Why it Stands Out to Us
First of all, the design of this hoverboard is so versatile that it made it to our list. It is equipped with powerful motors that provide durable and high-speed performance. The maximum speed of nine mph is more than what many other hoverboards have to offer. 
What is also great about this unit is that it has been tested for fire safety and undergone other performance tests as well. It has the CE/RoHS/FCC/UL 2272 certifications that further make it a reliable and safe choice. This also makes it the best pick for kids. 
The buyer reports also comment on the build quality of this hoverboard. The shell of the hoverboard is really sturdy and durable and is resistant to rough usage as well. 
Bottom Line
Overall, the UNI-SUN hoverboard is an excellent choice for kids. It is budget-friendly and affordable, so gifting it to a kid will surely make his day. 
Moreover, it offers advanced features at an affordable rate. These include Bluetooth connections and LED lights.
Recommended strongly for beginners and kids, this hoverboard features an alarm system for low battery, along with a unique purple-chrome finish and a user-friendly mobile app. 
What Recent Buyers Report
People who bought this hoverboard by cho reported that it's the best choice for younger kids since it has a small foot area. Moreover, buyers were also very impressed by the quality of lights, since they did not dim or malfunction even after over a year of use. 
The majority of the comments were about the durability of this hoverboard, which added great value to the buyer's money. 
Why it Stands Out to Us
The one thing that makes a hoverboard stand out from other common balancing scooters is the smart features. This model excels in the market since it is packed with smart technology. For instance, the built-in speakers are reported to be the quickest to connect to any other Bluetooth device. You can even connect your laptops with it. 
And let's not forget the appearance of this hoverboard. The exclusive, bright, and vibrant purple-colored exterior with a sleek chrome finish all add on to the reasons why this product is on our list. 
An important feature here is the alarm system. This helps prevent accidents and notifies you exactly when the vehicle needs recharging. 
Bottom Line
To sum up, the purple-colored hoverboard has an exceptional range of features that make it the best smart scooter. It is also an ideal pick for kids. 
There is also an app with it that makes monitoring the battery, lights, and other features. 
Pros and Cons of Balance Scooters 
If you are still not convinced that you need to invest your money in a balance scooter, then here is a list of pros and cons you will get with these vehicles. Decide for yourself!
Pros
Let's first go through the pros:
Easy to Use
They are very convenient and user-friendly. They only require some practice in initial stages to learn how to ride it, but all the balancing is then taken control of by the scooter. 
Portability
You can carry these motorized vehicles anywhere. They are ideal for picnics, traveling outdoors, or even for having fun indoors. The small, compact, and lightweight design ensures great portability.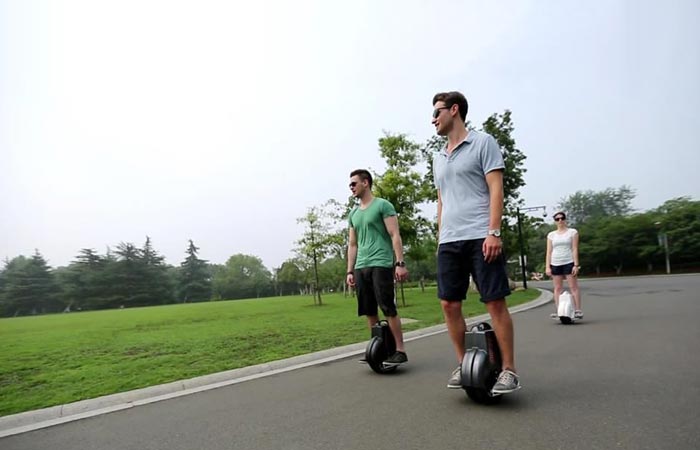 Trendy
Since 2015, hoverboards are in full-blown fashion. So, by getting one for yourself, you can also get in style. 
Environmentally Friendly 
Compared to other forms of transportation, such as motorbikes and cars, electric scooters are a lot more eco-friendly. This makes them a good choice in the long-term, particularly for those people who are environmentally conscious.
Cons
Meanwhile, some drawbacks include:
Risky Ride 
There have been cases of accidents on balance scooters, particularly hoverboards. A lot of practice is required, along with good maintenance of the battery to ensure safety for the rider.
How to Use a Balance Scooter 
Now that you have decided that you need to get a balance scooter, it is impotent to learn the tips and tricks to using it. The scooter can be pretty risky if you don't know how to use it properly. 
Take a read through the following points:
Once you switch the power button on, step on the scooter gently. 
Remember to keep one foot at a time, taking all your time. 
Use some kind of balance, a railing, or a wall to use as support when climbing on the scooter pads. 
Standing straight, in the beginning, is the key to safely get on it. 
Keep your feet tight against the rims on each end of the wheel. This will give you more stability and help you stand straight. 
We strongly recommend practicing a few times indoors or in a safe place before you take it for a full stroll.
Try avoiding big bumps and pits, as the wheels are not large enough to go past them.
To learn in detail with visual help, here is a video to help you out.
Conclusion
After reading this article, we hope that you have found your perfect pick. The best self-balancing scooter will be the one that meets your needs and expectations altogether.
Make sure to check for brand reliability, warranty specification, and also the relevant features of the scooter before buying it. 
People Also Ask
If you are a first-time buyer of a balancing scooter, it will be vital for you to have all your questions answered. Clear away all confusion by going through the following section. 
Are All Hoverboards Self Balancing?
Hoverboards are the most advanced kind of self-balancing scooters. They have become smarter with features such as Wi-Fi connectivity and lights as well. All hoverboards are known for their self-balancing capability. 
What is the Difference Between a Hoverboard And a Self-Balancing Scooter?
The major difference between a self-balancing scooter and a hoverboard is its design. Most commonly, balance scooters have a handlebar that the rider uses to hold himself down on the scooter. 
Meanwhile, hoverboards have no such handlebars and solely depend on the tilting motion of the rider's body. However, there are no significant differences between the two. 
How Much is a Self-Balancing Scooter? 
Self-balancing scooters are available in the market at a versatile price range, ranging from high-end to budget-friendly prices. Typically, you can find self-balancing scooters priced anywhere between $200 and $700.