As one of the most prestigious scooter brands on the market, this particular model is packed to the rim with convenient upgrades.
From its high-powered motor to its relatively high speeds, you'll find that commuting has never been simpler than with the help of this unit.
This Bird ES1 review can help you determine if its features will suit your needs.
Bird ES1 Review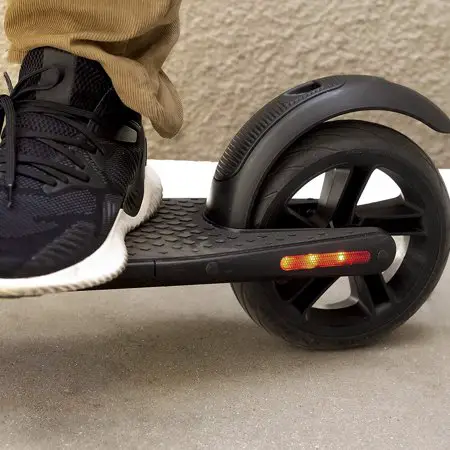 At first glance, the Bird ES1 falls somewhere between a professional and casual scooter, with its sleek, modern, and stylish appearance.
If you're a first-time rider, you'll feel confident and luxurious while rolling down the street with the mainly black frame with red and white accents.
You'll also quickly fall in love with the numerous features it has to offer as well as its high-quality testing to ensure it falls well above industry standards.
Compared to other scooters on the market, this model is lightweight and easily portable, which makes it even more convenient for everyday use.
Many riders have noted the smoothness of their rides, which is also why they're an incredibly popular scooter brand for municipal ride-sharing programs.
Who Is This Electric Scooter Meant For?
Most electric scooters are meant for commuting, whether it's to and from work or for running errands during the week.
We also love the idea of using the Bird ES1 for casual outings with friends or exploring trails in your area.
You'll find its motor is quite impressive while traveling on rough terrain, which is quite an improvement from existing scooter models.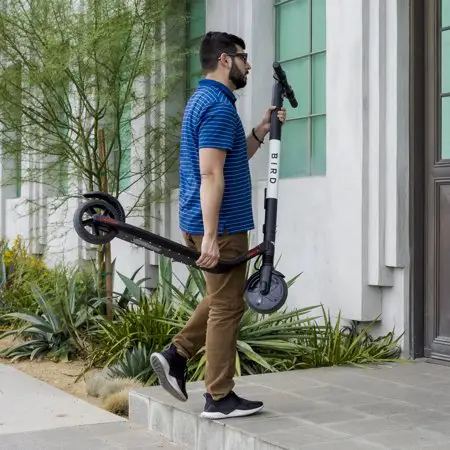 All of the mechanical and electrical components are UL-2272 Certified, which gives you the peace of mind you need.
Each scooter is put through a comprehensive list of tests by Underwriter Laboratories to make sure they operate like a breeze.
For riders who are conscious of the environment, you'll be particularly glad to know that this scooter is environmentally-approved and creates zero emissions.
What's Included?
Aside from the charger, there aren't any extra accessories you will receive when you order the scooter.
However, this doesn't mean the model lacks necessities since everything you need is already built into the unit.
From shock absorbing tires to a digital LED display, everything you need will be ready to go as soon as you unbox it.
Overview of Features
Some of the things you'll expect from the Bird ES1 Electric Scooter are:
With the help of higher torque, you'll have a substantially more powerful scooter within your hands to use daily.
The nominal power rating of the motor is 300 watts, with a 700-watt maximum, which is more than enough to take advantage of its long-lasting battery life.
With an adequate load, the Bird ES1 will allow you to reach maximum speeds of 15.5 miles per hour.
If you're someone who loves using your scooter over your car, you'll be glad to know that this model can last up to 15.5 miles on a single charge.
This distance should be more than enough for daily commuting and running errands, such as venturing to the grocery store.
There are two braking systems added to the scooter, one being an electric system and the other being a mechanical one.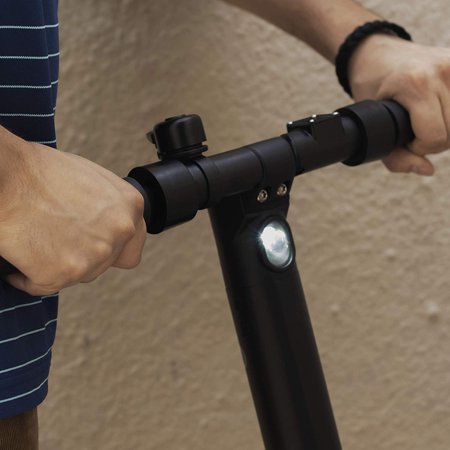 With the help of the dual braking, you will have more control over the safety of your scooter, as you'll reliably be able to stop immediately in case of emergencies.
Riders who prefer to have a lot of control will surely appreciate the brakes.
With the Bird ES1, you'll not only have a front headlight, but you will also have rear brake lights to keep you safe while on the road or bike paths.
As an added feature, this scooter has built-in ground effect lights that make you even more noticeable in low light.
Safety is undoubtedly one of the top concerns for Bird, and as such, you'll have plenty of visibility if you prefer to ride at night.
There are plenty of scooters that can weigh up to 55 pounds, but with this model, you won't have to worry about carrying anything over 27.6 pounds.
For commuters, this lightweight design is more than comfortable to bring with you onto the bus or a train.
The front tires of the scooter are equipped with shock absorption so that you have a smoother ride.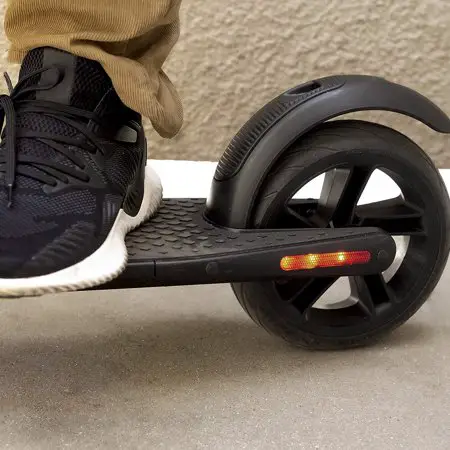 Also, the wheels are eight inches in the front and seven and a half inches in the rear, which is excellent for navigating sharp turns without losing stability and traction.
With the addition of the LED, all of the most critical information for your scooter will be readily available.
Riders will be able to easily keep track of their speed and the amount of charge remaining in their batteries.
Pros:
Front and rear braking

Incredibly easy to use

Bright LED lights

Achieves decent speeds

Fantastic battery life
Cons:
No app compatibility

No anti-theft features
How to Get the Most Out of It
Considering the Bird ES1 is a rather well-rounded scooter, getting the most out of it is more straightforward than you would expect.
Instead of having a multi-step setup where you need to connect the scooter to an app, you have to charge it and start it up to use it for the first time.
As with any scooter, it's a good idea to allow the battery to charge fully before taking your first ride.
To achieve the maximum speed and distance of the scooter, you'll want to limit the load that it carries.
Otherwise, you may find a substantial decrease in performance, especially if you are above the recommended weight limit.
Verdict
There isn't much to complain about the Bird ES1 Electric Scooter aside from its ability to connect to an app.
With an easy setup, superior performance, and the ability to take long-distance trips, there isn't much else you could ask for from an electric scooter.