Ford's Safe Scooter Answer is… Sensors
Growing pains for rental e-scooters are showing up everywhere, from parking tickets to injuries and screaming matches. 
How best to figure it all out? Research: Cameras and sensors, lab techs and bean counters, and Spin (Ford's e-scooter division) have kicked off a study to look for some of these answers. 
It's a long way from the Xiaomi M365 electric scooter originally offered by Spin.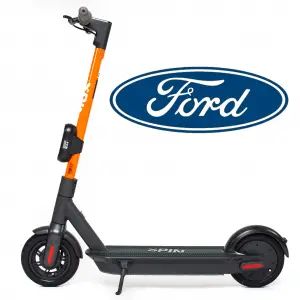 Perhaps sensor-studded scooters won't help you avoid a collision today and they certainly won't stop you from parking illegally—at least not yet. 
Thanks to the 18-month study just started by Spin on the Virginia Tech campus, though, researchers are already gathering up data that could help determine future e-scooter developments and regulations.
Info gathered from sensors can certainly tell researchers a lot about how you drive, so will companies use sensor data to figure out if you're a lousy scooter driver? 
Will you get an automatic surcharge for parking your quick rental in the wrong place? Could be. The research could lead to :
new rules
regulations 
enforcement across the board, and more!
Cities (like San Francisco's new program) require scooters to be parked out of the way, for instance, so researchers are hoping that cameras and sensors will be able to show how well riders follow through with such requirements. 
Cameras will also help reveal walkway problems, a sensitive issue in many areas around the country. (Most states and cities prohibit scooters on sidewalks.) 
Getting rental scooters approved at all locally isn't always a sure thing. For example, Utah State University started then quickly stopped an on-campus scooter program in early June, citing existing rules prohibiting motorized scooters on walkways.
Starting this month, Spin will set out as many as 300 rental scooters on campus. According to local news WSLS 10 News, 50 of the scooters will be armed with sensors for research. (About 100 scooters were available at the start of the program on September 3rd.) 
Sensors will include gyroscopes, accelerometers, and cameras, and 20 cameras are to be deployed around campus.
Not everyone on campus is a fan, and Virginia Tech discussion boards have some running anti-scooter commentary. 
Complaints range from annoyance to road hazard grumblings, in part because moving a poorly parked scooter to a safer spot sets off an alarm. Complaints about e-scooters are nothing new and some cities are setting up very specific barriers for scooter companies looking to deploy.
San Francisco's Metro Transit Authority threw scooters completely off city streets amid complaints, then let them come back after a year-long pilot program with two companies. 
To allow fleets of scooters back on the streets, the SFMTA required companies to enforce proper parking, and to do so made scooter companies include a locking mechanism that could be used with available bike racks or other nearby objects. 
The transit authority even maintains hotlines for the public to complain or contact scooter companies.
Related Content: Top Electric Scooter Accessories of 2019 – which one do you need?
Enforcement nationwide is not uniform, though, and several problem areas remain without clear solutions. In most places, scooters are not technically allowed on the road if the speed limit is more than 25 mph, for instance, but enforcement is lax and many riders aren't aware of such statutes. 
One possible guide might be the "bike friendliness" of a state, and a map with rankings is available on bikeleague.org's site here.
So – what if an area you want to ride in doesn't have a bike lane, you can't ride on the sidewalk and the speed limit is too fast? The sensor study is probably not going to be able to address such concerns.
But accelerometers can record how steady you are while driving a scooter and cameras will definitely reveal whether you run into (or over) other people. 
Keeping in mind that any motorized vehicle operator has to obey the rules, this study could lead to specific regulations, the first perhaps being whether to allow scooters on campuses—or even on city streets—at all. 
As noted above, some campuses don't allow electric scooters at all. The University of Texas – Austin allows e-scooters but specifies that they "should be operated at a low speed on campus at all times."
The current research is important, but results, in general might, well be expected to reinforce current findings. Dozens of news stories cover scooter injuries and even occasional deaths. 
The Verge ran a story reporting an average of 20 injuries per 100,000 rides, based on a study done by the CDC and the Public Health and Transportation departments in Austin, Texas.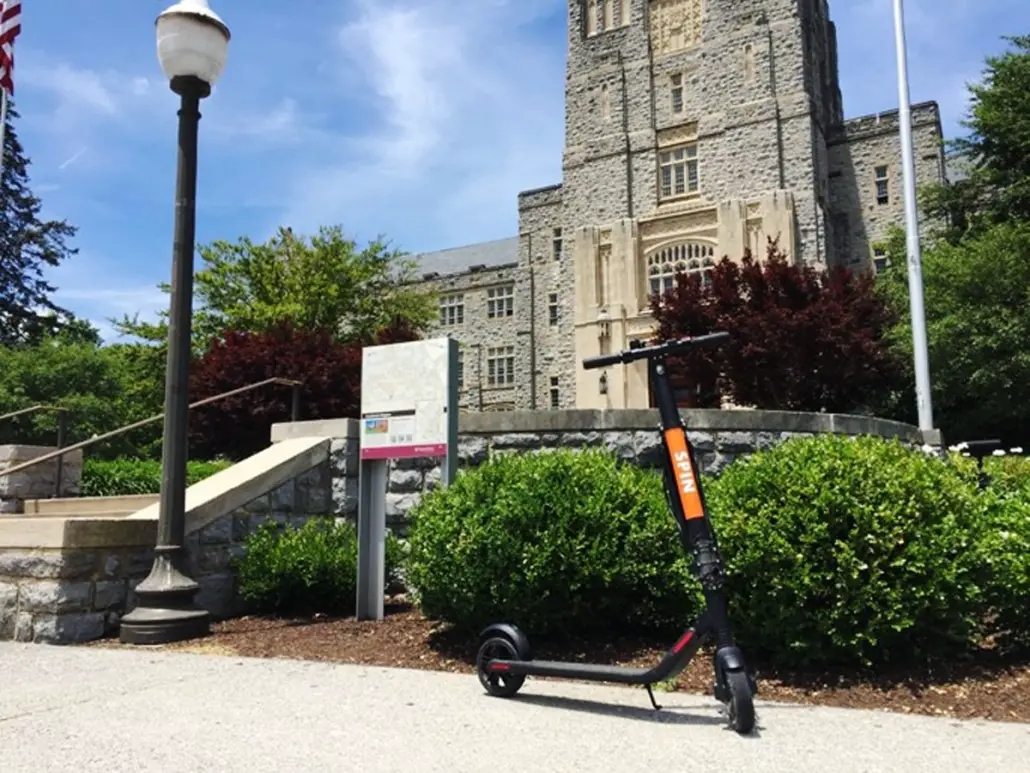 One important conclusion of the study was that riders ignore helmets too often – a finding that is probably not much of a surprise. Of almost 300 injuries cited in that study, nearly half were head injuries, and about 15% were severe. 
Will we need another study and another study and another? Well, this Spin+Virginia Tech study isn't likely to see Gen X or even millennial riders in notable numbers since it is on a college campus. 
Very few gray-haired riders are likely to take part in any study, but they do hop on scooters from time to time. More notably, elderly victims are more likely to get hit by a scooter driver, and a stand-out fatality from a scooter accident was an elderly woman struck by a scooter.
A summer article from Consumer Reports found eight deaths from scooter accidents and victims ranged from a 5-year-old to a 53-year-old man who rode without a helmet and died after colliding with a tree. (The CDC study was a broad survey that took nearly a million scooter rides into consideration while the Spin study at VT will max out with 300 scooters in a year and a half.)
The Virginia Tech / Spin sensor study might also reinforce the need for proper parking. A number of injuries have been caused by people tripping over poorly parked machines, a problem that causes legal issues as well as complaints. Problems are prominent enough that some cities are considering outright bans.
Mayor David Briley of Nashville wrote, "Based upon what I have witnessed firsthand, the recent influx of scooters in our city is causing us to be less safe and more visually cluttered," from his letter to scooter companies.
Since enthusiastic riders doubtless want to see expanded places to ride, and since crowded cities probably would love to see inner-city traffic improvements (almost no matter how that's achieved), we can certainly hope that more studies find e-scooters a positive development and fairly safe in a detailed review like data from this Spin / VT study. 
All concerned might be calmed a bit to learn from the CDC study that the odds of an e-scooter accident are just 0.02% per trip. 
Knowing such data won't help when a scooter rams into you at 20 mph, or (admittedly worse) when a car hits a rider, but riding scooters are generally proving pretty safe – so far. 
Even without special street rules, and even without a clear understanding of stay-off-the-sidewalk rules, the growth of scooters nation-wide will also hopefully change driver habits over time. 
 What will we find when we compare this year's Virginia Tech study to a similar study done, say, 20 years from now? Will the walkways of campuses across the country to be full of savvy riders and equally aware walkers? 
Thanks to studies from companies like Spin and schools like Virginia Tech, we can hope to find out!