With kick scooters being more and more popular, we can see everyone changing and going for this eco-friendly commute these days. The problem is, choosing a kick scooter for adults or for a child can be a very troublesome decision. 
There are many things to consider when buying the best kick scooter, such as the main purpose of purchasing it, whether it is for leisure and sports, or is it for the daily commute, etc. 
In this article, we have covered all there is you need to know about kick scooters. After reading this article, you will easily make that decision and get yourself the best kick scooter that meets all your requirements. 
At a Glance: Our Top Picks for Kick Scooter
Comparison Chart of the Best Kick Scooters
IMAGE
PRODUCT

Our Top Pick

Made from durable aircraft-grade aluminum
Equipped with springless shock system
Folds easily for convenient storage

View Latest Price →

Best Kick Scooter for Heavy Adults
Wide and long platform makes it ideal for adults
Can support over 800 lbs

View Latest Price →

Best Budget Option

Best for the Money
Folds away easily for simple storage
Equipped with kickstand for convenience

View Latest Price →

Best Kick Scooter for Kids
Height can easily be adjusted
Comes with lights for better visibility

View Latest Price →

Best Kick Scooter for Commuting
Improved stability with air-filled tires
Enhanced braking system improves safety

View Latest Price →

Best Off Road Kick Scooter
Very good shock absorption capability
Durable and made from quality materials

View Latest Price →

Best 3 Wheel Kick Scooter
Made from aluminum alloy and stainless steel
Offers 4 height options

View Latest Price →
What is Kick Scooter?
People often wonder what a kick scooter really is and often confuse it with other sorts of scooters. A kick scooter is a mode of transportation that involves being in a standing position on a flat skateboard type deck gripping the handles, and swinging your legs in a kick motion in order to propel yourself in a forward motion.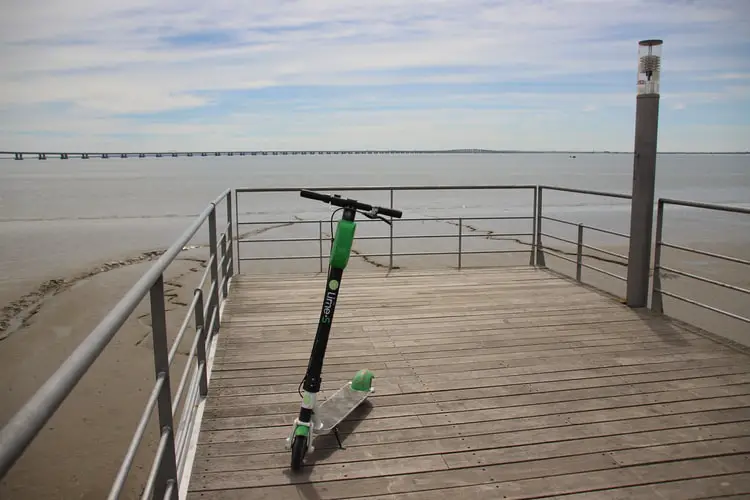 In easy words, it's a skateboard with an extended rod and a handle grip. In the start, scooters were mostly considered toys; however, with the growing trend, many adults have shifted to this mode of transport and have started considering it ideal for use in urban settlements. 
What to Look For When Buying a Kick Scooter
Before you go ahead and invest in a kick scooter, you must understand all variations in design and other differing factors. Keeping all these factors in mind will help you choose the best kick scooter for your needs. 
Wheel Style
Kick scooters come with different types of wheels to enable you to traverse various terrains. Large wheels might be more suitable for off-road conditions, whereas standard-sized wheels are built for solid urban surfaces. It is also important to know that the larger the wheel is, the more push they require. Be sure that you select the wheel style based on the surface you will be using your scooter on. 
Folding
Sometimes, you might want to go from one place to another where it won't be possible to use your kick scooter; in that case, you would want a scooter that is both foldable and lightweight, so that you can carry it with you. 
Folding also facilitates storage space. Getting a scooter that easily folds can make a lot of things easier for you.
Steering
Having control over your scooter is one of the most important things. Many scooters have t-bar steering, while others use the lean mechanism to help the rider use bodyweight balance to turn and maneuver the scooter. You want to see which steering system is easy for you to control as per your body weight. 
Brakes
Brakes ensure that you are safe when riding your scooter. You would always want to make sure that the scooter you choose has an easy-to-use brake system that is both safe and comfortable. Some scooters have no brake system since you are supposed to use your body weight to steer yourself forward and can easily stop yourself with that same body weight.
Review of the Best Kick Scooters
Finding the right product can be very difficult; hence, we have made a list of our top picks. These include a variety of different products with different styles and features. Keep reading more to find out all there is to know about kick scooters. 
Best Overall:
Razor A2
What Recent Buyers Report
Recent buyers have been very satisfied with their purchase of the Razor A2; they said it is extremely lightweight. Many have reported that its bearings are quite robust and have taken quite a beating and yet still works fine. They are very satisfied with their product and recommend it to others. 
Why it Stands Out to Us
The Razor A2 is an original kick scooter that is made of sturdy aircraft-grade aluminum, making it a product that can last a lifetime. It has a patented tube and deck fold design for easy transportation. It also features a springless shock system and second delay rear brakes. It is a perfect gift for your child. 
This kick scooter is very durable and long-lasting, making it ideal for rugged use. Since it can be carried easily due to its lightweight nature, it is ideal for even kids. The best part about this is that it can be stored easily and doesn't take too much space. 
Bottom Line
The Razor A2 is the best overall scooter for all types of terrains and surfaces; it is lightweight yet quite well-built, which means you will be investing in a product with a long lifespan. It is a great scooter for children and adults. It is durable and very long-lasting, making it a great gift.
Best Kick Scooter for Heavy Adults:
XOOTR Mg Teen/Adult Kick Scooter
What Recent Buyers Report
Nearly all buyers have had nothing but good things to say about the XOOTR Mg adult kick scooter. It is a great everyday commute vehicle that is both eco-friendly and easy to use. It is built with top-quality steel and is suitable for all terrains. Recent buyers love the product and have rated it the number one for their choice. 
Why it Stands Out to Us
The XOOTR is a well-designed scooter designed by a team of car professionals. It is integrated with great mechanics and a lot of time and effort has gone into the making of the scooter. It is a sweet ride that looks great and is packed with all you could ask for. 
It can support weight up to 800 pounds and features both front and rear brakes. It is a bit costly, but what're a few bucks compared to all the features it comes with? It has a comfortable grip and also allows you to adjust the height according to what you want. 
Bottom Line
Xootr has been manufacturing scooters since 2003 and has made quite a reputation in a very short period of time. This scooter has outstanding quality and performance that reflects the brand due to its comfortable grip and excellent features. It also allows you to ride it in any and all weather conditions without any issue. 
Best for the Money:
Mongoose Trace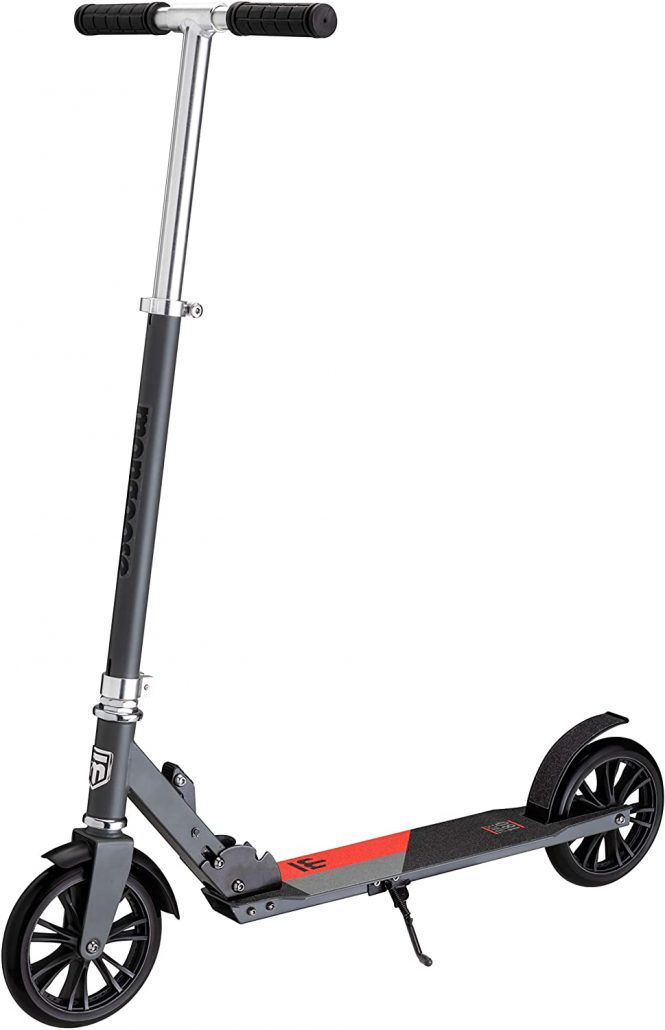 What Recent Buyers Report
The majority of buyers have been very satisfied with their purchase, and their children love the scooter. It is well-built and makes for a great activity for children to engage in. It is best for public transit due to its foldable feature. The brakes are also very firm and provide a lot of safety.
Why it Stands Out to Us
The Mongoose Trace is a foldable scooter with a lightweight and sturdy body. It features a heavy-duty frame and a quick-release height adjustment handlebar. The frame has a support limit of 176 pounds, which is quite a lot compared to many other scooters out there in the market.
Since this is a lightweight scooter, you can carry and travel with it easily. You can also take it with you to commutes, and the height adjustment makes this a comfortable ride. The handles on it also come with a comfy grip, allowing you to ride it for long hours without any issue. 
Bottom Line
Mongoose has been a well-known brand with a great reputation in the market, from mountain bikes to kick scooters, and this product is one of the best scooters manufactured. It is a robust and well-built model that will last for a long time due to its durable nature. The comfort it provides makes it ideal for all ages without you having any complaints.  
Best Kick Scooter for Kids:
BELEEV Kick Scooter
What Recent Buyers Report
Users have been happy as their kids have been playing quite a lot with this scooter. It is a great model that gives their children quite some joy when they go out for their rides. It is both durable and well-built, and above all, it is safe for children to play around with an excellent balanced structure. 
Why it Stands Out to Us
It stands out to us because it is one of the few kids' scooters equipped with polyurethane wheels and ABEC-7 bearing that absorbs bumps and shocks. It is the perfect companion and is safe for children to use. The wheels are also non-marking, which means you children can learn to scoot in the safety of your house before they take it outdoors. 
Furthermore, this unit is lightweight, so you can take it on trips with you. It is also very comfortable to use, making your travel easy and fun. It is also great for teenagers due to its height adjustment feature. 
Bottom Line
This is a great scooter for children ranging from 3-13 years of age; it is fancy and makes your child feel special. Without a doubt, this is one of the best children scooters out there in the market. 
Best Kick Scooter for Commuting:
Hover-1 Alpha Electric Kick Scooter
What Recent Buyers Report
Recent buyers of the Hover-1 Alpha love the scooter because it is quite affordable and has a few fancy features. It has a good foldable latch along with a fancy design. It is both sturdy and lightweight, and those using it for their daily commute for work have said nothing negative about it. Although the brakes are a bit hard to use, that is something they can work around. 
Why it Stands Out to Us
The Hover-1 Alpha has a max speed of 18mph, which is quite fast and can support a maximum weight of 264lbs. It is UL-certified and has LED, front and back brakes, large deck space, and is an electric scooter, above all. It has ten-inch air-filled wheels that allow it to travel smoothly on all types of surfaces. 
Furthermore, the features of this scooter make it ideal to buy. It is lightweight, height-adjustable, and also comes with a built-in Bluetooth speaker. It can work in any weather condition and is lightweight in nature. 
Bottom Line
Hover-1 Alpha is the best scooter for you to get you going around with less effort and fewer kicks if you live in the city. It has a Bluetooth speaker built into it and LED lights for higher visibility at night. For the price bracket, it just can't get any better than this.
Best Off-Road Kick Scooter:
Swagtron KR1
What Recent Buyers Report
Most buyers of the scooter were adventure-loving, sporty people who like being in action. They love the scooter due to the flexibility it provides them with. The build quality is great, and it works great on dirty and uneven terrains. The brakes are great, and it is a great sporting gear that they enjoy using. 
Why it Stands Out to Us
The Swagtron KR1 is one beast of a scooter built for high jumps and dirt roads. It is durable and gives you the performance and style you require to have fun and enjoy your daily commute. It is made with Chromoly Y-bar riser handles and comfortable TPE grips. It has an extra-wide five-inch deck space and can hold up to 230 pounds. It is the best scooter for adventure lovers out there. 
It is a comfortable ride with height adjustment features for everyone. The comfy grip allows you to ride it for hours without any problem, and its lightweight nature makes it easy to carry around. 
Bottom Line
Swagtron KR1 is a great scooter for fun-loving, sporty people out there that are willing to withstand all pressure tests and exposure. It is a well-built, lightweight, and durable scooter that has all you could ask for to enjoy freestyle riding.  
Best 3-Wheel Kick Scooter:
WV Wonder View Kick Scooter
What Recent Buyers Report
Consumers have bought the scooter for their children, and they are impressed at how great it is. The scooter teaches great balance and supports quite well. It is sturdy and has light-up wheels. Four-wheel balance is well-designed as from afar, it looks like three wheels and is very comfortable for children to ride. 
Why it Stands Out to Us
Amongst many other children scooter, the WV Wonder is a great model for kids due to its well-designed structure. It provides great support and stability, making it one of the safest scooters to buy for your kids. 
It has height adjustment features and has a fancy overall look. It also comes with great stability and premium quality to last long and remain durable. This scooter also comes with an LED display and can be folded. This ensures easy storage, anywhere you want. It also allows you to carry it on trips easily. 
Bottom Line
The scooter has a unique stainless steel base with shock-absorbing wheels. It has a wide deck for children to stand safely on and dual rear wheels for more stability and comfort. Thus, it is one of the best scooters for children.
Best Kick Scooter for Adults:
HUDORA 14695
What Recent Buyers Report
Most buyers have been happy with their purchase as their teenagers have been having a great time with their new scooter. It is very sturdy and is fun to ride. Along with having many great features, it is also a very stylish scooter that gets a lot of attention. 
Why it Stands Out to Us
The Hudora is an adult folding kick scooter that comes in a fashionable color combination of red and black. It has a new folding mechanism, which is much easier than conventional scooters. It is made of anti-rust aluminum, which makes it comfortable to use in any weather. It also features ABEC 5 chrome bearings that ensure you have a smooth and easy ride. 
Furthermore, this scooter is lightweight in nature, which makes it easy to carry around with you. The fact that it can work in any weather condition makes it a great investment to make. 
Bottom Line
Overall, the Hudora scooter comes pre-assembled with a one-year warranty from the date of purchase, a rear-wheel friction brake, an integrated kickstand, adjustable shoulder straps, and much more. For the price bracket, it just doesn't get any better than that. 
Best Electric Kick Scooter:
Segway Ninebot MAX
What Recent Buyers Report
According to the reviews, buyers love the Segway Ninebot Max and have used it to replace their bicycles or automobiles for a daily commute. They have said that it is extremely reliable and an easy-to-use mode of transport. They further state that it is so fun to use that even on the weekend, they would like to go on a spin just to enjoy pure perfection.
Why it Stands Out to Us
The Segway Ninebot Max is a revolutionary upgrade of electric scooters with a powerful motor and smart battery management. It has a portable folding design and a safe and comfortable riding mechanism that is very easy to use. Other features include front and rear brakes, LED display, Bluetooth, cruise control, and much more.
The best part about it is that the tires on it can work easily on rough terrains. Also, this unit is very affordable when you keep in mind the features it comes with, making it a great investment. 
Bottom Line
Segway is quite a prominent name in the industry, and this a perfect scooter with a high-quality build. It is ideal for those willing to invest a bit extra into their purchase. It offers an extra range of features, including tubeless tires. With this scooter, you cannot go wrong. It is a perfect gift for your loved ones.
10. Lascoota Scooters
What Recent Buyers Report
Consumers of this product have said that the scooter is great and is worth every penny. It is lightweight and sturdy, and the build quality is great. Buyers have also praised and complimented the scooter since it doesn't require much mechanical work or assembly. 
Why it Stands Out to Us
Lascoota is a great scooter for children and teenagers; it is built with robust aluminum and steel, with comfortable rubber handle grips. It has large front and rear wheels, a superb front suspension, adjustable handlebars, and a heat-treated back foot break. All these features make it one of the best scooters to invest in. 
Since it is lightweight in nature, it can be carried around easily. The best part about it is that it is not only comfortable to use but can also be stored easily and doesn't take too much space in your house. 
Bottom Line
With the Lascoota model, you can't go wrong. It has all the modern features and great adjustment settings. It is the ideal model to invest in and will last you for long since it will grow with your child. It is also adjustable and very comfortable to use. 
Pros and Cons of Kick Scooter
Just like with every product, a kick scooter also has its own advantages and disadvantages. Some of these include the following:
Pros
Scooters are very handy and make the commute easy, but they come with other advantages as well, such as the ones mentioned below:
Weight
Both kick scooters and electric scooters are very light. This makes it easy for you to get to and from places easily without having to deal with the hassle that comes with using public transportation. Once you have reached your destination, you can fold them up easily, carry them along with you, or store them till you need to use them next.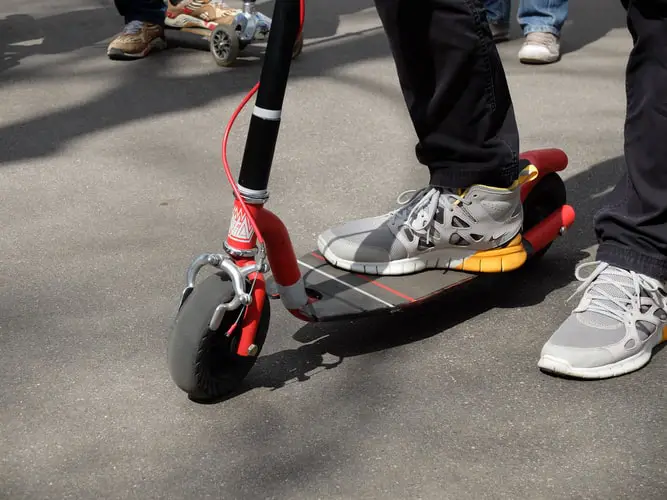 Price
A kick scooter can save you plenty of money on public transport and gas. When buying an electric scooter, they only cost you money for the initial purchase; after that, there are no fuel costs involved. 
Fitness
To get going on a kick scooter, you need to be very fit to even begin commuting with one. You will be the battery and motor for your scooter. 
With an electric scooter, you get the option of choosing between manual and automatic. Both promise a great workout since you have to use your body to propel and guide them.  
Cons
As mentioned earlier, these scooters do not come without their fair share of disadvantages. These include:
Servicing
A kick scooter requires a lot of maintenance and servicing. You will have to grease the bearings and headset occasionally and will also have to pump up your tires if your model features pneumatic tires. Also, with a kick scooter, you will have to tighten the bolts occasionally. 
Furthermore, with an electric scooter, you will have to buy a new battery every couple of years or so. A new battery is expensive, so if you want to increase your scooter's lifespan, you will have to maintain it frequently. 
Comparison Overview For Traveling
When it comes to the different modes of transportation, there are several options available, such as a scooter, bike, skateboard, etc. Scooters are further divided into models with small wheels and big wheels, and so on. Here is a comparison of the different models available if you want to determine the best mode of transport. 
Kick Scooter vs. Bike
Kick scooters and bikes are both great for traveling on your own. Both of them are similar modes of transport and are a great way of traveling in cities nowadays. 
Similarities
Bike and kick scooters are similar in a few ways, which makes both of them a great investment. Their similarities are as following:
Easy Maintenance
Both modes are very easy to maintain. They are not time-consuming and do not require regular maintenance. They might demand maintenance every few weeks, but it is easy to do so. You can simply clean it and use it whenever you want. 
Price
The price point of the kick scooter and bike is very similar to one another. They are not too expensive, nor are they overly cheap. Both have the same price and vary according to their features; if there are more features, then the price point of both the products increases. 
Weight
The weight of a bike and scooter is almost the same. These commutes are designed for easy traveling and can be picked up and carried through the subway or carried to offices too. However, bigger bikes cannot be folded, whereas scooters can be folded.
Differences
The difference between the two allows you to decide which is the better option for you. One major difference you should definitely know is:
Distance
The difference between a bicycle and a kick scooter is that the former has an advantage on long journeys and open spaces. On the other hand, a kick scooter is very easy to use for more crowded areas and shorter distances. 
Kick Scooter vs. Skateboard
The skateboards and scooters faceoff has been going on for ages, and the popularity of both keeps growing. Here are some of the similarities and differences between the two. 
Similarities
The similarities between the two include the chance of having a workout and the ease they provide. Read on to find out more.
Ease of Riding 
Both skateboards and scooters provide the user with ease of riding and help in transportation. Both have a very sporty edge, and the user can perform quite a few stunts too. Mastering tricks on scooters and skateboards is very easy and is enjoyable as well.
Workout
Skateboards and scooters both provide you with a good workout since you need to constantly kick it to keep it moving. You can also alternate your feet when pushing, spreading the effort on both sides of your body. As a result, your core muscle gets engaged intensely.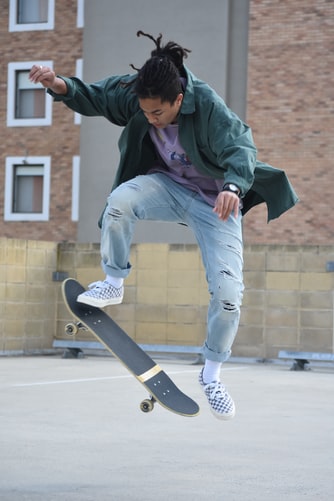 Differences
Both of these commutes are different in terms of design and usage. But the biggest difference is the learning ease; here's how: 
Learning Ease
Most riders agree that it is easier to learn the basics of scooters as compared to skateboarding. It is straightforward for a newbie to get on a scooter, grab its handle, and push it around. It doesn't even take long for them to learn tricks such as bunnyhop. 
On the other hand, learning to balance a skateboard, foot braking, and pushing it around is more difficult. 
Kick Scooter With Big Wheels vs. Small Wheels
The wheel size of these scooters matters a lot. They come with their own disadvantages and advantages due to weight and pressure. Some similarities and differences between the two include the following:
Similarities
The similarities between the two tires outweigh the difference. They include:
Lightweight
Large wheel and small wheel bikes both have very low weight since their make and material are the same. This doesn't add much weight to your scooter and makes it easier to carry around. 
Easy To Control
They are both very easy to control and maneuver. You can easily turn it whenever you want. Both are also easy to maintain. 
Fast Moving With Comfort
Both of these scooters are very comfortable to use. They do not get stuck on random cracks and objects and have a great performance.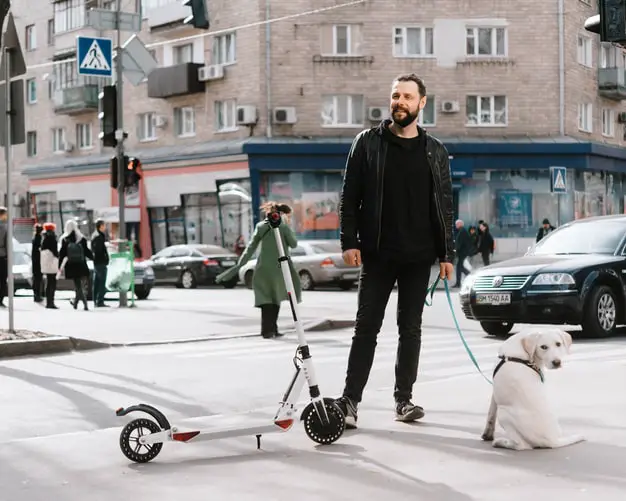 Differences
While the two modes have several differences, the primary is their ability to absorb shocks. 
Shock Absorption
Larger wheels come with better shock absorption as compared to smaller wheels. They have a thicker consistency, so they help you run over roads and go as fast as you want easily. 
How to Ride a Kick Scooter
If you still don't know how to ride a kick scooter, don't worry; we have compiled a step-by-step learning guide. Here's what you need to do:
You need to keep a loose grip on the handlebar; this will help you while turning. If you keep a tight grip, you will need to use all your weight, which can cause you to fall. 
Lose your legs to hold yourself up. If you put too much weight on the handlebar, you might break it. 
The second thing to focus on is the fork, and it should be pointing forward. If you feel it pointing backward, then you can confirm this with the strap. The strap underneath the handlebar will be pointing forward, which is not right. 
When it comes to standing on this scooter, you must keep one foot in the front and the other one behind it. This helps you to step on the brake with your heel whenever you want. Don't keep both feet next to one another as it isn't stable.
In order to get more power to move around, you need to use your weight to kick down and push forward. 
With these tips, you can easily ride a scooter on your own and enjoy this commute to its fullest. In order to see how to ride a scooter, you can take help from the video below. 
Conclusion
This article has the top scooters present in the market, along with their pros and cons and buyer's guide. You can make use of this information when shopping for a scooter for yourself or your kid and make the most of it. Also, make sure that you do your own research as well. 
People Also Ask
Even with all the information mentioned above, there might still be some questions left unanswered. The following section answers common questions that you might also have so that you end up purchasing the ideal unit. 
How Far Can You Travel on a Kick Scooter?
On average, a scooter is used to commute for a maximum distance of two kilometers. However, some people even use it for long distances. 
How Fast Can You Go on a Kick Scooter?
The maximum speed you can enjoy on a scooter is 5-15 km/h. You can also go further than that up to 15-20 km/h.  
How Long Does it Take to go One Mile on a Scooter?
The time it takes to travel for one mile on a scooter is six minutes, whereas walking for one mile takes 20 minutes. 
Do You Need a Helmet to Ride a Kick Scooter?
Yes, your child must wear a helmet when riding a scooter or a bike. In fact, they should get used to the idea of a helmet as early as possible. 
Is Scooter Better Than a Bike?
Motorcycles are hard to learn and have higher speeds and larger engines. On the other hand, scooters are more fuel-efficient, cheaper, and have better maneuverability. For this reason, the latter is a better choice for commuters. 
Is Riding a Kick Scooter Good Exercise?
When riding a scooter, most of your muscle groups tend to work together, which includes buttocks, thighs, belly, calves, and more. So while riding, you get a full-body workout. 
Are Kick Scooters Dangerous?
Kick scooters are not very dangerous, but without proper precautions and safety, they can be very dangerous. For this reason, it is recommended that you wear your helmet, wrist guards, and also knee padsr. 
Can Adults Ride Kick Scooters?
Yes, these scooters come in different sizes, which makes them the perfect commute for adults and kids both. 
How Much Faster is a Kick Scooter Than Walking?
A kick scooter is five times faster than walking. The average speed of walking is two mph, where a scooter speed is ten mph. 
How to Fold a Razor Kick Scooter?
Folding a razor scooter requires you to simply slide the grips out and push on the release button present on the t-tube. Slide the t-tube down and unclamp it using the quick lever release and push it all the way down. Simply fold, and then carry it wherever you want.