Ball bearings are an important part of scooters, as they are fitted to their wheels to make them run fast, smoothly, and without any problems. 
A slow-moving, hiccupping, or jerky scooter is not fun for anyone, whether adults or kids, which is where the need for good scooter bearings comes into play.
The following article discusses the function and the need for ball bearings, as well as some of the best ones for scooters on the market.
At a Glance: Our Top Picks for Scooter Bearings
Comparison Chart of the Best Scooter Bearings
IMAGE
PRODUCT

Our Top Pick

Comes in size 608 - 22mm x 7mm x 8mm
Made from durable steel
Has very tight tolerance

View Latest Price →

Compatible with any size wheel
Water-resistant and dustproof
Comes lubricated with silicone grease

View Latest Price →

Best Budget Option

Best for the Money
Made from carbon steel for durability
Shielded to keep lubricant inside

View Latest Price →

Fits perfectly with most wheels
Results in smoother performance
Manufactured from carbon steel

View Latest Price →
What Do Bearings Do on a Scooter?
Bearings are important as they help with load distribution and movement of a scooter. A scooter generally requires four to eight bearings. 
Basically, a ball bearing is a circular element that is fitted into the center of the wheel, and it uses balls to separate between bearing races. This causes a reduction in rotational friction as well as even distribution of the load. All of this helps the scooter to run smoothly without any bumps or jerks.
What Should I Look For When Buying Scooter Bearings?
There are some factors to keep in mind when looking for bearings for your scooter, which are:
Material of Bearings
Many different materials are used to make bearings, such as steel, chrome steel, titanium, ceramic, etc. It is important to know that each material has its positives and negatives, but some, like steel and titanium, have proven to be more long-lasting than others. 
ABEC Rating
ABEC stands for Annual Bearing Engineering Committee and is a rating system that determines the precision and accuracy when it comes to the rolling of a bearing. The system uses odd numbers, i.e., 1, 3, 5, 7, and 9 for rating, one being the crudest and nine or more being the smoothest. Basically, the higher the ABEC rating, the faster and smoother your scooter will go.
Size of Bearings
Bearings come in different sizes, but the most common sizes used are 22mm or 608s ones. They are able to fit the wheels of different kinds of products, from scooters to skateboards and even medical walkers.
Sealed vs. Non-Sealed
Sealed bearings are said to be better than unsealed or open bearings. This is because they are shielded on both sides, so they keep the lubricant inside, and dust, water, moisture, and other contaminants that can cause rust or damage outside. Plus, you don't need to clean them as often, and they are more durable in the long run.
Review of the Best Scooter Bearings
Now that we have discussed some important factors to look out for when buying scooter bearings, let's get into details about our top picks.
Best Overall:
Bones Reds Skateboard Bearings 8-Pack
What Recent Buyers Report
People who have recently bought and used these bearings are stoked. Some who are on their second set say that the company is very concerned with customer satisfaction, which shows in their product. The bearings make their skateboards and scooters run very fast, with complete smoothness and no jerks or hiccups.
Why it Stands Out to Us
One unique factor of this unit is that each pack of bearings comes with a stoked tool. It basically is a tool that can install new bearings as well as remove old ones. 
Some of them can be used for multiple reasons, which is a big save on money as well as load. That is because you do not need to take multiple tools with you to fix a single problem; just one stoke tool is enough to make simple changes, loosen, or tighten things up.
Bottom Line
Overall, this is a great set of bearings that will last for a long time. Their performance is great, and they are manufactured by a company whose top priority is making a high-quality product that will satisfy their customers, thus making sure they become loyal users.
Runner-up:
TRIXES 16 x 608 RS Bearing
What Recent Buyers Report
The most praised aspect of these is that they have multiple uses. People have even used them to replace the damaged ones in their luggage wheels, which is pretty cool. They also report that these bearings are pre-lubed and roll quite smoothly, plus they are not high maintenance.
Why it Stands Out to Us
It stands out to us because of its rubber seals. Technically, there are non-sealed bearings available in the market as well, but they are not as durable as sealed ones. This is because they do not have any type of coverage to protect them from the dirt, dust, or moisture that might enter and clog them up, which can lead to easy damage. 
Sealed bearings are a better option, as they are covered on both sides, just like this one. It prevents contaminants from getting in, thus boosting their durability. It also keeps the lubrication inside.
Bottom Line
To sum up, this is a good pack of bearings with good customer reviews. Multiple applications, smooth rolling, and budget-friendly are its winning points, making this set one of the best ones on the market.
Best for the Money:
Wellgo 608-2RS Ball Bearings
What Recent Buyers Report
People have said they are the perfect bearings for kid scooters, as they fit easily and work smoothly. They are good on medical walkers, too, as they roll very smoothly. The extra grease is a big help, but if not needed, it can easily be cleaned by isopropyl alcohol.
Why it Stands Out to Us
We had to include this to our list because it has a wide range of use. Nowadays, it is pretty common to see bearings of different materials and sizes in the market. This is great as people have a wide variety to choose from when it comes to what they are going to use it for. 
But this is a hole-in-one. It has multiple applications, meaning it can be used for different things. These include skateboards, scooters, roller skates, medical walkers, fidget spinners, and line boards. This one tiny bearing can do so much for you.
Bottom Line
These are smooth, durable bearings that will last for a long time. They are shielded, which keeps the lube in to maintain their friction-free performance. They also have a wide range of use, so they will be good whether you use them on a scooter or a walker.
Editor's Pick:
KVENI Premium 608rs Ball Bearing
What Recent Buyers Report
Better than expected is what most people have said about them. They are pretty good for their price and give a smooth performance. They do not have problems with jerks or hiccups. And they can be used with quite a range of products, including roller skates and fidget spinners.
Why it Stands Out to Us
Multiple reasons make this unit stand out. First, it has a ceramic ball. This is great because usually, this means it is better in quality and will last longer than a simple steel bearing. 
Secondly, such bearings usually require less lubrication, and they roll easier. This leads to them having less drag, which ultimately results in less friction. Plus, ceramic is better at handling heat than steel, so you can ride your scooter fast with no hiccups at all, and the bearings will still not get uncomfortably hot.
Bottom Line
In all, they are good quality bearings that have satisfied a lot of people performance-wise. They have multiple applications and are durable. Plus, their size lets them fit easily with any standard wheel on the market.
Best Razor Scooter Bearing:
Micro Traders 10x 608ZZ
What Recent Buyers Report
Other than some minor issues, customers have been mostly satisfied with these bearings. The main aspect that has been loved about them is that they support a range of products. Some people said they worked great with razor scooters, while others were raving about how their grandmother's walker moved smoothly once it was fitted with these bearings.
Why it Stands Out to Us
The main reason why this one stands out is because of its material of manufacture. It is made up of ABS, which is a commonly used polymer. It is a thermoplastic, which means it is good for insulating.  
Insulated bearings really come in handy when they are used in electrical generators or power motors. Regular bearings can easily get damaged in these machines because of the leakage of current, which can cause electrical pits to form. An insulated bearing like this one is better as it is able to protect itself and last longer.
Bottom Line
To sum up, this is a good product with a lot of uses. It is favored by a lot of people for different reasons and is high in quality, so it will come in use for a long time. It gives a smooth and jerk-free performance, which is the most important aspect of good bearings.
When is it Time to Replace My Scooter Bearings?
Bearings usually have a life according to kilometers or miles. So on average, they have a lifespan of 85,000 miles to 100,000 miles or 136,000 to 160,000 km. But this is not set in stone. 
Other factors come into play when you want to determine if a replacement is needed. These can include whether the bearings are made of durable material or a cheap one if they are sealed or non-sealed if they have been taken care of and if they have been properly cleaned and greased or lubricated. 
Obviously, a well-cared-for, better-manufactured bearing will last a long time, maybe even longer than its average lifespan.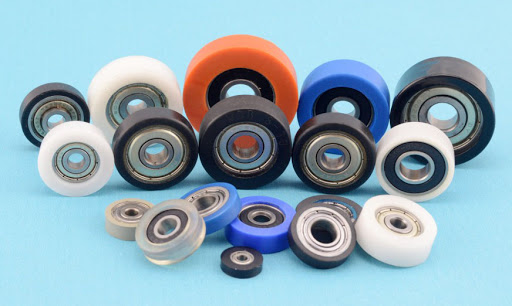 What Size of Scooter Bearings Do I Need?
There are different sizes of wheel bearings available on the market, but in the case of scooters, it is easy to figure out which one is perfect. These days, scooters use the same bearings as skateboards, which are the standard sized 608s, with a core of 8mm core, an outer diameter of 22mm, and a width of 7mm. 
These fit easily with most types of wheels on the market and can be used in other things such as roller skates, fidget spinners, and walkers too. They are the most common ones that are recommended and used for scooters.
How to Get Bearings Out of Scooter Wheels?
It is quite easy to get bearings out of scooter wheels. The steps are as follows:
Remove the wheel from the scooter.
Now, take a screwdriver and just pry against the bearing.
This will move the spacer, which is at the center of the wheel, to the side, thus giving you access to the back of the bearing.
Now that you have access to the back of the bearing, you will be able to push it out.
Now, take a pipe or a socket, something bigger than the diameter of the bearing, and place it on the back of the wheel.
Take this setup and place it on a table or some other flat surface.
Now, take the screwdriver again and stick it into one side of the bearing, holding it firmly.
Then take a hammer, and just tap it on the head of the screwdriver. This will dislodge the bearing, and it will come out. This is how you get a bearing out of a scooter wheel.
Since there are two bearings per wheel, repeat the same thing for the second bearing.
If you need some visual help to get the bearings out, here is a video explaining the steps described above:
Conclusion
All the bearings listed in this article are good for scooters. They are our top picks as they have great quality, good ABEC ratings, and have been recommended by people who have previously used them. We hope this helps if you are looking for the perfect wheel bearings for your scooter.
People Also Ask
Even though we try our best to explain each product in detail for our readers, there may still be some things that need to be cleared out. So below, we have a few common questions and their answers to clear up lingering confusion.
Do Scooters Have Bearings?
Yes, scooters have bearings. Each wheel of a scooter has two bearings, so based on the average number of wheels (two to four) a scooter may have, there may be a total of four to eight bearings per scooter.
Can You Use Skateboard Bearings on a Scooter?
Yes, you can use skateboard bearings on scooters as bearings for both have the same size.
Bones Reds Skateboard Bearings 8-Pack
How Do You Clean Bearings on a Scooter?
First, remove the wheel. Pry the bearing out using a screwdriver or an Allen driver. Carefully remove its seals if it is a sealed bearing, then take a solvent-based cleaner, such as acetone or 90% isopropyl alcohol to clean the dirt or old grease. Dry the bearing with a rag or by using compressed air.
How Do You Lubricate Scooter Bearings?
Even if your bearings come pre-lubricated, you may still need to clean them out and replace the lubricant at times. After cleaning, simply take a little grease or lubricant, and spread it on the inside of your bearings, then replace the seal and remove the excess if there is any.
Can You Use Rubbing Alcohol to Clean Bearings?
Yes, you can use rubbing alcohol to clean your bearings, as it is isopropyl alcohol.
Other Scooter Related Reviews
Interested in more scooter content? Here are some other scooter related articles: