Riding a scooter is a thrilling experience, and you shouldn't have to let go of it simply because you have grown old now. The rise in awareness regarding pollution and eco-friendly practices is a smooth step towards modernity and introduces greater responsibility and acceptance in commuters.
The market is full of many varieties, and choosing one product can be daunting, and we are here to help. This review includes a list of the best models in the market. Not only that, but it also includes a detailed buying guide so that you know everything to make a wise decision.
Since there is so much to cover, let's get started.
At a Glance: Our Top Picks for Adult Scooter
Comparison Chart of the Best Adult Scooters
IMAGE
PRODUCT
 

Our Top Pick

Designed for riders up to 100 kgs
Great graphics and attractive finish colors
Adjustable height for taller riders

View Latest Price →

 

Dual front and rear suspension
Three step fold mechanism
Wide deck for two feet - comfortable to ride

View Latest Price →

Best Budget Option

Best for the Money
Ultra soft foldable handlebars
High durability with an upgraded locking mechanism

View Latest Price →

 

Best Adult Razor Scooter
Features longer deck and extra tall handlebars
High quality and durable frame material

View Latest Price →
Can You Find a Quality Adult Scooter That's Affordable?
Since these vehicles are large and come with higher load capacity, you are bound to think the worst of them, especially in terms of affordability. But contrary to what people think, adult scooters aren't very expensive.
They are available in a range of prices, and you can get a very good model at an affordable price. Moreover, construction material also plays a huge role. The sturdier the material is, the higher the price is. However, this doesn't imply that you can't get a cheap and durable product easily. Read ahead, and you will find plenty of products boasting both benefits.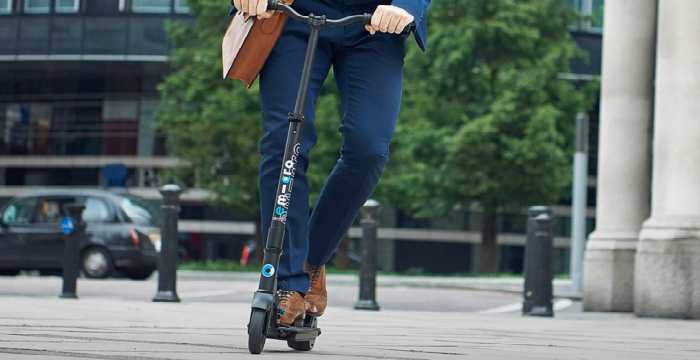 Why Did These Scooters Make Our List?
The market today is flooded by cheap yet well-marketed products. Since adults lack information about scooters, they can easily be fooled by cheap marketing tactics. But we won't let that happen on our watch. We did a lot of research and finally chose the best products. Here is why these adult scooters make our list.
Easy Folding Mechanism
Adult scooters usually come with two types of folding mechanisms: three-action or a single-action mechanism. The former requires you to release the clamp, move the pin, and then secure the clamp back. The latter doesn't involve any clamp. Our list includes models with either mechanism. Both of these are highly time-efficient.
Load Capacity
This determines how much weight the vehicle can sustain easily. The best thing about all the products on our list is that they come with either an adequate or higher load capacity. This allows heavier people to ride the scooters easily without any hassle. Moreover, this ensures greater stability for the rider.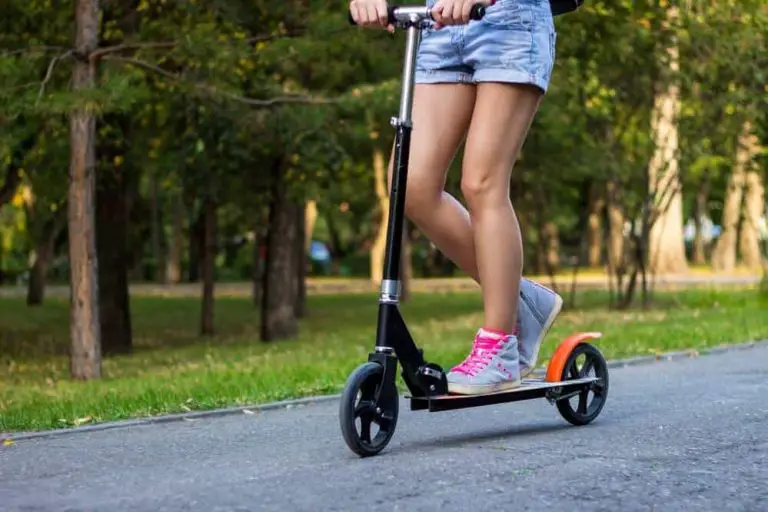 Suspensions
The suspension comes with a shock absorption feature and reduces the number of vibrations that you feel under your hands and feet at any given time. It also reduces the effects of bumpy or uneven terrain. This, together with inflatable tires, helps make the ride much more comfortable.
Reliable Braking System
A good braking system is vital if you want to prevent any accidents or fallouts during your commutes. With adults, it becomes more vital because riding scooters is a relatively new concept. Most models in the review have a good braking system that not only allows greater responsiveness but also ensures greater safety.
Review of the Best Adult Scooters
As an adult, choosing to ride a scooter can be pretty overwhelming, and we understand your hesitation. But given the right model, we promise that you will get in the zone within seconds. To help you chase your dream, here are a few amazing products to choose from.
Best Overall:
Razor A5 LUX Kick Scooter
What Recent Buyers Report
The model comes with large handlebars and comfortable wheels, but that's not the only reason buyers love it so much. This adult scooter is tested for durability, and it has shown nothing but the best results. The added strength ensures that you don't get into frequent accidents or that you don't have to visit workshops to get your vehicle tested and repaired now and then.
Why it Stands Out to Us 
Kids and adults have different priorities. Where kids prefer dangerous rides, adults care more about their safety and comfort, and that's precisely why this scooter comes with padded handlebars. There is the extra thick foam that acts as a double covering and ensures greater comfort while riding. 
Moreover, the safety feature is further aided by the large urethane wheels. These not only make your ride feel a lot smoother, but they also prevent any accidents on bumpy or uneven roads. This upgraded model, therefore, stands out because it neither compromises on your fun nor on your safety as most other scooters do.
Bottom Line
Designed carefully and tested diligently, it is no wonder that this model stands at the top position. It comes with not only large urethane tires, but its large load capacity and extra durability make it last for a relatively long time. So if you don't want to spend too much money on repairs and maintenance, then this is the model for you.
Runner-up:
Hikole Big Wheels Scooter
What Recent Buyers Report
Many have contemplated on the feature they like best because there are just so many worthy of their love and praise. Hikole comes with fully adjustable handlebars that make it suitable for slightly taller people. Moreover, the use of an aluminum frame adds to the durability. Buyers also like the use of bright colors that makes them feel young and fresh.
Why it Stands Out to Us 
The patented design of the model stands out because of its easy folding capability and its simplistic design, but the reason it has left a mark is not all this. The model comes with a perfect dual suspension system. This is quite rare in many scooters and hence noteworthy to mention. 
The presence of suspension on both the front and rear sides allow you to escape the impacts of a bumpy road and consequently not face any accidents. The system works by shock absorption on both sides, which ensures there are fewer vibrations during your ride. 
Moreover, the frame allows for ample space that is more than enough for the heaviest of people to stand on it and enjoy a fun-filled ride. 
Bottom Line
Hikole has been a true game-changer in the industry as it has completely revolutionized the way adults perceive scooters. Although it is a little expensive, the comfort and convenience it offers are worth the extra money. The inclusion of an anti-lock system and a suitable foot brake makes the usage very simple and easy.
Best for the Money:
Swagtron Commuter Kick Scooter
What Recent Buyers Report
Users have loved the concept of an e-scooter, precisely because it offers ease of usage. With an excellent manufacturer's warranty, buyers are quite at ease, knowing that this model lasts for a relatively long time. But the thing people love most about this excellent product is its cheaper cost. This allows people to get all the benefits without investing a lot of bucks.
Why it stands Out to Us
There are ample reasons why this unit stands out, but for now, we will focus on the most obvious one. The use of a powerful and reliable electric motor is a relatively new concept and one that has worked wonders for both adults and children. The e-scooter is relatively cheaper and yet provides you with high torque and unmatchable speed. This is further complemented by a large load capacity that can sustain the weight of a heavy person. 
Moreover, since the motor is powerful, you can rest assured that the battery capacity is going to be amazing as well. All this allows you to indulge in your daily commutes without taking your car or bike out.
Bottom Line
Peace of mind comes when you know that you don't have to spend all of your savings on a new vehicle. Investing in this affordable yet rigid scooter is going to be worthwhile because it ensures excellent sustainability, even in the toughest conditions. Moreover, the inclusion of an electric motor adds to speed and makes daily commute seem like a piece of cake.
Best Adult Razor Scooter:
Razor A6 Kick Scooter
What Recent Buyers Report
Most users are content with the strength and ease of usage of this model, but what they love most about it is its simple design. This allows amateur riders to have a fun time learning and practicing their positions. Moreover, it is great for wheeling and can be used to perform stunts in front of your family or friends. 
Why it Stands Out to Us 
The presence of the model is a delight for tall riders who have always had a problem using scooters for fun or commutes. A6 is thus designed to keep the specific needs of taller people in mind. 
The handlebars are fully adjustable, which allows you to rotate and change the height to suit your needs. It also features the world-renowned anti-rattle technology that makes the ride feel smooth. 
Moreover, quality construction using aircraft-grade aluminum adds to its durability and makes it last for a longer time. So if you are a tall person devoid of the joy of riding an adult scooter, then this is the one for you.
Bottom Line
In all, this Razor model is built for tall riders, but that doesn't mean that short riders can't have a great time riding it. Equipped with easy folding and carrying design, the brand does justice to its long-standing reputation. Moreover, the model is one of the cheapest ones in the market, thus making it one of the best.
Best Adult Folding Scooter:
HUDORA 205 Kick Scooter
What Recent Buyers Report
People have had no complaints in regards to this product. On the contrary, they have praised it to no ends. They love the fact that the scooter weighs considerably less than most other products and allows for greater convenience. Moreover, it takes almost no time to fold and hence saves ample time each time you go out for a ride.
Why it Stands Out to Us
This rustproof scooter is all you need to have a thrilling weekend outdoors. It has a large load capacity, which makes it suitable for both children and adults, but that's just one of the many reasons for its popularity.
The model stands tall in the crowd because of its smooth and comfortable handlebars. Unlike other scooters, HUDORA has sponge covered handles. These aren't only smooth to the touch but also make turning and wheeling easier. Moreover, the height is adjustable to accommodate the tallest riders.
Bottom Line
To sum up, this model has left a permanent mark in the industry, that too a good one. It is one of the best folding vehicles in the market that provide greater comfort to all riders. Moreover, its high wear resistance ensures longevity and its suspensions allow for greater smoothness. So if you are looking for greater portability, then this model is the one for you.
Best Adult 3-Wheel Scooter:
Yvolution Y Fliker Lift
What Recent Buyers Report
Recent buyers, especially ones who are scared of scooter riding and don't know how to operate the vehicle, are in a frenzy. They have finally found the perfect product that allows them to ride with safety and protection. The anti-slip footwear plays a huge part in the buyer's satisfaction. This provides a stronger grip and hence helps prevent accidents.
Why it Stands Out to Us

Yvolution comes with a durable and strong design that is capable of high flexibility, but that's just the tip of the iceberg. The model has a lot more to offer, especially in the safety department. The company has included not one but two separate decks. This allows for a stronger grip and hence ensures the utmost safety.
Moreover, the model features quick response brakes that allow for greater control even on the bumpiest of roads. The wheels also aid in the function, and their super grip ability allows you to hold your ground and achieve greater stability. Lastly, the anti-slip footplate further strengthens your grip and ensures no fallouts.
Bottom Line
For us, this is the ultimate three-wheel vehicle that you need to remind you of your thrilling childhood. It is not only safe, but its extra wheel allows amateurs to learn to ride easily. Moreover, it comes with lift mechanisms that allow you to practice advanced wheeling skills without any hassle. The presence of two separate discs also adds to the product's appeal.
Best Adult Pedal Scooter:
besrey Kick Scooter 200MM
What Recent Buyers Report
Buyers have had little time to contemplate on all the features of the Bersey scooter. This is because they are so mesmerized by its high responsiveness that all other benefits seem unimportant. The model comes with silicone handles and offers a perfect throttle that helps increase speed. Moreover, it also allows for easy folding positions, thus increasing its appeal.
Why it Stands Out to Us 
Besrey allows you to fold the scooter in a single step, and many people find it as the most noteworthy feature. For us, the combination of a low deck and comfortable tires is what makes it unique. The extraordinarily large tires allow you to ride comfortably over any bumps or rocks. 
Moreover, the low deck further assists in this function and helps add more smoothness to your overall ride. The presence of two brakes is also worth mentioning because it allows you to pause as soon as you see a hurdle. The quick and efficient responsiveness is one major reason for the model's popularity.
Bottom Line
Speed and quick responsiveness are key features of an extraordinary scooter, and, lucky for you, besrey contains this and much more. With its height adjustability mechanism and its anti-skid feature, it is undoubtedly worthy of being on this list. It also comes with two separate brakes that help make it more secure.
Best Adult Gas Scooter:
Dirt Dog 510 Scooter
​What Recent Buyers Report
Equipped with an automatic clutch, this is everything that you want from a gas scooter. It comes with a twist throttle mechanism that is great for stability. The presence of footpegs also aid in the function and allow for greater efficiency, both in riding and folding of the model. Buyers have also praised the cost efficiency associated with it.
Why it Stands Out to Us 
It is enough to know that a model is affordable and durable for potential customers to invest in it but for a scooter to truly stand out, it needs to have good protection as well. At the end of the day, you certainly don't want your vehicle to be stolen or for it to get lost. 
The amazing lock system in the model helps prevent that. It is one of the most reliable mechanisms that keep your scooter secured and protected from intruders at all times. You can leave it anywhere you want after applying the locks. When you come looking for it, you will surely find it in the same spot each time.
Bottom Line
Gas scooters are rarely heard of in the market, but the fact that this model is still very much relevant speaks lengths of its fame. It comes with a very wide frame made of aluminum. This not only adds to the durability of the vehicle but also provides you with ample space to stand. Moreover, it is relatively affordable in the long run.
Types of Adult Scooters
In their choice of the perfect scooter, one thing adults don't have to worry about at all is the diversity. There are many different types of scooters available. Each of these comes with its features and purpose. You can compare them against each other to see which one suits you best.
Kick Scooters
These are the most traditional scooters and can be pretty ordinary, but they have a few benefits. Their simplistic model makes them very flexible. One can learn to operate them in a day or two. This type requires you to use your foot to kick and propel the scooter forward. You will then have to use your foot to move forward.
Three-Wheel Scooter
The name is pretty self-explanatory. These come with three wheels and are very easy to ride, especially for people who are scared of accidents. There are many variations available within this type. Kids usually use kick three-wheel scooters. Adults can use them too, but most prefer their vehicles with two wheels.
Stunt Scooters
These are really strong and very durable and are designed to withstand greater weights. They can also be used by people interested in jumping or performing tricks.
They are also lightweight and can be carried on your trips easily.
Moreover, their ease of folding makes them one of the most revered types of scooters in the market. 
Electric Scooters
These are a relatively new addition to the traditional models and are considered as a breath of fresh air. They make use of a powerful motor that requires charging now and then. They are relatively expensive and can be used for daily commutes.
What Are The Benefits of Owning a Scooter as an Adult?
Most adults have boring jobs, so we won't be using many technical words in this part of the review. Being an adult can be pretty tiresome, and one should always try out new things to keep the spirits high. Riding a scooter is not only fun, but it also comes with some other benefits. Here are some of them.
Eco-Friendly
The most noteworthy benefit of having a scooter is that you can care for your beloved earth. Large vehicles such as cars and trucks produce a lot of toxic gases daily. These disrupt the natural cycle of the world and lead to problems of pollution and global warming. With a scooter, you can play your part in protecting the environment.
Cost-Efficient
Many people travel to nearby places like shops, universities, or even work daily, and the minimal distance between the house and the spot can be covered easily with the help of an adult scooter. You can buy an electric one if the manual one sounds too tiring. This will prove to be a cost-efficient way to cover daily commutes.
Good Exercise
Many health experts say that obesity can be a leading cause of major health issues, and the growing concern regarding these has compelled people to become more active. One great way to do this is by indulging in scooter riding. You can ride it daily or once every two days and remain fit and active.
Fun Experience
If you want to relive your days as a kid and go out without a care in the world, then riding a scooter can be a great start. You can indulge in racing with your kids or your friends and enjoy like you haven't in a long time.
Conclusion
We have already covered all you need to know to make a perfect choice. But before you make a purchase, you need to look carefully at all the products and also remember that not all expensive products will offer reliability. Brand names and warranties need to be considered too; however, they should not be the deciding factor at the end.
But regardless of what scooter you choose from the review, you won't regret your choice. Because once you step foot on your new vehicle and paddle to new beginnings, nothing else will matter anymore.