Good-quality tires can ensure safety and durability for your electric scooter. Tires are the major component of any vehicle and are essential for scooter's performance. 
Selecting the right tires is a very important step, as different road conditions, weather conditions, budgets, and other such factors matter a lot. 
In this article, we will review some of the best scooter tires that you can invest in to enhance your driving experience. Take a look to find the most suitable ones for yourself. 
At a Glance: Our Top Picks for Scooter Tires
Comparison of the Best Scooter Tires
IMAGE
PRODUCT

Our Top Pick

No maintenance needed when using
Safer with anti-skid pattern
Simple and easy to replace

View Latest Price →

Good grip and no-skid pattern
Pressure-resistant and explosion-proof
Offers good flexibility and durability

View Latest Price →

Best Budget Option

Best for the Money
Manufactured with quality and solid rubber
Good and reliable shock absorbance

View Latest Price →

Best Off Road Scooter Tire
Provides good water dispersion
Promises low tread wear

View Latest Price →

Best Mobility Scooter Tire
No inner tube required
Foam gives superior rolling ability

View Latest Price →

Best 3.50 10 Scooter Tire
Offers impressive grip and wear
Unique tread pattern for precise stability

View Latest Price →

Best 12 inch Scooter Tire
Designed for on and off-road riding
Easy-rolling thread for better performance

View Latest Price →
When is it Time to Replace My Scooter Tires? 
Scooter tires are made of multiple rubber components, making them bound to wear off after some time of use. However, worn off tires can be very dangerous to use persistently, as they have a poorer grip and can easily slip. 
Generally, all professionals and experts recommend that you should replace your tires in five years ideally. The sidewalls of all tires have four numbers that show when the tires were made. Keep checking for loss of tread in your tires if they are rigorously used to see when they need replacement. 
How Do I Choose New Scooter Tires? 
The reviews in this article will help you see the variety of good options you have in the market. However, choosing one best product for yourself can be overwhelming. 
Therefore, in this section, we will discuss some important aspects and considerations. 
Type of Tires
As discussed later in the article, it is vital to choose the most appropriate and suitable type of tire. The most common types are tubeless, pneumatic, and honeycomb tires. The prices also vary according to the type you choose. 
Size Compatibility
All tires do not fit all scooters and vehicles. Make sure that the one you are choosing for your scooter fits perfectly. 
Brand and Warranty
Many tires do not come with any guarantee or warranty at all. This can be less value-adding for your money compared to those products that are supported with good warranties.
For tires that do come with a warranty, make sure to check through all the specifications and details of the warranty so you can make the most of it. Meanwhile, the brand you are choosing to buy from will also matter a lot.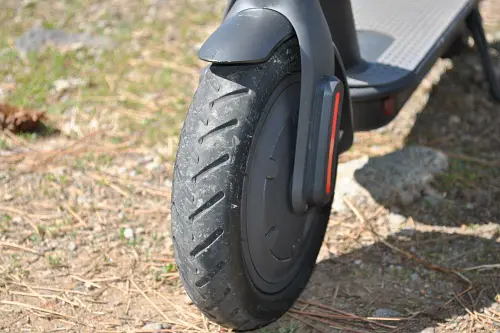 Purpose and Usage 
The purpose, such as whether you will be off-roading, weather conditions, and the frequency of usage, will help you determine the kind most suitable for you. It will help you determine the right size and the most suitable design for your usage. 
Review of the Best Scooter Tires
In this section, we will review some of the best scooter tires that you can quickly upgrade to. We have top-notch as well as budget-friendly products listed. 
Best Overall:
WiLEES 8.5 Replacement Tire
What Recent Buyers Report
People have been able to use this tire on their scooters for a couple of years without any inconvenience. They find the installation slightly challenging, but report that the use of gloves can make things easier.
Also, the reports suggest that the tires have exceptional grip and traction.  
Why it Stands Out to Us
Several features make a tire stand out from the rest. This one has made it to our list because of its design, built quality, and durability. 
First of all, it has a remarkable, rugged-looking anti-skid pattern that gives it a good look and guarantees more stability and security for the user. Meanwhile, the brand reliability with this tire is also phenomenal, considering the technical support it offers. 
Other features, such as its low-maintenance design and installation, help make it an overall best tire for scooters. 
Bottom Line
To sum up, this is a top-notch scooter tire with remarkable features such as anti-skid design. It has a sturdy rubber construction that adds a great persona to your scooter as well.
Even a beginner or first-timer riding a scooter will find this tire to offer you good support and grip. 
Runner-up:
Ourleeme Mi Scooter Tires
What Recent Buyers Report
The reports show that many buyers were able to use these for electric scooters and advanced vehicles such as the Swagger 5. People experienced great peace of mind when there were little to no chances of a flat tire. 
This tire was particularly liked by people who were good with hardware tools and changing tires as the installation is not the easiest. 
Why it Stands Out to Us
Solid tires such as this add an overall great feel to the vehicle. They make the ride a lot smoother and faster. The same is the case with this one as it has less cushioning and feels more sturdy and rugged, and therefore is good for driving on rough surfaces. 
It also comes with good customer support and brand guarantees. You can replace the product due to serious dissatisfaction within 30 days. This is more than what any other brand might offer!
Additionally, the tire's most prominent feature is its resistant construction featuring explosion-proof quality! 
Bottom Line 
In conclusion, we find this Ourleeme solid tire one of the best in the market for a lot of reasons. The money-back-guarantee is surely one of the plus points you get, along with its remarkable range of features such as anti-shock construction. You also can choose between different kinds of tires to meet your needs the best. 
Best for the Money:
OTBBA Solid Tire Replacement
What Recent Buyers Report
The majority of buyers for this tire were pleased by the appearance. They found the design and the look to be really sporty and attractive. 
Other buyer reports suggest that people found support from the brand really helpful and supportive, adding more value to their experience. 
Why it Stands Out to Us
Scooter tires need to have an excellent, eye-appealing look so that they can perform well and make your scooter look nice as well. This is why this OTBBA scooter tire stands out, with its rubber construction, solid build, and hollow design that acts as a buffer and absorbs shocks and jumps. These holes enhance its functionality and give it a nice touch, complementing the anti-skid rugged design. 
The tire also further has great brand support. It has good after-sale technical support, and also comes with discounted offers to further make the product budget-friendly for you. 
Bottom Line 
Overall, we can say that it is not impossible to find the perfect tire for your scooter at an affordable price, such as this one. It has a good appearance, good functionality, and is backed by positive customer feedback. 
Best Off-Road Scooter Tire:
Maxxis Tire M6024
What Recent Buyers Report 
Many people were not able to find the right size but had a lot of help and support from their customer service. As a result, they were satisfied with the product. 
Other than that, buyers also positively comment on how nicely and easily the tires fit. Beginners were also able to install it easily. 
Why it Stands Out to Us
Since the tires are made for off-roading, we like the rough and rugged look they have. They are designed particularly for this purpose but can offer an equally satisfying experience on normal roads. 
The most prominent feature of these tires is their J-rating for speeds that go higher than 62 mph. Therefore, this is truly the perfect pick for speed enthusiasts.
It has an anti-skid pattern, along with notable central blocks that further add to the tire's stability and the quality of its grip. A lower amount of tread wear further makes this a value-added product since it will last longer than usual. 
Bottom Line
So, we can say that when it comes to off-road tires, the most important feature is the build quality and patterns. This tire, with its central blocks and extra-large grooves, will guarantee a hassle-free off-road ride. 
Best Mobility Scooter Tire:
Monster Motion 3.00-4 Foam-Filled Mobility Tire
What Recent Buyers Report 
Buyers report that the tires were initially tricky to fit, but were then able to get a hold of it and install it perfectly. People used these for replacement purposes and reported exceptional changes in their riding experience. 
Moreover, some reports also suggest that there will be minimal cases of flat tires. 
Why it Stands Out to Us
Perhaps the most exciting and notable feature of this tire is that the tread pattern is designed to leave no marks behind. This can be good for those who want to ride their scooters in backyards or places they don't want to make untidy. 
Flat tires will never be an issue for you again and can have great peace of mind with these Monster Motion tires. Their firm construction will further ensure enhanced stability and comfort for the rider. 
Bottom Line
Overall, this Monster tire is one of the best for mobility scooters, featuring good grip and excellent comfort as well. It fits most models easily but needs some strategy for quick installation. 
It's also good for scooters for kids and can be used inside the house too. 
Best 3.50-10 Scooter Tire:
MMG Scooter Tubeless Tire 3.50-10
What Recent Buyers Report 
A lot of the buyers were satisfied with the installation of the tires. They were beginners or first-timers and still managed to fit them perfectly. 
Many people also used this MMG tire for 50cc scooters and were able to enhance their driving experience. They were also happy with the price-to-performance ratio. 
Why it Stands Out to Us
This MMG scooter tire is one of the best for most popular scooter brands and models. It features an incredible design, equipped with the capacity to hold up to 430 pounds, which makes it a good choice for heavy-duty scooters. 
Furthermore, the tire can be used in front and rear sites as well. So, it makes up to be a good choice for replacement. The tread pattern is another important feature, which is deep and rugged, thus ensuring better stability and safety. It is constructed with a high-quality rubber that further enhances the grip. 
Bottom Line
In conclusion, this is a tubeless tire with minimal flat tire issues, so minimal maintenance will be required. You can replace either rear or front tires with this, and can also find it at an affordable price compared to others. 
Best 12-Inch Scooter Tire:
Kenda K-50 12″ Mountain Tire
What Recent Buyers Report

As a budget-friendly tire, many buyers of this product find it pleasing that it has phenomenal design and performance at such a rate. Some buyers also used it for off-roading vehicles and reported it to be stable and safe.
Many scooter enthusiasts also used these tires and reported the tread to be good, while some people used these on kid's scooters.
Why it Stands Out to Us

The wire bead, along with extra traction, makes this one of the most stable and sturdy tires you can get your hands on. It has a sleek finish and a rugged look and feels to it, adding persona to your driving style. This is good for bikes and off-roading vehicles as well, which shows how stable and reliable they are.
Also, these tires by Kenda are all-black in exterior and can be used with any scooter. The best part about buying these is that they are available in various sizes and widths, fitting most customer needs.
Bottom Line

In conclusion, you will find these to be some of the most versatile and multi-purpose tires on the market. Extra traction, rugged appearance, off-roading suitability, and variety of sizes all are guaranteed with this excellent tire. 
Best 10-Inch Scooter Tire:
Wingsmoto 10″ Tyre Tire
What Recent Buyers Report
People were able to install these tires without the use of any special hardware tools and were therefore happy about their purchase. Moreover, reports also suggest that they were used for kid's scooters and for rough usage, but it withstood all conditions and was therefore durable.
Why it Stands Out to Us
Self-balancing scooters have become popular amongst many people, even for those with limited mobility. Therefore, these make an excellent choice for such scooters, considering the construction quality as well as the stability they have to offer.
The tires' inner valves are made with a high-quality rubber that will last for a long time, ensuring value for your money. Undoubtedly, this tire by Wingsmoto is one of the best with its minimal maintenance design and easy installation. 
Bottom Line
With these tires, you will be in for a treat! Make sure to check the dimensions of the tire and match them properly with your scooter. Other than that, this overall qualifies as one of the best products on the market. 
Types of Scooter Tires 
There is a wide range of types of scooter tires in the market. Choosing the right type is essential for you to have a good riding experience and also ensure compatibility with your vehicle.
We have listed down some of the most common types of tires below. 
Pneumatic
For most vehicles, pneumatic tires are the most commonly used. These are filled with air and have an inner core that is air-sealed. The air pressure inside it is high, which allows it to resist the external forces and ensure stability. There are further types of pneumatic tires, including inner-tube and tubeless tires. 
Solid
These tires, instead of being filled with air, are entirely made out of rubber or are filled with polyurethane foam. The benefit of these types is that they are low-maintenance and experience lesser flat-tires. 
Honeycomb 
These tires are designed very similarly to solid ones, but with more resistance, durability, and lesser chances of a puncture. Their air pockets are not closed, and therefore they have a more cushion-like feel. These are the most expensive kinds out of the three. 
Perks of Upgrading Your Scooter Tires
Not sure whether you should be investing and upgrading to a new scooter tire?
Here are perks of new scooter tires that might interest you! 
Safety
Worn off tires only mean more risk. This also means that you might be causing serious damage to your vehicle's performance and maintenance. Therefore, upgrading to new ones can eradicate this problem. 
Smoother Ride
New tires mean that your vehicle will now have a stronger grip, better stability, and a smoother ride. This can add to your riding style, as well as make your personal driving experience better.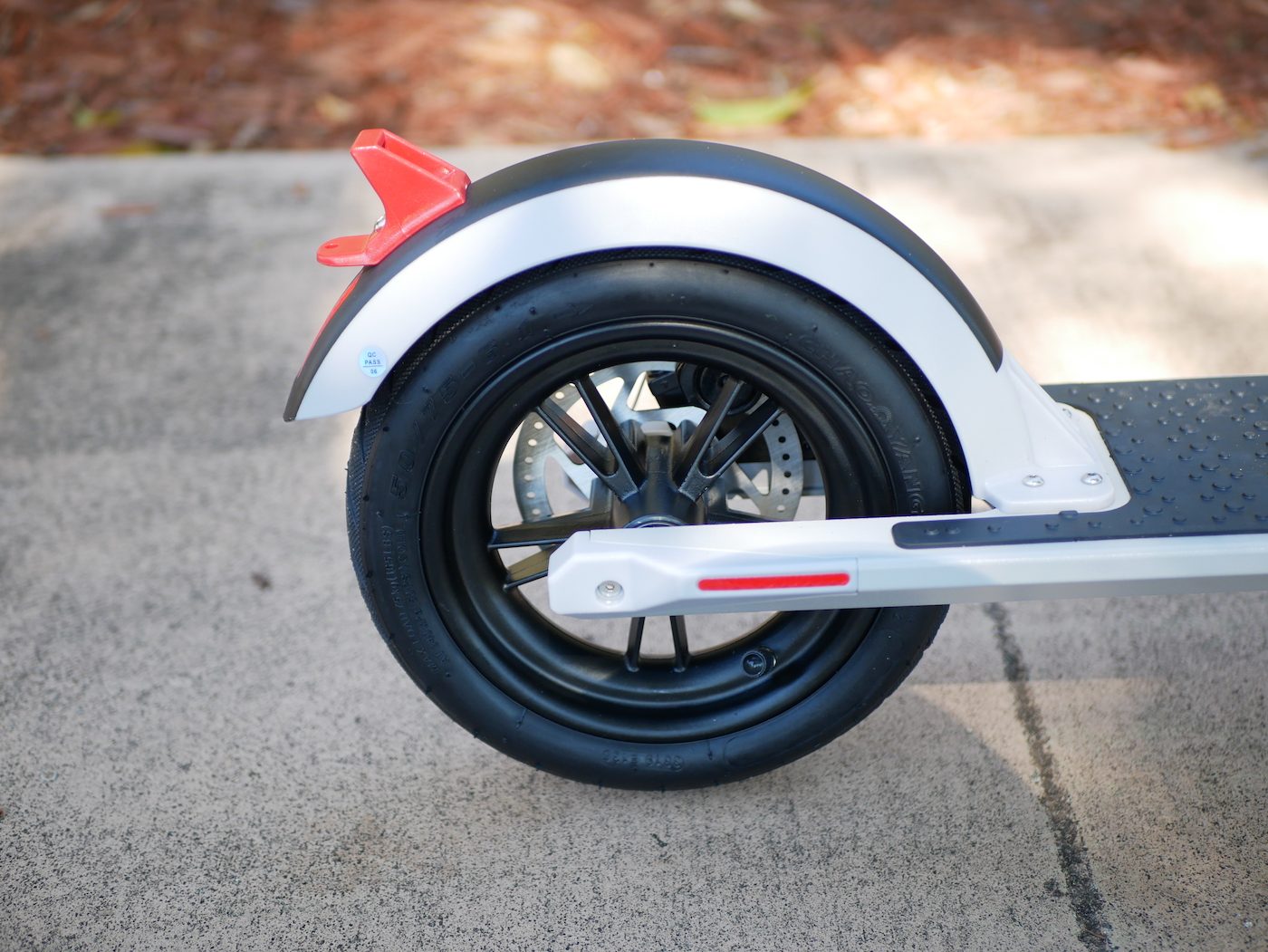 Upsizing Possible
You can switch to wider or bigger tires, and achieve more stability and comfort. 
Conclusion 
Summing up the article, we can agree that the best tires for scooters are necessary to guarantee a comfortable and personalized driving experience. One should not hesitate in replacing their old tires to wider wheels, since upsizing leads to better quality grip. Replacing worn-out tires is part of scooter maintenance. 
Make sure to consider important factors such as perks of upgrading tires and buyers' reports to learn better about which tire is best for your scooter. 
People Also Ask
If you are buying new tires for your scooter for the first time, here is an important section for you. Clear out all your queries and confusions by the questions answered in this section. 
How Much Do Scooter Tires Cost?
Scooter tire costs vary with their kind. However, generally, an all-season tire can cost anywhere between $50 and $200. Other high-quality tires can cost ideally between $80 and $120. 
How Long Do Scooter Tires Last?
Five years is generally the time tires can last for, and perhaps around 4000 to 6000 miles. However, this might vary with your usage as well. 
How Often Should You Change Scooter Tires?
You should change scooter tires every five years, or whenever you notice wear and tear. After 6000 miles, tires should be replaced. 
Are Bigger Wheels Better on a Scooter?
Even though the size of tires depends on various factors such as your style, usage, preference, and the road you will be driving on, wider or bigger tires are known for their grip and comfort. 
Do Scooter Tires Need to Be Balanced?
Scooter tires can be balanced, and the better thing to do for safety purposes is to balance them. This ensures that the scooter will not wobble, especially at the front.