Whether you own a brand new scooter that you want to upgrade with a new set of wheels or need some new wheels for a scooter that you have been riding for a long time, it is vital to choose a product that is not only safe but also delivers excellent performance.
People who do not know much about wheels don't realize that even small differences in the wheels' various features can make a huge difference when it comes to riding performance.
Although choosing a scooter wheel may seem like an easy decision as there is no complicated mechanism involved, several essential considerations should be taken into account. But not to worry, as this article will help you find the best wheels for your scooter.
At a Glance: Our Top Picks for Scooter Wheels
Comparison Chart of the Best Scooter Wheels
IMAGE
PRODUCT
 

Durable but still lightweight
Installation is easy and simple
Available in wide variety of colors

View Latest Price →

Best Budget Option

Best for the Money
Comes with high-quality bearings
High-rebound wheels for stable ride

View Latest Price →

Best Pro Scooter Wheels
Fits on most scooters
Equipped with high-precision bearings

View Latest Price →

Best Street Scooter Wheels
Internal buckle is made from aluminum
Faster bearings and durable design

View Latest Price →

Our Top Pick

Best Razor Scooter Wheels
High-grade urethane wheels
Comes in six different colors

View Latest Price →

Best 110 Scooter Wheels
Comes with high-quality bearings
Durable hollow core wheels

View Latest Price →
When is it Time to Replace My Scooter Wheels?
After using your scooter for some time, you may notice that your wheel has developed flat spots, or it may deform or crack in some areas, which could result in a rough ride for the user. Moreover, if you notice the urethane wearing down, which in turn could affect your riding, then it is time to replace your wheels.
The most common part of the scooter that wears down is the bearings. However, there are a few things that you can do to increase the life span of your bearings. Always keep them dry and clean as dirt and water can mess up even the best bearings.
Keep the wheel axles tight because when you land on a loose wheel, it puts uneven pressure on the bearings. Keeping the wheel tightened ensures that there is no side-to-side free play. Also, keep them lubricated with oil to prevent rust.
Why Did These Wheels Make Our List?
Good-quality wheels are essential for scooter riders as they can enhance the riding experience, have a long life, and make your scooter fast. That is why all the products reviewed in this article are some of the best wheels available. In addition, we have selected these models because they have the following features:
Durable Materials
The scooter wheels in this article are constructed with polyurethane material (PU) as it ensures significant speed and grip. It is a durable and sturdy material that can withstand various stunts and twists.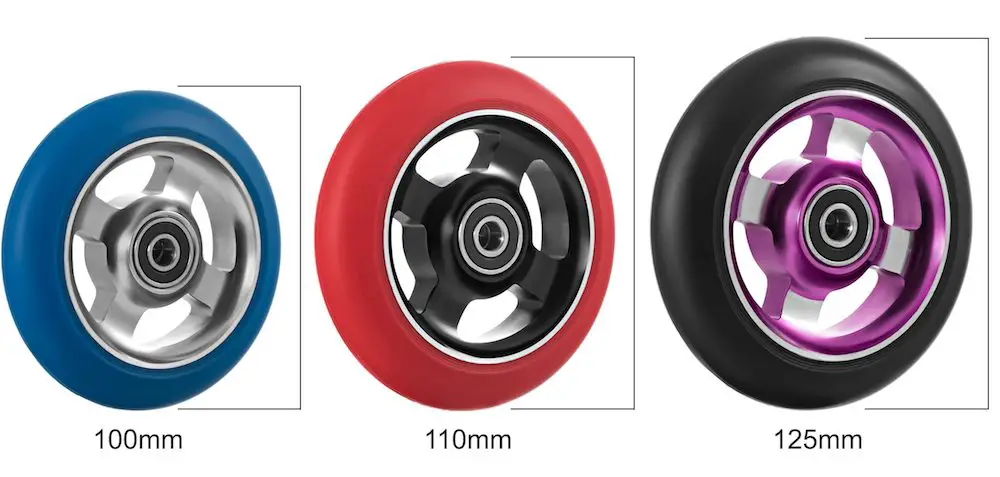 Wheel Size
The wheels that we have selected have diameters ranging between 100mm and 120mm. These wheels are perfect for both beginners and professional scooter riders. The larger a wheel is, the faster it will go. Riders who want speed prefer to upgrade from 100mm to a bigger diameter. On the other hand, 100mm scooter wheels are much easier to control when it comes to tricks and stunts. They are more versatile and can fit most scooters.  
Easy to Install
While choosing the top products, we have also kept the convenience of customers in mind. That is why all the models reviewed here are very easy to install and hardly take any time and effort.         
Review of the Best Scooter Wheels
With the rise in the use and demand of scooter wheels, several companies have introduced various designs and features of these products. However, not all the wheels available can perfectly fit your needs and taste. Therefore, to help you choose the best product, we have reviewed the following high-quality scooter wheels. So, read on before you make a choice:
Runner-up:
Root Industries Air Wheels
What Recent Buyers Report
Recent buyers are highly impressed with the quality and performance of these wheels. They also claim that these wheels are faster and smoother than their previous wheel, which is why they will not only buy these wheels again but also recommend others to use them. These wheels are easy to install, fit perfectly, and give their scooter fun and stylish look.
Why it Stands Out to Us
These wheels are very lightweight, which allows for a stable scooter control and much easier trick execution. Their sleek and attractive design gives a scooter a completely unique look while its durable construction ensures that riders will be able to use this for a long time.
These wheels are a result of hours of determination, heavy research, and dedication and can show excellent performance without fail. Although these wheels are very economical, no compromise has been made on their quality, which we think is highly notable. They are rigorously quality-tested and are guaranteed to last. 
Another thing that we like about these wheels is that they are available in a wide range of attractive color options that give a scooter a completely unique look.  
Bottom Line
The Roots Industries Air Wheels are one of the top wheels that are preferred by professional riders. The classic Root Industries PU Formula used in the construction of these wheels ensures a product that is unparalleled in speed and strength. These wheels are available in a wide range of colors, thus making it easier for you to give your scooter a completely individual look.
Best for the Money:
FREEDARE Scooter Wheels by Blazetoy
What Recent Buyers Report
Buyers have installed these wheels on their scooters, longboards, etc. without any difficulty. This installation took hardly any time, which they found highly convenient. These wheels are also very budget-friendly, which does not put any burden on the user's budgets. Buyers are also satisfied with the quality of these wheels.   
Why it Stands Out to Us
These wheels are designed with high-quality materials that are perfect for riders who want to start practicing various tricks and stunts. The solid PP core wheels deliver improved strength and durability while the ABEC-7 bearings ensure increased speed and a smoother ride. It also allows riders to keep the scooter in control and balance, which we feel is a great safety feature.    
The 85A PU high-grade urethane used in these wheels give them a higher level of hardness that makes them ideal for park riding. They are long-lasting and provide an excellent level of grip, thus making them a safe option for beginners.   
Bottom Line
If you want wheels that are available at an affordable price and have excellent design characteristics, then the FREEDARE scooter wheels are a great option. These wheels have a 24mm width and a diameter of 100mm, which makes them suitable for some different scooter brands.   
Best Pro Scooter Wheels:
Graviti 100mm Pro Stunt Scooter Wheels
What Recent Buyers Report
According to buyers, these wheels are a nice fit, ensure a smoother ride, and are easy to install. Moreover, they also love the fact that these wheels have a colored metal rim, which gives the scooter a stylish look. They work great as an upgrade from the plastic wheels that come with the scooter.
Why it Stands Out to Us
These Graviti 100mm pro scooter wheels are designed with a strong CNC alloy core and an 88A polyurethane material that makes them durable and long-lasting. These robust and lightweight wheels with six-spoke design ensure an excellent riding experience. The inscription on the wheels looks very attractive when rolling on off-roads.  
Another great thing about these wheels is that they are compatible with many brands of scooters. Its diameter of 100mm and width of 24mm makes them perfect for freestyle and stunt scooters. It is available in several attractive color combinations, which gives the riders the option to customize their ride.
Bottom Line
If you are tired of cheap and low-quality scooter wheels, then give these wheels a shot. They come with a metal core that prevents them from breaking while the ABEC 9 bearings provide smooth speed while minimizing vibrations. Moreover, these wheels come with a six-month warranty, which ensures customers about the quality of these amazing wheels.
Best Street Scooter Wheels:
Z-FIRST 110mm Pro Scooter Wheels
What Recent Buyers Report
Recent buyers have no complaints about this product. They look great; they work great and provide great value for money. After installing these wheels, buyers report that there is no stopping them. Some buyers even claim that these are the best aftermarket wheels that they have ever used.
Why it Stands Out to Us
These wheels provide riders with amazing riding experience. This superb product delivers greater control and high durability. It is fast and smooth, while the premium 88A urethane makes it durable and safe for all riding conditions. This wheel is designed with CNC Alloy core and easily fits a wide range of brands.    
Another unique feature of these wheels is the red jacket on the ABEC-9 bearings that not only enhances the aesthetics of this product but also protects it from rust and moisture. Their smooth and stable performance, together with easy installation, makes for a memorable ride.
Bottom Line
The Z-FIRST 110mm Pro Scooter wheels are ideal for pro scooter riders of various skill levels, whether they be beginners or professionals. The optimum size of these wheels provides greater speed and is more durable as compared to smaller-sized wheels.
Best Razor Scooter Wheels:
Razor Scooter Replacement Wheels Set
What Recent Buyers Report
Buyers who have replaced their wheels with these amazing Razor wheels are very happy with their purchase. Their scooter rode so smoothly that it felt like a brand new scooter. They are very easy to replace and can be used in various scooter brands. These wheels saved them from buying a new scooter, which they greatly appreciate.   
Why it Stands Out to Us
If you need to replace your scooter's worn out wheels with a quality product, then try the Razor Scooter Replacement Wheelset. We are particularly impressed with these wheels as they get your scooter rolling like new. Moreover, they are compatible with some Razor kick scooters, including Spark, Spark 2.0, A, A2 A4, and A Sweet Pea.
This 98mm wheel is just the right size for young riders. Its economical price ensures that it can easily fit in everyone's budget. These wheels are available in six different color options. You can choose the one that matches with your scooter to give a trendy and unique look.     
Bottom Line
If you want to restore your scooter's quality, then these Razor wheels are a great option. Constructed with high-grade polyurethane, these wheels are perfect and secure for riding on paved roads and parks as well. Moreover, the included ABEC bearings further ensure this product's superb performance.  
Best 110 Scooter Wheels:
Fuzion Stunt Scooter Sig Wheels
What Recent Buyers Report
Buyers love the quality and performance of these Fuzion wheels. They claim that they have used several wheels, including some from very well-known companies, but that have found these wheels from Fuzion to be of excellent quality. Moreover, these wheels are also economically priced, which buyers greatly appreciate.
Why it Stands Out to Us
These Fuzion wheels are smooth, fast, and durable. Also, they are made with the best scooter components available. These 110mm Signature Series wheels wrapped in premium 87A urethane deliver outstanding performance. They are fitted with ABEC-9 yellow jacket bearings not only ensure a fast and smooth ride but also look quite striking.  
These Fuzion wheels are ideal for stunts and tricks. Another great thing that we like about these wheels is that they come with a six-month defect warranty and a 30-day money-back guarantee. Thus, buyers can enjoy complete peace of mind with this risk-free purchase.
Bottom Line
If you want quality without spending too much money, then you cannot go wrong with Fuzion Stunt Scooter Sig wheels. Their easy installation makes them a favorite among riders. Moreover, their exceptional grip and smooth performance give them an edge above the competition.
Advantages of Investing in Quality Scooter Wheels
Investing in good-quality scooter wheels has the following benefits for users:
Ensure Rider Safety
Branded and good-quality wheels are designed while keeping customer convenience and safety in mind. They can handle different types of roads and retain their shape and hardness.
Easily Perform Tricks and Stunts
With good-quality wheels, you can safely and easily perform a variety of tricks. Such wheels have less vibration and ensure a better grip, thus making it easier to master complicated stunts.
Enjoy an Enhanced Riding Experience
Good-quality wheels are made with premium materials. Their smooth and stable performance ensures an enhanced riding experience.
Customization
You can even customize according to your taste and style. 
How to Replace Razor Scooter Wheels
After continuous usage of your scooter for a long time, your wheels may develop flat spots, may deform, or crack in some areas. As a result, you might experience a rough ride. Replacing the wheels can take care of this problem easily:
Place your scooter upside-down keeping the brakes and handlebars on the ground.
Take two five millimeters Allen keys. Insert each key on the screws found on the sides of the wheel. Turn one key in a counter-clockwise direction while keeping the other screw in place. This will loosen the screw.
Once you remove both the screws the wheel would become free.
Make sure the bearing of the new wheel is free from any obstructions. Use an Allen key to move the inner sleeve in the bearing. This will ensure that the screws can slide freely into the bearing.
Do not force a screw through an out of line sleeve as it could run the wheel.
Place the replacement wheel in place into the scooter frame.
Tighten the screws using the Allen keys. Avoid over-tightening as you could strip the screws   
If you are still unclear on how you can replace the wheels on your scooter, you can click on the link below and watch the easy tutorial in this YouTube video.
Conclusion
If you love to ride your scooter at the skate park or on the road, then you need good-quality wheels that show exceptional performance. Make sure that you read the above article carefully before buying new wheels for your scooter. If you want the best riding experience, then these options are worth considering.
People Also Ask
When buying scooter wheels, people are not just concerned with their quality and performance; they also want to know about which wheel size would be best for them, what material would be long-lasting, what brand will be more suitable for stunts and tricks, etc. We have included some of the most frequently asked questions in this section to clear up any doubts or misconceptions scooter riders may have in their minds:  
How to Get the Bearing Out of Scooter Wheels?
Getting the bearing out of your scooter wheels can be quite tricky; however, the following steps will make this procedure much simpler:
Use a T-handle Allen key to remove the bearing spacer out of alignment so that the edge of the spacer becomes visible.
Once you see the edge of the bearing spacer, use the spacer for popping the bearing out of your scooter wheel.
Place the wheel on a table with one side elevated on to another wheel, making sure that it is not laying completely flat.   
Insert the T-handle Allen key into the bearing hole in a way that it catches on to the bearing spacer.
Tap on the Allen key with a hammer to pop the bearing out of the scooter wheel.
Now remove the bearing and the bearing spacer from the wheel.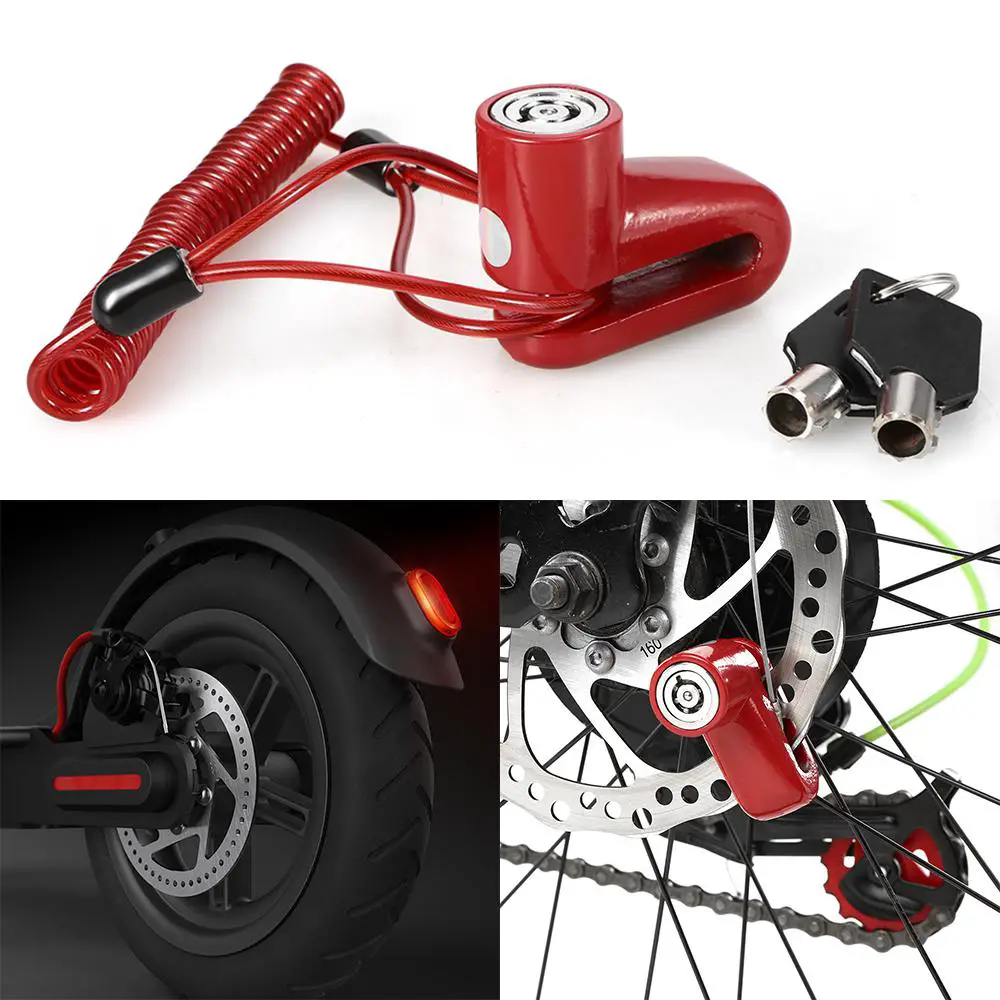 How Much Are Scooter Wheels?
There are many companies that produce quality scooter wheels. Their different prices make it possible for people belonging to various budget groups to find a set that is suitable to their taste and riding style.
What Are Scooter Wheels Made of?
Scooter wheels are typically made with polyurethane, which is a hard composite material. It is durable and provides a good grip and speed. These wheels feature a core made from either metal or plastic. However, metal is core should be used by riders who intend to perform tricks and stunts as a plastic core will not be able to withstand the force of impact and may break while performing stunts.
What is the Best Scooter Wheel Size?
Generally speaking, 110mm wheels are considered the best option for scooter riders as they are faster, have a longer life, and ensure greater comfort and speed.
Can You Put 110mm Wheels on a 100mm Scooter?
It all depends on the model of your scooter. 100mm wheels have been a long-standing favorite of scooter riders as they are readily available and can fit most scooters. However, riders who prefer 110mm wheels are also increasing.
110 wheels do not wear down the bearings as compared to 100mm because of their bigger diameter. Bigger wheels are easier to steer and also allow you to go faster.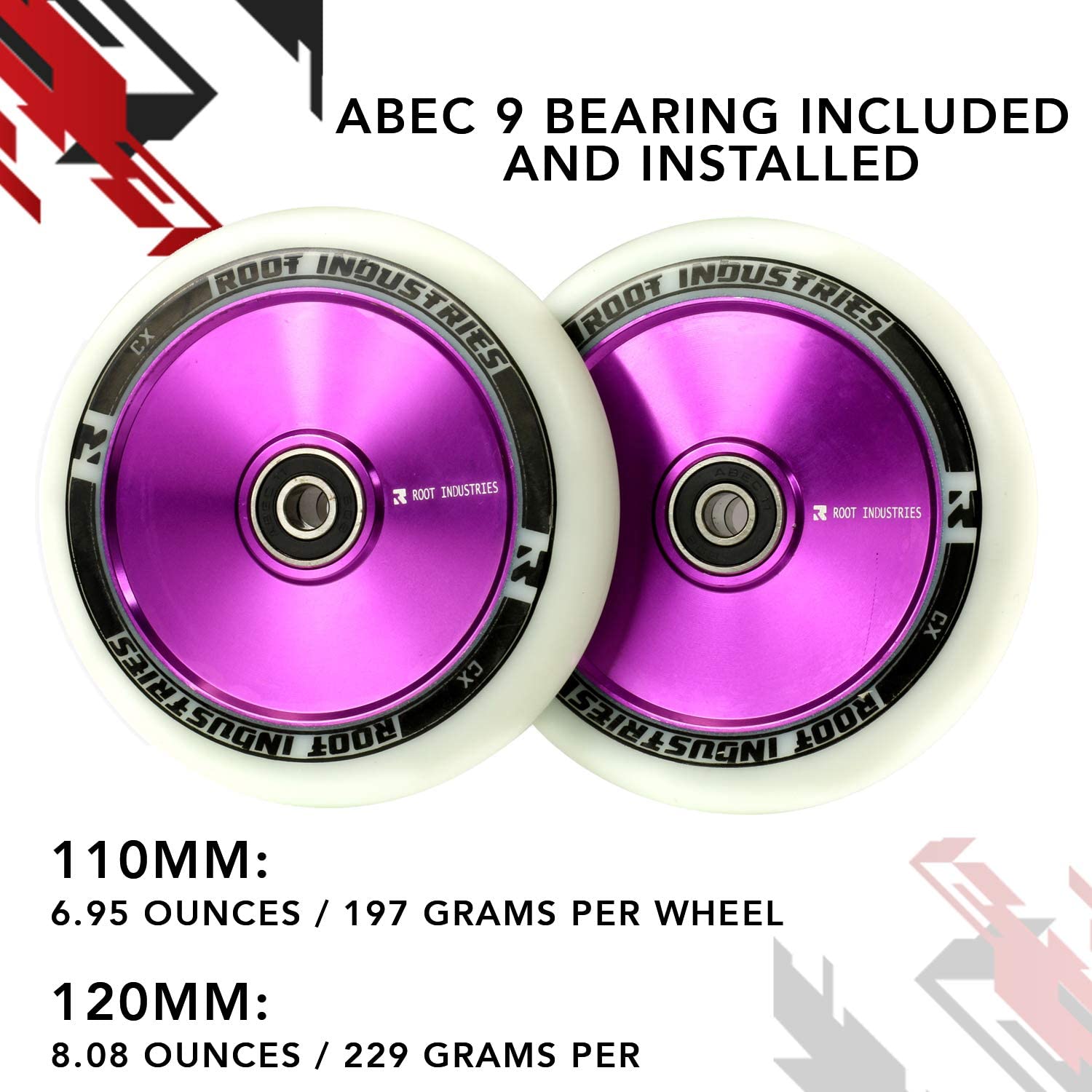 Root Industries Air Wheels
Are Nylon Core Scooter Wheels Good?
Nylon core scooter wheels are suitable for entry-level riders and scooters. They offer good high strength to low weight ratio. Alloy core wheels, on the other hand, are designed for ramp riding and stunt riding. These wheels can handle pretty much anything and can take a lot of force.
How Long Do Scooter Wheels Last?
No wheels can last forever, irrespective of how well they are made. Eventually, they wear out, and you will have to replace them. However, there are some things that you can do that will keep them in good shape for longer.
Keep the wheels away from any type of grease and water to prevent dehubbing
Avoid poor quality surfaces with pebbles and sharp objects as they can damage the PU
Keep your wheels lubricated and free from dirt
How Do You Measure a Scooter Wheel?
Scooter wheels are commonly available in three sizes – 100mm, 110mm, and 120mm. However, there are some forks and decks that are compatible with 125mm wheels as well. Typically, entry-level scooters come with 100mm wheels. These wheels are perfect for beginners as they provide stability to riders who are new to tricks and stunts. They are lighter and make it easier to flick the scooter around.
Larger wheels are more suitable for intermediate and advanced level riders as they roll more smoothly and carry more momentum. Advanced riders use larger decks, and using larger wheels prevent the deck from coming into contact with the ground under hard cornering. The added momentum from a larger wheel is perfect for riding faster and more aggressively.