Scooter riding has gone far from being a simple child sport to people getting company sponsorships and becoming professionals. You can do many of the tricks that you would with a skateboard on a safer level as scooters are easier to learn and maintain balance on.
Just like personalized skateboards, scooter decks have much to offer in terms of not just quality but also style. Here we will review some of the best scooter decks.  
Before that, let's look at what they are and how you should select one that fits your needs and riding style.   
At a Glance: Our Top Picks for Scooter Decks
Comparison Chart of the Best Scooter Decks
IMAGE
PRODUCT
 

Best Budget Option

Best for the Money
Features a lucky suppressor silent-braking system
Adonized to give a fine durable finish

View Latest Price →

 

Best Lightest Scooter Deck
Wider and longer deck for comfortable ride
Manufactured to be light yet highly durable

View Latest Price →
What is a Scooter Deck and What Do They Do? 
Scooter decks are the base of the scooter where you stand. It is essentially the most important part as it gives you balance and the ability to do many different tricks. If you were to remove the bar, it is essentially the skateboard part of the scooter.
The deck can be wide and long, making it easier to jump or slim and short, making it good for park riding. These decks usually have lots of colors, art, and logos on them, which is a major part of the buying decision for most people.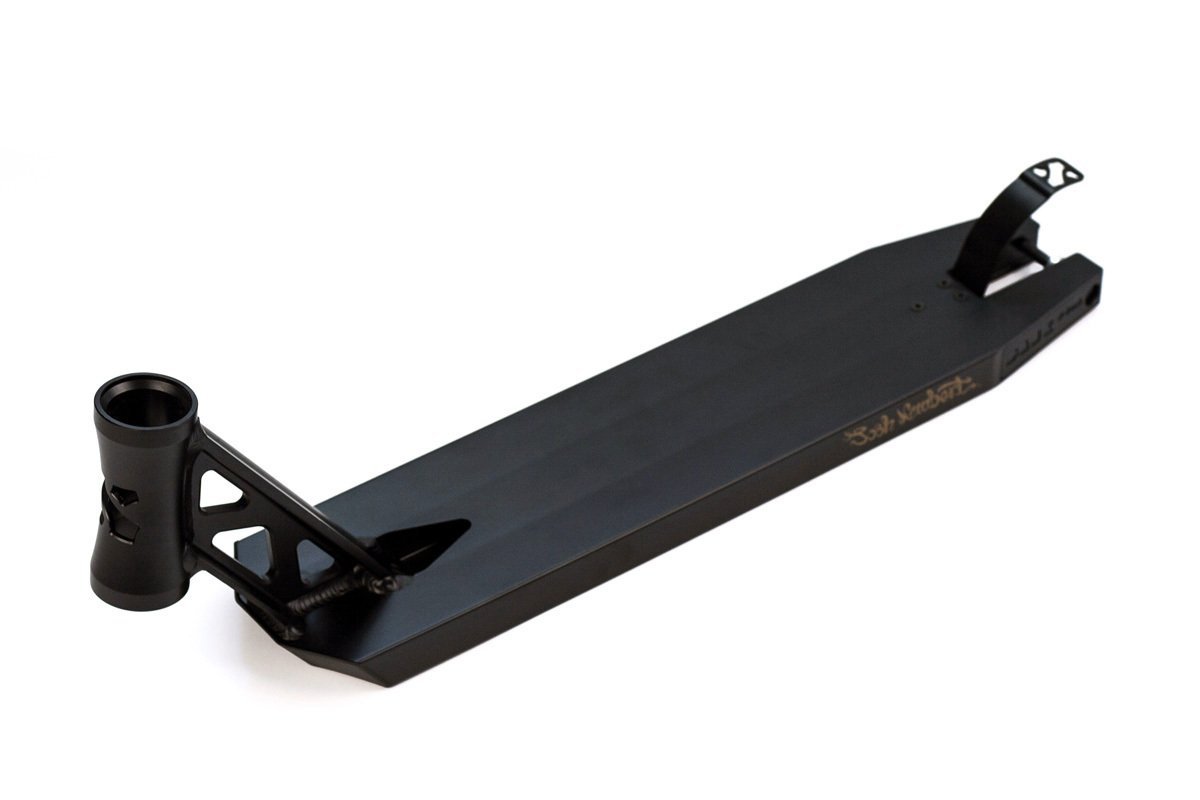 How to Choose a Scooter Deck
Choosing your deck can make or break your scooter. It is the main part and needs to be perfectly suited to your preference and comfort. Here are some of the things to keep in mind when buying them.
Length & Width
Scooter decks range from 19 to 22 inches. The longer they are, the more room you have for your feet, and the more comfortable you will be. They also give better balance and allow you to jump higher, making them useful for street riding too.
The opposite is true for short decks. They are used in parks and are suitable for spinning tricks.
Similarly, the width ranges from 4 to 5.75 inches. The wider the deck, the more balanced you are, and the more grinding you can do.
The length also tells you the foot space or how much area is allowed for placing your feet. It is the area before the wheel starts.
Weight
Weight is an important part of the design. If the deck is too heavy, you will not be able to perform any tricks, and if it is too light, it might not be able to handle heavy riding. There needs to be a balance.
Light decks are more popular for young users, while heavy decks give you a smoother ride and will probably be more durable.
Headtube
The head tube is put at an angle ranging from 82 to 84 degrees. If you are looking to perform spinning tricks, then you want to be on the lower side of the range, while a larger angle will allow for more jumping room.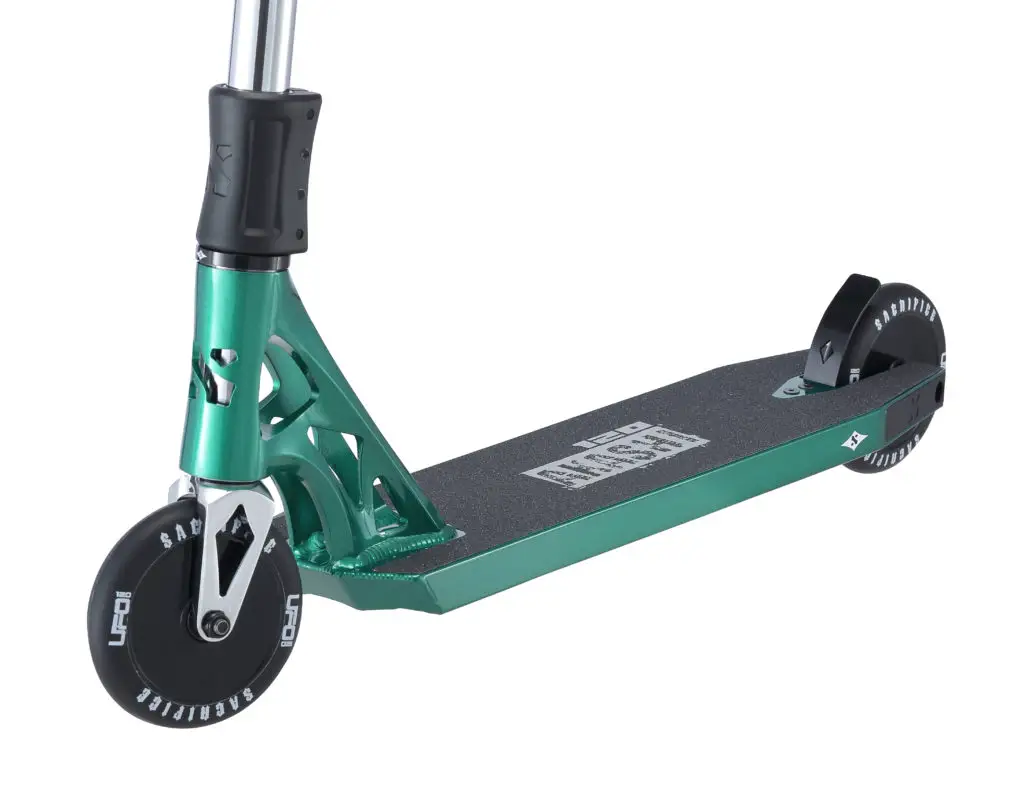 Price
Price is, of course, an important aspect of the overall decision. If you are looking for quality over price, then you will get a light and perfectly balanced scooter, but sometimes you have to make room for the budget. There are many decks available that don't require you to sacrifice too much on quality at a lower price. It depends on what you are looking for.
Review of the Best Scooter Decks
Now that you know what you are looking for, let's go through some of the best scooter decks that you can start your search from.
Best for the Money:
Lucky Scooter Stinger Deck
A light and affordable scooter deck with built-in silent brakes that maintains its quality despite the price.
What Recent Buyers Report

The deck has great weight and height dimensions, and the logo on the bottom adds to its appeal. It grinds really smoothly and gives an overall great quality. Considering what it delivers, it doesn't cost much and actually will last a long time.

Why it Stands Out to Us

The deck has an anodized finish, making it even more durable and protected against rust. Weighing only 2.95 pounds, it lets you do tricks that involve jumping more easily. But it still maintains its strength and balance that you would expect from a high-quality product.

It has built-in breaks and a silent braking system, so you don't have to install anything extra or deal with noise. The foot space on this deck is 14 inches, which is not exceptionally long but good enough considering its overall dimensions (19.5" x 4").

Bottom Line

Not everybody is looking to drain their bank balances on scooter decks. This product is a viable option for those working on a budget while wanting to maintain quality. It is a very light and perfectly balanced deck that is designed to last long.
Best Lightest Scooter Deck:
Ethic Artefact V2 Complete
Not just a scooter deck but a full scooter that is designed to be very light and sturdy.
What Recent Buyers Report

Given that it is a full scooter and not just the deck, the price of this model becomes more reasonable. It meets the quality that you expect from Ethic. It is very durable, lightweight, and easy to set up.

Why it Stands Out to Us

The deck follows the same design and features as the Artefact V2 we reviewed above. It is long, has good foot space, and durable material. With this version, you get the complete set, including the bar which is 25" x 23".

The wheels commonly used in intermediate scooters measure 110mm. The overall weight is just 7.4 pounds, which is lighter than the older version and more stable. The bar used here is an aftermarket Dynasty bar which employs gussets for added strength.

Bottom Line

If you are not looking to replace an old scooter deck but upgrading completely, then this Ethic complete set is a good option for you. It is pretty easy to install as everything you will need is already in the box. It has a simple style and a high-quality design that increases its lifespan.
Best Ethic Scooter Deck:
Ethic Artefact V2
A light and durable scooter deck that lets riders perform tricks easily.
What Recent Buyers Report

The deck is very strong and light. It is great for younger kids and a good replacement model. You also don't have to spend too much money on it and still get premium quality. The Ethic logo on the bottom blends well with the overall style.

Why it Stands Out to Us

This deck falls into one of the bigger models with 4.5" x 21.25" dimensions. It still maintains a very lightweight of 2.7 pounds. It has an integrated headset, so you don't have to buy one separately or install it. The brakes have nylon covering for a good grip.

This is a newer version of their previous Artefact model. It has been improved for more durability, lightness, and stability. It is in tune with today's demands. The most popular version is the black deck, but it is also available in blue, red, and grey.

Bottom Line

Ethic is always on the lookout for any improvement or change in products as a result of thorough testing and changing requirements. This V2 deck is very light, allowing for various stunts, yet it's wide and long, giving you good foot space and grinding options.
Perks of Getting a New Scooter Deck 
Upgrading any old product is important, as nothing lasts forever. You can get a lot out of these newer decks, as you will see below.
Personalized Style
Adding a different deck of your choice means you can choose from any color palette and art. After functionality, this is something many riders look for. Everyone has their own style, and you want that to come out in your scooter.
The colors range from subtle black to bright neon and graffiti-style art at the back.
New Features
As the market for scooters grows, manufacturers become more creative and add different design aspects to make them more appealing to customers and last longer. Newer decks will be much lighter and more durable. The dropouts are improved to make them last longer when you are grinding.
Need of an Upgrade
Apart from new models and style, your reason for buying simply might be that your scooter deck is just too old and worn out. Getting a replacement means improved riding experience and getting rid of old junk.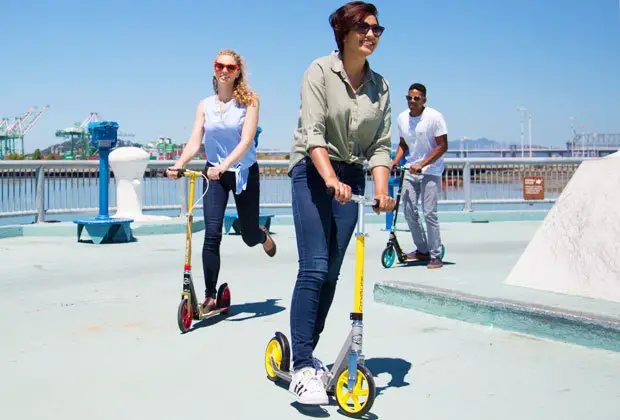 How to Install a Scooter Deck
Installing a scooter deck is not very complicated, but if you are new to this, you can follow these steps.
You will need a gear fork, WD-40, two-bolt clamp, headset bearings, 5mm bolt, locking pliers, and 5mm Allen key.     
Use the Allen key and the 5mm bolt for loosening the wheel and then take it out completely.
Use the Allen key for loosening and removing the fork as well.
Take out the headset cap.
Add the bearings to the fork then insert it into the new deck.
Insert a spacer from the top of the fork and push it in until it is tight.
Screw the bolts on tight.
Use either the locking pliers or your hands to turn the fork from the bottom in the direction that it locks in the headset.
Make sure everything is tight by moving it around and dropping it.
Insert the wheel on the bottom side of the fork and use the bolts to screw it in place.
You might want to use the drill and Allen key to tighten it.
Screw on the headset from the top of the fork.
Spray the WD-40 lubricant on the headset to make sure it rotates easily.
Put a two-bolt clamp on the bar and insert it onto the fork.
 Make sure the bar is perfectly straight, then use the Allen key to tighten the bolts.
For more detailed instructions and to clear out the confusion, watch the video given below.  
Conclusion 
Scooter decks are a good way to improve your riding experience while keeping some of the old parts. Many pro riders like to build their own scooters by using different parts together. This can give you your personalized style that you are most comfortable with. All the scooter decks on our list have measurements that are most popular amongst users, and they keep your budget in mind.
People Also Ask
If you are looking for more insight on scooter decks and which one will suit you more, then refer to these frequently asked questions for answers.
What Are Scooter Decks Made of?
Scooter decks are mostly made of aluminum as it reduces the weight significantly while maintaining strength. Although some also use steel and titanium, aluminum is the most common.
What Size Scooter Deck Should I Get?
What size you get depends on your height, weight, and also experience. Beginners mostly use decks that are 4-4.5 inches in width and about 20 inches in length. They can also go bigger than five inches, which is preferred for stability.