Nowadays, it is nearly impossible to get anywhere on time. The bad traffic conditions and the delay-prone public transportation system are often responsible for people being late for work or any other appointments they have. Walking is not always the best solution, especially if you are expected at the other end of the city. The need for a faster means of transportation has resulted in the invention of electric scooters.
These scooters essentially function on two wheels and a battery. And if the frame is collapsible, you have an entirely new version of the product – the folding electric scooter. Folding electric scooters are portable and generally more convenient than regular ones. They are lightweight and easy to carry so you can fold them up and take them with you without having to worry about parking or safety. 
If you are a person who is fed up with the local transportation system and is looking for ways to make things a bit easier, then you might like the idea of having your very own personal commute in the form of a folding electric scooter. In this article, we have rounded up the best folding electric scooters to help you find a suitable one for yourself. These are high-quality and functional units that will give you a satisfying performance for a long period of time. 
At a Glance: Our Top Picks for Folding Electric Scooter
Comparison Chart of the Best Folding Electric Scooters
IMAGE
PRODUCT

Our Top Pick

Front fork suspensions for less bumpy rides
Foot activated folding for easy storage and transport
36 volts motor with a 7.8 ah battery

View Latest Price →

Safer mechanical and electrical anti-lock brakes
Long travel range of 40 miles
Large weight capacity of 220 lbs

View Latest Price →

Best Budget Option

Best for the Money
Strong motor of 280 watts
Durable aluminum frame with up to 320 pound capacity

View Latest Price →

Best Jetson Bolt Folding Electric Scooter
Long life rechargeble lithium ion battery
Light weight to allow easy movement

View Latest Price →

Best Folding Electric Scooter with Seat
Chain drive motor of 100 watts
Handle bar height is adjustable

View Latest Price →

Best Electric Folding Mobility Scooter
Comfortable seats for smooth rides
Light in weight for easy portability

View Latest Price →

Best Lightweight Folding Electric Scooter
Shock absorbers on front rear wheel
Top speed of 19 mph and 28 miles range

View Latest Price →
What is a Folding Electric Scooter?
A folding electric scooter is a collapsible variation of a traditional electric scooter. It is portable, lightweight, and very easy to operate. It is a convenient method of transport which you can fold up and store when not needed. 
It also offers the advantage of easy carrying over the surfaces where you cannot ride it. It is quite comfortable to ride on while the conveniently compact design allows you to take it anywhere with you, be it your workplace, public transport, or a store.
Are All Folding Electric Scooters The Same?
Folding electric scooters appear to be all the rage these days. On the internet, you will find numerous videos depicting both experts and novices having fun on their scooters. When you think about them, one question definitely pops. Since all of them serve the same purpose, aren't all folding electric scooters the same? 
We assure you, that is not the case. Other than having plenty of variations to the basic scooter frame, you also get different ranges, charge times, maximum weight limits, and durability amongst many other factors that set folding electric scooters apart from one another.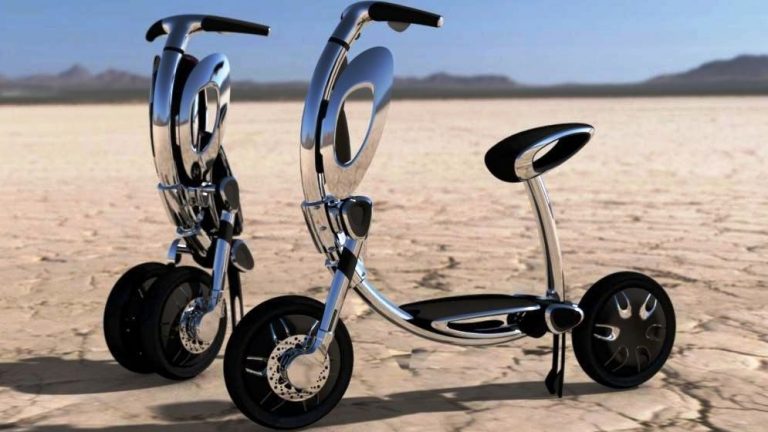 What Should I Look For When Buying a Folding Electric Scooter?
An electric scooter is a super fun and fast way of commuting. You actually feel and look smart while riding one of them. The market is filled with a wide variety of models, each targeted at different audiences. To figure out the right one for yourself, you need to figure out a set of standards to evaluate different units against. Here are some features to look for: 
Price
You always get better or worse values in everything you purchase. When it comes to folding electric scooters, we noticed that the quality and features both improved with the price. However, we strongly advise against purchasing a unit that boasts the best quality and features yet manages to break your break. It is always best to stick to your price range and buy a product that is the best within that range. 
Range
The range of the electric scooter is the distance it can travel on a single full charge. Since most manufacturers have a habit of hyping up the range more than it actually is, we suggest that you apply a cautious rule of thumb. 
Take the advertised range and divide it by two. It will also be handy because, just like every other battery, the battery capacity of your scooter will also diminish with time. When deciding on a certain unit, carefully consider the distance you travel on an average day. It's good to remember that if you ever run out of battery, you can still push your scooter to move around.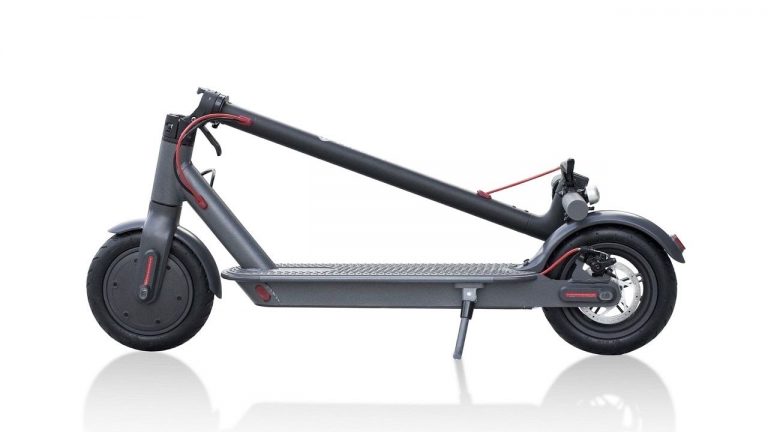 Weight
Weight is also an important aspect to look for when buying a folding electric scooter. It is designed with the purpose of being carried anywhere. You may need to carry it up the stairs, take it on a ride-share trip, on uneven surfaces, etc. Most of the units in the market have a reasonable weight of equal to or less than 25 pounds. Anything over that and you will have a lot of difficulty carrying, maneuvering, or lifting it. 
Weight Capacity
The weight capacity of a folding electric scooter is the maximum weight limit it can support. For most scooters, it is 220 pounds. It is strongly advised against going over the suggested weight limit because of safety concerns. When buying a folding electric scooter for yourself, be sure to choose a model that can safely support your weight. 
Review of the Best Folding Electric Scooters
Folding electric scooters sure are a stylish and convenient way of moving from one place to another. They are light, collapsible, and portable, making them very easy to take with you and put away when not needed. 
If you are planning to purchase one, we suggest that you have a look at our list of top considerations given below. Each unit in the list is followed by a brief review so you can decide which model is more accommodating of your personal demands.
Best Overall:
Glion Dolly
A folding electric scooter that can stand all by itself.
What Recent Buyers Report

Buyers who have recently purchased and used this folding electric scooter have reported that it is an excellent performer. It gave them an excellent range without needing frequent charges. Some users have been using it for a few years and say that it is still in good shape and performs nearly as good as new. They did say that it is bigger and heavier than other models, but that is also a contributing factor to its high performance.

Why it Stands Out to Us

This is one of the most affordable models currently available on the market. Being affordable does not mean that it has compromised on quality in any way. It features a simple and sophisticated design coupled with immense power that makes it a very commuter-friendly option.

Even for a folding electric scooter, it certainly is very convenient. The process of folding and unfolding is very fast and easy. It also boasts two features that are unique to this scooter alone. The first one is its ability to stand vertically without any external support. Being heavy, it also won't topple over by the wind. The other standout feature is its pull-out trolley handle and luggage wheels that allow you to drag it around behind you like rolling luggage.

Bottom Line

Glion Dolly is one of the best folding electric scooters that you should consider for yourself. It is a convenient, sophisticated, and smart way of moving around. With its functional design and a powerful motor-battery combination, it is gaining much popularity amongst adults who want to change the way they travel.
Runner-up:
Segway Ninebot MAX
A high-quality scooter with comfortable riding.
What Recent Buyers Report

Recent buyers are mostly in love with it. They say that it is the perfect ride for short commutes. Being very fast and responsive, users have been taking it with them everywhere they go. Someone even reported taking it to a movie theater and placing it in front of them while they enjoyed the movie. Buyers really like it for its commuter-friendly features and excellent performance.

Why it Stands Out to Us

The Segway Ninebot MAX scooter is designed to equip you with more power and capability to get around. It features a durable aluminum alloy body with solid construction and high-quality components. It is treated with IPX7 that makes it completely waterproof.

It is installed with a powerful motor that can take on the roughest terrains and roads. The powerful battery enables it to provide a mileage that is three times better than its competitors. Its charger is integrated inside the body, which eliminates the need for heavy and bulky chargers. You can easily charge it anywhere with only a small cord that looks like a phone charging cable.

Bottom Line

Overall, this is one powerful and comfortable folding electric scooter. It promises comfort and convenience with its durable build, comfortable deck, easy folding and unfolding, and shock-absorbing wheels. It is suited to ride in any weather conditions thanks to its effective waterproofing. All in all, it is a strong contender on our list.
Best for the Money:
Swagger 5 T
Light in weight, heavy on the features.
What Recent Buyers Report

People who have recently purchased and used this scooter report that it is a great quality product. They say that it is a very smooth ride and handles really well. They like the powerful battery, which gives them a good range. Being collapsible, it has gained public approval with its convenient and easy operation and even easier storage.

Why it Stands Out to Us

This is a very good looking scooter. The smaller red details on a matte black frame really add a nice touch. It looks good and feels even better when you step on it. Standing solidly on the ground, there is no squeaking or crunching. The rubber base is comfortable to stand on while the hard rubber handles offer a solid grip.

It is a versatile unit as it offers its users the flexibility of choosing between three different speeds. It has a maximum speed of 29km/hr and gives a range of around 18km per full charge. The battery is powerful and takes about 3.5 hours to charge completely. Surprisingly, it has an amazing maximum weight capacity of 320 pounds, which is considerably higher than any of its competitors.

Bottom Line

Swagger 5 T is designed to kick start by Swagtron. It is one of the lightest and handiest folding electric scooters you can get your hands on. It features an attractive design that will earn you some admiring looks from passersby. Easy to ride and even easier to handle, this is an ideal unit for you to consider buying for yourself.
Best Jetson Bolt Folding Electric Scooter:
Jetson Bolt Folding E-Bike
A folding electric scooter with a seat for your comfort.
What Recent Buyers Report

Commuters who have recently invested in this bike are quite impressed with it. They report that the bike itself functions well. It does a very good job of reaching high speeds and providing smooth and comfortable rides.

Why it Stands Out to Us

We find this to be one of the most attractive vehicles on our list. It is a hybrid hub without pedals but with a powerful motor. Crafted from robust aluminum alloys, it is sturdy yet light at the same time. It is specially designed to provide daily commuters with a different mode of transportation.

It is equipped with a powerful motor and a fast-charging battery. Combined, they provide good mileage at high speed. It comes with a bright LED light, which makes it great for everyday usage. It has a compact design but is not suitable for taller people to ride. The collapsible handlebar makes it easy to carry and easier to store.

Bottom Line

If you are not a fan of riding scooters while standing, then this is the right one for you. It features a comfortable seat that offers some adjustability for your convenience. The design is smooth, and the unit is sturdy and powerful, so you cannot go wrong by buying it for yourself. It is a high-quality unit with all the great features of the best folding electric scooter.
Best Folding Electric Scooter with Seat:
VIRO Rides Vega 2-in-1
An electric scooter that can convert into a bike.
What Recent Buyers Report

Those who recently purchased this scooter mostly got it for their kids. They say that it is very easy to assemble and operate. Kids really love it for its transforming features. Buyers are divided over its ease of transformation. Some say that converting it is very easy and fast, while others say that transforming it is quite hard. Overall, it makes for a great purchase.

Why it Stands Out to Us

This is a great choice for parents whose children are longing for both a bike and a scooter. It features both riding modes at a decently affordable price. It is safe and sturdy with an aluminum and steel frame that is set atop thick, seven-inch wheels. The design is very simple yet very safe for kids.

It features lever-activated safety brakes that stop it slowly without disturbing its balance. Being attached to the left handlebar, it is easy to access and apply. It does not bring it to an abrupt stop, which can be risky in some circumstances.

Moreover, it has comfortable thumb throttles, which allow the users to easily switch between variable speeds. The height of the handlebar is also adjustable so you can adjust it according to your comfort.

Bottom Line

To sum up, this is an amazing folding electric scooter with a seat. It is a 2-in-1 model that is very easy to ride and control. It is durable, safe, and secure, which makes it an excellent choice. It is simple, yet trendy. If your kids are confused between a bike and a scooter, you can surprise them with this convertible unit that is sure to win their hearts.
Best Electric Folding Mobility Scooter:
Glion SNAPnGO
Lightweight scooter with a high weight capacity.
What Recent Buyers Report

Recent buyers report that it is rugged, well designed, and very quick and easy to assemble. One feature that the users liked the most is its transport retract handle, but you have to remember to retract it before riding off.

Why it Stands Out to Us

It stands out to us because it is a sturdy and time-resistant model. It is crafted from aircraft-grade, powder-coated aluminum, which makes it very strong and reliable. The collapsible design is very portable, yet it boasts a maximum weight capacity of 300 pounds. You can easily fold it up and store it away when not in use.

It is a three-wheeled scooter that comes with a comfortable seat and armrests. Both the chair and armrest are removable so you can put this scooter for multiple uses. Also, the armrests are adjustable so you can set them according to your comfort.

In addition, it is very easy to operate and offers three separate speed settings to choose from. The battery has a decent life and charges quickly as well. It provides a range of up to 15 miles on a single charge.

Bottom Line

Even with its lightweight form factor, this is a great model that can carry a whopping weight of up to 300 pounds. It features a padded chair and comfortable armrests that are adjustable, detachable, and removable. With the freedom to choose between three variable speeds, this is an option that you should consider.
Best Lightweight Folding Electric Scooter:
Segway Ninebot ES4
The best scooter from Segway for its battery power.
What Recent Buyers Report

Users are quite satisfied with its performance. Some have compared it to Apple products saying that it is certainly superior to other units in the same way as iPhones are over other smartphones. They report that it certainly is expensive, but the quality has a class of its own.

Why it Stands Out to Us

Not only is this scooter the fastest, but it also offers the highest range on our list. It features a very sleek and stylish appearance. The body is equipped with a headlight that facilitates night-time traveling too. The comfortable handlebar has a nice mesh pattern deck that provides a better grip.

It is portable in every sense of the word. It folds up very conveniently, and you can roll it like luggage very easily. It is certainly heavier than most scooters, but it is still very easy to carry up or down the stairs. It has solid tires, so you never have to worry about punctures or flat tires.

Plus, it is equipped with dual batteries that seriously boost its power and performance. Although it takes a long time to fully charge, it gives you a stunning range of 28 miles and a top speed of 19km/hr.

Bottom Line

The Ninebot ES4 is a great combination of high speed and longer range. Thanks to its dual batteries, it gives an excellent ride, especially over long distances. It is very comfortable and smooth to ride. Yes, it does come at a higher price tag, but its quality and performance are certainly worth every penny you spend on it.
Best Folding Electric Scooter for Adults:
Hiboy MAX Electric Scooter
A powerful scooter that can easily handle hills. 
What Recent Buyers Report

People who have recently invested in this scooter have lots of good things to say about it. They report that it feels smooth, handles well, looks good, and has a very solid and reliable construction. They like that it has a very quiet operation which makes it even more fun to ride.

Why it Stands Out to Us

Hiboy MAX is one of the heavier folding electric scooters on our list. Weighing at a hefty 34 pounds, it offers an ideal balance between speed and range. It is very sleek and minimalistic. It does not have any flash and shiny parts, but the matte black body has a charm of its own.

It features a well-designed dashboard with a white LED panel that shows you the current status of speed and battery. It also features a bell that enables you to signal pedestrians and move amongst them without any difficulty. The handlebar folds over the deck, making it easier to carry and store away when not in use.

The wheels are made of solid heavy-duty rubber that gives you the smoothest ride on flat ground, but on uneven surfaces, you might experience bumps. Still, you never have to worry about servicing or maintaining the tires.

Bottom Line

All in all, this is a fantastic budget scooter. It comes at an entry-level price that will not drain your bank; instead, it provides you with a comfortable and solid riding experience. The minimalist design gives it a futuristic edge. Thus, it is a unit worthy of your attention for its amazing torque capacity. 
Best Hover-1 Folding Electric Scooter:
Hover-1 Alpha
A unique scooter with a built-in Bluetooth speaker.
What Recent Buyers Report

Scooter enthusiasts who bought this model recently have quite to say about it. They like the speed range and the LED touch to ordinary bike rides. People also seem to love the addition of Bluetooth speakers. One person also reports that it lasts longer than any of his previous bikes. All in all, consumers who invested in this product seem to enjoy it quite well.

Why it Stands Out to Us

The model grabbed our attention for its admirable features. It has everything a scooter lover can ask for. Its stylish design and comfortable ride make it something everyone can use.

Hover-1 has a speed limit of up to 17.4 mph, which is perfect for day to day use. Yes, it is heavy on the pocket, but its quality overcomes that for it. The addition of air-filled replaceable tires is the proof of this scooter's longevity.

But that's not all. The most striking feature is the unique brake system. It enables it to stop smoothly without causing inertia. Moreover, it has a powerful battery. You can ride the scooter all day long, and it won't run out.

Bottom Line

Hover-1 is a great option if you are looking for a one-time investment option. You may have to splurge a little bit, but it will be compensated in the long run. It has a cool design with the latest features. It is perfect for a teenager or college student, and it will make a great gift for them.
Pros and Cons of Folding Electronic Scooters
Deciding to buy a folding electric scooter is a big decision. You want to be sure that it is worth the hard-earned money you are spending on it. The first thing you should understand is that it certainly is not a toy. It is a means of transportation with a twist. In this section, we have discussed some pros and cons of folding electric scooters. 
Pros
These are becoming a trending means of modern urban transport. People who have them love them. The trend is set to go forward with the passage of time. Here are some advantages to owning a folding electric scooter. 
Portability
These scooters are designed to be portable. They are lightweight and fold up, allowing for convenient traveling and storage. The collapsed size is compact enough to take along with you anywhere. 
Fuel Savings
The greatest advantage of using one is the subsequent savings you gain by reducing your consumption of gasoline.
When you rely on any other form of transport, you ultimately end up spending a lot on fuel. Folding electric scooters operate on batteries, so they save you a handsome amount of money.
Less Noise
Folding electric scooters are a whisper-quiet mode of transportation. They are by far the quietest vehicle. Noise pollution is a very real problem in our society. Any method of traveling you see around you produces a significant amount of noise. On the other hand, folding electric scooters are not only fast but virtually noiseless too. 
Freedom
These scooters give you the liberty of traveling from one place to another without having to wait for the bus or taxi. Nothing beats the feeling of freedom when you unfold your scooter and are ready to go
Cons
As they say, nothing in this world is perfect. Folding electric scooters also have some disadvantages associated with them. These include: 
Charging Time
The time taken by a folding electric scooter is significantly higher than the time required for refueling a traditional one. Some people find it a nuisance.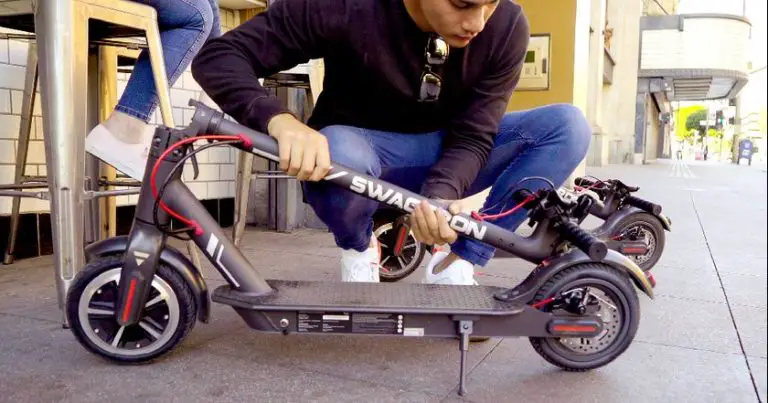 Lack of Recharging Points
This is a pending issue in a country as advanced as the United States. The network of recharging points is not organized, and there are not enough recharge stations to get you around. 
Laws
The laws on electric scooters vary by state. Some are on the verge of legalizing them while others have straightaway opted out. It's best to check with your local authorities before investing in one. 
Conclusion
We all know at least one person who regularly shows up late for work or other engagements. The reason is always the same every single time – crowded commute and delay-prone transit system. If you fit this profile, then you should consider better ways of transportation. 
These items are an amazing source of personal transportation that you can rely on to take you anywhere right on time. They are both convenient and reliable at the same time. 
If you are interested in buying one, then we have you covered with our chosen products discussed above. You can look through them, read the detailed reviews, and then choose a model that is more suitable according to your set of requirements.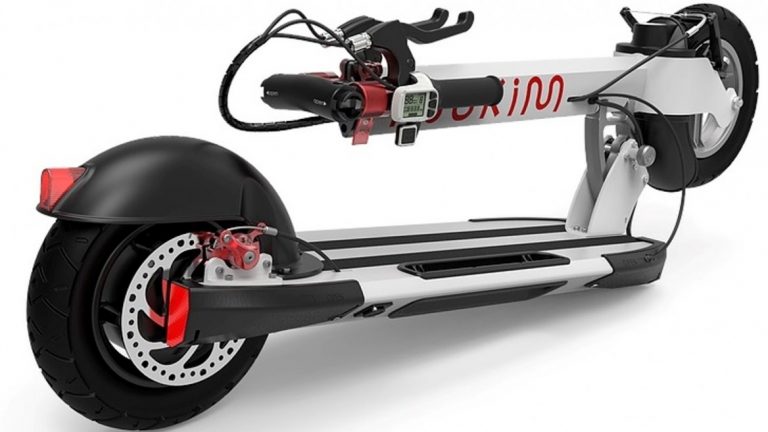 People Also Ask
Electric scooters are a fast and convenient way of commuting long distances. And if you get a folding one, you have the best of both worlds. You have a convenient way of traveling that can be stored away easily when not in use. They are a relatively new addition to the market, so you might need some prior knowledge before heading out to buy one for yourself. Here are some frequently asked questions about these.
How Heavy Are Folding Electric Scooters?
These are designed to be the portable version of regular electric scooters, so they are generally lighter in weight. Although, some models that claim to be higher in quality are heavy too. The lightest folding electric scooter weighs about 10 pounds while the heavier models can weigh as high as 95 pounds. 
How Much Do Folding Electric Scooters Cost?
While these items are very convenient and space-savvy, they certainly are a little expensive. The cheapest models start at a price of $300. They have all the necessary features and will serve you for a long time. On the other end of the spectrum are more expensive high-end scooters that cost around $1000 or more.