There's no better way to promise your kid an adventurous and fun way to ride into the neighborhood than getting them a scooter. With the right scooter, your child can easily make new friends, reach places faster, and get the much-needed exercise. 
Scooters are also an excellent option if your child is getting bored with their bikes. As a parent, you're responsible for your child's health and safety, and wouldn't want anything less than the best. 
However, with such a wide range of choices available on the market, choosing the best scooter can be difficult and time-consuming. To help ensure a fun and safe ride for your kid, we've reviewed some of the best models available today, along with the different types of scooters and the features to look for before purchasing one.
At a Glance: Our Top Picks for Scooter For Kids
Comparison Chart of the Scooters For Kids
IMAGE
PRODUCT

Our Top Pick

Has a unique lean-to-steer design
Stable and comfortable ride
Made to last for many years

View Latest Price →

Comes with durable pneumatic tires
Heavy-duty aluminum frame
Equipped with rear fender brake

View Latest Price →

Best Electric Scooter for Kids
Strong all-steel frame
Great control with rear-wheel drive

View Latest Price →

Best 3 Wheel Scooter for Kids
Made from metal and nylon composites
Wide deck allows easier riding

View Latest Price →

Best 4 Wheel Scooter for Kids
Offers under-seat storage
Has four wheels for improved balance

View Latest Price →

Best Kick Scooter for Kids
Made to be durable and last long
Lightweight and strong frame

View Latest Price →

Best Kid's Self Balancing Scooter
Comes with a built-in wireless speaker
Easy to use and enjoy

View Latest Price →
What Makes a Scooter Great For Kids?
Scooting helps kids develop fitness skills, like hand-eye coordination and balance, and provides an excellent cardio workout. These carefully designed products are manufactured, keeping in mind the height, weight, size, and the specific needs of kids. To help make your decision easier, here are some features that make a scooter great for kids:
Brakes
Brakes ensure your child's safety in emergencies. It's advisable to choose a model that features easy to initiate brakes, so your kid has an easy time. Make sure they understand how to use the brakes before you let them ride on their own. 
Folding
Choosing a unit that folds easily makes it easier to move it from one place to another. This also makes storage easier as a folding scooter takes up less space.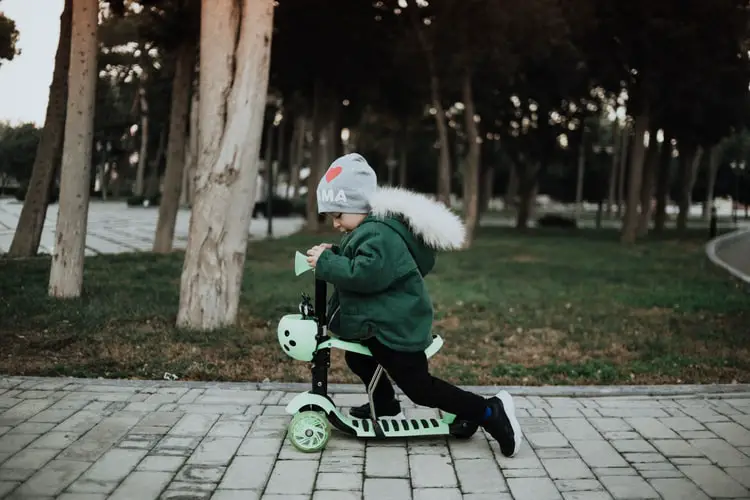 Steering
Most models are designed with a T-bar steering, while some feature the lean-to-steer mechanism that requires the use of the rider's body weight to turn and balance the scooter. It's better to start with a T-bar steering system, and then switch to lean-to-steer later. Alternatively, you could select a scooter that features both steering mechanisms. 
Wheels
Scooters are designed with different kinds of wheels, making them suitable for various terrains. Large wheels are ideal for off-road conditions and are much more stable, whereas standard-size wheels are better suited for urban surfaces. 
Furthermore, standard-size wheels are easier to push than larger ones. Make sure you choose a model that best suits the type of surface your kid will be riding on.
Review of the Best Scooters For Kids
With so many scooters available today, choosing the best one is no easy task. To ensure you make the correct decision and don't end up wasting your money, the following are detailed reviews of some of the best scooters for kids:
Best Overall:
Micro Kickboard – Maxi
What Recent Buyers Report
Almost everyone who purchased this unit absolutely loved it, with parents stating that it ensured an incredibly smooth ride and easily turned left to right. Users were satisfied that it worked on country asphalt roads, and said that it was sturdy and easy to assemble. While most buyers found the unit to be extremely durable, some reported that the handle covering tore off after a few years. 
Why it Stands Out to Us
The handlebar and skateboard-like steering of this unit gives riders better control and enhance maneuverability. The T-bar handlebar further enhances stability and safety, while the low deck allows your child to get off and jump on easily. 
This model offers riders the option between the conventional T-bar and the joystick for maximum curving and carving action. This adds convenience as kids can first learn with the handlebar, and then switch to the joystick once they become experts. 
Moreover, the foot deck is constructed with reinforced flexible fiberglass, making the unit durable and shock-absorbent. Its polyurethane wheels are shock-absorbent as well, thus ensuring quiet and smooth rides every time. 
Lastly, it boasts an anti-slip deck for a better grip, while the handlebar features a locking clamp to ensure it stays fixed in its place. The unit is also equipped with a safety brake.
Bottom Line
All in all, this unique scooter allows your child to surf and curve the sidewalks safely and easily. Although its wheels and deck ensure a comfortable and smooth ride on both suburban and urban terrain, its lean-to-steer mechanism might take some getting used to.
Runner-up:
Razor Pro RDS Dirt Scooter
What Recent Buyers Report
The majority of the buyers were extremely happy with their purchase and said that the unit was perfect for off-pavement scooting. Users loved the terrain tires that enabled them to ride on dirt and grass and stated that it didn't rattle at all. However, customers were disappointed with the lack of an adjustable height handlebar, while some reported that the tires wore out quickly. 
Why it Stands Out to Us
With huge 200-mm pneumatic tires, this product can safely navigate through obstacles on paved surfaces, making it ideal for grass, sand, dirt, and numerous other off-road terrains. These tires are designed with a special tread pattern for dirt, while the deck's grip tape keeps riders securely in place.
The entire structure is constructed with aircraft-grade aluminum, which is strong and incredibly light at the same time. The unit further boasts a triple-stacked headtube clamp, which firmly holds the structure together during even the most aggressive rides. 
Lastly, it's extremely easy to assemble, and the rear fender brake ensures your child's safety on steep inclines.
Bottom Line
Featuring a BMX-style steel fork and 200mm dirt tires, the Razor Pro Dirt Scooter provides an exceptional dirt riding performance. With high-quality design, performance, and function, it offers unparalleled fun during both skate parking and off-roading.
Best Electric Scooter for Kids:
Razor E100
What Recent Buyers Report
Most buyers loved this unit, said that it was worth the money, and recommended it to other parents as well. Users stated that it was easy for children to use, well made, and incredibly easy to put together. However, some customers reported that it stopped working after a few weeks of use, while some were disappointed with the battery life. 
Why it Stands Out to Us
This model is designed with a rechargeable 24-volt battery that's strategically placed below the footboard. It features a rear-wheel-drive for better control and increased traction. Since the E100 is able to reach speeds of ten mph, it's perfect for intermediate scooters.
Furthermore, it boasts a front air tire, so it rides and cruises more smoothly than models with polyurethane wheels. Its non-adjustable handlebars have slip-resistant rubber grips and bumpers on the ends, ensuring that the rider's hands don't fall off. Lastly, the unit is also equipped with a very responsive and stylish hand-operated front brake. 
Bottom Line
The perfect introduction to the world of electric scooters, the Razor E100 is ideal for young scooter enthusiasts who want to try something new. Boasting a 10mph speed, it's fast enough to provide kids with the adrenaline rush they need and safe enough to keep parents from worrying about their child's safety. However, it's not suitable for rough terrains.
Best Overall:
Den Haven Three Wheeled Kid Ride
What Recent Buyers Report
Most people who invested in this unit were extremely satisfied, with users stating that it felt safer and had more control. Parents said that it gave their kids the confidence to increase their riding skills, and they quickly learned how to steer and ride. They found balancing to be easy and loved the adjustable handlebar. However, some customers reported that the rear brakes popped off after a few days of use.
Why it Stands Out to Us
With an elegant and high-quality aluminum frame, this three-wheeled unit helps kids reach a higher riding skill level. Its folding design makes it ideal for storage and traveling, while its adjustable handlebar ensures your kid will enjoy it for years to come. 
Manufactured with durable nylon components and sturdy aluminum metal, this unit boasts the same build quality as other higher priced models. The handlebar further locks in place, protecting your kid from potential accidents. 
Moreover, it has large wheels, increasing stability and control on bumps and lumps in the road. Lastly, its wide deck means that children of all skill levels can ride it.
Bottom Line
Undoubtedly one of the best scooters for kids, the Den Haven Kid Ride delivers an exceptional riding experience. It's incredibly speedy, has a stable frame, and ensures a smooth ride. However, it could have better construction and design.
Best 4-Wheel Scooter for Kids:
Radio Flyer Scoot 2
What Recent Buyers Report
Most parents were happy with their purchase and stated that the unit was right for their kids in terms of both quality and speed. They found that it didn't go too fast, and it was easy for kids to control. Buyers stated that the handles were easy to grab, and it didn't tip over too easily. However, some felt that the wheels should be rubber textured, while some customers reported that the screws needed tightening after every few days. 
Why it Stands Out to Us
This unit primarily stands out to us because of its innovative two-in-one design. Young kids can start with the ride-on scooter and ride in a seated position. Once they grow and are ready for proper riding, you can easily flip the base to convert the unit into a four-wheel scooter without any tools. 
Its four wheel base provides extra stability and control, enabling beginner riders to develop a sense of balance and build confidence when riding in either mode. The adjustable handle further ensures a comfortable and smooth ride in both modes. 
This scooter is perfect for kids who are between one to four years of age. Lastly, its ride-on mode boasts under-seat storage, so all your kid's favorite toys can join the adventure as well.
Bottom Line
This unit grows with your kid through two developmental milestones. Designed to quickly convert from ride-on to scooter mode without the help of tools, it certainly deserves a place on our list of top picks.
Best Kick Scooter for Kids:
Micro Kickboard – Sprite
What Recent Buyers Report
This product has received a plethora of positive reviews. Buyers were particularly impressed with its build quality and said it delivered a smooth ride. They loved the high-quality wheels, with one customer saying that they never changed them over the three years their kid had used the scooter. However, some parents reported receiving defected units, and some found the unit to be too wobbly. 
Why it Stands Out to Us
The Micro Kickboard allows your child to ride a scooter in style for years to come. Its sturdy, durable, and high-quality construction ensure a smooth ride, while its adjustable handlebars make it ideal for kids with different heights. 
With first-rate polyurethane wheels and foam handles, this unit provides a quiet, comfortable, and smooth ride for your kid. It further boasts an excellent performing rear brake for enhanced safety. 
Moreover, the product comes completely assembled for added convenience. It further features a two button-folding mechanism that ensures easy folding and unfolding. Lastly, the scooter is designed with a kickstand that helps kids park the scooter easily.
Bottom Line
Thanks to its smooth operation and classy design, the Micro Scooter is one of the best traditional scooters available today. It's incredibly lightweight, but strong enough for children who are above eight years of age. Its button-folding mechanism further makes it an excellent option for travel.
Best Kid's Self-Balancing Scooter:
SISIGAD Self-Balancing Hoverboard with Bluetooth Speaker
What Recent Buyers Report
Most buyers loved this unit and were particularly impressed with its self-balancing feature. They found it to be sturdy and well made and stated that it was stable and easy to control. While most users liked its battery life, some were disappointed with the lack of a physical power switch. Some customers also reported receiving defected products. 
Why it Stands Out to Us
This unit boasts an impressive top speed of nine miles per hour, so older kids and adults can ride on higher speeds, while younger kids can start off slow. It's innovatively designed with quality materials and can withstand rough handling. 
It further boasts the UL 2272 certification, which means that it has passed stringent and rigorous battery safety testing. This also means that the hoverboard won't be a fire hazard and won't overcharge.
Featuring self-balancing technology, this unit is available in fifteen different colors. Riders can also use it in light rain without worrying about the board getting damaged and can easily ride it on asphalt and through grass, gravel, and mud.
Bottom Line
With Bluetooth capability, beautiful LED lights, and a wide range of colors, the performance, and power of this unit are better than most of its competitors. However, the lack of a waterproof feature leaves much to be desired.
Best Kid's Stunt Scooter:
Sullivan Stunt Scooter
What Recent Buyers Report
The majority of the buyers stated that their kids loved this scooter and found it to be incredibly durable and lightweight. Parents stated that it felt sturdy, looked great, and was easy to ride. They further said that the headset bolts locked up tight. However, some customers reported that the polymer brake snapped after a few months of use.
Why it Stands Out to Us
Ideal for kids who are between six to twelve years of age, this product is one of the best stunt scooters available today. Its heat-treated boxed deck is lightweight and extremely durable and is designed with rear and front deck inserts to get rid of any sharp edges. 
It further features 110mm high-rebound PU wheels and ABEC 7 bearings for excellent grip and an incredibly smooth ride, while the innovative non-slip texture of its two-position rear brake enhances safety. Its T-bars are also equipped with soft TPR grips, making the scooter perfect for tricks. 
Lastly, the model comes pre-dialed, so it's incredibly easy to assemble. You just need to insert and fasten the handlebar, and your kid is ready to hit the skatepark!
Bottom Line
To put it simply, the Sullivan Stunt Scooter is certainly one of the best scooters for kids available today. Whether you're doing a school run or are just going to the skate park, this unit can handle the toughest tricks and grinds. However, the quality of the brake could be improved. 
9. YBIKE GLX Pro Scooter
What Recent Buyers Report
This product has received a lot of positive reviews, with buyers praising its sturdy and quality build. Parents stated that their children found it incredibly easy to use, and loved the brake and wide rear wheel. They also liked the fact that it could be stored in a small bag. However, some customers reported that the wheel broke off completely after a few weeks of use, while some found the steering to be poor. 
Why it Stands Out to Us
This model is designed with a three-wheel lean-to-steer design, which makes it perfect for kids who are older than five. It's designed with adjustable handlebars that can be extended from 28 to 32.5 inches, so your kid can enjoy the scooter for years to come. 
It also features large front wheels for a smoother ride, while its non-slip and fiber-reinforced ABS deck keeps riders safely in place. The raised and wide deck surface provides an excellent grip as well, further enhancing your child's safety. 
Moreover, the three-wheeled design offers perfect balance. Lastly, this scooter is incredibly easy to assemble and does not require any tools. 
Bottom Line
Safe and comfortable, the YBIKE GLX Pro is undoubtedly one of the best scooters for kids. Its three-wheel, lean-to-steer design, along with its adjustable handlebars, nonslip-grip handles, durable aluminum frame, and back-wheel braking, offers excellent value for money.
Types of Scooters Perfect For Kids
Scooters are an excellent way to get your child outside to exercise, train coordination and balance, and have fun. Nowadays, these modern machines are precisely engineered to maximize style and fun. There are several different types of scooters, including: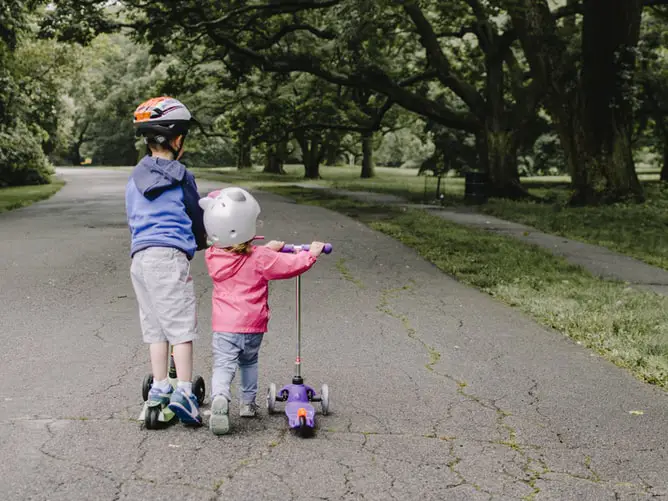 Three-Wheel Scooters
Ideal for toddlers and young children, three-wheel scooters are designed with two wheels in the front and one wheel in the back for improved balance. They provide greater stability, but at the expense of a bit of speed. That's why they're usually a child's first scooter. 
Two-Wheel Scooters  
As the name suggests, two-wheel scooters only have two wheels. They are more suitable for older kids who have better balance and hand-eye coordination. They can also handle more weight and can reach greater speeds. Ideal for children who are between five and eight years old, two-wheel scooters are manufactured with durable materials, like metal. 
Electric Scooters
These scooters are equipped with an electric motor and a rechargeable battery. They're usually heavier compared to kick scooters and have chunkier wheels. Although they are a bit difficult to transport and store, their extra weight enhances stability, making them safer to ride.
It's important to remember that electric scooters don't have to be physically pushed, so while they're certainly a lot of fun, your child won't get a lot of exercise. 
Conclusion 
The next time your child hits the neighborhood, make sure they do it in an exciting, fun way on a new scooter. Make sure you go through all the aforementioned products and choose the one that best suits your child's needs. 
People Also Ask 
When it comes to choosing the best scooter for your kid, the choices seem almost endless, making the decision confusing, time-consuming, and incredibly difficult. To help clear away any confusions you may have about scooters, here are some of the most frequently asked questions:
What Age Can a Child Use a Scooter?
All children develop motor skills at a different pace, so it's better to gauge physical ability than physical size or age to determine whether a child can ride a scooter. Generally, if a child can walk with a balanced and steady gait, then they'll be able to use a scooter. Therefore, a child who is between two to three years old can ride a scooter.
What Age is a 2-Wheel Scooter For?
A two-wheel scooter requires a better sense of balance than a three-wheel scooter. Similar to a bicycle, it requires a specific amount of speed to remain steady, making it suitable for children between the ages of five and eight.
Are Scooters Safe For 3-Year-Olds?
Three-year-olds are able to pedal and have developed the coordination needed to use a handlebar or steering wheel. They can ride three-wheeled scooters, but don't have the sense of balance needed to ride two-wheeled scooters.