Safety has always been a primary human instinct, and the best way to enjoy a scooter ride is knowing you're in safe hands. A lot of people believe that scooters are not much of a dangerous vehicle, but slight imbalances can lead to risky bruises and wounds. 
This is why it is crucial to have knee pads to protect yourself from injuries and to absorb shocks. Knee pads are vital to save your joints from the brutal impact of falling on hard ground; hence they are considered a necessity when riding a scooter. 
Read along to discover more about knee pads, their uses, and different types. 
At a Glance: Our Top Picks for Knee Pads For Scootering
Comparison Chart of the Best Knee Pads For Scootering
IMAGE
PRODUCT

Our Top Pick

Available in 2 sizes
Can be worn by males and females
Designed to be light and comfortable

View Latest Price →

Fit can be adjusted for comfort
Knees are safe behind foam padding
High quality materials for durability

View Latest Price →

Best Budget Option

Best for the Money
Made with comfy and breathable materials
Convenient one-size-fits all design

View Latest Price →

Ideal for children's extreme sports
Adjustable elastic straps for secure fit
Available in 7 different colors

View Latest Price →

3-Piece set allows better protection
Made from high quality durable fabrics
Made to be impact-resistant

View Latest Price →
What Makes Knee Pads Great For Scootering? 
The prime function of knee pads is to act as a shield against abrasion and vicious joint injuries. However, a lot of the knee pads available in the market are terrible in quality and provide insufficient protection. Some important features that assist a knee pad in fulfilling the demand for defense and safety are:
Strong Outer Shell
The outer shell fits on to the shape of your knee to cover it from all aspects. This shell forms the first shield against injury, mostly by protecting you from hard and rough surfaces. Polymers like polyurethane provide a flexible yet rigid framework to the outer shell. 
Soft Inner Padding
Knee pads usually feature a soft, pliable inner lining often a foam or spongy material that serves best to absorb shocks and minimize the impact of force on the knee. EVA padded material is a favorable material for soft padding. Having flexibility in knee pads is important to wear them for long hours without discomfort.
Flexibility and Freedom
Riding a scooter in the hot days demands flexible and breathable properties. Elastic or Velcro straps of breathable material fasten the knee pads in place and allow free mobility. Freedom of movement makes knee pads adequate for scootering to allow the rider to perform at their potential. 
Moreover, the majority of the knee pads are built to be lightweight and comfortable, which makes them best for scootering.
What Size of Knee Pads Do I Need?
Choosing the right size of knee pads will not only ensure a secure grip on the knee joint, but it will also avoid restricting your knee motions. You should be able to move freely on a scooter, and knee pads that are too tight or too loose are a waste of money. Hence, size is something to be aware of before making a purchase. 
The size of your knee pads is actually the size of your knee and the area above and below it. This varies with your age, body weight, and height. To measure your size, take a measuring tape and wrap it in the middle of your knee (A), four inches above the center of your knee (B), and four inches below the center of your knee (C). Having these three measurements, you can easily determine your size by following a size chart.
How Do I Choose Knee Pads For Scootering?
While a knee pad must fulfill the purpose of protection, you need to consider a few other aspects to make your purchase a worthy one. Knee pads should be reliable enough to nourish parental concern for their kids' safety to save one from knee cracking and joint damage. Have a look below to aid yourself in making the best choice for knee pads. 
Interior Cushioning
A lot of knee pads use foam, such as nylon, neoprene, or polyurethane, to provide a cushioning effect in case of trauma or blow. The softer and flexible padding material allows the knee pad to mold into your knee shape for improved comfort and resistance against impact. Knee injuries usually take a lot of time to heal, so you must choose a padded and protective surface.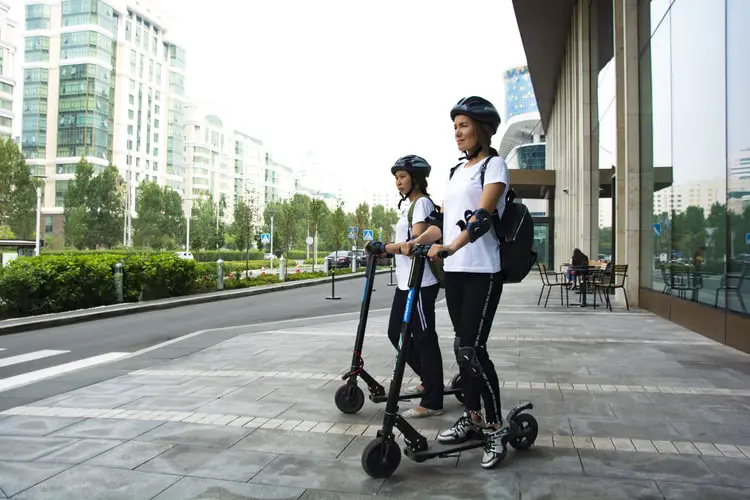 Sizing
Keeping in mind your age, weight, and height, it is important to order a knee pad that adheres to your knee size. Tight knee pads impede the circulation of blood and restrict movements, whereas loose ones slide off frequently, which becomes a major hurdle in scootering. 
Moreover, a secure fit of the knee pad should allow you to move freely and quickly and make sudden movements as well. The elastic straps should be fastened strongly but not too tight to cause strain on the joint. 
Cooling and Sweat Liners
It is important that whatever you choose is practical for usage in all sorts of weather conditions. Since riding a scooter exercises your legs, you surely don't want to overheat your knees with the extra padding in humid weather. 
The material should be light and breathable to minimize sweat on hot days. Sweat liners absorb extra sweat to prevent it from seeping in your clothes. At the same time, during cold days, the internal lining should provide sufficient heat to keep your joints warm.
Design and Versatility
It is crucial to keep in mind a stylistic and sleek design while buying a knee pad because they are evidently visible to everyone. A wide range of colors and designs are available to fascinate your kid's taste and suit your interest. 
Versatility is a key factor because one can benefit in many ways from a single purchase. Knee pads should not only be used for scootering, but for other exercises, sports, and activities to safeguard your body.
Review of the Best Knee Pads For Scootering
Our comprehensive list of the top knee pads will prove to be really helpful and informative in the long run. Taking safety into consideration, we have researched and come up with our review of the best brands regarding knee pads. Delve into our list to find out what's suitable to assist you in scootering.
Best Overall:
Bodyprox Protective Knee Pads
What Recent Buyers Report
This product surely worked wonders for a large number of customers pleased by its performance. The fitting is surreal, and they don't fall out of place, which is perfect for scooter rides, and they don't demand much adjustment. 
They work well against hard surfaces by the soft padding, which covers a large area in front of the knee to avoid bruises. A lot of the buyers were happy with how they could be worn under regular clothing in winters to keep their joints warm.
Why it Stands Out to Us
With a cost-friendly price tag, the Bodyprox Protective Knee Pads are something everyone can buy. They are perfect not only for riding a scooter but also for protecting your knees due to old age or after surgery. 
The elasticity of the fabric minimizes sweat, and the padding uses high-density foam that gives a great deal of protection in case you fall over. While slipping knee pads are a frequent complaint, this particular product gives a secure grasp and fits perfectly. It is guaranteed to keep your knees cushioned at all times.
Bottom Line
Overall, they are comfortable, easy to use, and get the job done, which makes them number one on our list. Apart from scootering, they are perfect to wear to work, or for other sports activities, proving they make a versatile and productive purchase. Your knees deserve comfort, and these knee pads will serve the right function.
Runner-up:
NoCry Professional Knee Pads
What Recent Buyers Report
If you're looking for a durable product, then these are what you need. These are amazing for cushioning your joints on rough pebbles or hard grounds. They are comfortable, affordable, and easy to wear due to the slip buckles. Since the straps are made of elastic material, they lock into place securely for an adjustable fit. The cushioning is very protective, and it feels just like falling on a pillow. 
Why it Stands Out to Us
The NoCry Professional products are well-built, long-lasting, and functional products that live up to expectations. They stay fit on the knees without any adjustment issues, and the quick clasp mechanism makes them a lot easier to wear and remove. 
With the outer surface and padded inner foam, you're sure to be in safe hands. Being solid yet lightweight makes them a great tool to absorb the shock with freedom of movement. They are super reliable and comfortable, while a classic, black color adds to the sleekness of the product.
Bottom Line
With the sheer resistance provided by a hard, outer casing, these knee pads will save you from any uneven and rigid surfaces. The straps are elastic and can be adjusted according to one's preference, thus suiting a wide range of audiences. Comfort is a must-have in scootering, and these are bound to be the most comfortable ones you've ever experienced.
Best for the Money:
JBM BMX Bike Knee Pads
What Recent Buyers Report
Apart from the trouble of finding a suitable size, these offer the best services to your knees for such a low price. The design and construction are appreciative, and all the parts have a sturdy feel to them. 
The straps make these easy-to-wear and remove them without much struggle, and crossing the straps over ensures a more stable molding into the knee shape. The hard shell gives excellent protection, and the padding also enhances coverage to protect one from scrapes and accidents.
Why it Stands Out to Us
The breathable property of this product is something that proves to be very effective in sporting activities, particularly while riding a scooter in the heat. A breathable mesh allows proper air inflow and blood circulation and enhances flexibility, allowing the rider to move freely without restricting the range of motion. 
In terms of protection, it offers comfortable and impact-resistant material to bear any injuries and shocks. The sleeve type and Velcro straps improve the practicality by giving a customizable size option.
Bottom Line
If you're looking for a product that offers comfort, adjusted size, and protective features, the JBM BMX Bike Knee Pads are the right choice. Their price makes them attractive to buyers, but what actually surprises a lot of people is the great functionality, tough protection, and longevity they offer at such a cost-friendly price.
4. Bosoner Kids/Youth Knee Pad
What Recent Buyers Report
Having a colorful collection with vibrant colors, these pink and purple pads tend to be a particular favorite of kids and teens. The adjustable straps give a perfect fit, and light fabric allows maximum air transfer to avoid heat-trapping. 
They perform exceptionally well for safety on a scooter to save your child from fatal knee risks. The Velcro straps are a great feature, allowing the kids to easily put them on without assistance. 
Why it Stands Out to Us
Everything from the packaging to performance about this product is great. Parents are always overprotective when it comes to their child, and with the Bosoner Knee Pad, you are assured that your kid is equipped with the right gear. 
The outer protective shell, combined with soft inner padding, gives the desired ratio of comfort and protection. It really helps avoid everyday scrapes, bruises, and cuts on the knees by reducing the pressure on the knees. Owing to a comfortable fit and getting the job done, these are worth their price.
Bottom Line
A breathable material, thick padding, elastic straps, attractive colors – what's more to ask for? These knee pads are bound to guarantee your child's safety, especially when riding a scooter because kids fall off and run into obstacles every now and then. They fit adequately and fulfill their purpose, which makes them highly recommendable for teens and little ones.
5. Triple Eight Saver Series Pad Set
What Recent Buyers Report
These are an amazing choice if you're looking for something as a beginner to save your knees in case of falling over. It provides the basic protective gear you'll need at a very low-budget price. They stay in a fastened position due to two elastic straps and additional hooks for accommodation according to one's requirements. The padding, along with outer capping, boosts the protective features in this one.
Why it Stands Out to Us
The high-density material finish of polycarbonate gives a resistive quality that allows traction on solid surfaces. To top it off, a thick spongy material lines the inner part to reinforce defense in case of any collision. With a strong grip on the knees, they also cover the maximum area for comfort. 
Flexibility won't be an issue because the elastic and breathable mesh adapts to any sort of leg and joint movements. What really makes them a favorable option among buyers is that the brand offers a complete package of protective gear, including elbow pads and wrist pads to make sure you're in good hands.
Bottom Line
Once you get your hands on these, you'll definitely feel a lot safer and protected on your scooter. To avoid the risk of getting injured, these are surely an excellent idea to minimize bruises, knee displacement, and joint injuries. They are reliable, easy to use, and low cost.
Why it Stands Out to Us
The high-density material finish of polycarbonate gives a resistive quality that allows traction on solid surfaces. To top it off, a thick spongy material lines the inner part to reinforce defense in case of any collision. With a strong grip on the knees, they also cover the maximum area for comfort. 
Flexibility won't be an issue because the elastic and breathable mesh adapts to any sort of leg and joint movements. What really makes them a favorable option among buyers is that the brand offers a complete package of protective gear, including elbow pads and wrist pads to make sure you're in good hands.
Bottom Line
Once you g se are surely an excellent idea to minimize bruises, knee displacement, and joint injuries. They are reliable, easy to use, and low cost.
How to Wear Knee Pads 
Knee pads are really simple to wear; you need to keep in mind that they ensure a snugly fit on your knees. They use straps to loop around and hold them in place. The straps are either buckle or Velcro, but the method of wearing knee pads is pretty much the same.
Positioning the Knee Pad
You must know the correct position and placement of the item. Remember that the front bulge caused due to the padding should face forward. This part actually provides defense on rough and rugged grounds. Hold the knee pad on your knee in such a way that the padding should cover the knee zone completely.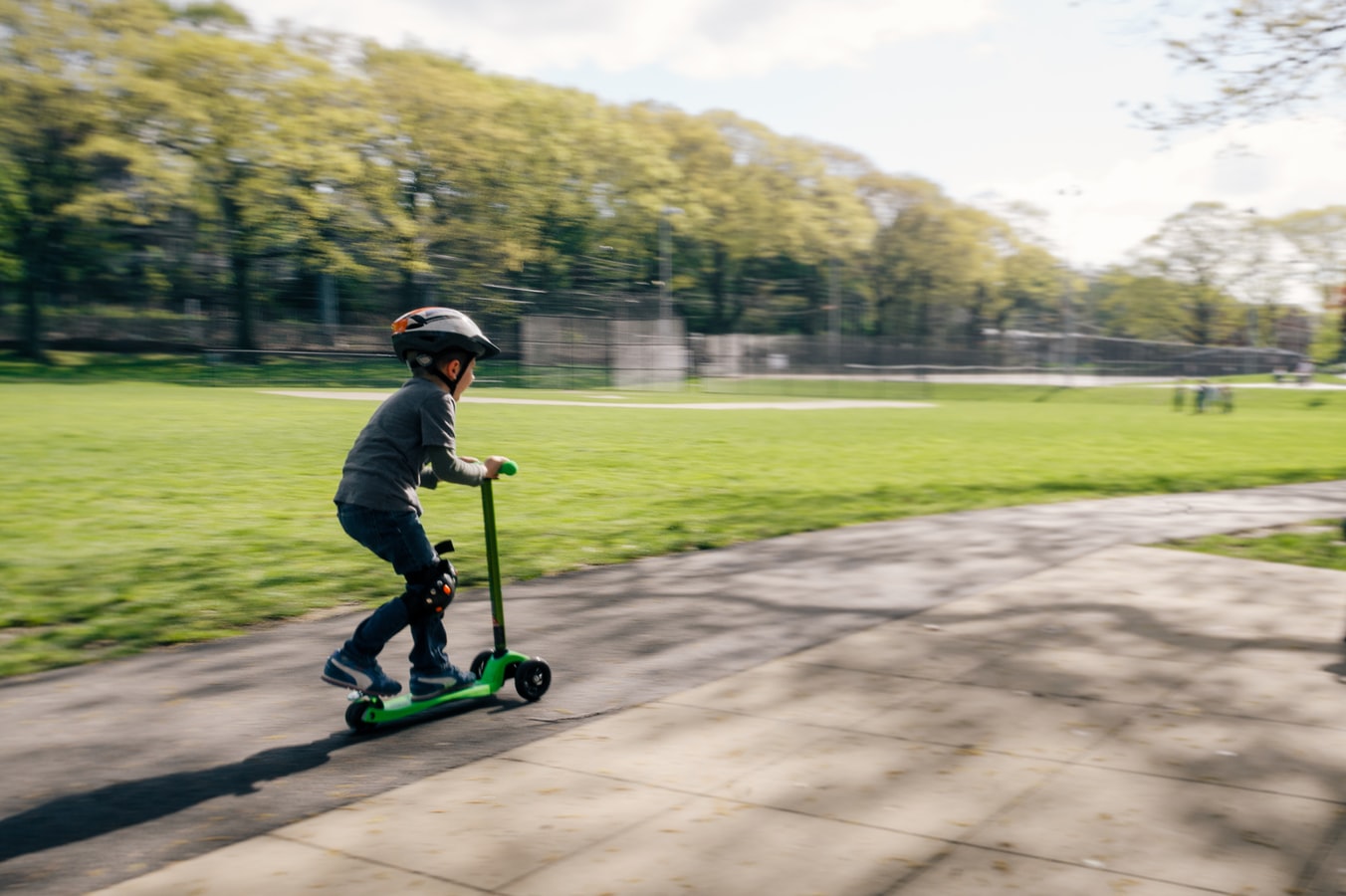 Fastening and Securing
Once the product is positioned in the right manner, hold the elastic straps, and go all the way around your knee to secure it in place. In the case of Velcro straps, attach them to the sticking part, whereas you'll need to fasten the clasp for buckle ones. Make sure that the straps are not too tight or too loose to come off.
Keeping it in Place
Knees allow a variety of movements in varying directions. This is why slipping products are a frequent complaint among users. To avoid it, you must buy a knee pad of the appropriate size based on the measurements above and below your knee area. Carefully strap them for a secure fitting to conceal the entire knee area so that they can fully perform its function. 
How to Wash Knee Pads 
Owing to their wide use in sports and outdoor activities, knee pads tend to get stinky and unhygienic within a few weeks. Sweat gives them an unpleasant odor and often leads to bacterial contamination. Hence, you must wash them regularly every 1-2 weeks. 
A good wash will remove the dirt, dust, and smelly odor and give them a pleasant look. Check your product to see if they're washable in a washing machine and follow the steps below.
Laundry Bag
Place your items in a laundry bag or a mesh casing to avoid them from getting entangled with other stuff in the machine. It will also offer slight protection so that the knee bags don't get damaged while spinning in the machine. It is advisable to include regular clothing items with knee pads such as t-shirts, or sporting gear materials to avoid their collision with the machine.
Adding Detergent
Choosing the detergent is crucial to protect your items from any discoloration or damage. Look for a mild detergent that suits synthetic fibers and add it into the machine for the cleaning process. If your product gives off a stinky odor, feel free to add a cap of white vinegar as well to drain out the smell. Make sure that bleach is not included in the detergent since it can fade away the color.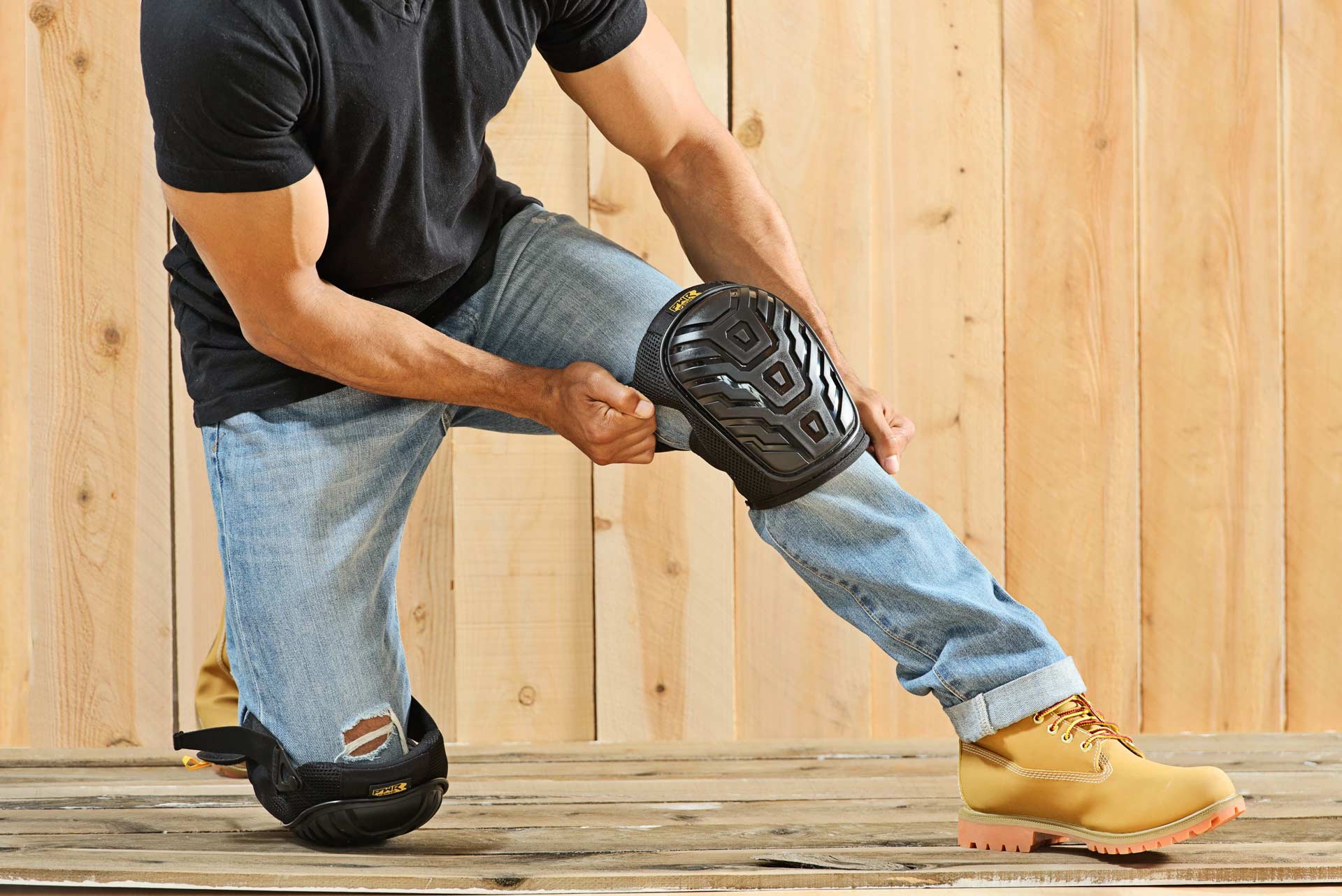 Cold Water
Remember to use cold water for cleaning them because it fights odors and bacteria efficiently. Once you've added cold water, let your washing machine run on 'slow speed' and then pause the machine settings when the detergent and water are solubilized together. Let the knee pads soak in the mixture for around an hour to sustain better results.
Washing Process
Once you've left the products for soaking in the mixture, it's time to start the machine to get done with laundry. Follow your routine steps, but be cautious about setting the 'gentle cycle' or 'slow speed' for a thorough rinsing effect without damaging the padding material. 
Air-Drying
Air drying is way better than using a dryer because the heat of a dryer can affect the fitting of your knee pads. Once the washing process is completed, remove the wet knee pads from the laundry bag and hang them to dry out in the air. Make sure to turn them inside out so that both sides are dried enough. Hanging them out in the sunlight is a fairly good option since it kills any remaining bacteria, making your knee pads as good as new.
Conclusion
Being equipped with important safety gear always comes in handy to save yourself from accidents and injuries. In the case of scootering, many kids and adults face calamities every day as they trip over in cramped spaces, pavements, or are unable to maintain a balance going downhill. This is where knee pads save the day by protecting your knees. 
All the aforementioned products in our list are an excellent option for scooter riders, but it all comes down to your budget, requirements, and comfort. We hope our review gave you a better outlook on knee pads and everything you need to know before buying them.
People Also Ask
Since parents are particularly concerned about their kids' safety, it is natural to ask questions regarding any product they're interested in. We have tried our best to provide all the necessary information regarding knee pads in our article; however, some other questions that we face on a regular basis are answered below to tackle any confusion in your mind.
How Much Are Knee Padsfor Scootering? 
Most products bear a reasonable and affordable price tag, but depending on the brand, you can also opt for expensive products. The better the material used, the higher the price goes. However, good quality products can be purchased in a price range of $14 to as much as $50. You need to keep in mind your budget range since many durable knee pads are available at an economical price.
What Are Knee Pads For?
Just as the name indicates, knee pads are protective sporting gear meant to cover up your knees to save them from a blow on a hard surface or colliding into any obstacle. In the case of scootering, knee pads are a savior from imbalance and failed brakes, thus protecting your knees. 
The strong outer shell acts as a shield against hard objects, while the inner padding provides a cushioning effect to reduce the force. They guard the knees against injuries, damage, scrapes, and bruises.
Do I Need Knee Pads?
Of course, if you're a scooter enthusiast, knee pads are essential on your ride. Falling off your scooter or crashing into obstacles is something that can happen any time, so you need to be cautious for your own sake. 
Precaution is better than treatment, and while knee injury is pretty common, it sure takes a long time to recover. Knee pads are a convenient tool to reduce pressure on knees and minimize exertion. Apart from scootering, you can also wear them in sports like volleyball or basketball, etc.
Other Scooter Reviews
Check out some of our other scooter reviews below: