Scooters have been in the market for many years, but recently there has been a rise in their popularity. Whether you want a scooter for fun or serious commuting, there are many models available for you to select from.
There are scooters built especially for commutes, tricks, skate parks, and competition. One kind is pro scooters for people who want to be more professional in the scooter world, and they are different from normal ones.
Read on below to find out more about these scooters and what makes them stand out. Also, you can choose one which is more suited to your needs from the models reviewed below. 
At a Glance: Our Top Picks for Pro Scooters
Comparison Chart of the Best Pro Scooters
IMAGE
PRODUCT
 

Our Top Pick

Lightweight design that's durable
Noiseless custom brake system
Sealed bearings for enhanced performance

View Latest Price →

Runner-Up

Easy and simple to set up
Suited to new riders
Very smooth compression system

View Latest Price →

Best Pro for Kids 

Best Pro Scooters For Kids
Smooth bearings for enhanced performance
Brake system is very responsive

Best Pro Stunt Scooter
Appealing and attractive appearance
Sturdy and durable handlebars

View Latest Price →
What is a Pro Scooter?
A pro scooter is a scooter that is not adjustable. This means that it does not fold or get adjusted in terms of height. Most kids don't get a pro scooter as their first ride, which is not adjustable. However, it features metal core wheels that you will need to jump on at the skate parks.
On the other hand, entry-level scooters come with a plastic core wheel and are good for kids under the age of six. Pro scooters, however, are easier to learn tricks with and come with different height ranges. 
You can get the height according to your comfort and then enjoy carrying out tricks and racing in the skate park for fun.
What Should I Look for When Buying a Pro Scooter?
When looking for the best pro scooter, you need to focus on a few specific things in order to make an informed decision.
These features include the following:
Price
The price range for these is from $50 to $150, and as with everything else, you get what you are paying for. If you are going for a cheaper unit, be prepared to know that they can break after a couple of uses.
This can be disappointing for the child and parent, which is why it is good to look for a scooter that has a sturdy built and is known for using good materials. Make sure that you choose a decent model with an affordable price tag, but make sure it's not too cheap.
Bar Size
This is something that you need to put your focus on. Most pro scooters have a bar size that is 20″ wide and 20″ high. To find the perfect height, you need to follow the rule of thumb, which is that the bar must be around the waist or hip peak when the rider is standing flat-footed on the deck. 
This means that if the child is 54″ or 52," then the bar must be at 18."
If the bar is higher, then the rider will have difficulty in controlling the vehicle. Furthermore, to find the perfect bar width, you must measure your kid's shoulder. A slender bar allows your kid to carry out more technical tricks such as the bar spin, whereas a broader bar will not allow that.
Another tip to remember is to avoid choosing a scooter handlebar that is way big for your kid because you think he will grow in it. Buying a scooter is a big decision to make, especially for your child, and if you are cutting corners, it will take away the fun for them.
So, pick the right size according to their current height. 
Bearings
Bearings are known as the seven to eight balls present in the center of your wheel. These are scored with ABEC numbers for precision in their manufacturing like AEBC-2, ABEC-1, and so on. Remember that the higher the number, the more precise the bearings will be.
You don't need to clean the bearings after every use, but when they are moist, you can dry them up and clean them. Also, remember never to lubricate these bearings because harmful contaminants can grow and stick on the surface, which is not great for the rider.
Deck Size
Note that a fitting deck makes the ride more enjoyable, and it allows you to do tricks easily as well. A wider deck that measures 19″ length by a 4″ width is safer. A deck smaller or bigger than that can cause instability, which can be very dangerous since it allows the rider to fall. 
Make sure you know your kid's shoe size, as this will help you pick the perfect deck size for use.
Review of the Best Pro Scooters
To help you find the best pro scooters, we have collected the best ones you can find today, along with the good and bad points. We have also written what makes them stand out. Have a look!
Best Overall:
Fuzion X-3 Pro Scooter
What Recent Buyers Report
Buyers who've recently purchased this product claim to love how smooth it is. The handlebar and frame's overall construction is very solid, especially at its price point, and it has two Allen wrenches, allowing you to replace the wheels right away without any hassle, making it incredibly good.
Why it Stands Out to Us
The Fuzion X3 Pro is one of the best pro scooters present in the market. This is overall a great ride for anyone looking for an awesome lightweight design with solid construction and superior components used in its making. It has an aircraft-grade aluminum deck along with high tensile steel V-bars for better control and strength.
It also features a nylon brake present for better performance and a rugged design. The headset of this scooter is sealed and has a threadless fork that ensures a smooth operation for you to easily carry out your tricks. 
Furthermore, tricks like board slides and tail whips are very smooth and easy to perform on this scooter; all you need to do is tighten three bolts to get it running.
Bottom Line
This is the best overall pro scooter you can find in the market, which allows it to be on top of our list. It is lightweight in nature, allowing you to learn the basic tricks, and it also features an easy assembly that requires a single step. 
It is also incredibly reasonable to buy, so it isn't a burden on your pocket and makes it worth going for.
Runner-up:
Fuzion X-5 Pro Scooter
What Recent Buyers Report
This scooter is very good in terms of build and construction. It features solid handlebars and a bigger footboard, allowing you to stand on it easily. It is also incredibly fast and has easy handling, which makes it great for kids and teenagers. 
Recent buyers love this purchase, and also the customer service provided by Fuzion.
Why it Stands Out to Us
If you are a young rider or a beginner, then you will love this Fuzion scooter because of many reasons. It has a durable and strong build and has 110mm wheels. The nylon bolt brake provides the customer with satisfaction as it is easy to control the bike with these brakes. 
However, these brakes can be a tad bit too stiff for kids, but with the right amount of oiling, they will work perfectly.
Furthermore, this scooter is very affordable, and you can choose between plenty of colors. Also, it doesn't require any assembly, and you can ride it right away once you are done unpacking.
Its V-shaped handlebars, lightweight nature, and super affordable price make it worth your money and is great for beginners to use.
Bottom Line
In conclusion, this F-5 scooter is made of durable and premium-quality components that ensure longevity. It is ideal for use by intermediate riders, and since you can learn tricks on this scooter easily, it will help you become more professional. 
This is, overall, an excellent scooter to invest in due to its durable and noise-free brakes.
Best Pro Scooters For Kids:
Arcade Pro Scooters
What Recent Buyers Report
Recent buyers are mostly parents, and they claim that even though they bought this scooter for their kids, they ended up riding it due to its sturdy and well-built construction. The wheels' bearing is incredibly smooth, which keeps wear and tear at bay, ensuring the scooter lasts for a long time without any issue.
Why it Stands Out to Us
This pro scooter is so loved because it is built with a hard and robust material. It features a solid deck, smooth bearings, strong 3D stamped forks, custom neck, and a gorgeous design. This Arcade scooter is designed for beginners as well as for professionals.
The extremely responsive brakes and smooth wheels allow your kid to glide around. It comes in many different colors, including raven black, racing red, metallic gold, and even brilliant blue. You can choose whichever color you like and enjoy this ride right away since it doesn't require any assembling. It is also very affordable, giving you further reasons to invest in it. 
Bottom Line
Overall, this Arcade scooter features a long deck, which allows teenagers and adults to enjoy it as well. It is durable, long-lasting, and has an excellent build and very good design at an affordable price point, making it a worthy investment. 
Best Pro Stunt Scooter:
Xspec Pro Stunt Kick Trick Scooter
What Recent Buyers Report
People who bought this scooter tend to love this product because it is built to last. The heavy-duty deck is non-slip, allowing you to ride it without tripping or falling. It is also equipped with anti-shock and anti-abrasive features, which minimizes wear and tear on scooter wheels.
Why it Stands Out to Us
We think that this qualifies as an extraordinary pro scooter for younger adults who like to carry out tricks in the park. It features a lightweight and tough aluminum frame that can handle any trick, along with a built-in metal fender brake that makes it easier to stop at will.
The BMX style handlebars provide you with a great grip and maximum control when riding the scooter. These handlebars have TPR rubber present, which helps in enhancing the grips. Meanwhile, the top deck is made with a non-slip surface for a more solid grip along with shock-absorbing properties. 
It has good stability and balance and can accommodate around 220 pounds easily.
Bottom Line
To conclude, this scooter is well-built and durable, stable, and has great handlebars for maximum comfort and control. The aluminum frame allows the scooter to handle any trick thrown its way, and the brake system makes it stop at will, making it very safe to use.
6. Lucky Prospect Complete Pro Stunt Scooter
What Recent Buyers Report
According to buyers, this scooter can handle the wear and tear very easily without any issue. It has zero noise or rattling sound when you are riding it, and it is extremely solid. The smooth operation that it provides makes consumers appreciate this product.
Why it Stands Out to Us
Lucky scooters are designed for professionals in the field since they can withstand the gnarliest tricks. This stunt scooter is great in terms of design and performance and features a flat bottom and sides and even a concave top. 
It is designed with gorgeous artwork by Shogo Ota, who is a Northwest artist.
This scooter stands out the most because of its strong build, qualifying it as bulletproof. It makes use of premium-quality aluminum and other alloys in their bars, decks, hardware, and bearings. As a result, this scooter ensures a safer and smoother ride that can resist wear and tear for a long time.
Bottom Line
So, this qualifies as a good scooter to buy, and since it is equipped with a good warranty, it is worth investing in. It is ideal for experts due to its sturdy construction and has different colors for you to choose from. 
It is not very affordable, but its long durability makes it worth investing in.
Are Pro Scooters Harder to Ride?
Pro scooters are more tricky to ride than traditional kick scooters. The reason behind this is that the former cannot be folded or adjusted. This means that the height of the handlebar comes fixed, and if it is not the ideal height, then it won't be fun to ride the scooter or learn tricks on.
Moreover, pro scooters weigh more than a normal kick scooter, and you need to learn how to balance them and curve them. They often have an advanced compression system, and because of all these features, these scooters are ideal for professionals and kids above the age of eight because they have better control. 
However, a pro scooter must not be the first scooter you buy for your kid.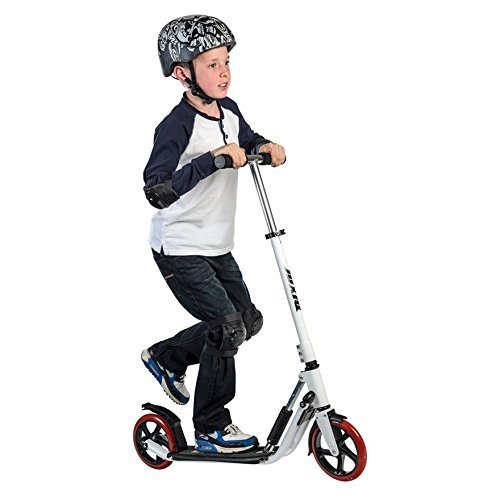 Advantages of Investing in a Quality Pro Scooter
Riding a pro scooter and investing in one is a good decision to make because it comes with many benefits. The top three benefits that these commutes provide include the following:
Helps You to Get Around Faster
While everyone knows that driving is the fastest way to travel if you are on a crowded college campus or a jam-packed city, cars won't help you. If this is the case, you will love owning a scooter because it lets you get to the desired location quickly and easily. 
A scooter allows you to take shortcuts and get into areas you won't be able to go through by car. It allows you to be on time and is a better option than a car.
Various Different Scooters to Choose From
The selection of scooter is another reason to buy them. Pro scooters come with different widths of boards, wheels, and even different set screws for the handlebar. You can choose a scooter with a color that suits you, along with a design that is according to your taste. 
With so many different kinds of scooter options to choose from, it is fun to find one that is good for them and that they enjoy instead of being stuck with a boring one.
Keeps You in Shape
If you are looking to be more active and get into shape and you are unable to, then you should get a scooter right away. These commutes focus on your core muscles and let you exercise on a regular basis. 
They not only work on reducing your belly fat but also work on your leg muscles and keep your cardiac health active. These scooters let you stay in shape and feel great about yourself.
Conclusion
With the information provided, you can now quickly find the best pro scooter for your kid. Make sure that you go through the pros and cons and read about their features to see if they suit you.
Also, use the buyer's guide to know which features to look out for and what things you should avoid. We hope that this article helps you in making a more informed decision.
People Also Ask
Even after the information given above, some questions might still be left unanswered. Below, we have listed some queries and answered them for your ease. 
What's the Difference Between a Pro Scooter and a Regular Scooter?
The main difference between a regular scooter and a pro scooter is that the latter is fixed; it doesn't allow height adjustment. Also, it comes with metal wheels, whereas regular ones have plastic wheels.
What Size Pro Scooter do I Need?
To get the right size of a pro scooter, you need to measure your child's foot size for the right width of the board and their height for the perfect handlebar height.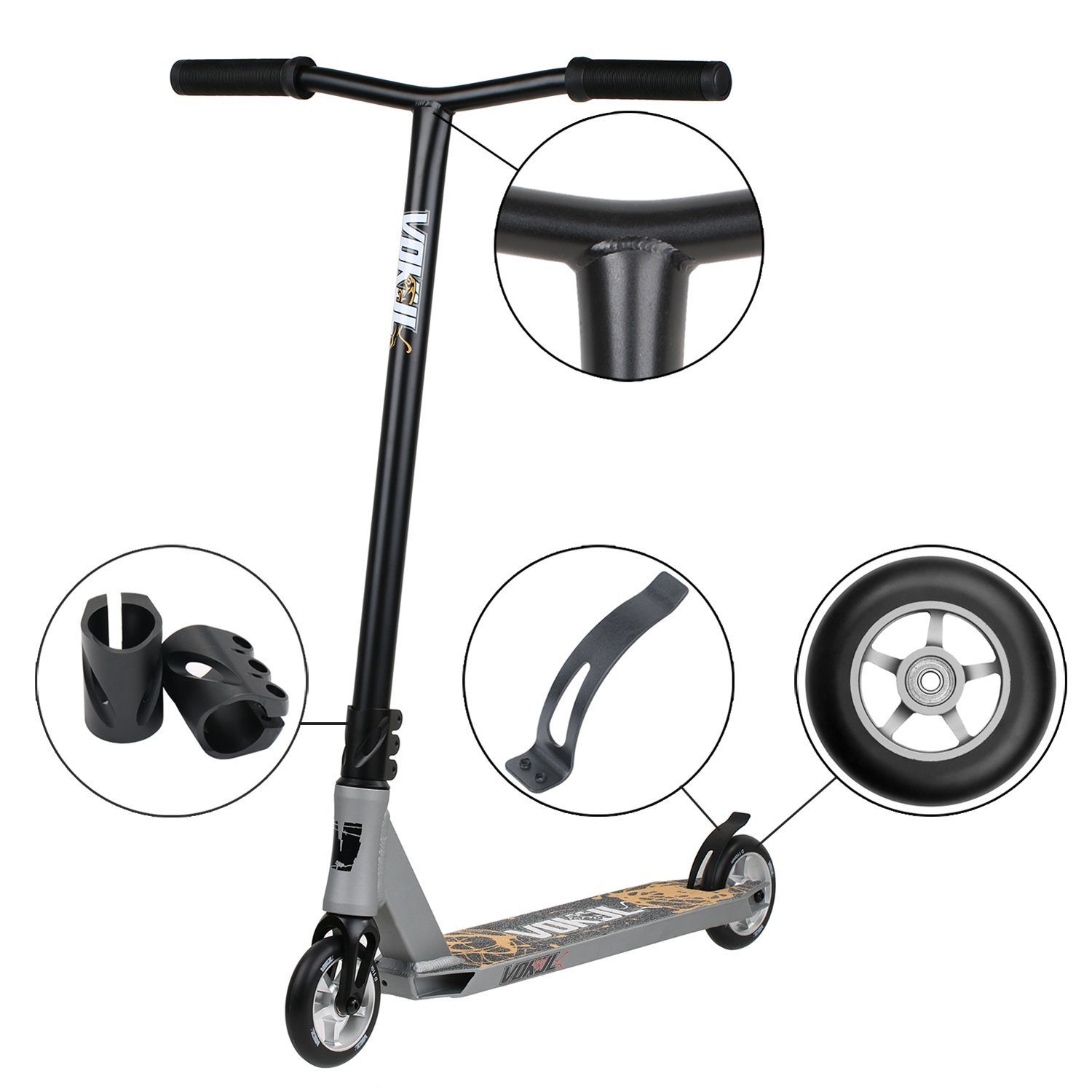 How Much Does a Pro Scooter Cost?
Pro scooters cost you around $50 to $150 depending on their build, company, and features they provide.
What is a Good Weight for a Pro Scooter?
A good pro scooter is supposed to be lightweight, and the ideal weight for one is seven pounds.