Since its inception, scooters have been a trendy as well as an affordable automobile option for people of all ages. Whether you have to reach school on time or want to go on a ride with friends, scooters cater to your needs without having you worried about frustrating traffic.
So, if you are searching for a wallet-friendly scooter for you or your loved one, you can take help from our unbiased reviews of the best, cost-effective products.
Moreover, you will discover the aspects that either make or break the value of a scooter. Have a look!
At a Glance: Our Top Picks for Scooter Under 1000
Comparison Chart of the Best Scooters Under $1000
IMAGE
PRODUCT

Our Top Pick

Comes with the large solid tires
Effective anti-lock braking system
Bluetooth capabilities and LED display

View Latest Price →

Equipped with high-torque motor
Rear wheel drive allows better control
Convenient twist-grip throttle

View Latest Price →

Best Budget Option

Best for the Money
Battery lasts very long
Responsive double-braking system

View Latest Price →

Brakes are electronic and anti-lock
Smooth ride with good suspension
Unique self-standing feature

View Latest Price →
Can You Find a Quality Scooter Under $1000?
The better the quality, the more the price – this has been considered the norm. When it comes to buying portable and resourceful vehicles like scooters, higher prices often ruin our excitement. However, it doesn't have to be this way.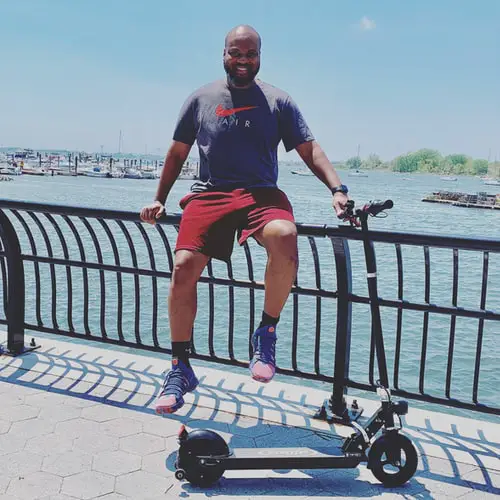 Several scooters available on the market are as opportunistic and worthy as the pricey ones and are also light on the pockets at the same time.
We have gathered some models that possess features like app connectivity, exceptional weight limits, aluminum built, fast charging and long-running batteries, foldable dimensions, lightweight bodies, and much more.
And more importantly, the price range of these all-encompassing scooters is under $1000.
Review of the Best Scooters Under $1000
Finding a functional scooter in a limited budget of $1000 can be challenging. But we are here to provide a list of products that match the standards of high-end models and come at reasonable prices. So, without any further delay, let's dig out what these vehicles have to offer.
Best Overall:
Segway Ninebot ES4
What Recent Buyers Report
Buyers uttered praiseworthy remarks about this product. Some of them seemed to be annoyed by error code issues appearing on the battery indicator. Other than that, people found no flaw in this product. Most of the customers reported that they would be recommending it to others as well.
Why it Stands Out to Us
Powered by a heavy-duty 800-Watt motor and operated on a lithium-ion battery, this scooter is capable of running up to 28 miles at a speed of 19 mph and that too in a single charge. Moreover, the efficient battery gets fully charged in no more than seven hours.
The product includes proper suspension at both front and rear wheels. Hence, it allows a rider to cover a significant distance smoothly on terrain roads as well. Flashlights on rear and front ends and an LED light for battery indication are installed on it.
Now, be it night time or a bright morning, your riding sessions won't be affected by light conditions.
Bottom Line
Since it includes front and rear suspension, this scooter greatly prevents painful jerks and jolts even on bumpy roads, thereby making the ride steady, secure, and exhilarating. It also runs and stops smoothly at inclined surfaces.
Furthermore, the foldable design keeps you tension-free regarding its storage.
Runner-up:
Razor E300S
What Recent Buyers Report
This scooter by Razor gained much fame among kids, teenagers, and girls. People reported that it's quite easy to use, and above all, its construction is awesome. People also liked its features and battery performance. According to them, it proved to be one of the best scooters for novice and avid riders.
Why it Stands Out to Us
The scooter involves steel construction, which is commendable. Because of rock-solid built, the product lasts longer.
Its user-oriented controls also deserve recognition, that consist of a twist-grip accelerator and pronounced hand brakes. The kickstand is spring-assisted and retractable. All these features contribute to its usability for kids and ladies too. Stand-up rides can also be availed by removing the padded seat.
Besides being user friendly, it also boasts a wide foot space ideal for accompanying kids on your rides. Its speed is 15 mph, which is what scooters normally offer. 
Bottom Line
With a cozy, removable, and cushioned seat, easy-to-reach kickstand, impactful brake handles, and a twist-grip accelerator, we can conclude that this is a highly user-centric scooter and is favorable for all, including girls, adults, starters, and kids.
Best for the Money:
Xiaomi Mi Electric Scooter
What Recent Buyers Report
All the buyers are satisfied with their purchase. The app management system is found to be very popular among its users. People felt content and were glad to have access to the scooter's internal or unseen components through an intelligently designed app.
Why it Stands Out to Us
Aircraft-grade aluminum is used to make the scooter's exterior, which saves the unit from corrosion, reduces its weight to a great extent, and prolongs its life.
An app has been introduced for this particular scooter that a person can use to stay updated with the status of the battery and mileage. This app also sends notifications about overcharging, over-discharging, temperature buildup, and short circuits in the battery assembly. Thus, the rider knows of the scooter's condition at all times. 
One of the main reasons for including this scooter on our list is the number of awards it has received like Red Dot "Best of the Best Award" and "iF Design Award 2017". These awards indicate its worldwide-recognized credibility.
Bottom Line
Functional scooters must have a powerful battery system, and fortunately, this product is one of them. Couples of batteries forming a power-supply system provide a non-stop charge for up to 18.6 miles. Also, a completely drained battery gets charged within just five hours, making this a great pick.
Editor's Pick:
Glion Dolly Foldable Adult Scooter
What Recent Buyers Report
The self-standing mode in this scooter is what fascinated customers the most. According to them, the foldable design helped them carry the vehicle effortlessly and allowed them to store it in a narrow place. Furthermore, people also appreciated the solid build.
Why it Stands Out to Us
This scooter made it to our list due to numerous extraordinary features. Let's discuss its construction first.
6061-T6 aircraft-quality aluminum is employed for making this scooter, which gives abundant strength to it for surviving the load limit of about 255 pounds effectively. As a result, it is equally suitable for heavyweight riders as well.
The mechanism comprising a 36V, 7.8 Ah Li-ion battery works exceptionally well for approximately 15 miles. Moreover, this battery requires only 3.25 hours for completely recharging itself. A 250-Watt hub motor is there to enhance the velocity to up to 15 mph.
It entails a quick-release lever that intends to fold down the product into a self-standing layout. With this configuration, a person can hold its one end in their hand and glide it like a suitcase. In short, it offers next-level comfort while moving it.
In addition, the model features eight-inch tires that need no maintenance. Yes, you read it right; there is no need for maintenance or air filling either.
Bottom Line
To make this scooter more accessible, aluminum is selected for its manufacturing. Aluminum significantly minimizes its weight while increasing its weight capacity. Moreover, its capability of adapting a self-standing style makes it highly portable.
Whether you are a heavyweight riding enthusiast or a passionate globetrotter, this scooter is ready to serve you.
Best Pro Scooter Under $1000:
Lucky Prospect Complete Pro Stunt Scooter
What Recent Buyers Report
As per customer reviews, this product seems to be a favorite mobility device for most of its end-users. Some people reported that they had been using it for a long time, and it worked well for them throughout. Assembly is also super easy, and this factor attracted many people.
Why it Stands Out to Us
Aluminum has been chosen as the base material for this scooter's components and overall frame. That's why it ensures years of durability and reliable performance.
Not only the body, but the tires are also made durable to withstand the roughness of roads. The scooters exhibit stable rides on wet grounds as well due to the Hollow Core wheels.
With all this, the company also provides tools required to assemble the parts as one unit. 
Moreover, the assembly is a one-person operation. So, it's time to get rid of complicated scooters, lay hands on this sturdy and efficient masterpiece, and upgrade your riding experience.
Bottom Line
From solid construction and long-running battery to heavy-duty wheels and headlights, everything makes this unit worth investing. To top it off, it extends its benefits to every rider since it is available at very low prices. Hence, it's a scooter that most pro riders look for.
Perks of Getting a New Scooter
Whenever a rider buys a new scooter, he always aspires and expects to have every demand fulfilled by the new product. He wants to experience something unique and extraordinary in his freshly bought vehicle.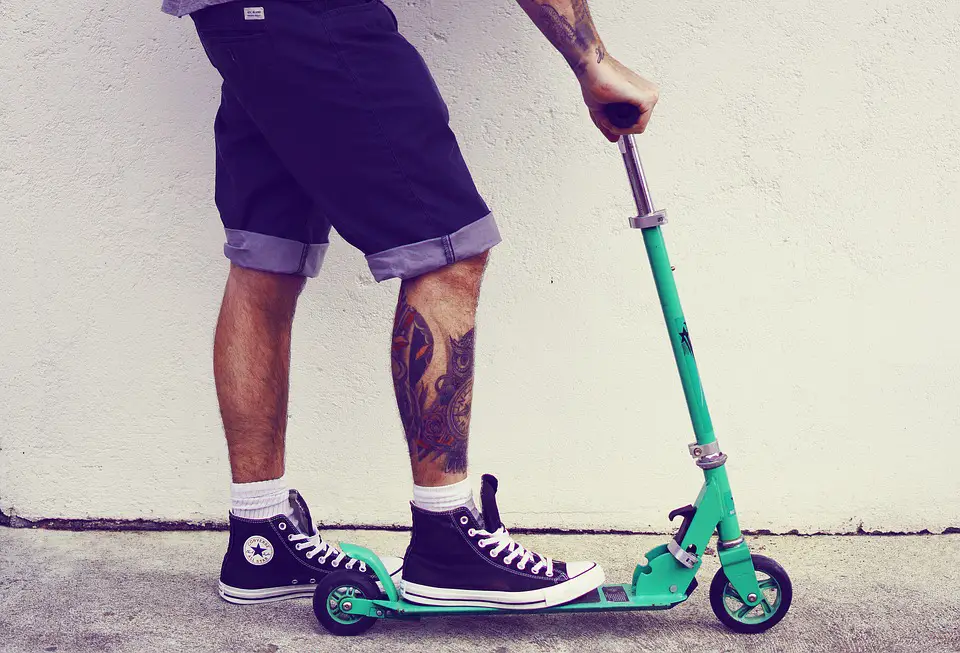 Keeping this very basic fact in mind, we reviewed many products that take riding to a whole new level. Here are some perks of buying yourself a new scooter:
Battery Timing
The products included on our list work on super-powerful batteries. From long-running potential to least possible charging duration, these batteries win their users' hearts on every ground. For instance, Lucky Prospect Pro Stunt Scooter can cover long-range distances with a Li-ion battery charged for just 3.25 hours.
Durable Construction
Most of our top products are made from aircraft-grade aluminum that stands tall on its claim of enduring weights of up to 255 pounds, and successfully resisting the damages of corrosion and abrasion. Therefore, if you add any of the scooters mentioned above to your cart, you will get a lifelong riding companion.
App Connectivity
Having high-tech features in a vehicle is a bonus for sure. Some of the above-listed scooters incorporate an innovative app connectivity feature. By connecting the unit with a corresponding app, you can get details about battery consumption, performance, condition, and behavior.
The app will instantly notify you of the mileage and battery problems like overcharging, over-discharging, and unnecessary temperature rise. Thus, by giving prompt attention to these issues, you can save your vehicle from large and irreparable losses.
What Do I Need To Know Before Buying?
A scooter can be fruitful only if chosen according to requirements. Otherwise, it will be useless to you no matter how versatile and opportunistic it is. You should be clear about the aspects that you need to have in your vehicle.
Here are some factors that must never be ignored:
Mileage
If you are buying a scooter for outdoor jobs like home delivery, home tuitions, site visiting, etc., your automobile should offer long mileages to carry on with your traveling uninterruptedly with a set of fully charged batteries.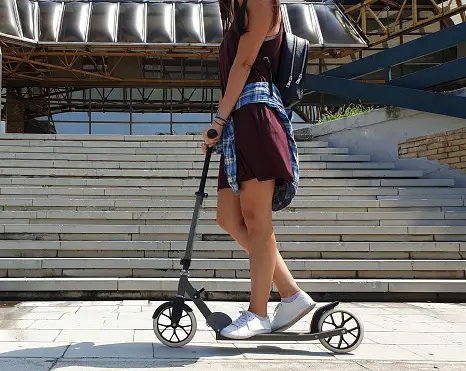 For recreational outings, mileage is not that essential, but it would be better to prefer a product that can go as long as 15 miles on a single charge.
Suspension
Including suspension shows a noticeable decrease in the intensity of jerks on an uneven surface. Therefore, to keep your back muscles relaxed, choose a product that is equipped with front or rear or both suspensions.
User's Weight
Select a whose weight limit is more than the user's weight. If the user's weight exceeds the load limit, the vehicle may undergo dents or severe breakage and can lead to accidents on roads.
Portability
This aspect becomes quite important when the user mostly remains engaged in traveling. For such individuals, compact, foldable, and lightweight scooters will be highly beneficial.
Conclusion
Brushless or high-torque motors coupled with Li-ion batteries allow scooters like those mentioned in our list above to travel larger miles. Apart from that, the folding mechanism transforms the units into compact and symmetric objects, ultimately making it easy for the riders to hold, move, store, and transport these scooters.
We hope this article will help make a wise purchase since it outlines all the important things to keep in mind.