Walking through the airport carrying all your luggage while the plane is about to leave is not fun. On top of that, add having to take your kids and their extra luggage with you, and it's a nightmare. 
But for every problem, there is a solution. And for this one, the solution is quite fun. A scooter suitcase solves all your problems in one go. You are no longer late, you don't have to carry anything, and the kids can carry their own luggage easily. 
Today we will look at the best scooter suitcase in regards to size, steering, quality, and colorful characters. Before that, let's take a look at some of the things you need to know before buying these things.
At a Glance: Our Top Picks for Scooter Suitcase
Comparison Chart of the Best Scooter Suitcases
IMAGE
PRODUCT
 

Our Top Pick

Made with quality aluminum-magnesium alloy
Folds up easily and simply
Impressive 50l capacity

View Latest Price →

Runner-Up

Made from environment-friendly materials
Equipped with a non-slip handle
Available in different and bright colors
What is a Scooter Suitcase and What is it Used For? 
A scooter suitcase is just as the name suggests, i.e., a combination of a suitcase and a scooter. What's the point of that, you ask? Well, it gives you your own suitcase trolley instead of having to look for one at the airport. With the suitcases attached at the front scooter handle, you can move them around easily.
While this product is aimed at kids, there are adult models as well with bigger suitcases. These are not just for the airport; you can use them on train stations as well. And if you are buying for your children, they can use them while getting to school: no more walking and getting late!
What Size of Scooter Suitcase Do I Need? 
Some scooter suitcase models give the option of detaching and adding your own suitcases, so you get to choose the perfect size for you. But for the suitcases attached to it, there are different sizes depending on the target customer age. The capacity is usually given with the product.
For smaller children, there are 25-liter capacity suitcases which they can easily steer and that are enough for their stuff. For older buyers, sizes of 50 liters are available as well. Just keep in mind that you will have to steer it around. If that's not a problem for you, then go for the biggest one; otherwise, stick to smaller models. 
Review of the Best Scooter Suitcases
Now that you know what they are and what size you should get, let us get into the reviews of the best scooter suitcases available today.
Best Overall:
iubest Scooter Luggage
What Recent Buyers Report
It's a very good quality product, and users state that it saves you tons of time, especially if you have a problem walking. It also fits easily in the overhead compartments on the plane. The design is very sturdy and has a good balance. It's very fun to ride and a good option for long travels. 
Why it Stands Out to Us
This suitcase gives you a lot of space and has five different compartments for the ones that love to organize. Though it is bigger in size, it can be used by younger people as well. You will not find steering too difficult.
It is made of high-quality material and can withstand rubs and small collisions that come with regular traveling. When storing it in the overhead compartment or placing it on the side when you are sitting down, all you have to do is press the button, and the handle will fold down.
You can also detach the suitcase if you want to use just the scooter or the other way around and then attach it again when needed.
Bottom Line
We have chosen this product as our top pick because of the great size and quality of materials. It gives you a lot of useful features like adjustable height, detachable suitcase, easy steering, and compartments to organize your things. It is well worth the money you spend on it.
Runner-up:
NOPTEG 20-inch Scooter Suitcase
What Recent Buyers Report
This product is very sturdy and has a firm grip handle. The design is for adults, but because it's smaller, kids can use it as well. Inside the suitcase, everything is neatly packed in different compartments, so finding everything is easy. There is no problem using it at the airport and at the checkpoint either.
Why it Stands Out to Us
If you are planning a shorter trip, like for a day or two, you don't need extra large suitcases. This model will do just fine. Inside the bag, you will find an organizer's dream with different compartments for your PC, business cards, and folders. Get what you need without creating a mess and having to fold all the clothes back up again.
If you are in a place with not enough room for a scooter, you can also fold it up and convert it into a normal wheeled suitcase, making it easy to carry around. The height of the handle can also be changed, so it fits everyone.
It is made of high-quality and lightweight aluminum. It is a waterproof suitcase and has a non-slip handle; these combine to give you the best quality. 
Bottom Line
It has all the features that you would expect from a great scooter suitcase packaged into a smaller design. You can take it on your business trips or to your office/college; it is acceptable everywhere. Because it is TSA-approved, you will face no problems with checkpoints either.
Features of Our Favorite Scooter Suitcases 
Scooter suitcases are designed to make traveling easy, but if you buy the wrong one, then it can turn into a disaster. Here are some things to look for in a good scooter suitcase.
Steering
Since these bags are made to make carrying your luggage easier and faster, the steering should facilitate this. You should not have to spend extra time turning the wheels as it can get quite annoying.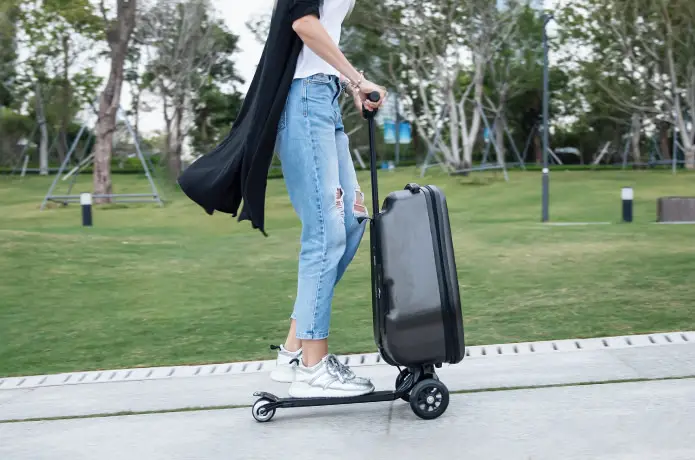 But also keep in mind that some wheels take a few days to become smooth. You have to take them on a test run to break them in just like your shoes.
Material
You need the best quality material that will protect your items and will be able to handle the weight of the luggage as well as your body. The scooter is usually made of aluminum (light) or steel (sturdy).
The material of the suitcase is mainly plastic of different kinds. Some of the bags on our list were made from environment-friendly materials. High-quality cases will also have waterproofing and a scratch-resistant design that can handle a few bumps.
Space
This should be one of the top considerations when buying suitcases. The right choice mainly depends on your use. If it is just for school or office or for short trips, then 25-30 liter cases will do. 
If you have more luggage to store and are planning a long trip, you would probably want a 50-liter design.
Pros and Cons of Scooter Suitcases 
There's no doubt that scooter suitcases are a nice and simple solution to a problem faced by many of us. But like everything, they have their ups and downs. To help make your decision easier, here are some of the pros and cons of using scooter suitcases.
Pros
Let's first look at some prominent pros:
Makes Traveling More Fun
Instead of walking around looking for a trolley to hold your bags, you can glide around on the scooter and turn some heads. This will also make the trip to school for kids much more fun, and maybe they will not take so long to get out of bed anymore.
Makes Traveling With Kids Less Stressful
Instead of worrying about how you are going to carry your kids, their luggage, and your own, you can relax and let the scooter do the job. For children that have grown out of strollers, this is the perfect solution.
Get to Your Destination Faster
If you are getting late and the plane is about to take off, or the class is about to start, making your pace faster by using the scooter instead of walking can save plenty of time and panic. 
Cons
Meanwhile, one con that should be highlighted is as follows:
Not for Crowded Areas
While it has many benefits, you would probably be safer by not using it in extremely crowded and congested areas. Train stations can usually be like that. 
Conclusion 
To sum it up, make your lives easy and your kids' life more fun by using scooter suitcases. They are not too expensive and make for a good investment. The bags usually have compartments to store your laptops, files, and clothes, etc. neatly. 
Choose the right size and quality, and you will be good to go.
People Also Ask
Looking for some more answers to your questions? Read these frequently asked questions, and maybe you will find what you are looking for.
Are Scooter Suitcases Allowed in Airports?
Yes, scooter suitcases are allowed in airports. They are made to fit into the overhead compartments, and many of them are TSA-approved. 
How Expensive Are Scooter Suitcases? 
They can cost anywhere from $100 to $300, depending on size and quality.