Adventure shouldn't stop when you are riding a scooter even when the terrain gets rough, right? The usual scooters stop working when you go off-road.
This is exactly why dirt scooters are so popular among riders. They keep on working even when you are on unpaved roads. 
So, you need to get a sturdy dirt scooter, which does not give up on you off roads. Let's have a look at some of the best dirt scooters along with a comprehensive buying guide.
At a Glance: Our Top Picks for Dirt Scooters
Comparison Chart of the Best Dirt Scooters
IMAGE
PRODUCT

Our Top Pick

Durable aluminum frame specifically for dirt handling
Classic rear break and full deck coarse provide added grip
Tires are equipped with tough tread patterns

View Latest Price →

Strong and aggressive tires effective for off-road
Built to last and offers maximum performance
Stainless steel rear breaks for maximum stopping power

View Latest Price →

Best Budget Option

Best for the Money
Equipped with over-sized knobby tires
Made of strong steel frame reinforced with aluminum decks

View Latest Price →

Best Electric Dirt Scooter
Comes with a USB charging function
10 inch tires fitted with anti-slip and shock absorption treads

View Latest Price →

Best Adult Dirt Scooter
Non-slip and wide standing base for maximum comfort
Offers maximum speed of 13 mph hence perfect for long distance

View Latest Price →

Best Grit Dirt Scooter
Fitted with larger feet space with the anti-slip pedal
Reinforced soft handlebars for better handling

View Latest Price →

Best Razor Dirt Scooter
Fitted with off-road tires and new gear ratio
Best for riders 13 years and older

View Latest Price →
What Makes a Scooter Great for Riding in Dirt?
With so many dirt scooters on the market, it gets hard to choose one. Sometimes, they look very attractive, but they are not fun to ride. To avoid this, you need to know what makes a scooter great for riding in the dirt. So, read on to find out what factors you have to look for: 
Reliable Range
One of the most important things about a dirt scooter is its range. It should be able to ride continuously for a long distance as it has to travel out of the city. So, you need to choose a model with a range that does not disappoint you. 
Heavy-Duty Wheels
Heavy-duty wheels make a dirt scooter easier to ride. They can take on more load and still avoid the usual wear. This way, they need lesser repairs and help you save money. 
Higher Power
A powerful motor is what makes a dirt scooter stand out from others on the market. It needs lesser charging and delivers higher speeds. Powerful motors can also take on more weight, so go for them if you can afford to. 
Review of the Best Dirt Scooters
We have already walked you through the aspects that make a dirt scooter great for riding. Now, it's time to have a look at some of the best models that are there on the market. 
Best Overall:
Razor Pro RDS
Razor Pro RDS will surely become your favorite dirt scooter with its cool treaded wheels and aluminum body.
What Recent Buyers Report

Recent buyers took to this Razor Pro RDS scooter because of its wheels and their working. They reported having an easy ride over dirt roads due to the tread pattern in the wheels. As the wheels do not cause any dirt to accumulate in them, buyers found them easy to clean.

Why it Stands Out to Us

The BMX style tubular fork of this dirt scooter helps it stand out to us the most. It has a reliable build with all the parts in the right places. The 200 mm pneumatic tires can take more load and provide a better angle for lifts.

Moreover, it has an aluminum construction that lasts for a very long time. This way, riders do not have to worry about the scooter getting any dents. It comes with a classic rear fender brake as well, which makes it easier to control for riders.

The coarse tape across the deck kis another great feature that the customers love.

Bottom Line

To conclude, this is an amazing dirt scooter, which helps you in navigating off-road. It works on the grass and unpaved roads as well as pebbled roads. The wheels have just the right construction for the adventures that you want to use it for.
Runner-up:
Osprey All-Terrain Scooter
The Osprey All Terrain scooter is an amazing model for those who want something heavy-duty and durable.
What Recent Buyers Report

This Osprey all-terrain scooter is equally popular among teens and adults who purchased it. The height is great for most average height people, and the handles are within easy access. The deck is also quite wide, so people find it easier to maintain their balance on it.

Why it Stands Out to Us

It has won our approval with the variety of colors that it comes in. There are six colors from which you can choose one of your liking. The wheels and construction complement each other quite well.

In addition to this, there is a triple-threaded headset that helps in keeping the scooter upright. It prevents any clumsy falls or imbalance, making it safe for those who are new to scooter riding.

Moreover, the 200 x 50 mm pneumatic tires help riders have a better off-road grip. This helps in continuing the fun even on grassy or unpaved surfaces.

Bottom Line

In our view, this is one of the finest dirt scooters that anyone can go for. It has the perfect height and handle adjustment, which both novice and expert riders love. So, if you want to make the most out of your riding experience, this dirt scooter can be a great choice.
Best for the Money:
Pulse Performance DX1
The ultra-powerful shock absorbers and reinforced aluminum frame make this a must-have for dirt scooter riders.
What Recent Buyers Report

The people who invested in this dirt scooter lately are quite happy with their purchase. They like how it has such a remarkable lift and shock absorption. Buyers report that they put it to test on high obstacles as well, and it worked fine.

Why it Stands Out to Us

We have added this to our list because of its durable build. It lasts for a very long time as it has heat reinforced aluminum in its frame that strengthens it.

The knobby tires in it have a greater shock absorption capacity due to the bearings in them. They help you stay balanced even on slightly rocky surfaces.

Along with this, it has BMX-style grips that provide a soft point to hold on to. These do not let your hands tire even on continuous scooter rides. The polish on it makes the paint stay new, and there is hardly any chipping off of paint.

Bottom Line

All in all, it is an incredible yet highly affordable dirt scooter that riders love. It has a weight-bearing capacity of up to 180 pounds and can support both teens and children. Thus, go for it if you want something high on quality and low on price.
Best Electric Dirt Scooter:
QIEWA Q1Hummer
This powerful and waterproof electric dirt scooter can be your best bid if you want something highly adventurous. 
What Recent Buyers Report

This electric scooter has impressed people with its powerful motor. According to the latest buyers, this model can take on very heavy loads and still maintain high speeds. They also liked this dirt scooter for the treads on the wheels that keep it running on soft roads.

Why it Stands Out to Us

We have deemed QIEWA Q1Hummer the best electric dirt scooter because of the 800-watt motor. This motor helps in covering a distance of 65 miles at a time.

The lithium battery also does not get any damage to its electrodes. Hence, it is a great way to power this dirt scooter. Moreover, it has a maximum speed of 37 MPH, which stays well under the speed limit.

Other than this, it can support very heavy loads up to 550 pounds. It takes only two seconds to fold, and it is quite easy to store too.

Bottom Line

This electric dirt scooter comes highly recommended because of its complex design and simple working. The shock absorbers do their work pretty amazingly and overcome obstructions well. Considering these, it will be a wise decision to invest in this scooter.
Best Adult Dirt Scooter:
OUTSTORM 4000w/ 84v 
If you want to go for a quick-to-charge electric dirt scooter, then this one could be just right for you.
What Recent Buyers Report

OUTSTORM has struck a fine chord with riders who love electric dirt scooters. They liked it particularly because of the modern looks and the high reliability. They also rated it highly because of its affordability.

Why it Stands Out to Us

It distinguishes itself to us with the heavy-duty wheels that can take more weight. These wheels have a self-balancing nature, which helps beginner riders as well. The handle also has an adjustable height that lets riders change it according to their physique.

Another amazing thing about it is the non-slip finishing that provides a firm base. This way, you get to stand upright while riding on the rough terrain.

Furthermore, this scooter can be a nice choice because of lesser recharge time. It takes only 4-5 hours to be fully charged, and then it can cover a distance of about 34 miles.

Bottom Line

To wrap up, this is a sporty dirt scooter for those who love to take long rides. It takes less time to charge than other models and provides better support. So, going for it can be a great beginning of new adventures for you.
Best Grit Dirt Scooter:
Grit Fluxx Pro Scooter
This is the perfect dirt scooter for you and your kids as it can accommodate various heights and weight ranges.
What Recent Buyers Report

People who got this Grit dirt scooter for themselves or as a gift loved it. They found it to be one of those models that are great for kids, teens, and adults. The height variations and weight-bearing capacity are both favorites of many of the people who bought it lately.

Why It Stands Out to Us

The Grit dirt scooter is another amazing addition to our list. It has a variable height between 4.0 and 5.5 feet, which people love.

It is also great because of the smoothness of its rear brakes. They help in stopping the scooter easily without any extra exertion of force. This way, it becomes safer to use as you can avoid accidents fairly easily.

Furthermore, it has a heated alloy core, which does not go out of shape on constant use. Hence, it serves its purpose well without undergoing any major damage even when you ride it on uneven surfaces.

Bottom Line

In our opinion, this scooter is going to be a major hit among those who love to ride dirt scooters. It has all the right specs like variable height, smooth brakes, and high durability. What else is there to ask for?
Best Razor Dirt Scooter:
Razor RX200 Electric Off-Road Scooter
This olive green dirt scooter can be the best gift for your teens this holiday season as it comes loaded with cool features. 
What Recent Buyers Report

Razor has once again amazed people with one of its dirt scooters. This one is a favorite of many people because of its olive green and black combination. It delivers power and has a very adventurous vibe. Buyers also approve of it due to the raised rear brakes.

Why It Stands Out to Us

This Razor dirt scooter has found its way to our review due to its classic features. The speed is particularly impressive at 12 miles per hour, which makes it stand out so much.

It stays within safety limits, but the riders get all the energetic feel that they want from it.

Furthermore, it has a treaded foot space, which is quite wide. The textured surface helps you maintain your footing and avoid slipping while taking sharp turns. The off-road tires are also textured to develop a stronger hold on unpaved roads.

Bottom Line

The bottom line on it is that it has a firm footing and off-road tires. Both of these make its usage safer for your kids and teens who just love to test their limits. Thus, get this one and see how their confidence increases while riding it.
Best Envy Dirt Scooter:
Envy Scooters PRODIGY S8
If you are into trendy yet reliable dirt scooters, do not miss out on this one by Envy Scooters.
What Recent Buyers Report

The cool aesthetics of this Envy dirt scooter have left a mark on buyers. They are quite fond of the oil slick finish, which makes it look shinier and sportier. They found its handles to be soft and practical as well.

Why it Stands Out to Us

PRODIGY S8 by Envy Scooters has caught our attention with its flashy colors and a solitary T frame. But, it has much more to it than its appearance.

The most striking feature is that the frame has a very lightweight construction with a high density. It helps in keeping the scooter balanced on rough surfaces without even needing any pro-level skills.

Moreover, the foot space has a lot of room, and you can easily adjust even your heavier shoes on it. The core wheels have a hollow built, which lets you ride faster without putting in more energy.

Bottom Line

Keeping all this in view, this dirt scooter deserves to be recommended to all intermediate and advanced riders. It has greater balance than many other models on the market at a much lower price. So, go ahead and order one to have a remarkable time riding your dirt scooter.
Best Dirt Dog Scooter:
Dirt Dog 49cc 510
This is a remarkable on and off-road scooter which is gas-powered and has cool aesthetics. 
What Recent Buyers Report

Those who bought it recently have come up with positive reviews about it. Most customers are in awe of the gas-powered engine, which delivers a greater range. They also love it for being so easy to ride and balance.

Why It Stands Out to Us

It has gained our approval with the heavy-duty wheels that have sharp patterns on them. These patterned wheels do not give way even when you ride the scooter frequently. They have high wear resistance, so there is hardly ever a need for repairs.

Moreover, it has clutches that serve to control the scooter better. The handle brakes are much easier to access and operate, which is why it helps prevent accidents.

Furthermore, it has a high weight-bearing capacity, so it will be great for adults too.

Bottom Line

Summing it up, it is the perfect blend of modern and vintage dirt scooters. It can work well for off-road as well as on-road, so this scooter is a must-have.
Best Lucky Dirt Scooter:
Lucky EVO 5.0
If you love to do wheelies and other stunts, then this is the right dirt scooter for you with its aircraft-grade construction material. 
What Recent Buyers Report

Buyers have taken very positively to this dirt scooter by Lucky. They like how it has so much foot space, which lets them ride with their sports shoes on. They also found its handles to be smooth and reliable when doing wheelies.

Why it Stands Out to Us

Lucky dirt scooters have earned a big name on the market, and this one holds true to their reputation too. It is best suited for those who love to go the extra mile and take on challenges.

The headrest and the base provide riders comfort so that they ride with confidence, comfort, and class.

In addition to this, it has aircraft-grade aluminum in its construction, which makes it more durable. The size dimensions also do justice to all the tricks that riders like to try.

Bottom Line

Overall, this is one of the best dirt scooters for pro riders. It has the right height and foot space to let you try out different riding techniques. It also comes at quite an affordable price, so it would be a great choice.
What Do I Need To Know Before Buying?
In order to have fun with your dirt scooter, you have to make sure to buy the right one. Here are some aspects that you need to consider while making a purchase. 
Number of Wheels
Most dirt scooters have two wheels and work quite well. But, if you like to go riding in an extremely rugged area, then three or four-wheeled scooters can be a great option for you. 
Height
The height of a dirt scooter is an important factor to keep in mind too. Most of them have a standard height that suits average-built people. Some of them have an adjustable height that you can change according to your own height.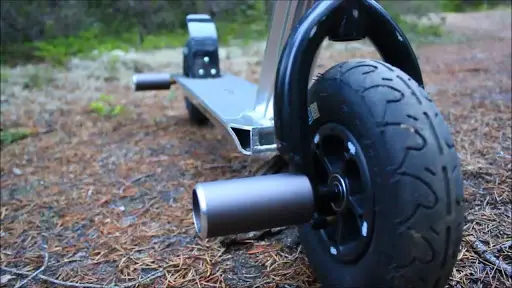 Material
You have to be careful about the material of a dirt scooter before buying it too. The best ones are those with a long life. They ensure that your money does not go to waste and that you continue having fun with your scooter for years.
Charge Time
The charge time affects your experience with a dirt scooter as well. Having to wait for long durations to have your scooter charged can be discouraging. So, the one you choose should have a good battery to charge time ratio. 
Conclusion
Summing it all up, you need to have a reliable dirt scooter to enjoy the right riding thrills. For this, you have to look at both the aesthetics and the power of the scooter while considering your budget too. So, go through our list of the best dirt scooters and choose the right one for you.