A gas scooter is a perfect option for those who can't afford a car, or just love the thrill and feel of the wind blowing in their hair. Although they're an excellent substitute for cars and are much faster than conventional bicycles or scooters, enabling riders to zip past tailbacks. 
Although they run on gas, these scooters are one of the most cost-effective, convenient, and fuel-efficient transportation options available today. 
If you're planning on purchasing a gas scooter, then this guide has got you covered! To help you make the best decision, we've reviewed some of the best gas scooters on the market, along with some helpful buying tips.
At a Glance: Our Top Picks for Gas Scooter
Comparison Chart of the Best Gas Scooters
IMAGE
PRODUCT

Our Top Pick

Specially designed 2-speed shifter
High quality aluminum rims
Equipped with quick-release seat kit

View Latest Price →

Built with superior chrome engine cover
Has a centrifugal clutch
Ideal for kids and adults alike

View Latest Price →

Best Budget Option

Best for the Money
Quality suspension system for smooth ride
11-inch air-filled dirt tires

View Latest Price →

Best 50cc Gas Scooter
Easy-to-use folding mechanism
Ideal for riders who like to stand

View Latest Price →

Best Gas Scooter for Kids
Powerful 49 cc engine
Comfortable and soft saddle seat

View Latest Price →

Best Offroad Gas Scooter
Impressive 200 cc 4-stroke engine
Wide off-road tires for better traction

View Latest Price →
Can You Really Find a Quality Gas Scooter That's Affordable? 
When looking to buy the perfect gas scooter, a lot of people search for an affordable, reliable mode of transportation. Affordable, quality scooters are available, but they usually have an engine size of 50cc. These scooters have incredible gas mileage, making them ideal for the urban lifestyle. 
However, they can only achieve maximum speeds of up to 35 miles per hour, so they're not suitable for highways. Quality, budget-friendly scooters are also equipped with fully automatic transmission, making both daily operations and learning how to properly ride a scooter much easier and simpler. 
Make sure you stay away from extremely cheap scooters though, because they'll eventually cost you a lot more in repairs and parts, and are incredibly dangerous to ride on, with cars reaching speeds of 40mph around you!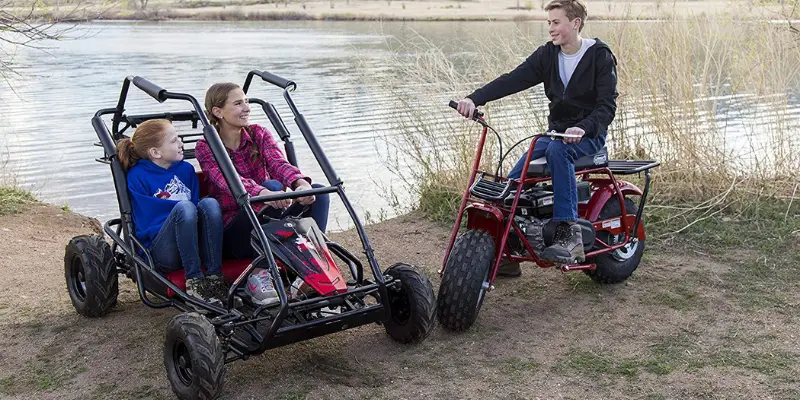 Why Did These Gas Scooters Make Our List?
Before buying a gas scooter, there are several different features you should consider. You'll need to think about who'll be riding the scooter, how long they're going to use it for, and where they'll be riding it. Some features to look for in a quality scooter include:
Safety 
Safety should be every rider's primary concern, so make sure you choose a scooter that's designed with reliable safety features. High-quality models are equipped with rear and front brakes that never fail. They feature adjustable handlebars for a safe and comfortable grip, while their durable construction minimizes damage in case of a collision.
Storage Space 
If you need a scooter for daily commute, then you're going to need storage space. Quality scooters usually feature built-in storage beneath the seat that enables riders to keep all their essentials. Make sure you measure the storage area to see whether your laptop and other accessories fit before purchasing it.
Weight
Nobody wants a heavy unit that requires hard, physical work to ride. First-rate scooters are manufactured with sturdy, yet lightweight materials, such as steel and aluminum frames.
Riders should also consider the unit's maximum weight capacity to make sure they're compatible.
Automatic Shifting 
Most models automatically shift gears, thus making them incredibly easy to ride. Although automatic shifting eliminates the effort and stress associated with riding, it also reduces the control riders have over their scooter.
UberScoot Rx 50cc Scooter
Review of the Best Gas Scooters
Gas scooters have been designed in a wide range of styles and shapes with their own negatives and positives. To help make your decision easier, here are detailed reviews of some of the best models available today:
Best Overall:
UberScoot Rx 50cc Scooter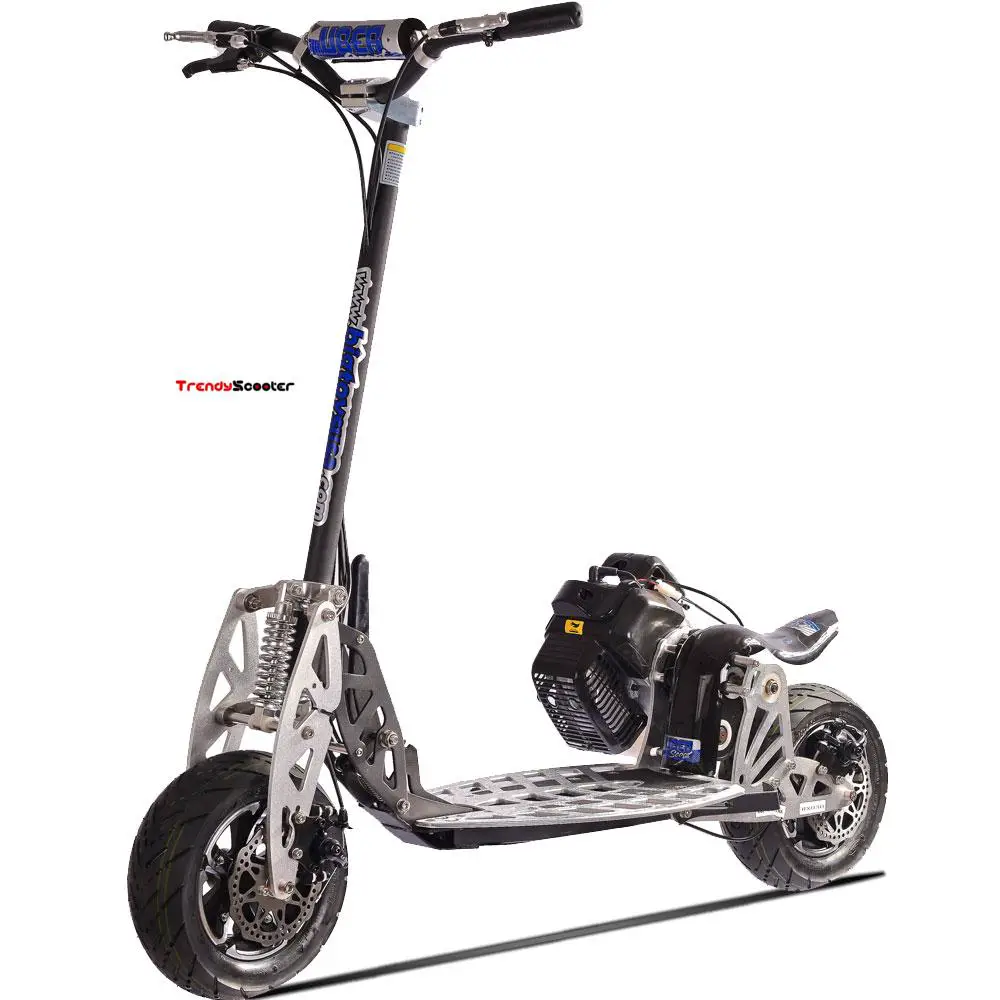 What Recent Buyers Report
This model has received mixed reviews. Some buyers are extremely satisfied and found the frame to be sturdy, solid, and of high quality. They loved its portable design and stated that it went pretty fast in second gear. However, some users said that folding the unit and switching gears was a bit difficult. A few customers also reported receiving defected items that required major adjustments upon arrival.  
Why it Stands Out to Us
Designed with a 2hp 49cc 2-stroke engine, this unit provides enough power to quickly travel around. It's manufactured with dirt tires and durable aluminum to withstand rough use and tough terrain. Its front suspension further absorbs shocks from uneven terrain and jumps, ensuring an extremely smooth ride. 
This model boasts a two-speed gearbox that provides power at both high and low speeds. Reaching speeds of 35 miles per hour, it's fast enough for a fun ride without being too risky and dangerous. The rear and front aluminum brake levers are also reliable and durable, further ensuring a safe ride.
Moreover, it's designed with a removable seat, so you can easily get rid of the seat if you want to stand. Lastly, its adjustable handlebars make the unit ideal for riders of all ages and heights.
Bottom Line
Aside from sporting a great look, the traditional and functional design of the UberScoot makes it perfect for both old and young riders. Although its 2-speed gearbox gives riders the power needed to zip through tough terrain and hilly regions, its low fuel efficiency leaves much to be desired.
Runner-up:
Scooter X 49cc ScooterX Dirt Dog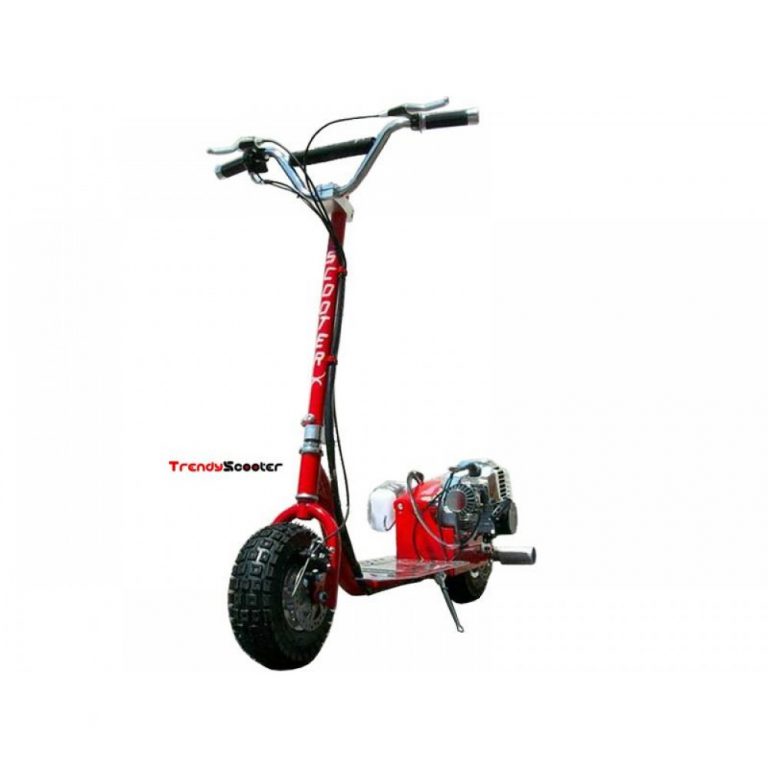 What Recent Buyers Report
Most buyers loved this unit and stated that it was fast and worked perfectly. Parents said that their kids loved it, and found customer service to be helpful and polite. However, some customers reported that the handlebars were loose, while some complained that it vibrated at higher speeds. 
Why it Stands Out to Us 
This model is equipped with a powerful 49cc engine, enabling users to reach a maximum speed of 22mph. If you prefer more speed, specific upgrades can be applied to increase the speed to 37mph. Designed with an automatic clutch, the unit ensures easy operation and enables riders to stir up mud and perform stunts on off-road tracks.
Its handlebars are a bit wide to offer better stability and provide directional adjustment options for additional comfort. Furthermore, the unit is designed with large dual sport tires that are shock-resistant and durable, making them perfect for off-road tracks. 
Lastly, its disc brakes and convenient twist throttles enhance safety, while its foldable form makes it easier to travel with. 
Bottom Line 
All in all, this scooter is perfect for both adults and kids, and undoubtedly deserves a place on our list of top picks. With a twist throttle, air-filled tires, and maximum speeds of 30 mph, it certainly packs a punch. However, its assembly might prove to be difficult for some.
Best for the Money:
X-Treme XG-575-DS
What Recent Buyers Report

The majority of the buyers were satisfied with their purchase and found it to be fast and durable. They stated that the two speeds worked well and gave the unit torque, and liked its solid construction. While riders said that it offered a smooth, quiet ride with minimum vibration, they were disappointed with its short handlebars. Some users also experienced difficulty in putting the scooter in second gear.
Why it Stands Out to Us

This scooter primarily stands out to us because of its innovative two-speed gearbox. Its first gear offers riders increased torque at lower speeds, while its second gear provides optimal power at higher speeds. Boasting top speeds of 30mph, the unit is designed with air-filled knobby tires to withstand uneven terrain.
It further boasts an ultramodern Cam-Link shock suspension system that provides incredible resistance for softened landings and ensures an extremely smooth ride. It also features racing handlebars, vented disc brakes, and a foam center pad. Lastly, its handle pole can be folded for quick and easy storage.
Bottom Line

This X-Treme scooter is certainly one of the best models available today. Boasting a two-speed shifter transmission and an EPA certified engine, it can reach speeds of up to 35 mph. However, its design could be improved with a heavier pull cord.
Best 50cc Gas Scooter:
X-Treme XG-555 High Performance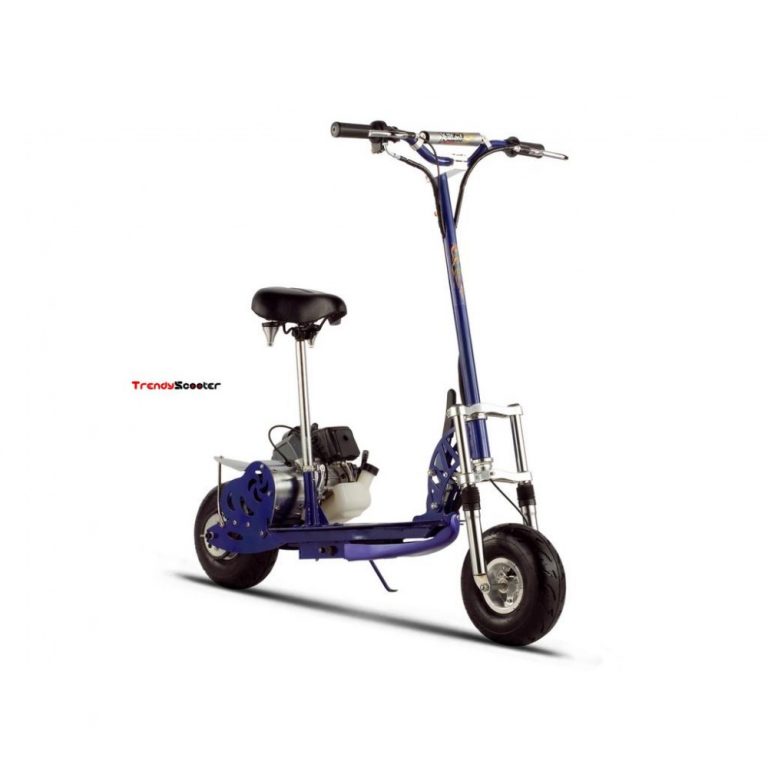 What Recent Buyers Report

Most buyers loved this unit and recommended it to other people as well. They stated that it started up immediately and was incredibly easy to assemble. They also found it to be fast, durable, and great on gas. However, some customers said that the chains required tightening, while some reported that the starter solenoid stopped working after a few weeks.
Why it Stands Out to Us
The countless features offered by this unit are what make it stand out from its competition. It's designed with tough, air-filled tires, an aluminum billet deck, and a dual shock suspension mechanism to ensure a smooth ride.
Thanks to its billet racing handlebars and rear and front vented disc brakes, it's extremely comfortable and safe to use. The unit is also extremely durable. Its frame is manufactured with high tension steel, while its deck is constructed with high-quality billet aluminum, making it one of the toughest scooters available today.
Lastly, this unit features a folding mechanism that makes storage and transport extremely easy. The Lock-N-Carry function is incredibly simple to operate; you just need to unlock the scooter by pulling the handle and then fold it down.
Bottom Line

Boasting an EPA certified engine, this unit is designed with several amazing features, including front suspension shocks, aluminum mag wheels, vented disk brakes, aluminum billet deck, and 12″ air-filled tires. However, the gas lines could have been a bit longer.
Best Gas Scooter for Kids:
Generies 49cc Moped Scooter
Why it Stands Out to Us 
The Generies Moped Scooter stands out to us for several different reasons. Firstly, its auto clutch and reliable 49cc, the four-stroke engine can reach top speeds of 35mph, thus giving riders enough power to easily ride around country roads. Its also designed with a high-duty frame for durability and longevity. 
Secondly, it's designed with an electric start button, which makes it incredibly easy to start. Riders can also switch between engine drive and human pedal drive easily, while the unit's soft saddle seat ensures a comfortable ride.
This model further features rear dual shock absorbers and a front shock system to soften landings and provide a smooth, quiet ride. Lastly, its designed with a quality headlamp, turning indicators, tail lamp, and reflectors, which enhance the rider's safety.
Bottom Line 
Ideal for kids who want a stylish mini bike, the Generies Moped Scooter is a great unit to ride and have fun with. It's fast enough to provide an adrenaline rush, while its countless safety features help prevent collisions. However, some users may find it a bit difficult to assemble. 
Best Offroad Gas Scooter:
X-PRO Supersized
What Recent Buyers Report
Most people who invested in this unit absolutely loved it, with buyers stating that it was well worth the money. They loved its different modifications and said that it ran great and was easy to assemble. Customers also found customer service to be extremely helpful. However, some users reported receiving a flat front tire. 
Why it Stands Out to Us
This deluxe-sized unit features a powerful 200cc air-cooled, four-stroke engine and has a weight capacity of up to 200 pounds, making it ideal for both teens and adults. It's also designed with a large fuel tank, so you won't have to worry about constantly refueling your scooter. 
Thanks to its dual front suspension and large off-road tires, riders experience improved traction, increased ground clearance, and an extremely smooth ride. Its easy usability, coupled with its classic design, further makes it stand out from the crowd. 
Moreover, it has several safety measures, including an engine stop switch, a chain guard, and an exhaust heat shield. Lastly, it arrives pre-assembled, so you just need to add some gas and fix the handlebars before you go on a ride.
Bottom Line
This unit is powered by a 200cc four-stroke engine, making it more powerful than most other mini bikes on the market. While it's certainly one of the best off-road scooters, it would be better if it arrived with better quality tires.
Best Gas Scooter for Adults:
TaoTao CY50-A
What Recent Buyers Report
Almost everyone who purchased this scooter loved it and said that it looked and ran great. Users stated that it started up immediately and that they experienced no problems with its assembly. They found the customer service to be exceptional, but some customers reported that they had to replace the voltage rectifier and carburetor.  
Why it Stands Out to Us
This street-legal, automatic scooter can reach maximum speeds of 50 mph on straightaways and can top 55 mph going downhill. Its engine has plenty of power to allow easy cruising and maneuvering, no matter how much you weigh. It's also incredibly easy to assemble, but if you experience any issues, their customer service is incredibly polite and friendly. 
Furthermore, it's designed bigger and wider than other units, giving it the stability and strength needed by riders to maintain a proper balance. Thanks to its fully padded seat, it provides ultimate comfort, while the seat's elongated design helps riders feel protected and balanced. 
With a weight capacity of 270 pounds, this unit can easily accommodate two passengers. Lastly, its brakes are very easy to reach and help riders maintain good posture.
Bottom Line 
If you're looking for a versatile unit that will let you cruise through the roads virtually undetected, then this model is the one for you. Boasting a fully automatic transmission, a bulkier build, and complete comfort of riding, it certainly deserves a place on this list. However, you may need to change the carburetor after some time.
Best Gas Scooter With Seat:
Coleman Powersports JL50QT
What Recent Buyers Report
Most buyers enjoyed riding this unit and stated that it ran nice and smooth. They found it to be extremely economical and said that it did not rattle. They further reviewed that it had a good finish and low gas consumption. However, users found the assembly instructions to be a bit confusing, while some experienced some difficulty in registering it.
Why it Stands Out to Us

The Coleman Powersports is equipped with a CDI ignition system and a reliable 49cc 4-stroke, air-cooled engine that will get you wherever you need to go. It features a strong, high-quality steel frame that will last you for years to come.
The unit boasts an easy electric start, along with a backup kick start to ensure simple operation. Its dual hydraulic forks, rear mono-shock, and automatic transmission further ensure softened landings and a stable, smooth ride.
With a maximum load capacity of 180 pounds, this model can reach speeds of up to 32mph. It's also designed with a headlight to ensure safety at night, while its under-seat compartment and rear sack provide ample storage space.
Lastly, an estimated 95 miles per gallon makes the scooter incredibly fuel-efficient, so you'll spend less money and time on its fuel tank.
Bottom Line
Manufactured into a combination of fuel efficiency and comfortable design, this Coleman Powersports is certainly one of the best gas scooters available today. Although its powerful 49cc, four-stroke engine is perfect for traveling around the city, riders will need to change a lot of parts to achieve higher speeds.
Gas vs. Electric Scooter Comparison Overview
When you're planning on buying a scooter, the most common question that comes up is whether to choose a gas or electric one. Both types have their pros and cons, and the decision ultimately depends on what best suits your needs. To give you a better idea, the following are their similarities and differences:
Similarities
Gas and electric scooters are similar in several aspects, such as:
Efficie​ncy 
Both models are incredibly efficient and will allow you to easily travel around town. However, since they're primarily designed for travel within a city, they cannot be used for traveling across the country.
Safety and Ease of Operation 
Both gas and electric scooters are user-friendly and extremely easy to operate. They also need to be designed following local laws and safety guidelines. 
Differences
Some of the differences between gas and electric scooters include:
Cost 
Gas scooters are generally more expensive than electric scooters. Gasoline is also generally costlier than the electricity needed to charge the battery of an electric scooter. 
Speed
A gas scooter can reach higher speeds than an electric one. Even the latest electric scooters are unable to go faster than 30 miles per hour, whereas some gas scooters boast maximum speeds of up to 100 miles per hour. 
Convenience 
Electric scooters need to be recharged after every 50 miles, so if you're planning on long-range travel, then it's better to choose a gas-powered model. Electric scooters would be better suited for shorter commutes.
Conclusion
Gas scooters are a more environment-friendly, more convenient, and more affordable way of getting around, whether you just want to go down to the grocery store or are planning to have outdoor fun with your friends and family! These incredibly versatile vehicles are ideal for all ages, so make sure you go through all the aforementioned models to find the one that best suits your needs.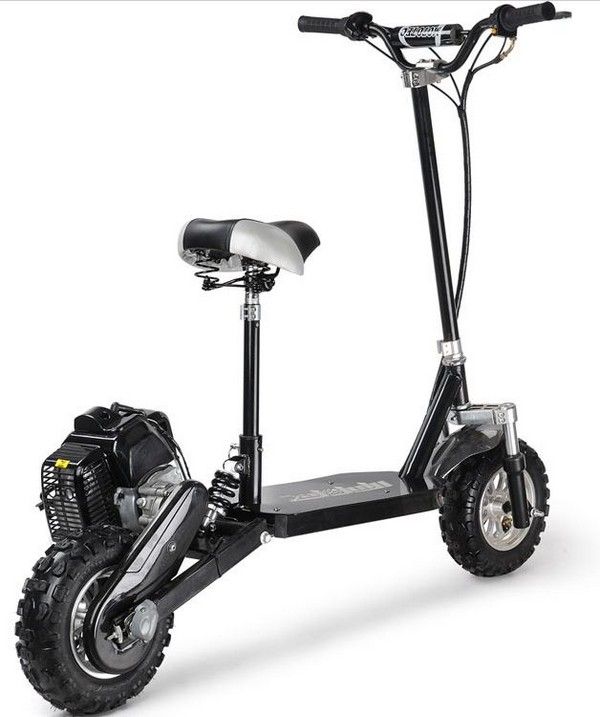 People Also Ask
A gas scooter is a big investment and finding the best one can be an extremely confusing, technical, and difficult task. To help clear away any ambiguities you may have, the following are some of the most frequently asked questions:
How Fast Can Gas Scooters Go?
Gas scooters are manufactured with several different engine sizes. A 50cc scooter is ideal for low-speed traffic as it can reach speeds of up to 40-45 mph, whereas a 150cc scooter boasts maximum speeds of up to 60 miles per hour.
How Much is a Gas Powered Scooter?
The price of a gas-powered scooter depends greatly on the brand and the engine size. A 50cc scooter can cost as little as $500, while 400cc scooters can cost as much as $9000. 250cc scooters typically cost between $2000 and $2500, and 580cc scooters can cost as much as $8000.
Do You Need a License For a Gas Scooter?
The answer to this question depends on the scooter's engine size and the state you live in. While you might not need a specific license for your scooter, you're still going to need a regular driver's license. Make sure you consider the laws of your state before you start riding your scooter.
How Do You Get Old Gas Out of a Scooter?
The simplest way to remove old gas from a scooter is through the petcocks. Follow these steps to get old gas out of your scooter:
Locate the hose on the side of the gas tank that connects the carburetor to the petcock.
Get a gas can or any other container to collect the gas in. 
Make sure you turn the petcock off before you start. 
Disconnect the hose connected to the carburetor. Don't worry if a bit of gas drains out of it. 
Place the end of the hose inside the gas container.
Turn the petcock to 'on' and let gravity do its work.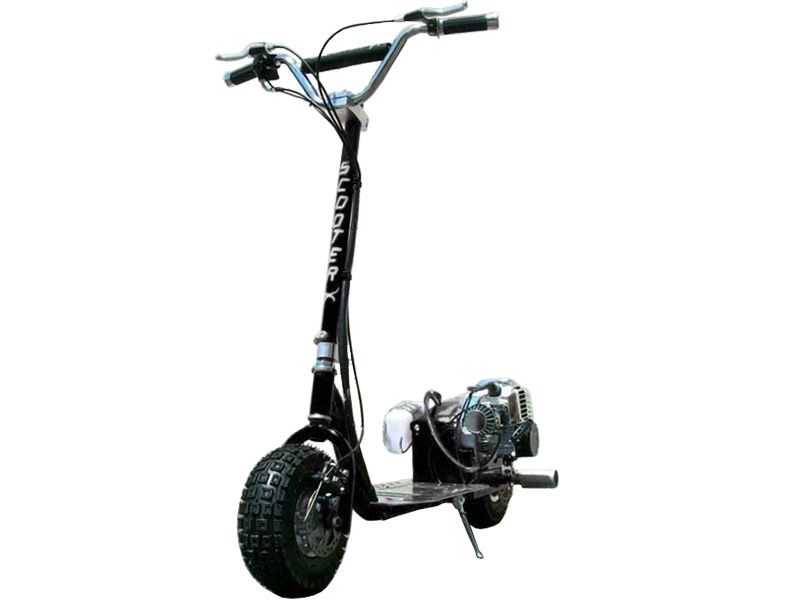 49cc ScooterX Dirt Dog
Scooter Starts But Dies When I Give it Gas – What Do I Do?
This problem is usually caused by fuel starvation, which can occur because of bad hoses, stuck float, a faulty petcock, or a clogged fuel filter. Some solutions include checking the fuel flow, replacing the vacuum lines, and changing your gas as it may be of low quality.
How to Clean a Scooter Gas Tank
Drain the scooter's gas tank.
Add a commercial de-greaser into the tank and leave it for 24 hours. You can also mix some hot water and dish detergent if you don't have a de-greaser. 
Wash the tank with a pressure washer to remove all the dirt and debris.
Fill the tank with a cleaning solution or vinegar and leave it overnight to break down and dissolve the rust. 
Properly rinse the tank with water.
Leave the gas tank for 24-28 hours to let it dry.