Commuting to your college with a scooter is a fun, economical, and environment-friendly way to travel. Sure, there are many other options for moving around on campus, but a scooter allows you to travel with speed and style, all while saving energy. 
For college students, there is no better option than to buy something that complies with their budget and convenience. 
Read along to discover the delights of moving around on a good-quality scooter and choosing a product that suits your needs.
At a Glance: Our Top Picks for Scooters For College
Comparison Chart of the Best Scooters For College
IMAGE
PRODUCT

Our Top Pick

Urethane wheels for smooth ride
Equipped with soft foam grips
Can support up to 220 lbs

View Latest Price →

Lightweight with aluminum frame
Easy to fold and carry
Has high-speed oversized wheels

View Latest Price →

Best Budget Option

Best for the Money
Lightweight but very durable
Folds with push of one button

View Latest Price →

Best Electric Scooter for College Students
Strong motor and battery
Acceleration is smooth

View Latest Price →

Best Kick Scooter for College Students
Unique 3-seconds folding system
Soft rubber hand grips

View Latest Price →
What Makes a Scooter Great For College Use? 
Whether you're late to class or low on energy, riding a scooter will speed you up with minimum effort. College students can benefit greatly from such a practical mode of transport that can maneuver in tight spaces, be packed and folded without worrying about parking spaces, and keeps you on a schedule. Some pretty basic features that make a scooter great for college use are:
Battery and Speed
To run around college grounds and cover large distances, a scooter should come with long-lasting battery life to ensure that it won't die out during the day. Speed is also a considerable aspect to reach classes on time. While the average top speed is usually 15 mph, the market offers many good scooters that can clock the speed to 20-30 mph as well.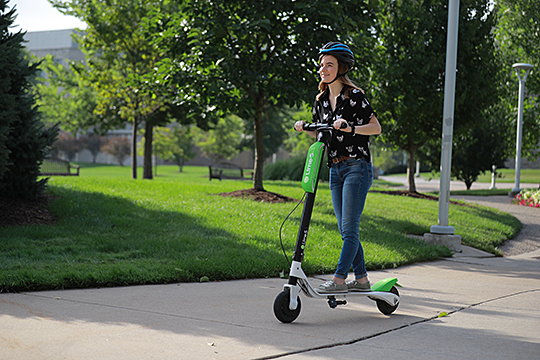 Portability 
While deciding on a college scooter, this is a major feature to keep in mind. Most scooters can be folded down neatly and fitted in your backpack, which saves you the havoc of carrying it around at all times. Other scooters feature a shoulder strap for convenient portability. This proves to be a major plus-point since you don't need to look for parking spaces.
Safety Features
Riding a scooter on-campus demands extra safety precautions because you don't want to bump into other people and vehicles. An efficient braking system, shock absorbers, firmly gripping tires, and a smooth throttle are important to maximize safety. A wider deck and wide-spaced tires maintain stability and balance while making a turn and on crowded sidewalks.
Review of the Best Scooters For College
Searching for the best scooter to boast around on your college campus? We've got it all sorted for you by presenting the top electric scooters that are bound to give you a fun and safe ride every day. These are highly practical for daily use from home to college and around the campus. 
Armed with each model's specifications, you can easily choose a scooter that goes with your budget range and travel requirements. Have a look!
Best Overall:
Razor A5 LUX Kick Scooter
What Recent Buyers Report
The reviews say it all! This scooter can pretty much accommodate people of every age and height owing to the adjustable handlebars and weight-carrying capacity of 220 lbs. The big wheels handle cracks greatly and give a smooth ride on small curbs and thin tracks as well. 
The folding mechanism is another plus point to ease storage and portability on campus. With a lot of customizable options, this scooter is a particular favorite of customers.
Why it Stands Out to Us
Buying the Razor A5 LUX kick scooter is a win-win situation for all college students since it is an ultimate package of all the desired features. It's excellent in riding around, with perfect stability in cramped areas and stony paths. 
The lightweight, aluminum construction makes it super-easy to carry around with a modern yet classic design that appeals to everyone's taste. The retractable kickstand makes it easier to stop without the scooter falling off. 
Moreover, a patented rear fender brake is the main highlight which allows you to control speed, particularly when moving on a slope by stepping on the brake.
Bottom Line
The A5 LUX is an ideal choice for all teenagers and adults. It is bound to last a long time due to its rugged construction. Offering the smoothest, gliding experience, a wide deck to place both feet and ease in folding and packing it up, it is a must-have for every scooter enthusiast. 
Runner-up:
Fast 88 Folding Adjustable Scooter
What Recent Buyers Report
This scooter is a convenient and quick way to move around on college grounds. Owing to the simple features, it serves as a perfect choice for beginners. The handlebars are adjustable according to the rider's height, and the lower deck provides adequate balance while riding. It collapses smoothly in a single motion and can be folded to put in your bag or carried around with you. 
Why it Stands Out to Us
The prime feature that makes it a runner-up on our list is the practicality of this product, especially for students going to college. The fold-down mechanism is a bonus that saves trouble in case of limited storage area and parking issues. 
The framework is lightweight yet built with sturdy aluminum and super affordable. Another benefit is that the oversized wheels allow the scooter to move on higher speeds with smoothness. You're in safe hands with this scooter due to the reliable braking system and a foot rear brake feature.
Bottom Line
Fast 88 Folding Adjustable Scooter is a great choice to make your rides pleasant on straight and uneven paths. The modern design in various colors adds a cool touch to the scooter, while the folding feature further appeals to students' tastes. With a simple assembly, this is definitely going to be fun to use!
Best for the Money:
RND Folding Commuting Scooter
What Recent Buyers Report
According to users, this product is definitely a good deal when it comes to something made with good quality materials and useful features. It charges pretty quickly and goes really fast, handling road cracks and bumps well enough. 
The one-button folding helps college students in packing it up and placing it safely. The handles have a fairly good grip, and the entire scooter is built in a sturdy fashion, which makes it a treat to use for everyday routine. The 260-pound weight-bearing ability makes it feasible for all kinds of people, regardless of height and weight.
Why it Stands Out to Us
RND Folding Commuting Scooter lives up to its price and offers all the essentials a college student could ask for in a travel device. It is enjoyable and simple to use, and the design is very contemporary and updated and guarantees durability for personal transportation. 
The dual braking feature ensures stability and safety as prime concerns, and the solid gripping tires make your ride comfortable and secure. Moreover, a battery management system keeps track of the battery, saving you the tension of the battery dying out. In case you get late from class, an LED light can guide your way at night to avoid accidents and tripping over. 
Bottom Line
With a cool and modish look, this scooter is also really convenient for daily use and travel. The battery is really powerful and long-lasting, while its lightweight build makes it a suitable option to be carried without any fatigue. Being easy to operate, it delivers just according to its price tag. 
Best Electric Scooter for College Students:
Populo Portable Folding Commuting Scooter
What Recent Buyers Report
Featuring remarkable reviews from buyers, this scooter surely tops all others with its splendid features. The battery lasts for a pretty long time and ensures one can travel long distances without worrying about running out of battery. 
The durable construction also boosts the scooter's longevity, along with delivering the best in performance in terms of smooth running, acceleration, and efficient brakes.
Why it Stands Out to Us
Versatility and functionality combined in a single product make this a great package for the buyers. We included this scooter on our list because it comes with multiple features to explore. The ultra-bright headlights illuminate your way at night, ensuring safety, and the power button can help save battery too. 
With the double braking system, this scooter gives an effective response to avoid toppling over. It delivers a smooth, gliding experience with improved speed. The folding mechanism is sure to grasp the students' attention, allowing one to stow the scooter away even if you're running short on space.
Bottom Line
Once you get your hands on this scooter, you'll realize it has it all. With a sturdy build and fast speed, paired up to a fail-proof braking system, everything in this scooter makes it perfect for college use. The folding mechanism and a dashboard to update you with the power, battery, and speed are huge plus points.
Best Kick Scooter for College Students:
Hikole Smooth Ride Commuter Scooter
What Recent Buyers Report
Commuting has never been this simple and enjoyable with a scooter. Just as the name indicates, this scooter gives an incredibly gliding ride with minimized bumps. Having a durable and resistant frame, and combined with big wheels, it is reliable to ride every day. The adjustable handlebars and a spacious deck are key features that prioritize the rider's comfort for the best experience.
Why it Stands Out to Us
Not many brands offer such a functional product at an economical price, and this scooter works wonders for daily traveling. The foldable feature lets you pack it into a neater and compact form to store it safely. 
Also, a rear fender brake is highly useful for making sudden stops without crashing into people. It can handle 220 lbs hence being feasible for college students and adults alike. 
What really stands out in this scooter is the dual suspension system to avoid jerks in narrow areas and cracked roads. A strong build and heavy metal make it tough to withstand daily usage. 
Bottom Line
All in all, this model will be a great travel partner for everyday use. You can easily store it into your bag or rest it between your feet during classes, saving you time and trouble. It moves at a pretty good speed, ensuring safety with the reliable braking system. You won't regret buying this great product for an affordable price range.
Pros and Cons of Having a Scooter in College
There is no denying that an electric scooter has dominated other modes of transport when it comes to college students. This is because riding a scooter has several advantages, being an enjoyable ride with the wind on your back. 
However, nothing is perfect, and so electric scooters also come with their own set of drawbacks. Let's have a look at the pros and cons.
Pros
The benefits of having an electric scooter on campus are:
Budget-Friendly
This is the foremost reason that attracts many students to purchase an electric scooter. With college loans towering on students, having a daily travel expense would become too burdening. Having an electric scooter saves you the cost of fuel or bus fares. It's a win-win situation.
Portability and Ease
Convenience is a prime factor in the busy lives of students. Having a scooter saves you the hassle of finding limited parking spots, and you can easily fold it to fit it in your backpack. You can carry your scooter into lecture halls, without any trouble of tethering it outside class. This saves massive time as you can follow your schedule and reach wherever you want with ease. 
Speedy Travel
Having a scooter saves large spans of time and energy since you don't need to walk to class. All you need to do is hop onto it and enjoy the cool winds as you maneuver around. Scooters provide efficient speeds of around 15 mph, which is much quicker than walking on foot. These devices don't require a license, so anyone can learn to ride it in no time.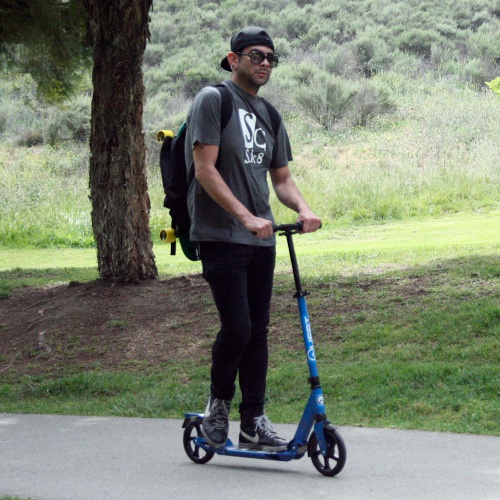 Cons
Having an electric scooter in college comes with some negative aspects too. 
Tripping Over
In colleges that are crowded with students walking all around, it might become hard to ride a scooter effortlessly. This is because you'll constantly be blocked in your path by pedestrians, so it gets problematic to maintain a steady ride. Hovering around on your scooter in cramped spaces and narrow roads requires skill and practice; hence majority beginners fall off more often or bump into other people. 
Charging the Battery
In case your scooter has a poor battery life, you won't be able to reach your class on time since it might ditch you halfway. Charging the battery also requires hours, which may turn out to be a hurdle in the demanding routine of students. Most batteries are not powered enough to run long distances, so you'll need to keep the battery life in mind at all times.
Conclusion 
For all college students on the lookout for a reasonable and practical option – a scooter is all you need. We hope that our comprehensive list of the top scooters will help you in making a beneficial purchase because each model has its own perks. It all depends on your preferences, and once you buy a scooter, you'll agree to what all the hype is about!