Underwater scooters have vastly taken over the world of water sports by proving to be an appealing device for all divers. Including the high propulsive features, no bounds to effortlessly exploring the ocean and a thrill of the adrenaline rush – who would refuse to own this game-changing DPV?
Not only is it an exciting tool for professional divers, but novices and amateurs should also feel free to step up their game with underwater scooters. 
Promising high functionality and saving your energy, you are bound to take a liking to this fun vehicle once you read our review. 
At a Glance: Our Top Picks for Underwater Scooters
Comparison Chart of the Best Underwater Scooters
IMAGE
PRODUCT

Our Top Pick

Symmetrical and streamlined design
Impressive portability and energy
Lightweight and easy to carry

View Latest Price →

Buoyancy control chamber can be removed
Ideal for saltwater use
Waterproof construction

View Latest Price →

Best Budget Option

Best for the Money
Weighs only 12 lbs
Built-in mount for camera

View Latest Price →

Best Seadoo Underwater Scooter
Equipped with 3 gears
Uses detachable and rechargeable battery

View Latest Price →

Best Trident Underwater Scooter
Lets you dive to 164 feet
Battery can be removed and charged

View Latest Price →

Fastest Underwater Scooter
Powerful but lightweight
Waterproof to prevent flooding

View Latest Price →
How Does an Underwater Scooter Work?
Underwater scooters generally fall in the category of DPV, commonly known as diver propulsion vehicles. No doubt, they have a commercial set of applications in different fields such as science, sports, research, and military, but a lot of people buy these products for recreational and enjoyment purposes nowadays. 
These scooters come in handy for little children in shallow waters, but also provide amazing recreational opportunities for avid scuba divers, snorkelers, wreck divers and surfers in deep ends.
The working is pretty much basic; all a diver needs to do is hold on to the handle, or stern, and the scooter goes swooshing you around in the desired direction. Each scooter contains a cylinder of breathing gas, different speeds settings, and a waterproof battery to power the DPV. 
In case you're concerned about safety, it's all sorted out by a harness strap that allows divers to stay within the perimeters of the scooter. For ocean lovers out there and adventure junkies, an underwater scooter is just what you need to take a dip in the ocean, and explore the ocean's beauty. Sounds pretty fun, right?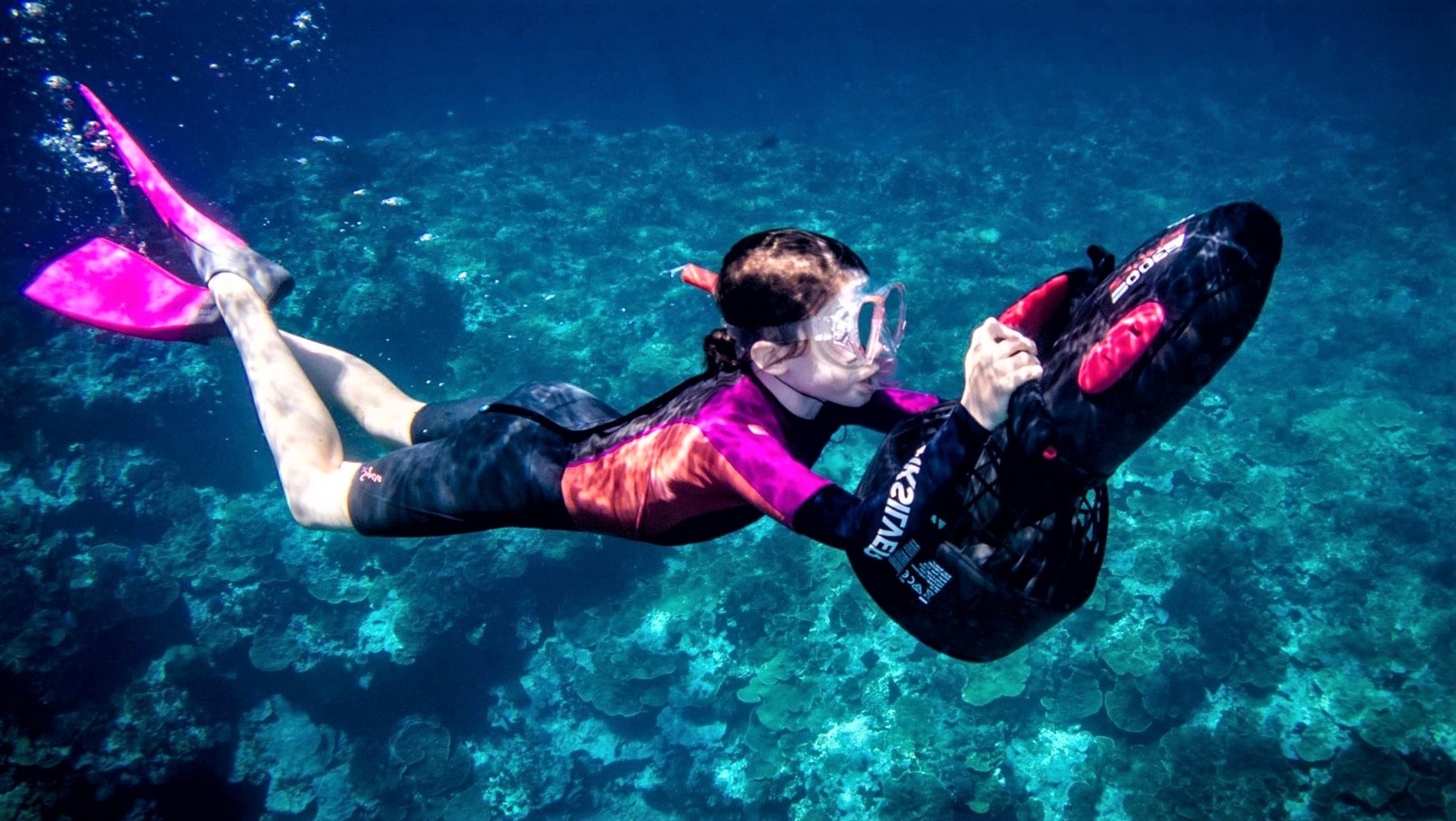 How Do I Choose an Underwater Scooter?
Looking for the best of the best? No worries, because right here is everything you should be aware of before making your purchase. The selection of an underwater scooter is primarily determined by what you want it for. 
Do you need it for snorkeling, cave diving, or serious research work? Consider the type of water you'll be riding in, the battery life based on how far you intend to go, and the speed variability. 
Keeping these points in mind will help you place your focus on exactly the type of scooter you need. A few straightforward qualities that contribute to making an underwater scooter practical and ideal are:
Buoyancy
This term describes the upthrust you feel as your scooter floats in water. Buoyancy can either be negative, positive, or neutral, so you need to look for something that suits your needs. 
Freshwater and saltwater offer different buoyancy, which varies with depth. You don't want your scooter to sink easily, or float excessively, both of which would make it hard to operate. Positive buoyancy can lead the scooter to be out of control, whereas negative buoyancy can weigh you down excessively if you're a beginner. 
Expensive models offer neutral buoyancy, which works flawlessly in any aquatic environment by shifting controls. You need to look for what works well according to your experience.
Battery Time
No one would want a scooter that works for a limited time and drains the battery fast. Longer battery time allows enhanced freedom of exploration to cover greater distances without worrying about getting lost midway. You surely don't want to swim back to the shore carrying your scooter, so keep an eye out when making a purchase. 
The typical battery life of around 1-2 hours is ideal for extreme depths, whereas 30 minutes would suffice for snorkeling and shallow dives. It's preferable to go for lithium-ion batteries that recharge quickly and are lightweight as well.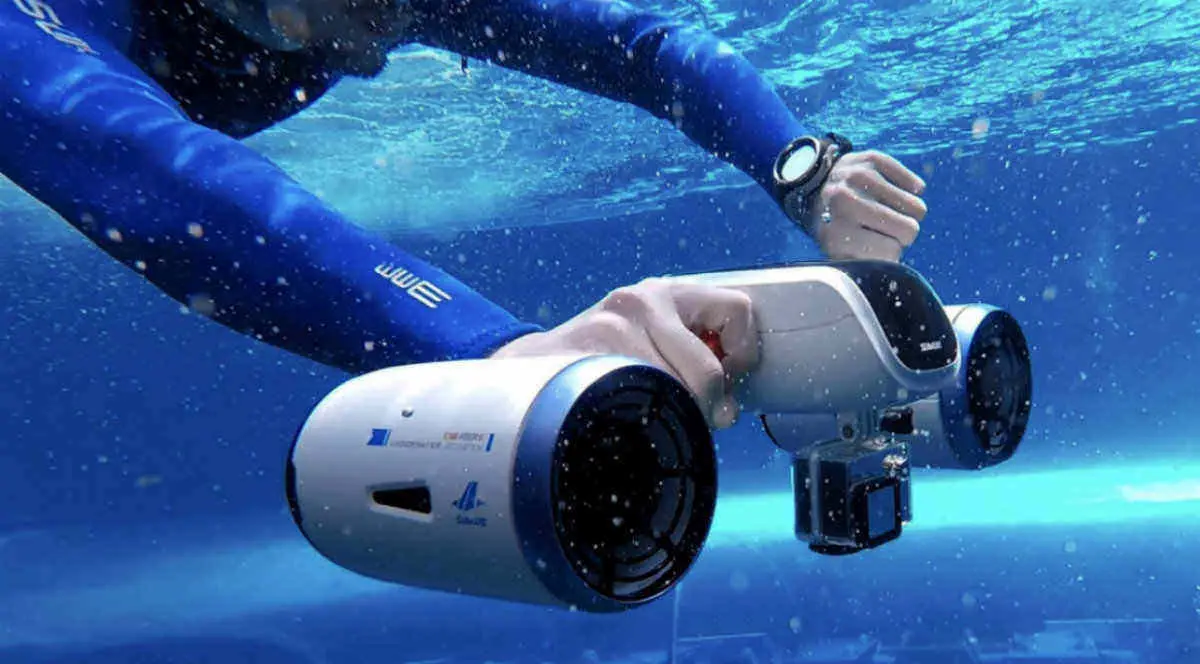 Speed and Depth
The thrill of this water sport lies in the speed of your scooter and how much depth it can bear. Kids would enjoy a speed of 2-4 km/h, which would also keep them steady. For adults, speed in the range of 5-9 km/h would guarantee an exhilarating ride. 
Cruising on the surface and propelling in waters with great swiftness is what this sport is all about, but beware that higher speeds drain batteries faster. 
Before you select a scooter, make sure to look for how deep you want to go. A 15 ft depth is preferable for beginners, but experienced scuba divers should not hesitate to manage 100-200 ft depth in the waters.
Weight
Another important aspect for consideration is the weight of the scooter. Customers prefer lightweight models that can be carried by kids and adults effortlessly. If your scooter weighs a lot, it would be problematic to carry it and move it out of the water. Recreational scooters within a range of 15-25 lbs have proven to be best for subtle portability.
Review of the Best Underwater Scooters
Summers demand a relaxing cruise under the sea to let your body steam off while you can kick in your adventurous soul and explore the submerged treasures. Underwater scooters are highly efficient vehicles to save time and energy while you experience the delights of snorkeling, diving, and spanning large ranges of the ocean. 
Before enjoying your ocean dive, why not take a dive into our review? We have listed the top choices to equip you with the necessary information before you rush into the market.
Best Overall:
Sublue WhiteShark Mix
What Recent Buyers Report

The positive reviews say it all! This scooter has become a particular favorite by appealing to the sense of buyers. The steering and control are remarkable with vigorous propulsion at a steady speed. The depth and battery limit make it perfect for recreational shallow dives and snorkeling around.
Many customers took a particular liking to how the model is swift, small, and ultra-light to extend feasibility and practicality. Just remember to drain out water from the battery compartment after each use.
Why it Stands Out to Us

Everything about this product, from the stylistic and unique exterior to the added safety features, speaks volumes when it comes to diving and propelling underwater. The 40-meter depth, paired up with a battery time of around 30 minutes, makes it a fun addition for kids in the pool.
One can even attach a camera to record videos of the diving experience underwater. It also proves to be a beneficial product in terms of research and sporting events. For something agile and small in construction, the power is really strong and drags one around effortlessly with a 3-mph speed. A protective net covering on the propellers curtails all chances for accidents and mishaps.
Bottom Line

Quality performance and adaptation to the buyer's liking are key checkpoints that make a product stand out from the rest. The Sublue WhiteShark Mix ranks on the top in our list because it comprises all the features one demands to make diving a fun experience. With the speedy velocity, a streamlined body, and lightweight construction, you are in for an exciting water adventure.
Runner-up:
Yamaha Professional Dive Series
What Recent Buyers Report

Boasting a number of great features, this scooter has captured buyers' attention due to its improved functionality and high performance. People were utterly pleased with its high power and tremendous speed that can be adjusted according to one's preference. With a long-lasting battery performance, feel free to wander off in distant places and enjoy your time rushing underwater.

Why it Stands Out to Us

Yamaha products are always a delight because of the solid construction and viable functionality they offer. This underwater scooter features an inbuilt automated buoyancy system to give you a comfortable experience in any kind of waters and has proven to be suitable for saltwater too. The lithium batteries make it lighter to maneuver around with good steering control.

It's amazing how customer convenience is prioritized by providing three-speed controls and an hour time to span ocean depths, go wreck diving, or enjoy an effortless dive.

Another added feature is the camera mount to record your videos, which you can boast off as you cruise in the waters. However, what really sets this model apart from the others is a flood prevention system, making it easy to maintain and ensuring it performs well.

Bottom Line

What more to ask for when Yamaha has collectively placed everything into a single scooter? This device gives others a tough competition due to its efficacy and durability. Fear not to dive into deeper spots and quench your thirst for adventure because this scooter will set you free from all sorts of limitations in terms of buoyancy, speed, and battery time.
Best for the Money:
Yamaha Explorer Seascooter
What Recent Buyers Report
A lot of positive remarks and appeased customers forced us to include this scooter into our list. It will surely be a great buy for someone looking for an economic initiation to this sport. Kids and teens have taken a particular delight to this scooter because the speed and depth are suitable for them. With a smooth ride and long-lasting battery, it is worth the price to offer entertainment for your kids.
Why it Stands Out to Us 
It is not very often that one comes across a product comprising desired features within a reasonable price rate. Yamaha Explorer Seascooter is an ideal selection for any amateur eager to delve into this sport. 
It is compatible with saltwater because of the positive buoyancy but works fairly well for freshwater too. Sustained battery life gives one ample time to enjoy and gently propel around in the waters. 
Moreover, a camera stand guarantees you can record long hours of recreation and fun with your family. A lightweight and waterproof framework makes it easy to carry around without fatigue. Parents are often concerned about the safety of their children in the waters, and this scooter will relieve you of all such tensions. A cased propeller, automatic shut off system, and dual trigger control guarantee your child is in safe hands.
Bottom Line 
This scooter is a promising product because it offers reliability and amazing capabilities to amuse the users. Children and beginners will not find anything close to this scooter in the market. Gliding in the waters at such a cost-friendly price tag will be lots of fun for your family and little ones.
Best Sea Doo Underwater Scooter:
Sea Doo-SD15001-RS1
What Recent Buyers Report

The customer remarks were a mix of both extremes, but most of them leaned towards the positive side, and there were no regrets about the purchase. A significant number of people were pretty impressed with this aquatic scooter. The user-friendliness, easy handling, and fast speed contributed to getting the attention of buyers.
Why it Stands Out to Us

Underwater scooters usually do not come cheap, and the Sea-Doo scooter is a product that guarantees a pleasurable and fun ocean dive at a reasonable price. With the three-gear mechanism, you can adjust the speed settings to slow for exploring corals, or faster velocities to get anywhere.
Built for shore diving, this scooter features a prolonged battery life of more than an hour to power it with enormous force. Being neutrally buoyant and light in weight assures you to ride it in saltwater and freshwater without damage.
A master power switch gives one the reassurance that safety is not overlooked in this device. Despite all the positive qualities, this scooter has certain setbacks and might fail to deliver the desired results, so look out for your requirements before you purchase it.
Bottom Line

Although this product has flaws, one cannot overlook how amazingly it cruises in the water with plenty of power. The variable speed settings, along with continual drainage of water, gives an impression of an intellectual and streamlined construction. Overall, though, it lives up to its price, so you might need to compromise on perfection if you choose this scooter.
Best Trident Underwater Scooter:
G Geneinno Underwater Scooter
What Recent Buyers Report

The reviews are more than satisfactory since a lot of features in this underwater scooter provided contentment to buyers. Propelling with such rapid speed is an absolute delight, as one can travel off to low bottoms in the ocean up to 164 feet. The compact design makes it smooth to maneuver for an exhilarating drive.
Many buyers commended the quick recharging of the battery that amplified convenience and customer satisfaction.
Why it Stands Out to Us

The G Geneinno Underwater Scooter has surely scored some big points in terms of assembly and functionality. The streamlined body reduces the workload on the body and allows one to cruise in the waters smoothly.
Both the propellers are muscled by incredible power that shoots one in the waves at rapid speeds up to 4 mph. The battery lasts for a short time on higher velocities, but it can be recharged quickly, making it available for further use.
Furthermore, it features positive buoyancy to give you a floating experience that is perfect for snorkeling, shore diving, and scuba diving. For your convenience, an LED indicator will keep you updated with the battery performance to avoid getting lost midway. Owing to a child lock feature, parents can make sure of adult supervision before allowing their child into deep waters.
Bottom Line

Overall, this DPV is ideal for keeping you on top of your game. Experience the real thrill to rush at swift speeds in the waves, enabling you to explore distant places and underwater beauty. You can even attach a camera to ameliorate your diving experience. With an amazing set of features, this beauty can become your favorite adventure partner.
Fastest Underwater Scooter:
Yamaha Seascooter RDS300
What Recent Buyers Report

Flooding with positive remarks, the Yamaha RDS 300 has achieved popularity among ocean lovers due to its remarkable features. Buyers have particularly been fascinated by the turbo speeds to amplify the thrill. The battery usage is efficient and lasts a long time to give you a thoroughly enjoyable experience in the ocean. Reliable safety features make it adequate for usage by children and adults alike.

Why it Stands Out to Us

No doubt, the improved speed is a major highlight of this product, but what sets it apart from the rest is its practicality in the waters. With a sleek finish to the framework, the removable buoyancy makes it a must-have for saltwater environments. It can power you impressively up to 100 feet below the ocean surface and lasts for about two hours at optimal speed.

The anti-flooding feature guarantees safety, including other features such as a thermal switch, automated shutoff, and leakage sensor. One can master control and flexibility with the two-level rotational speed as you surpass ocean depths. Surely, this product couldn't get any better, but the company also fitted a camera mount to satisfy users.

Bottom Line

Living up to its name, Yamaha never fails to produce a sensational DPV with wonderful properties. The RDS 300 is all you need to accent your diving game and explore depths in the ocean. Whether you enjoy shallow dives, snorkeling, or scuba diving, this scooter has it all to win your heart.
Advantages and Disadvantages of Underwater Scooters 
Since underwater scooters have emerged as a particular favorite among children and adults, one must be aware of all the pros and cons that come with this DPV. Certainly, the advantages outweigh the disadvantages, but let's have a closer look at both these aspects.
Advantages
Let's first go through the advantages of these scooters:
Exploration and Recreation
What could be more exciting than a scooter propelling you through the waves of water while you enjoy the wonders all around you? Underwater scooters are great for exploration because they move you at a steady speed to cruise in distant places with minimized effort. Increasing speed offers a more exciting and elating feeling.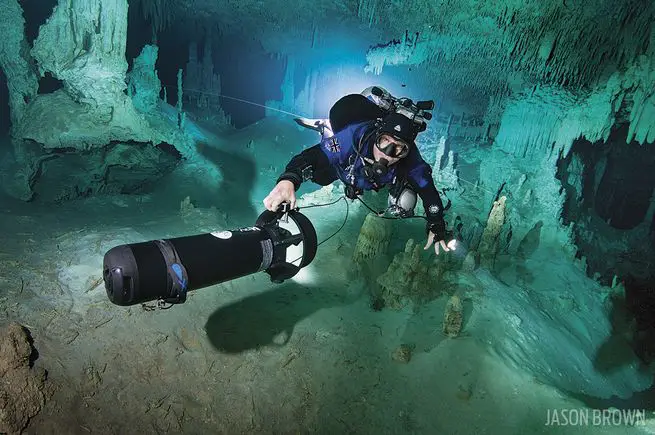 Energy Conservation
Gliding through the water with hardly any muscular effort is a treat for all adventure lovers. This is where scooters are the main star of the show because of diving and swimming exhaust one to such an extent that they might not be able to enjoy it fully and go further beyond. 
With an underwater scooter at hand, your body uses less oxygen and allows you to extend your underwater breathing time, ultimately guaranteeing an efficient and exhilarating ride.
User-Friendliness
Another major breakthrough for underwater scooters is their practicality and efficacy. These vehicles are convenient to use, steer and maneuver around, and lightweight for easy portability. You can control the device according to your own set preferences, by maintaining the buoyancy and speed. 
If you want to explore and look around, lesser speeds would be feasible, whereas higher velocities pump up the adrenaline rush offering an electrifying ride.
Disadvantages
Although underwater scooters give an extended exploring range and depth, there are limitations to every device. These include:
Won't Let You Stay Long Underwater 
The amount of breathing gas fitted with the scooter measures how long you can stay before you need to rush back to the shore. Typical batteries run out after one to two hours and require a lengthy recharge time, so this might be problematic for people who demand longer dives. Moreover, different models and brands offer limitations to how deep the scooter can go, so that imposes another restriction on the diver.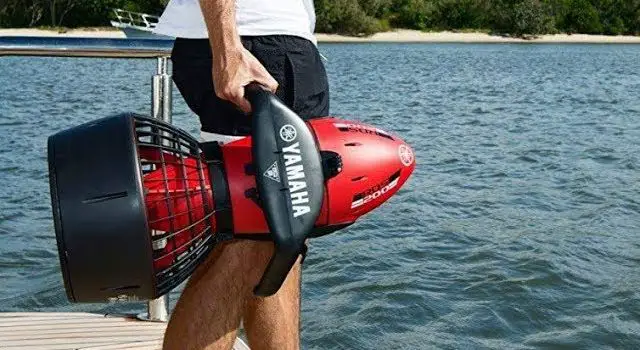 Occupied Hands
While snorkeling around or diving into deep waters with a scooter, you won't have your hands free because the diver has to hold onto the handles for safety reasons. It might become annoying for some users to have their hands bound and not being able to reach out for something needed. However, with frequent practices, you'll get used to this, and it won't be an issue anymore.
Conclusion 
Investing in an underwater scooter is surely something you won't regret, because of the irresistible opportunities and features it has. With the looks of a simple vehicle, it is quite surprising how such a small device can deliver the thrill of cruising in the water on variable speeds to distant areas. 
We hope that our review provided you with valuable information regarding various models and their features, and assisted you in making a worthy decision. Time to step up your diving game to new levels with an underwater scooter!
People Also Ask
Featuring the latest technological advancements, a lot of people seem unfamiliar with the working and reliability of an underwater scooter. It is human nature to probe and ask questions if doubts arise, which is why we've also prepared a short section to satisfy your queries. Have a look at the answers to some commonly asked questions to clear your head of all misconceptions.
Are Underwater Scooters Safe?
Of course, underwater scooters are safe, or they wouldn't be in such wide use all around. Every device is safe as long as you stick to the instructions and don't go overboard in excitement. The diver is strapped to the scooter with a harness, and the handles offer a strong grip to keep your steady and locked in place. 
Furthermore, a grille protects one from coming in contact with the propellers. During your dive, you need to be cautious of the battery time because that could get problematic. Moreover, don't exceed the speed limits, maximum depth, and weight-bearing capacity of your scooter, or it could consequently be life-threatening if you don't know how to swim.
How Fast Do Underwater Scooters Go?
Different models feature varying speed limits, so the average speed would be something around three to four km/h, which is fairly ideal for pushing through the waves. Children's scooters work at speeds of around 2-2.5 km/h, whereas the faster and advanced models can clock it up to nine km/h. 
Higher velocities instigate more adventure and thrill if you're an expert diver or snorkeler. Slower velocities for exploration, or speedy controls for enticing escapades – it all comes down to your preference and adjustments in speed controls. 
How Much Are Underwater Scooters? 
Diving is a lavish sport. A lot of underwater scooters tend to be pricey and expensive vehicles, but the dive surely proves to be worth the price tag. It is a one-time investment which would definitely last a long time. Still, you can find many scooters lying within a reasonable price range, supported with dynamic features to surprise you on your diving venture. 
Generally, the price could start from $400 for advanced models and cost up to $2000 with upgraded features. You need to look for something compatible with your needs and requirements to enjoy this sport without breaking the bank.
Other Scooter Related Reviews
Interested in more scooter content? Here are some other scooter related articles: