Are you a professional scooter looking for extra stability and improved performance on your scooter? If so, then you have landed in the right place! 
In this article, we will go over some of the most impressive scooter pegs. There are also some important discussions and questions answered for your ease!
So, without any further delay, let's dive right in.
At a Glance: Our Top Picks for Scooter Pegs
Comparison Chart of the Best Scooter Pegs
IMAGE
PRODUCT

Our Top Pick

Very high quality design
Sturdy and very smooth
Boasts with 12.9-grade hardness

View Latest Price →

Colorful anodized rainbow metallic finish
Made from aluminum alloy
Will fit most models

View Latest Price →

Best Budget Option

Best for the Money
Great for learning new rail tricks
Made from durable aluminum

View Latest Price →

Best Envy Scooter Peg
Suited for park-style riding
Lightweight and durable design

View Latest Price →

Best Scooter Foot Peg
Safe non-slip design
Offers great abrasion resistance

View Latest Price →

Best District Scooter Peg
Made from high-quality aluminum
Will fit most models easily

View Latest Price →
What Are Pegs?
Pegs are essentially modifications on the original or standard scooter and are usually installed on the base of where the rider stands. They are basically an addition to the scooter that allows the user to discover a whole new world of tricks and stunts that would otherwise not be possible.
What Are Scooter Stunt Pegs Used For?
Scooter pegs are used to learn different tricks and stunts while riding. These can be for fun or for professional use as well. They help you perform tricks that would otherwise be difficult and dangerous and add stability to your landing as well. Tricks such as toothpicks and ice pick grinds are often done using pegs.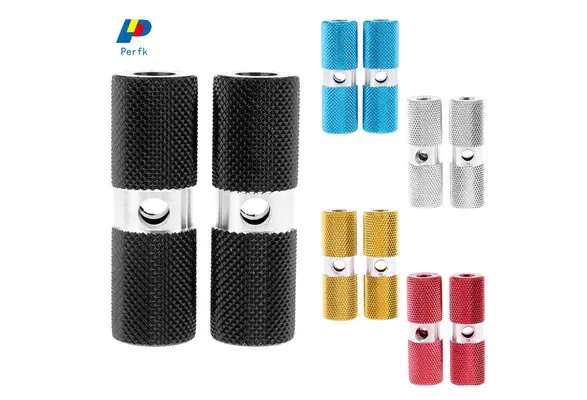 Pros and Cons of Adding Pegs to Your Scooter 
Before we go into detail about the different models of pegs for your scooters, let's go through some of the advantages and disadvantages of adding them to your scooter. 
Pros
Here are a few pros of investing in a good model:
Tricks and Stunts​
If you are a scooter user who does a lot of grinds, investing in a peg will probably aid in your tricks and stunts. If you take sharp turns and get the full use out of your scooter's capabilities, a peg will make these stunts easier and more efficient. 
Stability
If you have difficulty landing firmly on the ground after doing some flips or other stunts, a peg can be a very useful addition to your scooter. It adds extra stability to your ride and makes sure that your landing is perfect each time.
New Possibilities
While you can perform many stunts without using a peg, the addition of one can provide endless stunting opportunities. You can perform toothpicks, and ice pick grinds with one installed in your scooter.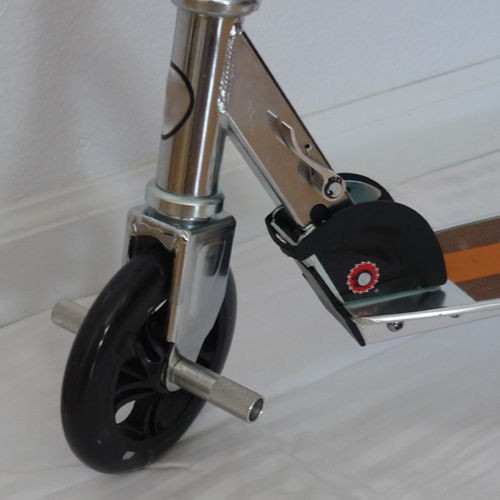 Cons 
The disadvantage of using a peg, however, is mentioned below:
Weight
If you are not a fan of stunts and tricks, then the peg will just be an extra burden on your scooter. It will add extra weight to your scooter and not provide many benefits. 
Review of the Best Scooter Pegs
In this portion, we will review the top picks of scooter pegs that stand out to us. Once you know all the details, it will be easier to pick one suited for you. 
Best Overall:
Z-FIRST CNC Aluminum Pegs
What Recent Buyers Report
The users were quite impressed with this peg. Even though it is constructed out of aluminum, it proved to be as heavy-duty and reliable as a steel one without the extra burden of weight. It is also very easy and simple to install on the scooter and comes in different colors. 
Why it Stands Out to Us
This brand of pegs stands out the most because of its high-quality features and construction. These pegs can aid the user in many impressive stunts and tricks. They are also very heavy-duty and durable, which allows them to last for a couple of years without needing to be replaced. 
Moreover, they are lightweight and easy to maneuver when doing tricks and stunts. The wide range of colors also adds to the scooter's aesthetic appeal, making it stand out even more. Gold, blue, purple, and red are a few colors that this brand offers. 
Bottom Line
If you are looking for a high-quality, all-rounder peg that provides a visually appealing look and has commendable performance, then this is the one for you. With its design and construction, it will definitely not let you down. 
Runner-up:
DropIn Scooters DIS Classic Scooter Pegs
What Recent Buyers Report
Most of the users who invested in these pegs were thoroughly impressed by them. Not only do they have an oil slick rainbow metallic finish, but they are also very sturdy and robust. They add an extra oomph to your scooter and make riding more fun and quirky. 
Why it Stands Out to Us
If you are looking for pegs that have the durability and strength of a steel peg and a fantastic aesthetic appeal, then these are for you. These pegs include axes made from the finest grade steel and are designed with aluminum alloy for less weight on your scooter.
Along with those features, the metallic finish is oil slick and protects them from being tarnished or rusty. This is an added bonus, as it extends the life of these pegs and makes them more usable for a longer period of time as compared to other models. 
Bottom Line
To sum up, if you are on the hunt for stunning, sturdy, and durable pegs for your scooter, then do take a look at this model. With its impressive features and design, it is bound to leave you in awe. 
Best for the Money:
Liberty Pro Scooters – Aluminum Pegs with Axles
What Recent Buyers Report
Apart from the pegs being a little tough to tighten on the scooter, everything else about them is remarkable. They fit with most of the freestyle pro scooter brands and are made with high-quality aluminum. They are also very aesthetically pleasing to look at. 
Why it Stands Out to Us
Looking for the best scooter pegs to buy for the money? Well, you don't need to scroll further, as this one ticks all the right boxes. From its design to its aesthetic appeal, this is the perfect model for your scooter. It is inexpensive, high quality and can help you with grinds and stunts.
Moreover, these pegs are lightweight, which makes them the best for street riding or hitting the rails with your scooter at the park. They are also very beautiful to look at and perform efficiently as compared to other expensive models. 
Bottom Line
Overall, if you are on the hunt for pegs that will provide you with all the features of a high-end model without breaking the bank, then do take a look at this one. These are definitely worth the purchase. 
Best Envy Scooter Peg:
Envy Aluminum Pegs
What Recent Buyers Report
Users absolutely loved these pegs as they were easy to connect and install. They are super sturdy and of high quality, so you know that they will last you for a long time. Moreover, the green color is quite catchy and looks visually appealing when riding the scooter.
Why it Stands Out to Us
The reason why these pegs stand out is because of their performance and durability. With the increasing trend of scootering in parks, most scooter users love to grind on the rails or cope. These pegs are the perfect addition to your scooter if you love doing that, as they are specifically designed for grinding.
Moreover, they are constructed with high-grade 6061 aluminum, which is durable but also lightweight. This ensures that you don't feel any extra weight on your scooter when you're riding, while also helping you keep a balance and perform stunts and tricks. 
Bottom Line
For better grinding and stunts in the park, you should definitely consider investing in these scooter pegs by Envy. They are not only durable but are also efficient and come in an attractive green shade. 
Best Scooter Foot Peg:
Konesky 1 Pair Rear Pedal Pegs
What Recent Buyers Report
Those who wanted something heavy-duty and reliable found these pegs to be really helpful in grinding. It comes with anti-slip protection and scratch-resistant surface that makes it really reliable and safe for a longer period of time. It is also easy and quick to install.
Why it Stands Out to Us
These pegs are designed for maximum efficiency and convenience for the user. They are made with the highest quality alloy steel that is abrasion-resistant and durable. They can also be used as a rear dial protector after installing and are scratch-resistant.
Moreover, these pegs are heavy-duty and can carry a lot of weight at once. The maximum weight of the pedal is about 150kg, and it is really convenient to use for traveling purposes as well. Moreover, they are easily installed and can be mounted on and off quickly.
Bottom Line
If you are on the hunt for the perfect peg for your scooter, then this is the most reliable one of all. With its high-quality construction and incredible performance, it is bound to leave you impressed. 
Best District Scooter Peg:
Kutrick Pro Scooter Pegs Set with Axle Hardware
What Recent Buyers Report
Almost all the user reviews of this product were five-star ratings, as these pegs are truly exceptional. They are super easy and safe to install, provide great value for the price, and are great if you want to practice some tricks and stunts on the street or in the park.
Why it Stands Out to Us
This set is of high quality and made with the best grade aluminum for better performance and enhanced durability. It comes in different colors, including pure black and chrome finish. It also has different-sized axles that allow it to be used for different brands of scooters.
Moreover, these pegs help the scooter to grind and perform any sort of tricks on the street. They are also stylish and light on the bank, which makes them stand out. This unique set is very useful for professionals who like to switch up their scooters, making it an excellent deal.
Bottom Line
Overall, if you are looking for a set that comes with different-sized axles, then this is the one for you. It is also super convenient and easy to install, making your job much easier and simpler. 
Best Pro Scooter Peg:
GRAVITI CNC Aluminum Pegs
What Recent Buyers Report
These pegs are of high quality and left the users pretty impressed. They are durable and robust, making them last for a long period of time. They allow you to do fun tricks and stunts on the streets and are also very aesthetically pleasing. Overall, they are perfect and stylish. 
Why it Stands Out to Us
With high-quality design and unique features, these pegs are definitely on the top for being the best pro scooter peg. The CNC machined design allows the professional scooters to do tricks that would be impossible otherwise. The customer service that comes with the purchase is an added bonus as well. 
Furthermore, the design is super-efficient and reliable. These pegs are also super easy to install and are used for grinding and doing other tricks. The high-grade aluminum construction also makes it lightweight and ideal for street riding. These pegs are also perfect and fit for most scooter decks. 
Bottom Line
So, if you are looking for the most reliable, strong, and high-quality pegs for professional use, then these are the ones you should consider. With its impressive features and design, it is the perfect model for pros. 
Are All Pegs The Same? 
Pegs come in different shapes and sizes, and they are different for each scooter model. The size and quality of each peg also depend on the brand and the model it is. 
Pegs come in different materials, the two most popular being chrome steel and aluminum. Both these materials have their own pros and cons and are used for different purposes.
Steel offers stronger and stable street riding and is much heavier than aluminum. Meanwhile, aluminum is lighter, and it is good for park riding and isn't as robust as steel. Pegs are also replaceable in case you want to grind stone or concrete curbs. 
How to Choose Quality Scooter Pegs
Before you decide to buy any of the aforementioned scooter pegs, you should go over the following considerations. This will help you gain some clarity on how to shop for the right kind of pegs for your scooter:
Skill
If you are a starter or beginner at scooting, then you don't really need to invest in a high-quality or pricey peg. For kids or for normal use, a regular, cheap peg will do just fine. However, if you are a professional and require a good-quality peg for doing tricks and stunts, then you should consider going for a more durable and high-quality model. 
Fit
Most of the pegs in the market are made to fit different scooter brands. However, if you have a unique scooter, make sure that you take a look at the type of peg you're going to buy. If you don't consider the fit, it may not install on your scooter at all. A scooter with a wider dock may not be able to accommodate a peg that has a thicker end. 
Type of Peg
There are two different kinds of pegs: integrated and non-integrated. The former includes the peg and the axle bolts that are to be screwed into the peg. The latter is attached to the scooter's already existing axle bolts. You should determine which peg type you need depending on the type of scooter that you have.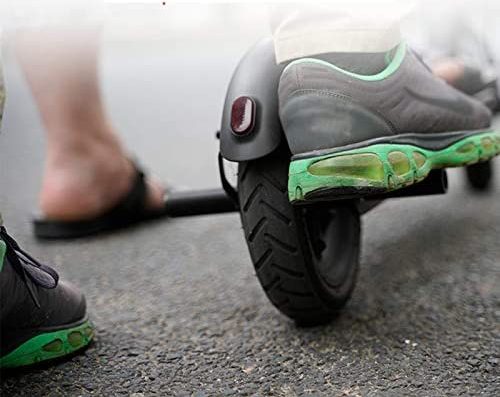 Konesky 1 Pair Rear Pedal Pegs
How to Put Pegs on a Scooter
Now that you know what features to look out for, let's go over the installation process. Here is a quick rundown of how to put pegs on the scooter. You can also check out the video link posted below for a visual guide on the installation:
Firstly, the basic tools that you will require are a hammer, a wrench, a ratchet, the sockets, peg set and size 4, 5, and 6 Allen keys.

Remove the stock axle and attach the socket. Make sure that it is reversed so that it is removed easily.

Then, remove the nut and save the washer. You should hit the axle, making sure you keep the wheel and fork.

Attach the washer and nut to the stock axle, making sure that everything is intact. Make sure that the nut is fixed perfectly and doesn't come loose. 

There you have it! It is really simple and easy to do, and all it requires is a little bit of effort and time.
If you want a detailed overview of this process, do take a look at the video below so that it is easier to follow the instructions.
Conclusion 
Hopefully, this article provided you with enough information on which pegs to buy for your scooter. With the right kind, you can completely woo your friends with amazing stunts and tricks! You can also have more fun while driving it on the street or in the park. Happy Scooting!
People Also Ask
If you still have some queries or concerns, you can read below to get answers to the frequently asked questions. This will help clear out most of your doubts or ambiguities regarding scooter pegs and their installation. It will also be useful in deciding which one you should buy for your own scooter:
Are Scooter Pegs Worth it?
If you are a normal everyday scooter user, then you don't really need scooter pegs. The added weight will just make it bulky and difficult for you to maneuver the scooter. However, if you are looking for stability in your scooting, and want to learn or perform stunts, then investing in one is a good idea.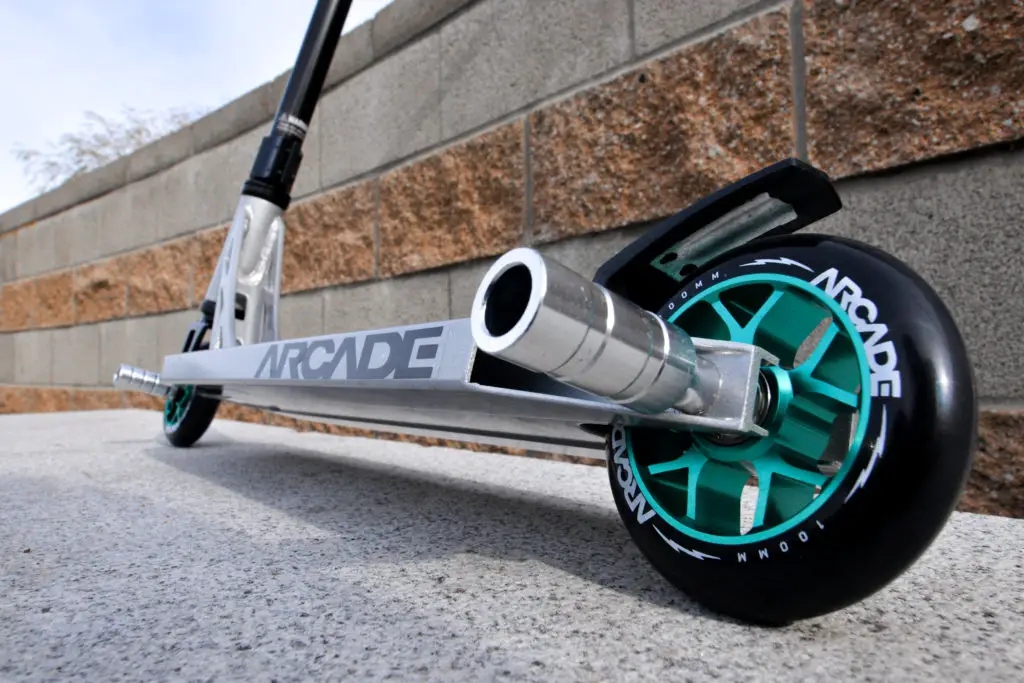 Which Side Do Stunt Pegs Go on a Scooter?
If you are riding a ramp, then you put the pegs in the opposite direction of your turn. However, if you are riding on a flat surface or a level one such as the street, then just install it wherever you feel most comfortable. Some users find it better on the left, whereas others like it on the right. 
How Do You Remove Scooter Pegs?
In order to remove your scooter peg, get the Allen key, and unscrew the back axle. Twist the peg off, and it will come out easily. It does not take a lot of time; all you have to do is undo the steps you did when installing the peg in the first place.