Oils are the very backbones of all automobile engines! Being one of the most important components responsible for keeping your scooters in pristine condition, it's essential for you to choose one that extends the life of your scooter while maintaining smooth functioning and efficiency.
You need to be aware of what you're pumping into your scooter. The market will present you with a wide-ranging list of scooter oils, one for every need; the job here is for you to analyze which one will prove to be the best for your engine. That can be a little bit of a puzzler!
Choosing an engine oil wisely is imperative for extracting peak performance. Since all users are captivated by exactly that, we would like to sort the process for you and give you our suggestions for what we think are the finest oils for 150cc scooters. 
At A Glance: Our Top Picks For Oil For 150Cc Scooter
Comparison Chart of the Best Oil For 150cc Scooters
Can Any Oil Be Used in a 150cc Scooter? 
To answer that question, no! What may suit your friends' bike may not certainly be good for your own scooter. Also, the oil you put in other motor engines is on a completely different wavelength than scooter engine oil. You can check your user manual for the recommended oil type. 
Moreover, engine capacity needs to be taken into account while formulating a decision. Different engine capacities require specific kinds of engine oils; therefore, the best oil to eliminate wear and ensure maximum efficiency and temperature stability for a 150cc scooter is a regular 0W-40, 10W-30, or 15W-40 fully synthetic.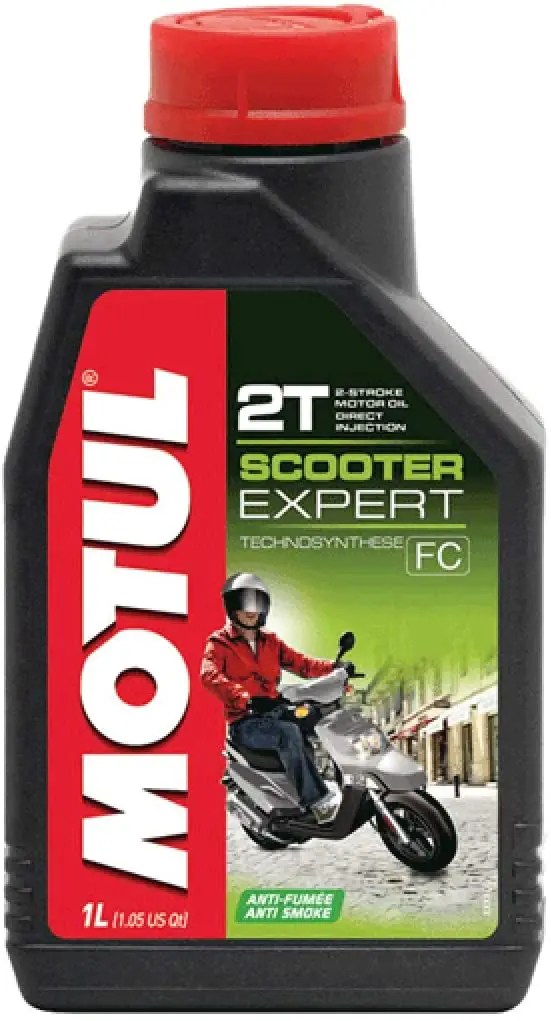 Motul Scooter Expert
How to Choose Oil For a 150cc Scooter
Engine oil in a scooter is very much like blood in the human body; hence you need to be cautious of what you're putting into it, or it can seriously disrupt its performance. A comprehensive catalog of functionality involving lubrication, cooling, engine protection, efficiency enhancement, and friction reduction makes it imperative to select the best of the best. It's a small price to pay in the long run.
Here are some factors to help you choose the right oil:
Synthetic Blend/Fully Synthetic Oils
Personally, we think synthetic blend or fully synthetic engine oils prove to be the best because they reduce internal friction and foster a smooth movement of engine parts as compared to mineral oils.
Viscosity 
The next thing you need to be on the lookout for is viscosity. Low viscosity oils flow freely while high viscosity oils flow comparatively slower. As mentioned earlier, 0W-40 fully synthetic oils substantiate an engine's peak performance. You might want to opt for engine oil that is relatively higher viscosity once your scooter has aged.
0W-40 Oil Grade
Oil grade enlightens you on the perfect viscosity for effective lubrication in a particular temperature range. For example, for 10W-30, 10 shows low-temperature viscosity, and 30 indicates high-temperature viscosity. 
In the winters or if you live in an extremely cold area, it's ideal to choose one that has a low 'W,' indicating a low-temperature winter rating. In the summers, you might want to use one with a higher viscosity because it sticks to the engine's internal parts, providing lubrication in higher temperatures.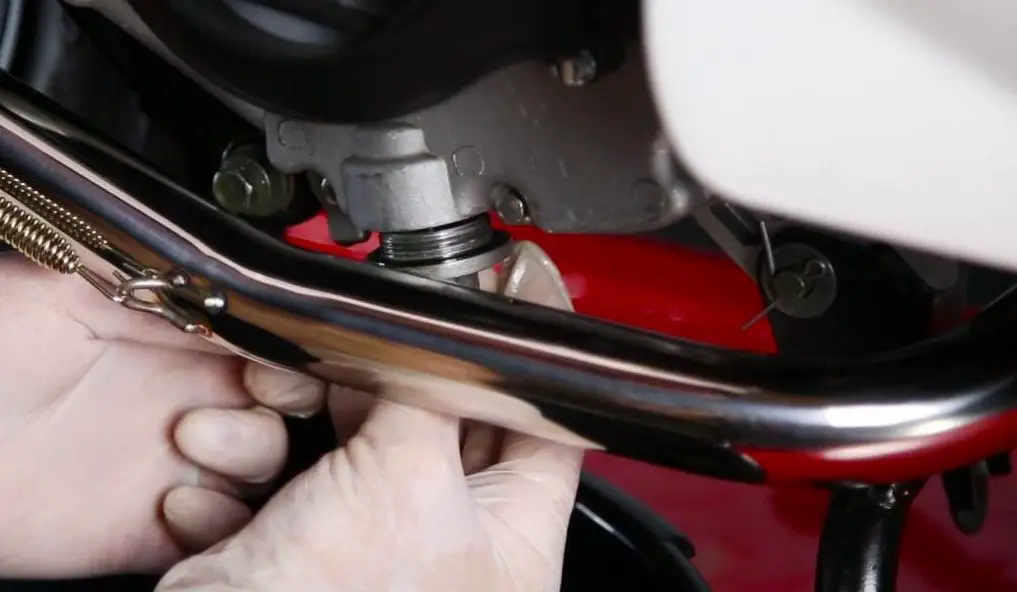 Riding Style
This is another factor to account for as motorcycle oil varies according to it. For performance enthusiasts, we would recommend buying synthetic motor oils. On the contrary, if you're a calm driver, mineral oil would be a perfect choice; it's usually pumped into brand new scooters.
Compliance Standards 
Lastly, always look out for compliance standards and standard marks to ensure the high quality of the engine oil. These include SAE, JASO, or API marks on the bottles.
Review of the Best Oil For 150cc Scooters
There are numerous engine oils available in the market, which makes the selection process a tedious job. Selecting the wrong engine oil would waste your money and damage the bike and lower its performance. Reviewed below are some top oils you can go for.
Best Overall:
Motul Scooter Expert
What Recent Buyers Report
According to customer reviews, after using Motul Scooter Expert in cold weather conditions, the scooters started quite easily and in the first try every time. Moreover, the engine oil is competitively priced and meets all the recommendations that were claimed by the manufacturer. Customers were happy that after using it, the engine became smoother and more efficient while running.
Why it Stands Out to Us
Motul Scooter expert, with its specifically designed formula for four-stroke engines, is quite flexible and can be used for scooters ranging from 50cc to 600cc. With its high resistance to extreme temperatures, it performs extremely well with powerful engines.
Motul fulfills all API SJ standards and offers numerous benefits such as anti-oxidation, anti-corrosion, and reduced sludge buildup. It works extremely well for urban traveling.
With lower viscosity, it not only reduces fuel consumption but also keeps the engine in shape, even in excessive idling. All these factors make Motul scooter expert an all-rounder when it comes to engine oil for scooters.
Bottom Line
All in all, for someone looking for the best overall engine oil, we would suggest Motul scooter expert. The extensive list of pros and generally positive customer reviews authenticate its worth despite the high price.
Runner-up:
Maxima Scooter 4T
What Recent Buyers Report
Most buyers state that the gas mileage increased after switching to Maxima, and it worked better on scooters without a wet clutch. Consumers were also happy with their scooter's performance in cities since heat issues related to excessive idling decreased.
Why it Stands Out to Us

Maxima Scooter 4T is mineral oil with advanced additives that increase the engine's performance while keeping it clean by reducing the exhaust smoke, which may be detrimental for the engine in the long run. Mechanics especially recommends this engine oil for engines under 200cc.
In addition, Maxima Scooter 4T exceeds all the certification standards. With its anti-wear, anti-scruff, and anti-shear properties, it can easily cope up with high temperatures and extreme load. Finally, with its all-weather formula, you can be sure of an easy start all year round.
Bottom Line
Simply put, Maxima Scooter 4T is the way to go for your moped or free-revving, and modern scooters. It has an advanced formula that promises a bunch of benefits and keeps your engine protected.
Best for the Money:
Royal Purple ROY01315
What Recent Buyers Report
Recent buyers state that Royal Purple is high-quality oil, and after using it, the engine becomes quieter, the shift becomes smoother, and engine temperature becomes cooler. While some are annoyed by the rather dark purple color, others have no complaints about it, especially because of the benefits it provides.
Why it Stands Out to Us
Royal Purple, with its special additive technology 'Synerlec,' increases engine performance and maximizes the film strength on the cylinder wall. According to the company, the film is 400% stronger than other leading mineral and synthetic oils. This results in far greater protection from oxidation, corrosion, and engine wear.
Moreover, Royal Purple qualifies all the API and JASO requirements. It also reduces fuel consumption while increasing engine horsepower and has a positive impact on the reduction of heat and emissions. With its synthetic solvency, spark plugs and exhaust ports are automatically cleansed when the engine is running.
Bottom Line
To sum up, Royal Purple will offer you the best value for your buck. This purple-colored oil is bound to extend the scooter's longevity while providing a range of other advantages. Thus, it will make for a great investment.
4. Ravenol J1V1101 2-Stroke Scooter Oil
What Recent Buyers Report
After shifting to Ravenol, most buyers report that their scooters start effortlessly and produce less smoke. Moreover, according to customers, this is the best oil for all two-stroke engines due to Ravenol being a fully synthetic oil. It's great for high performance and works very well in high temperatures and long drives
Why it Stands Out to Us
Ravenol is a fully synthetic oil blend that is specifically designed for two-stroke scooters. The oil meets all ISO, JSO, and API specifications. The additives used in it not only cleanse intakes and exhaust ports but also eliminate combustion residue and sludge on spark plugs, thus resulting in efficient combustion. It also has a positive impact on emissions and provides excellent lubrication to the entire engine.
In addition to the presence of special esters like Polyisobutylene (PIB), optimum protection against corrosion, wear, and deposits are ensured. This oil works best for heavy load and high-speed two-stroke scooters.
Bottom Line
The Ravenol two-stroke scooter oil guarantees superior mechanical performance for air and water-cooled two-stroke engines by providing excellent lubrication of all engine parts. Even though it can only be used for two-stroke scooters, it has become a fan favorite for people that own just that.
5. Castrol Power 1 10W-40W
What Recent Buyers Report
Users state that the oil was great to use all year round with smooth operation in high temperatures while equally effective with cold starts. Moreover, customers were quite happy with the increased throttle response and engine performance after using Castrol. They found that the shifting was smooth too.
Why it Stands Out to Us
Castrol Power 1 is a synthetic blend that has been specially designed to increase the performance of the engine. Thanks to the fast-flowing technology, it has been tested and proven to increase the acceleration and throttle response by greatly reducing internal engine friction.
Moreover, Castrol Power 1 comes with tri-zone technology, which ensures all-around protection of the gearbox, clutch, and engine. It is also capable of changing viscosity under mechanical stress, which helps it cope with extreme temperatures better.
If you love racing and crave for the thrill, then Castrol is the oil for you. Lastly, it fulfills all the requirements of API and JASO standards.
Bottom Line
According to users, there's no superior bike specific oil for an 'almost' eradication of clutch disc sticking. We'd say this is an all-rounder perfect for consumers owning four-stroke engine scooters. Overall, Castrol Power oil remains one of the top products in the market for the current year.
Cautious Considerations to Keep in Mind
The oil you should ideally use is mentioned on the user's manual of your bike, and it would be best to follow the specified guidelines. However, in other cases, not all types of oils work the same way. For instance, a four-stroke engine oil might not work for a two-stroke engine.
Similarly, there are other considerations to remember, including:
Synthetic Oil is Unnecessary, Provided the Scooter is New
Synthetic oil on paper seems better as it is tailored for engines alone, having higher heat tolerance, but it might not be necessary for all scooters, especially newer ones. Thus, spending more won't mean getting optimal performance.
Mixing Additional Additives to Freshly Changed Oil is Useless
Adding or mixing additional additives is not recommended when you've changed your oil, as synthetic blends already have additives; adding more will not offer any further benefit.
Driving Conditions Should Be Taken Into Consideration During Oil Maintenance
Driving conditions such as temperature and the types of pavement will have different effects on the bike and will require different oil maintenance care. For instance, off-road driving might require higher grade frequent oil changes comparatively.
The Ideal Viscosity For Oil is Directly Related to the Age of the Scooter
The age of the scooter and, more specifically, its engine is of high relevance. For more mileage, it may need high-mileage oil with a higher viscosity.
This is because it might have more qualities better suited for the wear and tear the engine has gone through.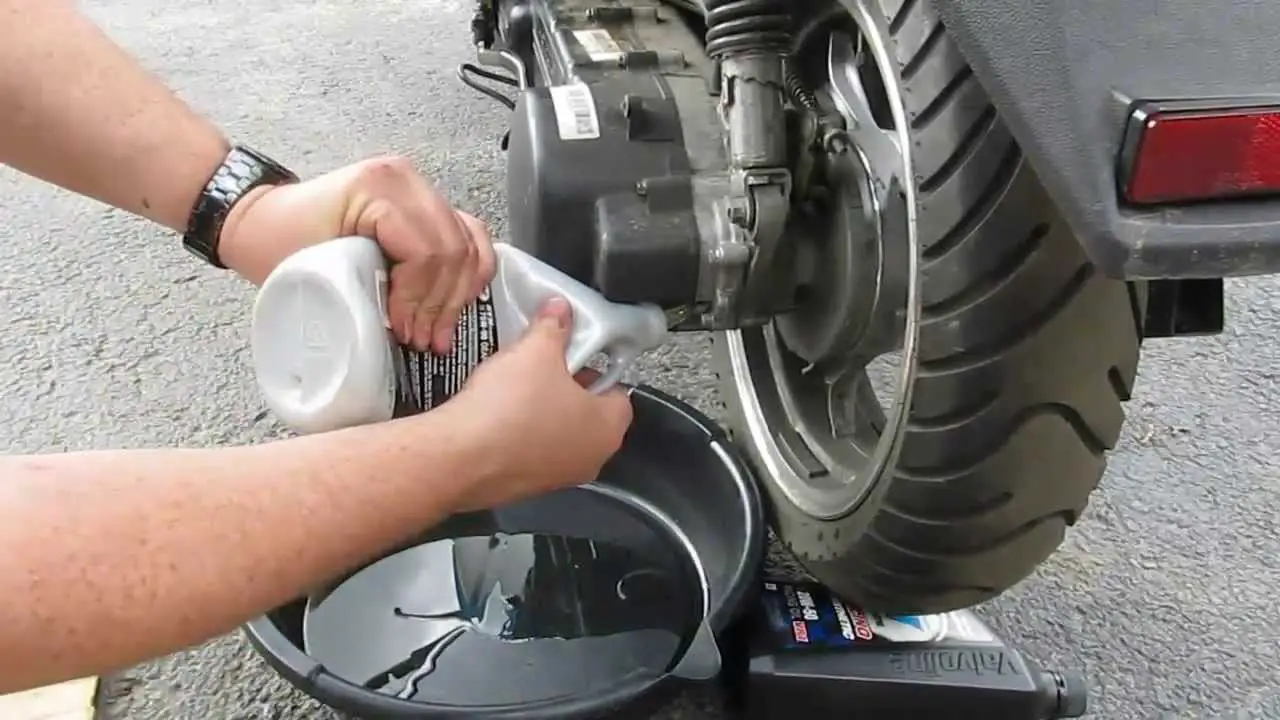 Noise and Clutch Slippage
Noise and clutch slippage is another factor to be considered into account, as mentioned before. Also, changing the oil filter should not be overlooked.
How to Change the Oil in a 150cc Scooter
Changing the oil in your own scooter is not that difficult. If your mechanic is unavailable or if you're planning on doing it yourself regardless, here is how to go about it.
Firstly, locate where the gearbox oil of your scooter is. In most cases, it will be situated below on the back of the engine. Have some equipment such as tools (10mm socket wrench), gloves, cleaning cloth, and containers to catch the leaking oil and the new oil in hand before beginning.
Then, unscrew both of the bolts with a 10mm socket wrench, starting with the upper one first. It will start leaking the oil as soon as you unscrew the bolt.
You will need to wait for it to drain all the oil from the upper and then the lower part, leaving gravity to do the work for you.
After the oil is drained completely, screw back the bottom bolt and squeeze in the new oil through a nozzle into the upper bolt hole until it starts to overflow.
Then, let it drain until only a few drops are left dripping from the top bolt hole and screw the upper bolt back as well.
Keep in mind not to apply too much force when tightening the bolt back as this may cause the bolt or the threads to break. It is best to watch the video below as it shows a detailed guide, which is much easier to grasp.
Conclusion
To recapitulate, we see how different types of oils interact with different kinds of engines. It is quintessential that you know the model or make of your own scooter before beginning, as there are many options to choose from. Once you know the specifications, you will have the tools to trickle down what fits the bill for your needs.
From a synthetic blend of a high-tech engine to a high viscosity thicker oil for an older working engine, we discussed what is best for a four-stroke engine and what is best for a two-stroke engine. Make sure you take into account all factors before making your pick!
People Also Ask
Here's a selection of commonly asked questions scooter users generally inquire about. Read through them to answer your queries.
How Much Oil Does a 150cc Scooter Take?
You'll need around 0.8 to 0.9 liters, just under one qt. Every scooter comes with a recommended level you can fill up to. Check this level with a dipstick from time to time in order to fill it up to the given recommended level.
How Often Should You Change Oil in Scooter?
It's imperative to change your scooter's oil every 1000-2000 miles, depending upon the manufacturing company. Manufacturers will usually advise you regarding an ideal oil changing frequency. This information can be retrieved from the owner's manual under the maintenance schedule section.
On the other hand, if your scooter has remained unutilized for a long time, it's essential to change the oil regardless of mileage.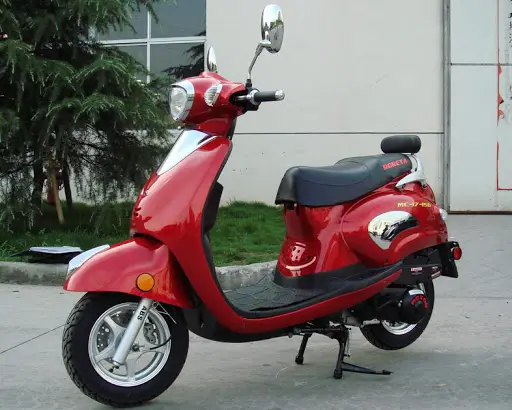 What Oil Does a Scooter Take?
Again, we recommend users check their owner's manual for the recommended oil type for their particular model, but generally speaking, for a four-stroke scooter, it's ideal to use 10W-30 or 15W-40 engine oil.
Two-stroke scooters, however, need a slightly different oil designed for their particular configuration. Since two-cycle scooters use a phenomenon known as a total loss lubrication system whereby the oil is mixed with the fuel, it's crucial to use an oil specially designed for that purpose.
Can I Use Car Oil in my Scooter?
Absolutely not! Choosing an oil not specifically designed for scooters as labeled on the packaging can cause irreparable damage. Car and scooter oils are on completely different wavelengths than one another.
Car oils contain friction modifiers designed to reduce friction between moving parts of a car, while scooter oils require the same oil for their engines and gearbox. Hence the two cannot be interchanged.
Other Scooter Reviews
Here are some other scooter related reviews: