The invention of mobility scooters has had an immensely positive impact on the lives of disabled people. This electric vehicle has eased commutation for them.
However, the thousands of options available with attractive features confuse us most of the time. This is why it's daunting to pick the best, functional, and most practical scooter for yourself.
To help you out, the following article has all that you must know. It contains several product reviews and also lists factors that determine a product's worth. Have a look!
At a Glance: Our Top Picks for Mobility Scooter For Outdoors
Comparison of the Best Mobility Scooters For Outdoors
IMAGE
PRODUCT

Our Top Pick

12 ah battery with a drive range of 9 miles per charge
Equipped with an easy-to-adjust delta tiller
Comfortable height adjustable seat

View Latest Price →

Top speed of 3.7 Mph with a drive range of 12.4 miles per charge
Designed to provide comfortable maneuverability
Optimized control panel with integrated battery indicator

View Latest Price →

Best Budget Option

Best for the Money
Features remote accessed automated folding
Equipped with a 8.7Ah battery with 15 mile travel range

View Latest Price →

Built with front and rear suspension
Excellent traveling distance of up to 18 miles
Can reach speeds of 5 Mph

View Latest Price →
What Makes a Great Mobility Scooter For Outdoors?
A mobility scooter is generally aimed at providing ease and independence of movement for people who can't drive ordinary vehicles. But there are some qualities that make these vehicles worthwhile. In other words, some characteristics and features make these vehicles stand out. These include:
Flexibility and Comfort Level
The main purpose of mobility scooters is to make driving feasible and convenient for people who feel uncomfortable on regular vehicles. Thus, to achieve this purpose, padded swivel seats are used that can be adjusted to the desired height.
Also, height-adjustable and cushioned backrest, leg-rest, and armrest also add to the comfort. 
High-Speed Performance
These units are extraordinary in design and boast high speeds even when the battery is low. The speed limit goes high up to six miles per hour.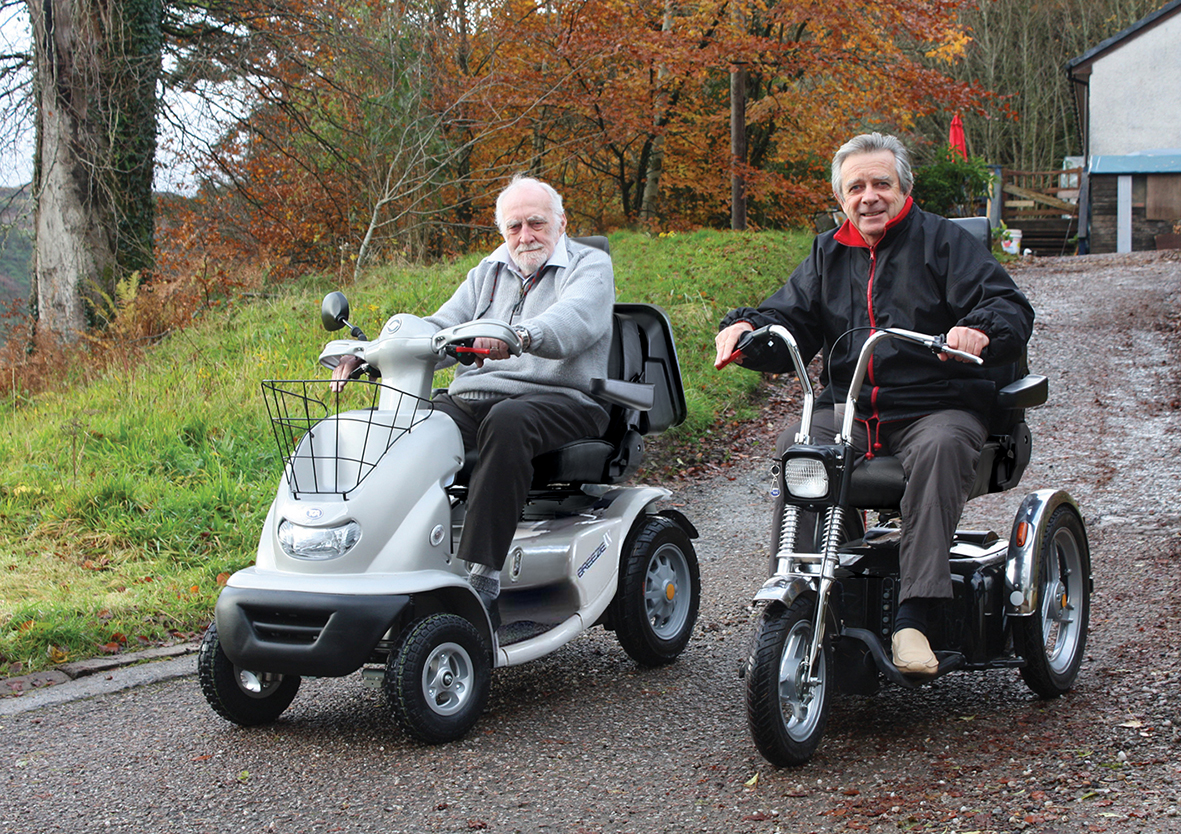 Load Capacity
Every scooter has a certain weight-bearing capacity. In most cases, these vehicles offer a weight limit of around 300 pounds at the maximum, which is highly advantageous for heavyweight riders.
Easy to Set up
Once you receive and unbox the package, you can join the individual components and parts in a few minutes. There are no complicated techniques and no head-scratching procedures. Some products require only one person to assemble the product.
Can Any Mobility Scooter Be Used Outdoors?
No, not every product has features that go well with the requirements of driving outdoors. First of all, a mobility scooter should be able to run a long way with a single charge. If the vehicle's battery is not a large one, it will require frequent charging, and it will stop working intermittently after short distances.
Moreover, you never know the conditions of roads on different routes, so you need a vehicle capable of overcoming difficult roads. Therefore, a mobility scooter must also have large tires to run on different terrain to qualify for outdoor driving.
Review of the Best Mobility Scooters For Outdoors
Many brands have come up with modern innovations. As a result, we find a sea of products packed with advanced features and functions, making the selection difficult. We have compiled a bunch of sturdy and versatile scooters reliable for outdoor commutation for you to check out!
Best Overall:
Drive Medical Spitfire Scout 4
What Recent Buyers Report
People shared their experience of using this product and reported that the battery life is quite promising. It worked great for heavyweight riders. The basket mounted at the front allowed them to do grocery shopping on this vehicle and store small items, such as books, phones, and wallets, safely. The overall feedback indicates that the product performs exactly as it is described.
Why it Stands Out to Us
This unit by Drive Medical offers a great deal of comfort. The seat, along with the armrest and backrest, is thickly padded and adjusted to the rider's height accordingly. The front part entails a basket that provides enough room to hold grocery and small items like glasses, mobile phones, books, water bottles, etc.
Operating on a 12Ah battery, this unit boasts a maximum runtime of nine miles. Hence, long rides can be accomplished with just a single charge. It is designed to withstand the load of heavyweight individuals and comes with a capacity of about 300 pounds.
Bottom Line
With a long-running 12Ah battery, the vehicle can accommodate a person of up to 300 pounds continuously for nine miles at a speed of 4.25 mph. The color of the panels can also be changed from red to blue and vice versa, thereby providing customizability. 
Runner-up:
Vive 3-Wheel Mobility Scooter
What Recent Buyers Report
Most of the people were satisfied with this product, especially due to the five-year warranty backing it up. According to buyers, the construction quality of the unit is worth every penny. 
People also reported that it worked incredibly well on straight roads. The variable speed controller fascinated driving enthusiasts, which allowed them to have full control over the vehicle's speed.
Why it Stands Out to Us
The Vive three-wheel vehicle's incredible design includes a control panel situated at the front with a dial intended to control and change the vehicle's speed. The maximum speed it gives is 3.7 miles per hour.
On a set of fully charged batteries, it can cover a distance of up to 12.4 miles on moderately rough roads. You can enjoy long rides sitting on a cushioned, height-adjustable seat supported by a flip-back backrest on this vehicle. The flip-back feature is introduced for people who prefer reclining seats.
All these features come with a limited warranty of five years. Any complaint regarding the performance or build can be reported and get resolved easily.
Bottom Line
Overall, this vehicle features a foldable design that guarantees hassle-free storage and handling as well. You can make the rides more thrilling by controlling the speeds you wish with the user-friendly control panel.
Best for the Money:
EV Rider Transport AF+
What Recent Buyers Report
Featuring an innovative key-ignition mechanism, the vehicle is supported by quite a lot of praise by buyers. This new and latest operating method gave people a real bike-like feel. Customers also appreciated the innovation of folding components, making it more concise and convenient for storage and transportation.
Why it Stands Out to Us
Powered by a 270-watt motor, this scooter features a key-ignition mechanism, just like a regular bike. It runs on fully charged batteries for 12 to 15 miles.
When it comes to dismantling the product for transportation, it amazes every user. Just fold the components in three simple steps, and move it around in your SUV. You can also fold down the backrest or remove the seat for temporary storage.
The product includes headlights and taillights at the front and rear sides to brighten the surroundings when riding in low-light conditions. As a result, it's a lot safer than other products on the market.
Bottom Line
Offering such a prolonged runtime, the lead batteries in this unit significantly enhance the scooter's speed. Meanwhile, the speed dial lets you manage and control the speed as needed. You can also use this vehicle for traveling at night as it entails heavy-duty headlights and taillights.
4. Golden Technologies BUZZAROUND EX Extreme
What Recent Buyers Report
What users liked the most about this product is its excellent speed of five miles per hour. Besides this, the cushioned seat and backrest kept them at peace. They had no issues in assembling or dismantling the product. Plus, they loved the battery life and reported that they wouldn't have a problem purchasing this unit again. 
Why it Stands Out to Us
We like a number of things in this unit. It comprises a height-adaptable seat, combined with the proper suspension, equipped at both front and rear ends. This combination results in the absorption of jerks and bumps and makes the ride safe and pain-free.
Whenever you head out to a picnic or camping, don't forget to take this mobility vehicle. By following simple instructions, you alone can disassemble the product and make it portable.
It runs on two UI batteries that offer a range of 18 miles at a speed of five miles per hour. Besides, it exhibits a great turning ratio to navigate around narrow and congested locations and to ensure sharp turns with utmost balance.
Bottom Line
Being lightweight and having a space-saving design, the vehicle is all set to join you on every picnic, camping, and field trip. If you are a heavyweight riding champ, you can consider this vehicle as it also offers 300 pounds as the maximum load capacity.
5. Hummer XL Tzora Titan 4
What Recent Buyers Report
Overall, buyers are happy about the vehicle's foldable design. They reported that by folding the seat and disassembling the product, they could easily transport the vehicle. Another great thing is that it runs smoothly on slopes, so many disabled people felt secure using it outdoors.
Why it Stands Out to Us
There are several reasons and features that make this product a part of our list. Firstly, it has an unmatched speed limit of about six miles per hour. Apart from that, the scooter runs for 15.5 miles on a single charge, so recharging will not be a hassle for you. There's also an indicator on the front panel to notify you about the battery status.
The other impressive quality of the vehicle is that it works well on elevated terrain. Thus, you don't need to change your route anymore if a steep hill comes your way.
Moreover, disassembling the product is easy; it is relatively smaller and more compact in size compared to others. So people with smaller spaces at home or smaller garages can take advantage of this vehicle.
Bottom Line
The excellent quality suspension installed beneath the seat dampens the intensity of impacts. Resultantly, the comfort zone of the rider is not compromised, even for a single moment. Also, the scooter is highly recommended for outdoor uses, especially on challenging, bumpy terrains.
Can You Really Find a Quality Mobility Scooter That's Affordable?
Mobility scooters are an outstanding variety of ordinary bikes and ensure extra comfort. It's hard to believe that such an opportunistic vehicle would come at affordable prices, but you can find one easily. 
Our recommended picks possess noteworthy features like a height-adjustable tiller, key-ignition operating method, spring-loaded suspension, and so on. These units are available at cost-effective prices.
The review also includes many inexpensive products that have long mileages and exhibit a long-lasting battery life. Hence, you can count on our picks if you want high quality at a low cost.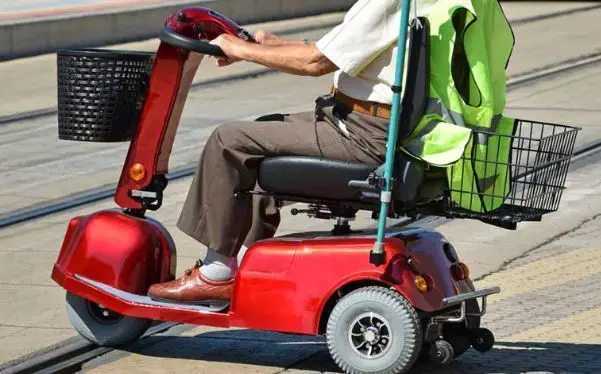 Conclusion
With numerous unique features, the mobility scooters mentioned above have taken the driving game to another level for disabled and old people. You can spend hours riding on reclining, height-adjustable seats without your body aching. Moreover, the well-engineered battery system allows users to explore miles after miles on a single charge.
We hope that with our given list, you can decide which product is favorable to your needs and demands.
People Also Ask
Scooters are quite easy to operate, use, and maintain. But some aspects of this vehicle need to be explained in detail. Here are answers to common questions asked by avid scooter riders.
How Long Should a Mobility Scooter Last?
The life of a mobility scooter depends on how frequently and well you use and maintain it. If the vehicle is used heavily and serviced after every second use, it would last for two years. If it is used occasionally, the maximum life of the product would be four to five years.
Can Anybody Use a Mobility Scooter?
The main idea of designing and constructing a mobility scooter is to offer comfort to individuals who have some disability or experience uneasiness while riding a normal vehicle. But anybody interested in driving an electrically powered scooter and can drive it without any hassle.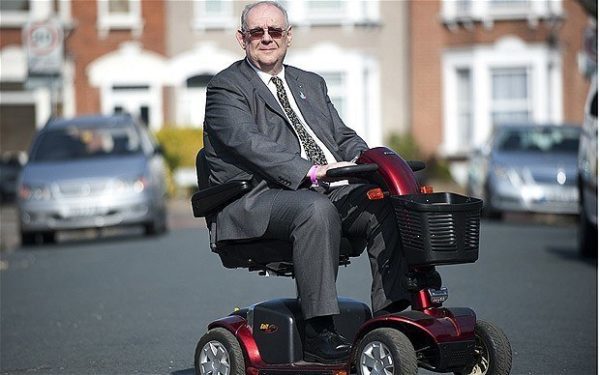 Which is Better For Outdoors, a Power Chair or a Mobility Scooter?
Both are good for outdoors. But if we were to choose one, it would be mobility scooters due to their better battery timing and long-distance mileages. If you use the vehicle for shorter distances, then a power chair is more preferable as it is comparatively easier to maneuver.
What Size Wheels Are Best For Outdoor Terrain For a Mobility Scooter?
Since wheels are responsible for the vehicle's overall stability, we must be careful in selecting the wheel size. Flat wheels of 8×2″ are ideal for a mobility scooter. Scooters equipped with such wheels can easily maintain the balance of larger-sized riders.
Insert Content Template or Symbol