Being struck with a physical ailment that obstructs your ability to walk is a challenge in itself, and not being to find the right kind of medical equipment to assist you in the process is no less of a gainsay. 
So if you're someone who's been substantially impacted by the consequences of this grave problem, you need not worry. 
We're here to deliver a carefully formulated list of what we think will prove to be some of your best strolling companions. 
At a Glance: Our Top Picks for Best Folding Mobility Scooters
Comparison of the Best Folding Mobility Scooters
IMAGE
PRODUCT

Our Top Pick

Quick and simple disassembly
Anti-slip, non-marking wheels
Fully adjustable, padded armrests

View Latest Price →

Airline approved for safe air travel
Up to 4 mph, and can go 12 miles on one charge
Maximum weight capacity of 265 lbs

View Latest Price →

Best Budget Option

Best for the Money
Maximum user weight of 265 lbs
Intuitive, easy to use control panel

View Latest Price →

Best Lightweight Folding Mobility Scooter
Very portable and lightweight
Seating is comfortable for longer spans

View Latest Price →

Best Transformer Electric Folding Mobility Scooter
Frame has a lifetime warranty
Up to 3.75 mph, and 13.7 miles on one charge

View Latest Price →

Best EV Rider Folding Mobility Scooter
46 pounds for easy transport and travel
Up to 15 miles per charge

View Latest Price →

Best Automatic Folding Mobility Scooter
Unique design boasts easy folding
Compact size is ideal for travel

View Latest Price →
Can You Really Find a Quality Folding Mobility Scooter That's Affordable?
The renowned price-quality relationship has dominated the whole commodity market for as long as we can remember. Research indicates that consumer's perception revolves around quality and price being positively correlated. They presume price to be the prime indicator of quality. But that's not always the case.  
We believe that with so much technological advancement happening around the globe, low price and high quality are no longer trade-offs. Of course, the higher you pay, the higher amount of features and standards you will get. But that doesn't necessarily mean you'll have to settle for a low-grade option if you happen to be on a tight budget. People usually have this misconception, but we're here to crack that illusion.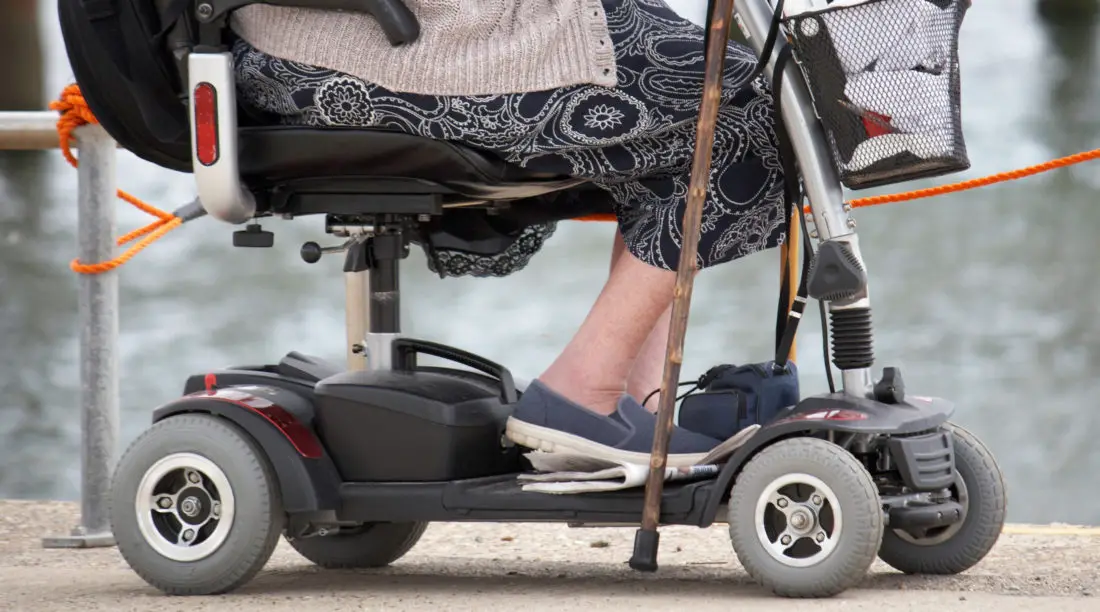 What Should I Look For When Buying a Folding Mobility Scooter?
When it comes to the core features one should look out for when making a purchase, buyers should heed the following attributes in a mobility scooter.
Speed
Contingent upon your purchase intent, it's imperative that you consider the top speed your mobility scooter can travel at. Most versions have a top speed of about four to five miles per hour. 
If you're someone who has to cover longer distances, opt for a model that offers higher speed. On the contrary, if you frequently find yourself in situations that entail covering shorter spans, you can choose a lower speed design. 
Weight Capacity
Another crucial factor one should be on the lookout for is the maximum weight that a foldable mobility scooter can handle. The standard carriage weight these gadgets can offer is about 250 pounds. Make sure you check this feature, as a mobility scooter being too small, or the weight being an obstructive factor to the overall performance and speed of the scooter can result in a wasted investment. 
Weight of the Scooter
The weight of the actual scooter shouldn't be too much that it affects its portability. You have to carry it around to be able to take it outside, push it, or take it in and out of vehicles. Hence, it should be lightweight.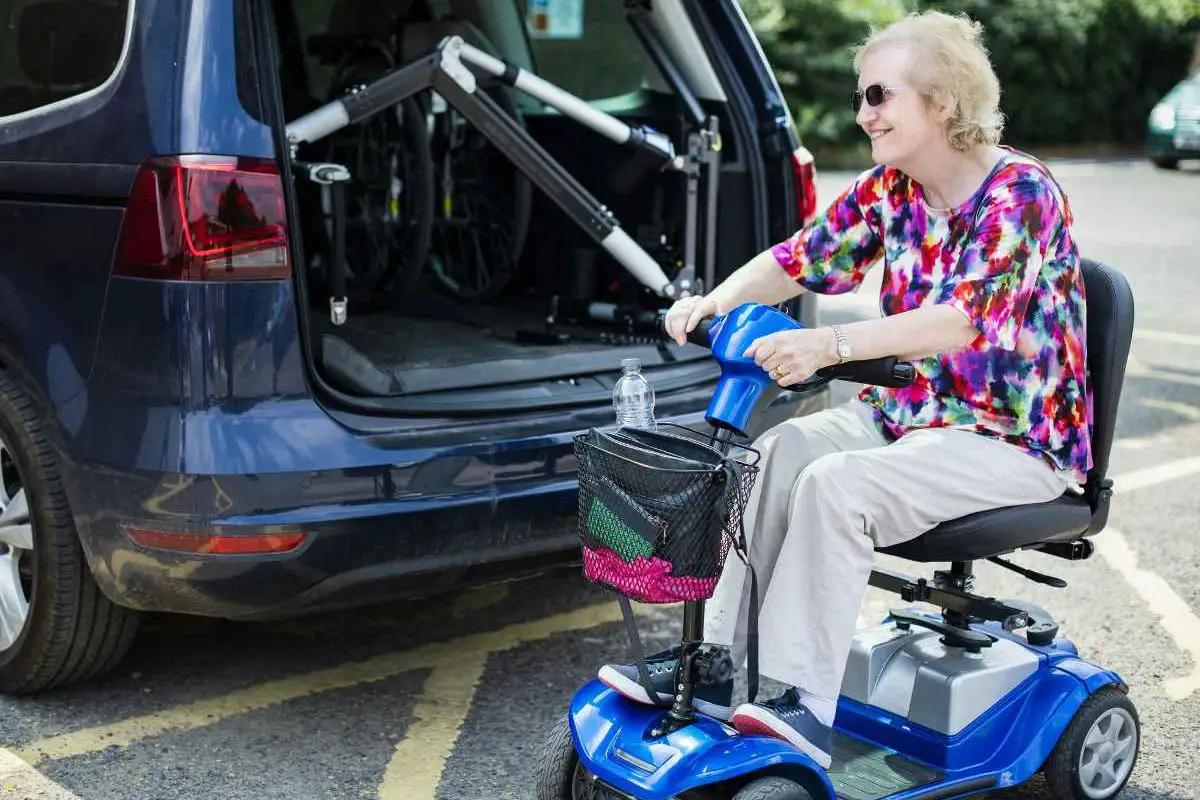 Relief and Comfort
Carefully go through the list of features of a folding mobility scooter in order to establish the amount of comfort you're going to receive. Ideally, padded seatings, variable & adjustable settings, lumbar support, and storage options make for a great product. 
Battery Range
This is another factor dependent upon your intent of use. Your choice of batteries should be influenced by how far you usually hope to travel—obviously, the more, the better. So look for options offering a relatively higher range. On average, most batteries can take your scooter for up to ten miles before dying out. Higher-end models can go up to 15 miles. 
Review of the Best Folding Mobility Scooters 
Let's now have a look at some of the best-quality options out in the market. We've carefully sifted through each product to bring you the best of the best. 
Best Overall:
Drive Medical SFSCOUT4-EXT
What Recent Buyers Report
Buyers claimed to purchase this product to reap benefits from the extended battery life and were utterly impressed. They believed that their money was invested in the best possible way due to the safety, battery life, and durability of the overall product. The compactness and easy disassembly were other star features for them.
Why it Stands Out to Us
This product makes it to our list as the best overall because of its effective performance and incredible functionality. It's exceptionally easy to assemble and disassemble, owing to the five-piece assembly. You can dismantle the product into five different pieces for extremely easy transportation and storage. 
All the more, the padded armrest and comfortably formulated chair provide a nice experience while you're on the device. Whether you use it to travel short or long distances, it won't cause any discomfort. The scooter is height-adjustable to cater to a large group of potential consumers while the batteries compatible with the device are powerful to increase the range of the vehicle as much as possible. 
Bottom Line 
All in all, this lightweight mobility scooter is sure to deliver what it claims. With such easy-to-operate features, you're bound to get your money's worth out of the Drive Medical Scout Compact Travel Power Scooter. 
Runner-up:
ATTO Folding Scooter by MovingLife
What Recent Buyers Report
Users were very pleased with the purchase due to the sleek design, easy maneuverability, and portability. Some reported its instability near slopes but said that it could be tackled very easily, provided you take care and consider the circumstances. Moreover, users appreciated the incredible customer service provided by the company. All in all, they rated it a solid 10/10 and said they would buy it again. 
Why it Stands Out to Us
The ATTO folding Scooter has been a strong contender in our list and deserves the runner-up position. We're blown away by the weight capacity of this device, which is around 265 lbs. The batteries that are suited to this product are airline-approved for a safe air trip. 
With its incredible folding and unfolding speed, it does hit the mark of being an A-grade product. Furthermore, it can be split into two different pieces to facilitate the storage process. 
Like most people, aesthetic appeal is very important to us, and this is exactly why the sleek design of this machine has us in awe. It is also FDA-approved and offers a nice steering experience. 
Bottom Line
With the ATTO mobility scooter, never miss out on any of your outdoor activities with your family and friends. Be it shopping, traveling, or sightseeing, take this as your walking companion and enjoy what the world has to offer without breaking the bank. 
Best for the Money:
Vive 3-Wheel Mobility Scooter
What Recent Buyers Report
All customers were big fans of this three-wheeler. They were thrilled upon the arrival and use of the product because it's very easy to use. It's also comfortable for the driver, ensures safety, and actually delivers what it claims to. Buyers especially enjoy the product for running errands, going to stores, parks, or gardens. Overall, they say it delivers fantastic value, long battery life, and ease of disassembly. 
Why it Stands Out to Us
The Vive mobility scooter features a padded seat with a cushioned backrest, so whether your usability is due to old age or some physical ailment, you'll definitely get the best and most comfortable experience you possibly can using this three-wheeler. Furthermore, the seat is height-adjustable and rotates to make the whole boarding and exiting phase effortless. 
The scooter offers excellent storage facilitation because it can be broken down into four different pieces. An intuitive control panel is located on the tiller console that allows the user to control different settings like speed variability, direction, headlights, and warning tones. Lastly, it offers smooth maneuverability so any individual can easily use it without putting in a lot of effort. 
Bottom Line
With a five-year limited guarantee, you can now purchase this product with confidence. If anything goes wrong, the company offers excellent customer service and will take care of all your concerns, which is why we think this product is a bargain. 
Best Lightweight Folding Mobility Scooter:
Glion SNAPnGO
What Recent Buyers Report

What sold users on this device was the folding capacity, storage capability, and weight. Those who were previously hesitant to buy any product of such kind said they made the best choice by buying this product. The well-built body and attractive design were topliners while the quick opening and closing of the vehicle was unlike any other. 
Why it Stands Out to Us
We personally love the Glion SNAPnGo due to its uncomplicated operating procedure and a straightforward folding process. To offer an incredibly lightweight configuration to users, manufacturers have installed a pretty barebone frame without impairing the overall durability and function. 
The low weight of this device does not hamper its weight capacity. It can easily handle weights of about 300 pounds. This remarkable feature makes it a top choice for a variety of different body types. 
Moreover, with different body types also comes an individual preference of speed. Hence, the product offers a speed range from three to seven miles per hour with an interactive display on the handlebars to indicate how fast you're traveling. Finally, the battery range is pretty impressive too. 
Bottom Line
To sum up, the product's versatility and manufacturer's warranty seal the deal for this product. It's FAA compliant, further corroborating credibility. The rugged design ensures that the product will aid you in all your outdoor and indoor endeavors for a long time. 
Best Transformer Electric Folding Mobility Scooter:
Solax Airline Approved Travel Scooter
What Recent Buyers Report
Customers commend the speed of Solax and claim that they had to slow down because their walking counterparts could not keep up with the pace. Buyers were extremely happy because they no longer had to capitulate on opportunities like going inside restaurants or bars. This device was easy to maneuver and compact enough to go inside the designated spaces. On top of it all, buyers were amazed at the battery life and automatic folding option. 
Why it Stands Out to Us
This automated mobility scooter is sure to exceed expectations when it comes to delivering quality and functionality. The Solax Travel Scooter is scrupulously engineered to do all the work for its user hence providing the optimal level of solace and support. 
The competitive advantage of this particular device lies within its automatic folding ability. You're saved of significant time and energy wastage because you can just fold the device back after use with just one click. The easy-to-use remote control and generous leg-room manifest that this product is very user-friendly. It caters to a large pool of customers. 
Like most foldable mobility scooters, the product is very easy to transport and store when folded. The battery installed in it is a heavy-duty lithium battery to make sure users take advantage of maximum performance and speed. With the mentioned battery, the scooter can travel for up to 14 miles. 
Bottom Line
Summing up, this product is featherlight in terms of weight and hence adds to the incredible portability. It's coherently easy to handle and airplane-approved, so you don't have to worry about any kind of setbacks during your journey.
Best EV Rider Folding Mobility Scooter:
EV Rider Transport Plus
What Recent Buyers Report
In light of what recent users reported, the device is small and compact, facilitating the whole moving process. It is easier to get into smaller spaces, and the controls offer simple usability. It can easily be driven on any surface, but dirt and grass should generally be avoided. All in all, users were glad they decided to bring this gadget home. 
Why it Stands Out to Us
While most models have stood out to us due to their easy disassembly into a variety of different parts, we're fans of this one because it's easily foldable without having to take it apart. This saves time if you're someone who's not very fond of assembling and disassembling the product every time you have to transport it. 
The EV Rider Transport plus comes equipped with a powerful 270-watt motor, so there's no compromise on performance. The motor is articulated at the front of the scooter, aiding in the overall stability. The front also features LED headlights for bright vision and a clear view, improving the safety and security it has to offer. 
Bottom Line
Furnished with a speed dial control, this product provides a multitude of speed range options to its users. So, if you want security, go faster, and if you want a little more safety and stability, go a little lower. That really depends on the situation you're in. But one thing is guaranteed: this product will have your back no matter what the conditions are. 
Best Automatic Folding Mobility Scooter:
EV Rider Transport AF+
What Recent Buyers Report
Purchases were big fans of the portability and weight of this product. They no longer had to compromise on their independence as this device was perfect for both their indoor and outdoor activities. It's easy to steer and offers a considerable amount of extended battery life. 
Why it Stands Out to Us
The extraordinary compact design of EV Rider Transport AF+ ensures that all your travel experiences are an absolute breeze. The lightweight body makes the product ideal for easy maneuverability as well as carrying around. Besides, it features an automatic folding design, so there's no struggle while driving or folding. 
The company offers a one-year extended warranty, so you don't have to worry about buying this product while bearing all the consequences if anything goes south. The vehicle is bestowed with various support upgrades like LED headlight, height adjustable tiller, key ignition, and dual-hand two-way throttle control. 
With a weight capacity of 250 pounds, you don't have to worry about not being able to fit in it. It's well versatile for almost all kinds of consumers. 
Bottom Line 
This device is perfect for someone who's an active traveler. With its multifaceted design catering to a diverse set of consumers, you'll enjoy the flexibility and independence you've longed for. Overall, the product is sleek, compact, and extremely easy to operate. It's well worth the money!
Types of Folding Mobility Scooters
Mobility scooters can vary based on their size, with three broad categories labeled as mini-scooters, medium-sized scooters, and long-range scooters. Let's discuss what each type offers. 
Mini or Portable Scooters
These scooters are perfect for you if your scooter-riding endeavors involve going to the local supermarket, nearby park, or the store around the corner of the street. Since these activities do not require you to own a heavy-duty wheeler, a light-duty one will make your everyday errands an absolute breeze.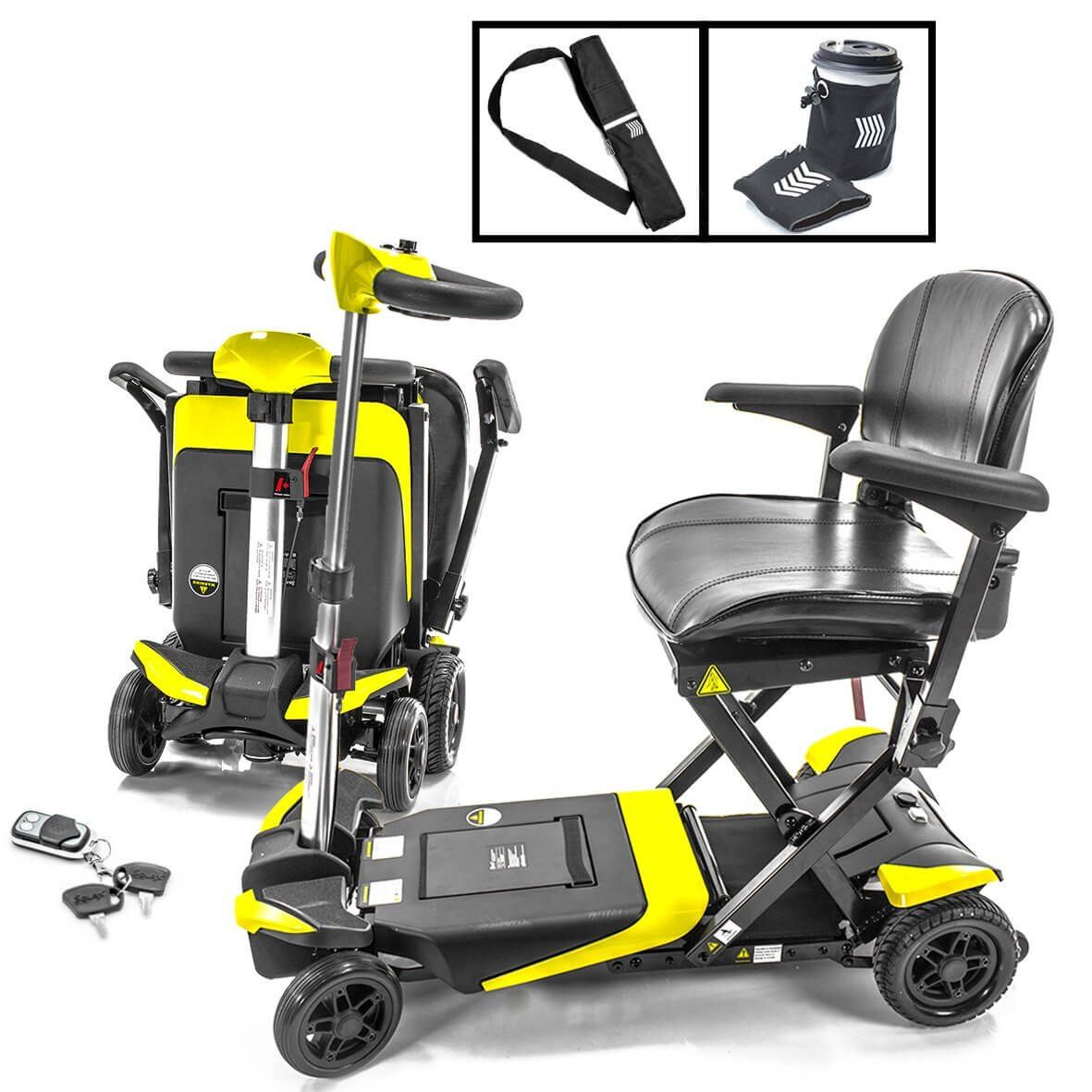 Medium-Sized Scooters
These scooters are more fit for longer journeys. As evident by the name, their size is bigger than the previously-mentioned category but smaller compared to long-range scooters. This variation showcases a myriad of quality features like an adjustable seat, powerful framework, curvaceous wheels, and above all, excellent comfort and convenience. 
Long-Range Scooters
This model is also known as a road-legal mobility scooter. With bigger size also comes added features in addition to the exceptional comfort. These include LED lights, horn, rear-view mirrors, and indicators. With its facile maneuvering system and protective contraption, it's very much loved by most consumers. 
Benefits of Investing in a Quality Folding Mobility Scooter
While each product offers an extensive list of unique features, that doesn't exactly exempt them from having some significant flaws. That is why investing in a quality product is vital. And what benefits will an A-grade product deliver? Let's find out. 
Lightweight
A good-quality scooter offers an incredibly lightweight body. The additional bells and whistles are lightweight as well to facilitate portability. 
Portability
Building on what we just elucidated, the low weight, coupled with the foldable feature on these devices, gives them an edge over regular wheelchairs or normal mobility scooters. The portability makes carrying them around from one place to another an effortless task. 
Easy Storage
Since these mobility scooters are foldable, they offer a considerable advantage of being extremely easy to store. Their unique compactness allows for them to be fairly stored without consuming plenty of space.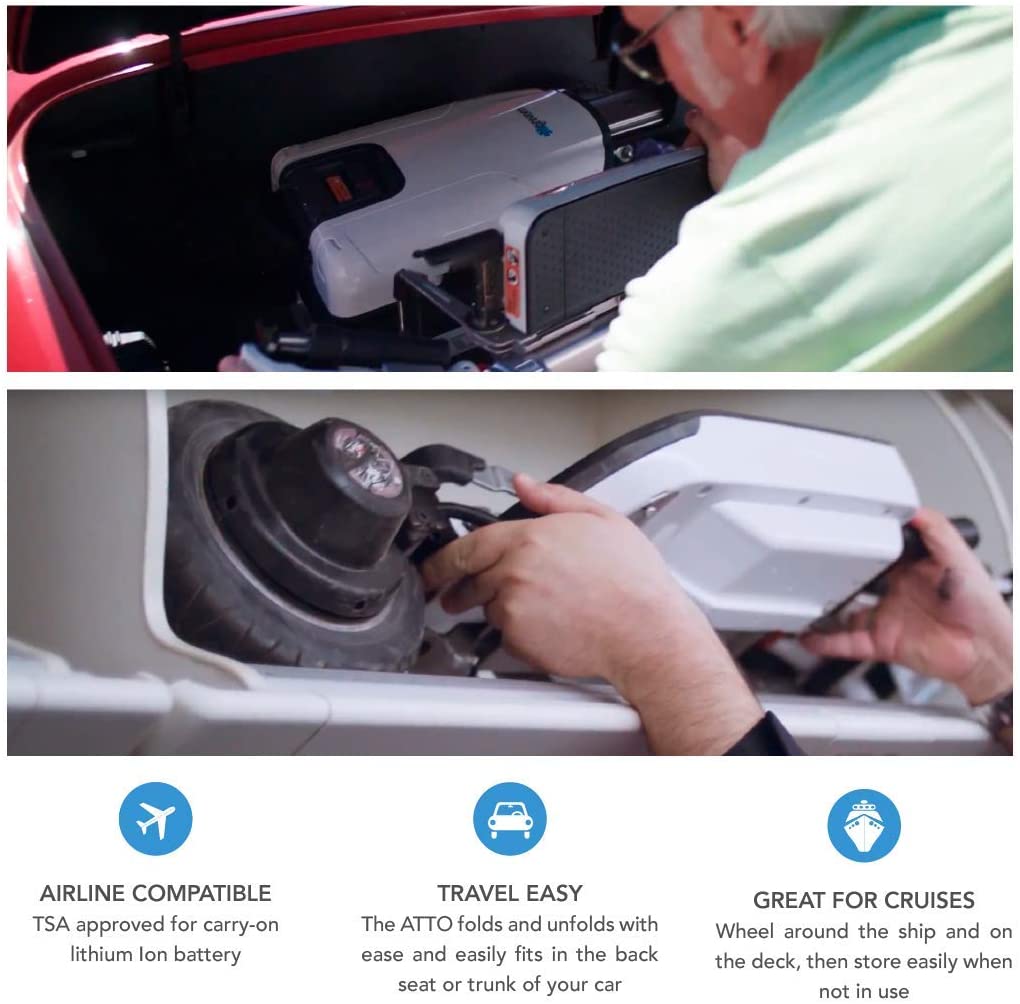 ATTO Folding Scooter by MovingLife
Conclusion 
Finding a quality foldable mobility scooter at an affordable price can be a great head-scratcher. From what features to look for in the scooter to the benefits you'll be able to enjoy after buying a worthy contender, we're optimistic that with the help of our comprehensive guide, you'll be able to make a well-informed decision. 
People Also Ask
Have a few more questions in mind? We're here to help. Read through our question and answer guide to clear up the confusion in your head. 
How Much Do Folding Mobility Scooters Weigh?
Depending upon the size and frame of the mobility scooter, it can weigh anywhere from around 34 to 70 lbs. Smaller frames are easier to carry and transport while larger frames offer a huge variety of additional features. 
What is the Weight Limit on a Folding Mobility Scooter?
Generally speaking, it can offer up to 250 pounds of weight capacity. Each size offers a unique range of weight it can endure, so choose an option while keeping this aspect in mind. 
How Much Does it Cost to Take a Mobility Scooter on a Plane?
The transportation of a mobility scooter on an airplane is absolutely free. According to the FAA and ADA, no additional baggage fee is required for the transference of your medical equipment. Just make sure your airline is informed about it at least 48 hours before your flight is scheduled and that the batteries installed in it comply with the FAA. 
Can I Keep My Folding Mobility Scooter Outside?
Mobility scooters can be stored outside as well as inside; the choice is yours. Their significant space-saving feature owing to their foldability makes them quite easy to store, essentially anywhere.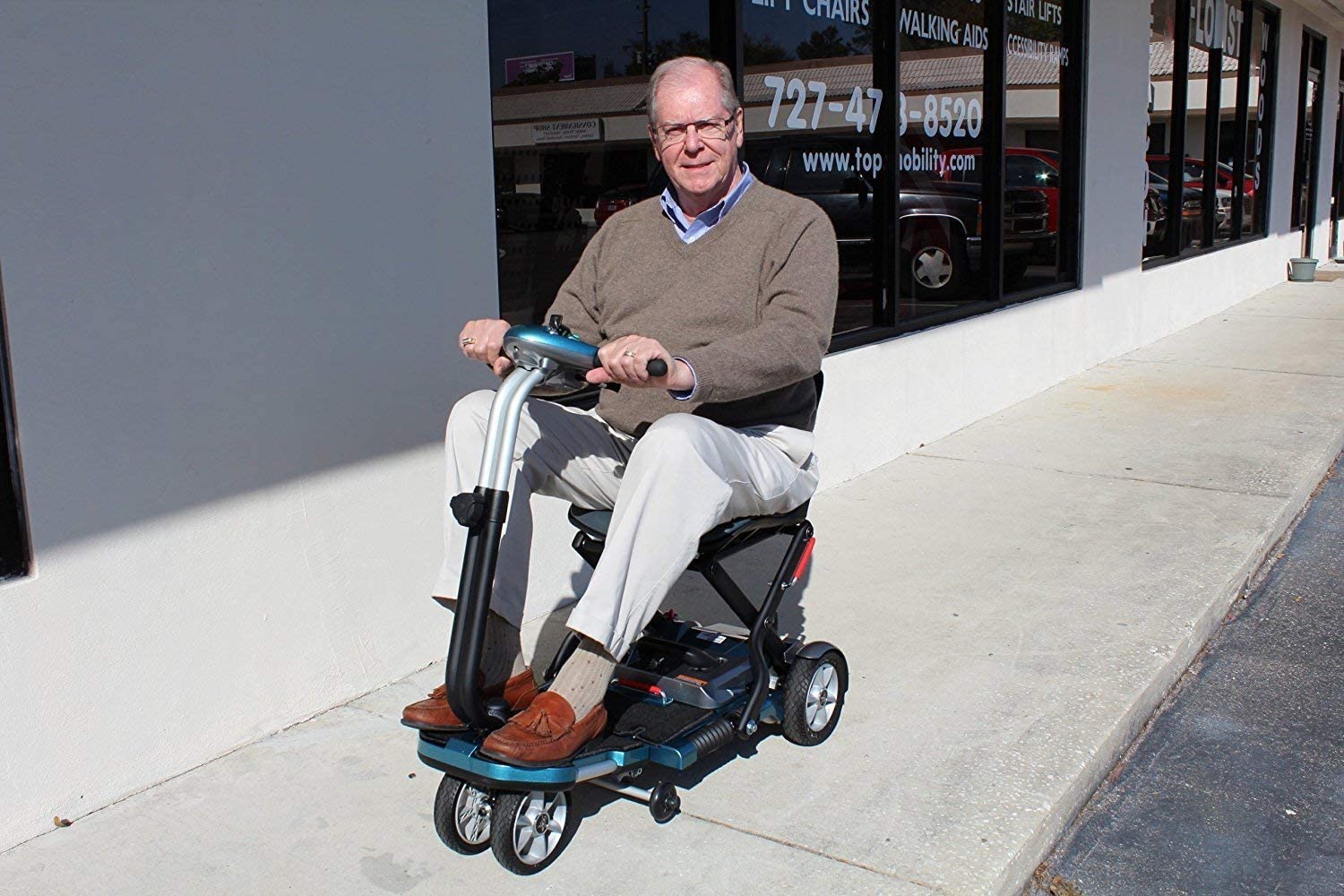 EV Rider Transport Plus
What is the Difference Between a Class 2 and Class 3 Mobility Scooter?
Class 2 mobility scooters are small, lightweight, and have a top speed of about four mph. They can only be driven on pavements or if you intend to cross a road. Class 3 mobility scooters, also termed as road-class scooters, are larger and more spacious than the previous category. With a top speed of about eight mph, they can be driven on roads with relative ease. 
There's no tax on a class 2 mobility scooter, but if you own a class 3 vehicle, you have to get it registered with the DVLA.
How Often Should a Mobility Scooter Be Serviced?
Once you purchase your scooter of choice, you should service it after six months of use. After that, it's recommended to service it every 12 months. Likewise, older scooters should be serviced every 12 months.
Do Folding Mobility Scooters Have Storage Compartments?
Yes, some mobility scooters offer storage compartments for you to store some of your belongings. That depends on the type and model of your wheeler. 
Will a Folding Mobility Scooter Fit in the Trunk of a Car?
Folding mobility scooters can be stored within the trunk of your car. They are extremely lightweight and compact, facilitating the whole process.