At a Glance: Our Top Picks for Best Mobility Scooters
Assistive scooters, more commonly known as mobility scooters, are operated with a battery and are connected with your mobile phones. They are primarily used to help people with a permanent or temporary disability. They are available in a variety of shapes and sizes, which makes them suitable for people with varying levels of disability.
Most units come with a lower center of mass, thus providing greater stability to the rider. They also ensure that handicapped people feel more independent in their movements and thus don't require constant assistance.
In this article, we will be highlighting the best models in the market that provide durability, affordability, and come with good warranties. Moreover, there's an extensive buying guide that included helping you look for the most useful product.
Comparison of the Best Mobility Scooters
IMAGE
PRODUCT
 

Our Top Pick

Provides excellent maneuverability indoors and outside
Compact design that is easy to disassemble
Ergonomic seating and design for all ages

View Latest Price →

Runner-Up

Quick and easy disassembly for ease of traveling
Wheels are designed to be indoor friendly
Features safety anti-tip-over design

View Latest Price →

Best Folding Mobility Scooter
Remote controlled self-folding system
Airline approved battery with high capacity

View Latest Price →

Best Mobility Scooter For Off Road
Designed with front and rear suspension
Equipped with an ergonomic stadium-style adjustable seat

View Latest Price →

Best Mobility Scooter For Outdoors
Easily disassembles for trunk storage
Optimized wheels, seat, and throttle control designed for comfort

View Latest Price →

Best 3 Wheel Mobility Scooter
Equipped with a 270W motor
Includes a quick connect 24V battery

View Latest Price →
What is a Mobility Scooter?
A mobility scooter is very much like a wheelchair, but it offers more efficiency and independence to the user. It is an electric vehicle that is run on battery and is often connected to your mobile phone or an electronic device.
They are specially designed to cater to the needs of people who can walk and can properly seat themselves on the scooter. These people, however, are unable to do many other movements and require some level of assistance. Another major difference between these and a wheelchair is that the former doesn't require special access to buildings.
Any good model will provide you with greater stability via three or four wheels. It should also come with a storage place and lights and signals to help the user navigate better. Manufacturers should also prioritize security.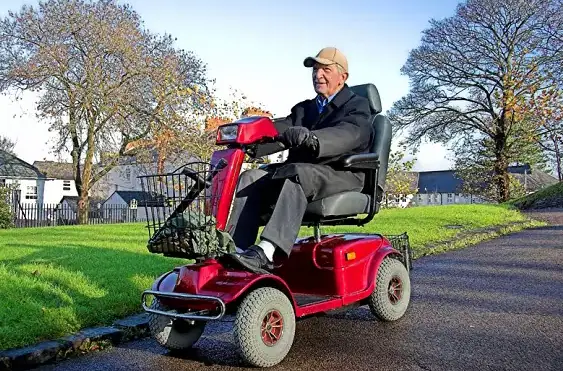 How to Choose a Mobility Scooter
Users are looking to get maximum comfort when they buy a mobility scooter. But with so many different models in the market, it is difficult to find one that suits you best. We scoured the internet to see which features you should look out for.
Speed
Finding the perfect speed is key to maximizing efficiency. Mobility shouldn't be very fast because that increases the likelihood of people undergoing accidents. They shouldn't be very slow either because that requires too much time to complete a small journey. So make sure you find a speed that you feel comfortable in.
Climbing Angle
Every once in a while, you will have to climb up an angle, and you will need a good scooter to help you through. A model with a good power comes in handy because it can move you forward on an incline without causing too much pressure on the wheels. Moreover, high power will decrease your chances of accidents or injuries. 
Comfort and Convenience
This might be your biggest concern while choosing a scooter. You will have to spend a lot of time on the vehicle; hence you should look for smoother wheels that allow for greater comfort. Moreover, check out the seat too. A good unit will provide extra paddings, so you don't have a sore bottom at the end of your journey.
Battery Life and Capacity
Charging the vehicle is not easy and takes time, and you certainly don't want to do it frequently. A good motor will come with relatively greater battery life. Moreover, the weight capacity should be high, thus allowing the person to sit comfortably on top without feeling any discomfort.
Pride Travel Pro Premium
Review of the Best Mobility Scooters
To help you find a suitable model, we scoured the internet for the top products available and reviewed them for you. All you have to do now is compare the pros and cons of each unit and see which one suits you best. 
Best Overall:
Pride Travel Pro Premium
What Recent Buyers Report
Buyers are absolutely in love with this model and are ready to swear by it. It not only provides a good and sharp radius during turning but also helps protect you from accidents on steep roads. They have also appreciated the inclusion of padded seats that ensure the greatest comfort possible. These, they say, help allow travelers to enjoy a daily commute.
Why it Stands Out to Us
If there was ever a model that didn't lack any important feature, it would be this one. It stands out because of the excellent maneuverability that it offers via its three-wheel design. Not just that, but it also provides easy turning on sharp turns hence allowing for a very smooth drive. All this helps provide you the benefit of a high range vehicle that can take you any place in less time. In addition, you will get an excellent speed of four miles per hour, along with a 6.3-mile drive range. The inclusion of flat-free tires and reverse controls also help you make adjustments to your position according to the path ahead.
Bottom Line
It takes a great many features for a model to stand on the very top. The Pride Travel Pro Premium comes with an excellent warranty on the frame that ensures longevity. The frame is extremely durable, which means it is able to protect the rider from accidents. Moreover, the paint or the coat doesn't scratch off or fade with time, thus ensuring your product stays in top-notch condition.
Runner-Up:

Drive Medical SFSCOUT4-EXT
What Recent Buyers Report
A smooth construction such as this is bound to attract the largest number of consumers, and this Drive unit definitely has. It comes with excellent and smooth construction that ensures durability and strength. Fans also like the inclusion of smooth and steady tires that come with anti-tip wheels. This protects the most vulnerable people who have a hard time navigating through tough roads.
Why it Stands Out to Us
There aren't many models in the market that provide you with independence whilst also keeping you safe and well protected. But lucky for you, this unit is different. It comes with fully padded and adjustable armrests that you can rotate according to your comfort. Moreover, the height can be fixed to cater to the rider's individual needs. There is also a fold-down backrest that comes with a swivel seat. Another noteworthy thing is the interchangeable panels. These not only hide scratches and scuffs but also ensure you get an attractive exterior at all times. But you will make fall in love with the powerful motor that comes with 4700 rpm and operates on 24V batteries.
Bottom Line
Although replacements and repairing parts are expensive and difficult to manage, you, as a user, will not have to worry about it so much. This is because Drive offers an excellent warranty on this unit's frame that comes in handy in case of any issues. Moreover, the motor is powerful enough to move the vehicle forward without thrusting or becoming unstable.
Best Mobility Scooter For Off Road:


BUZZAROUND EX Extreme
What Recent Buyers Report
If any scooter was named perfectly, it was this one. As soon as it entered the market, this unit created a lot of buzzes, and buyers rushed to get their hands on this superior design. It is one of the best off-road mobility scooters that enhances comfort on difficult terrains. Buyers are also in love with the high speed that lets them enjoy their life even when they are slightly handicapped or in pain.
Why it Stands Out to Us
Having excellent adjustability is a great advantage, but what is even more noteworthy about this unit is the fact that it's extremely comfortable. It is most suited for people who like to take vacations to distant places and wish for a smoother ride. The Buzzaround Extreme comes with two standard batteries that allow for efficient charge time. This ensures that you don't have to wait around too much before you can take your scooter on the road. Moreover, the scooter boasts some excellent LED headlights. These not only increase the clarity of your view and keep you safe, but they also add to the attractive exterior. There is also a standard port just below the panels that allow for a quick charge.
Bottom Line
The Buzzaround Extreme may be slightly heavier than some other designs, but what it lacks in portability, it makes up for in durability and strength. It has undergone various testing procedures that ensure it is of the best quality. Moreover, it comes with excellent rear and front suspensions that enhance maneuverability. So, all in all, if you are looking to expand adjustability, there is no better model than this.
Best Mobility Scooter for Outdoors:


Drive Medical Spitfire Scout 4
What Recent Buyers Report
Four-wheel mobility scooters tend to be slightly more expensive than three-wheelers, but buyers were willing to pay the extra price in exchange for more stability. This Drive model comes with freewheel operations that ensure a steadier journey, even on rough roads. The wheels are also flat-free and come with anti-tip features, thus providing more safety.
Why it Stands Out to Us
Convenience and comfort come together in the making of this excellent model. This scooter is not only very attractive but also comes with a durable interior that comes in handy when you are traveling on difficult terrains. The inclusion of four smooth wheels adds to the ride's stability and ensures you enjoy your trip to the maximum. The advanced quick-connect battery is also noteworthy. This allows the Drive Scout 4 to have a good charge time that is neither too long nor too energy-consuming. Moreover, the unit is easy to assemble and disassemble, thereby saving both your time and effort. So if you are looking for a good unit that also provides greater comfort, then this is the one for you.
Bottom Line
This is a relatively large scooter and hence is not suitable for indoor use. But the greater weight and bigger length ensure a superior function outdoors. The inclusion of backrests provides a fold-down feature, thus ensuring greater comfort. You will also find it very easy to disassemble the scooter into smaller parts and enjoy greater portability.
Best 3 Wheel Mobility Scooter:


Drive Medical Spitfire Scout 3
What Recent Buyers Report
There aren't many models on the market that offer good speeds. This is precisely why buyers rushed to invest in Drive Medical Scout 3. This mobility scooter is not only very comfortable but also provides good speeds of up to four miles. Users are also a fan of the interchangeable panels that shift from blue to red colors and thus add to the appeal of the model.
Why it Stands Out to Us
Weight capacity and excellent speed are the two prime features of Drive Medical Scout 3. Unlike other models, this one offers an excellent load capacity of 300 lbs, which means that tall and obese people can ride it with ease. Moreover, it can work for up to nine miles on a single charge. The inclusion of three wheels also makes this model easily foldable.Another thing that stands out is the excellent speed. The strong and powerful motor features 4700 rpm, and you can adjust the speed according to your need. You also get a climbing angle of six degrees that comes in handy when you are moving up a difficult incline.
Bottom Line
It can be frustrating to sit on a scooter and feel uncomfortable because of the height or the position of the armrests. This is why Drive has ensured that everyone can adjust the armrests and heights according to their own preference. The motor of the unit, which offers 4700 rpm, also adds to its appeal. So if you aren't ready to compromise on comfort or weight capacity, this is the best model for you.
Best 4 Wheel Mobility Scooter:


Pride Mobility S74
What Recent Buyers Report
Great speed and great stability are the two features that attracted buyers to this Pride unit. The model allows users to go as fast as 4.7 miles, even on tougher terrains. Not just that, but the inclusion of four smooth wheels also adds to the stability and ensures users get into as few accidents as possible. Buyers also appreciate the ease of disassembly that they get after investing in this unit.
Why it Stands Out to Us
If you are looking for power and mobility, you shouldn't look any further because the best Pride model is right here. This unit offers an excellent weight capacity of 325 lbs and ensures a long-lasting battery of 18AH that offers relatively greater miles per charge. It also comes with solid tiles that increase stability and ensure you feel comfortable during long journeys.Good ergonomics are also important when it comes to scooters. Since the start, Pride units come with delta tillers that keep your fingers relaxed as you drive, and this model is no different. This also helps people with arthritis or limb injury to enjoy a comfortable ride. Easy adjustability is also provided to ensure you make the most of your trip without feeling drained or tired.
Bottom Line
This model was a true game-changer in the industry because it changed the way people perceive the comfort of assistive scooters. The Pride S74 comes with wraparound delta tillers that allow you to relax your fingers and hands, even on longer journeys. To top all this is the high-end construction and vigorous testing that further strengthens the scooter's frame and design.
Best Lightweight Mobility Scooter:


Go-Go Ultra X
What Recent Buyers Report
When you are suffering from an injury or are in a lot of pain, the last thing you want is a heavy assistive scooter that requires a lot of energy. Lucky for buyers, this wasn't the case with the Go-Go Ultra X. This model came with an auto-latching lockup mechanism that keeps it safe and protected and also ensures easy frame separation. It also weighs very less, thus ensuring greater comfort.
Why it Stands Out to Us
The frame design of a mobility scooter plays a great part in determining the efficiency of the design. For this reason, Go-Go has introduced one of the best frames in this unit. It has undergone thorough testing and is made with a very strong construction material that provides greater durability and strength. Moreover, the auto latching lockup system allows for frame separation with one hand, thus allowing easy disassembly. Another stand out feature is the excellent speed. You get to enjoy a speed of four mph and a per charge range of around seven miles. This is not just an impressive figure, but the scooter actually delivers on all its promises and provides durability and efficiency together.
Bottom Line
To sum up, the weight capacity may be less on this one, but that is not a disadvantage for people of average height and weight. The Go-Go Ultra X comes with a frame that is mounted on the front side and offers greater stability. You will also be safer even when you lean in the forward direction. Lastly, the rear cable can be connected with the scooter without any effort.
Best Pride Mobility Scooter:


Pride Mobility SC54
What Recent Buyers Report
Buyers love getting their hands on products that save their time and energy, and this unit does just that. It comes with excellent non-scuffing tires that provide greater stability. The color is also black to ensure you enjoy great aesthetics. But perhaps the feature that wowed buyers the most was the ease of usage. You can disassemble the scooter into five smaller pieces and keep it safely in your trunk.
Why it Stands Out to Us
You will see a lot of models by this brand in this review, and there is a simple explanation for that. Pride is one of the most reliable brands that make models offering maneuverability in tight space like none other. This model is relatively heavier, but it also offers greater durability. All this comes in handy when you want to have a smoother ride, free of any bumps or accidents.Versatility is another thing that shines in this unit. It can change colors, and the interchangeable shroud panels allow you to adjust the shape and size of the model. There is also a tiller control and comfortable handles that allow for more relaxed hands and fingers.
Bottom Line
Pride has a lot of models in this review, and that is a testament to the excellent features and reputation of the brand. This particular unit comes with a dual-voltage charger that allows you to charge the unit on and off the board. Moreover, it offers a high weight capacity along with greater stability. The ergonomic design is also ensured by the wraparound handles that provide easy maneuverability.
Pros and Cons of a Mobility Scooter
Although there are many advantages associated with a mobility scooter, there are also some disadvantages. To present you with a wholesome picture, here are both aspects:
Pros
Let's first have a look at the benefits you get with a mobility scooter:
Vacationing
As a handicapped or disabled individual, there might be times when you feel restricted in your movement or your choices, but with a mobility scooter, you may feel a lot better. You can go shopping, vacationing, and exercise out in the open on your vehicle. Since most units offer a good incline, you will easily be able to enter stores.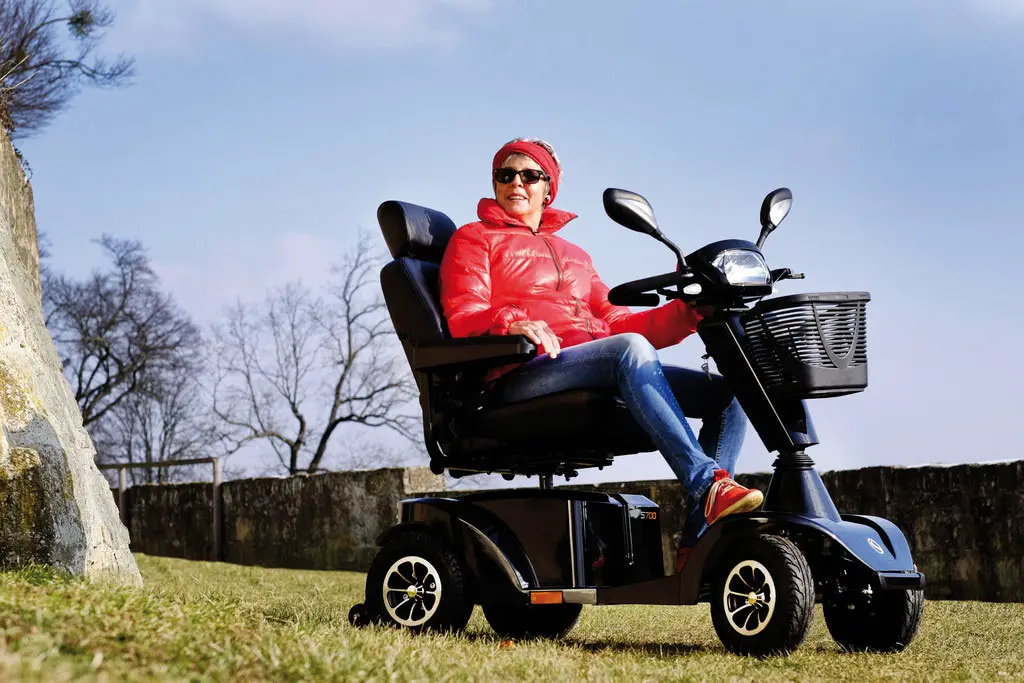 Driving
Even if you aren't suffering from any injury, you can still make good use of a mobility scooter. If you don't feel like driving on a certain day, you can always ride small distances on your scooters. They are fast and very efficient for daily commutes.
Good Weight Capacity
People of any weight and body size can sit comfortably on top of the seats without fearing any accidents. The weight capacity of units is kept between 150 and 180kgs. This means that you can not only sit but also keep your essentials in the storage baskets.
Cons
On the other hand, some drawbacks you can expect are:
Price
Anything that runs on electricity tends to be costly. Not only is the initial price of the unit relatively higher, but you may also find repairs and replacements difficult to afford. 
Battery Range
The battery range determines the amount of time you can stay in the open, but sadly, motor vehicles don't provide a much-extended range. The battery needs to be charged almost every day.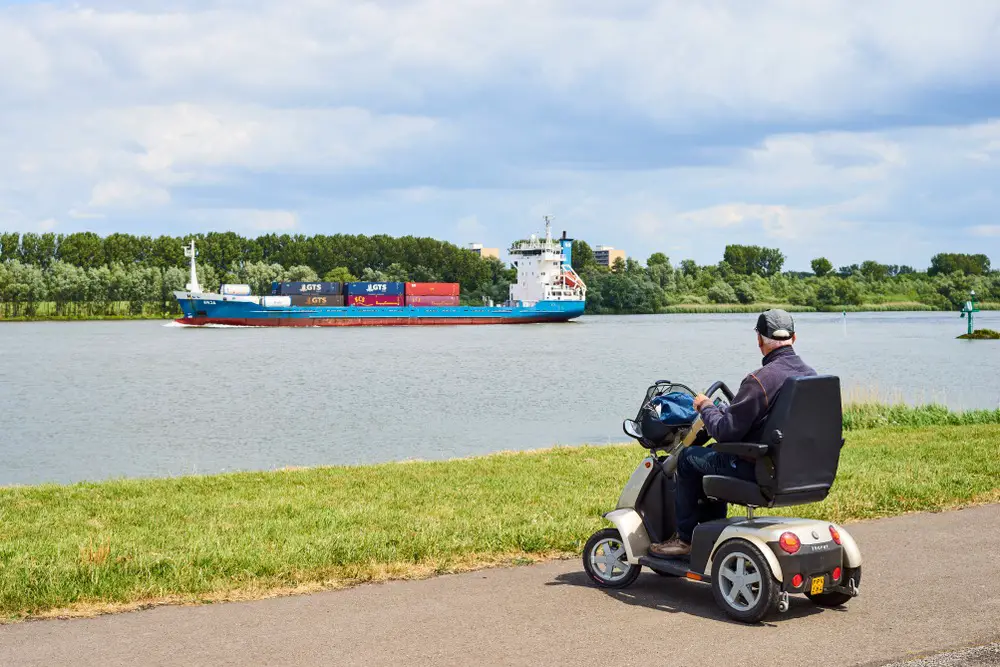 Types of Mobility Scooters
Everyone with a disability has different needs, so you cannot expect all models to be identical and offer the same features. There are many different variations of these electric vehicles that can assist you in living a healthy life. So let's look at some of the most popular types.
Foldable Scooters
As the name suggests, these are the most convenient scooters when it comes to portability. They can be easily folded and be carried around in your cars or trucks. These are great for anyone who loves to travel and visit different places. They are also referred to as travel scooters and are relatively lightweight; this ensures easy lifting into the trunk. Moreover, they usually come with four wheels only.
Three-Wheel 
If you are looking for excellent maneuverability, then this is the model for you. It can be used both indoors and outdoors and maximizes your comfort. There is a full-sized chair on which even the heaviest of riders can sit comfortably. Moreover, there are ample armrests and storage baskets to ensure greater convenience. The weight capacity of such vehicles is between 300 and 500 pounds. 
Four-Wheel Mobility Scooters
As expected, these scooters tend to be the most stable and efficient for long-distance traveling. They are primarily used for outdoor settings and offer smooth movement on inclines. This also makes them suitable for rugged or rough terrains. Their weight capacity is also one of the best features. They allow both tall and obese people to travel around the city easily.
So if you are looking for more durability and stability, then this may be the best model for you.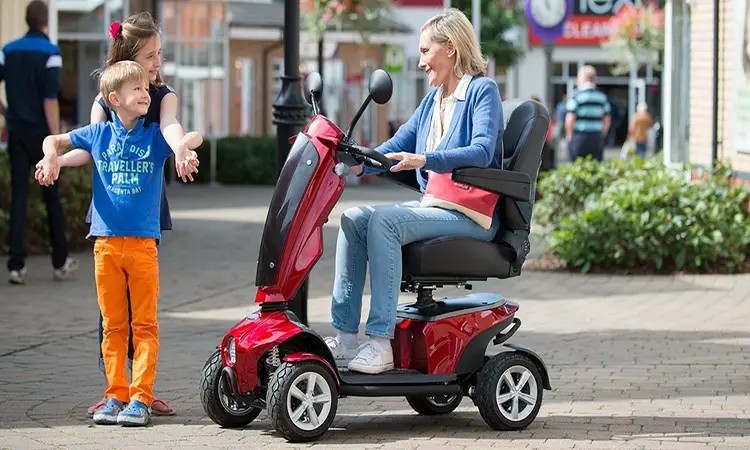 Comparison Overview
There are so many mobility scooters that you are bombarded with at any given time. It is hence difficult to find a model that best suits your needs. Here's a section to help you choose a good type without having to do all the research yourself.
Mobility Scooter vs. Power Wheelchair
The biggest difference between the two is that power wheelchairs are made especially for seriously disabled people who can't walk or stay steady for a long time. They usually come with six or more wheels and require special access to enter buildings. They are also operated via a joystick. This is to ensure that people with damaged limbs can have no issue using these units.
On the other hand, mobility scooters come with handlebars and tillers and are often connected to a mobile app. The user can change the speed and settings via the app. Moreover, such models come with three or four wheels and are often less expensive than wheelchairs. They also provide you with better speeds and improved comfort.
3 Wheel vs. 4 Wheel Mobility Scooter
The most obvious difference between the two is the number of wheels, but other things make four wheels better. Typically, the models with three wheels tend to be cheaper and lightweight. They are also easily foldable and hence can be carried easily on your drives. Not just that, but many airlines also allow you to carry them.
On the other hand, four wheels achieve what three wheels can never. They provide you with a much-balanced drive and unparalleled stability. This comes in handy for seriously disabled people who cannot navigate around rough terrains or uneven surfaces. Moreover, these tend to come with larger and more centralized seats with smoother paddings. You can not just sit comfortably on top but can enjoy feeling relaxed for a longer duration.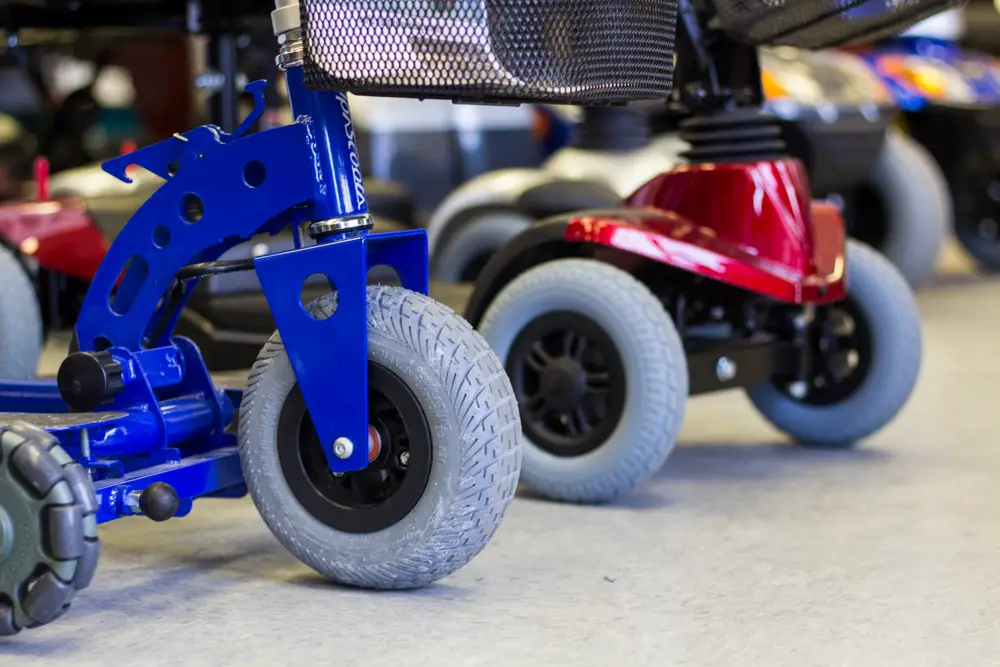 Motorized Mobility Scooter vs. Recreational Electric Scooter
The name is pretty self-explanatory, and you may have guessed the main differences between the two. A motorized mobility scooter is used by people who have some level of disability and cannot move around easily. These also come with a great number of wheels to ensure greater stability. The speed of such units is also relatively less to ensure riders don't end up in any accidents or injuries. 
Recreational scooters are usually driven by young people who need to have some fun. These are also relatively faster and can be driven around the block for a longer time. So if you are looking to use a vehicle for daily commutes, you should opt for recreational units, but if you want assistance in mobility, you should go with their motorized counterparts.
Drive Mobility Scooter vs. Pride Gogo Scooter
Drive mobility scooters are loved by users who want to enjoy more independence without needing help from anyone. These are great for relatively longer commutes because of their better battery life. Moreover, they are adjusted easily, which means you can always move the seats and adjust armrests to fit your own needs.
Pride Go-Go scooters provide a much better weight capacity, making them suitable for obese users to comfortably drive around the block. Moreover, they are more durable and can retain their shape and efficiency for a longer time. But with so many great features, there are bound to be some drawbacks. Pride Gogo units tend to be slightly more expensive and are difficult to carry around in the trunk of the car.
Conclusion
People having a temporary or permanent disability deserve to live their lives as comfortably as anyone else. This is precisely why we did thorough research and only included the best of the best mobility scooters in this review. These are efficient, affordable, and very reliable when it comes to meeting diverse needs.
But no single model is perfect for everyone. You will have to assess the features of each to see which one suits you the most. You should also not opt for the most expensive vehicle because more doesn't always mean better.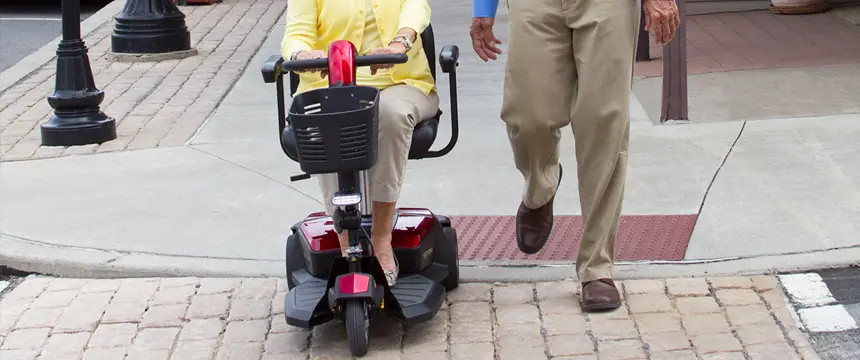 People Also Ask
There are many things that people don't know when it comes to mobility scooters, and we are here to change that. The following are answers to the most frequently asked questions by potential buyers that might help clear things out for you too.  
Do You Have to be Disabled to Use a Mobility Scooter?
There is no other reason why you would need to ride one, so having a disability is a prerequisite for using such a scooter. It not only assists people who have difficulty walking but also ensures that people cover greater distances in relatively less time.
What Does a Mobility Scooter Weigh?
Most vehicles are designed to provide greater durability and strength to the user, which is why their weight is also high. Four wheels tend to be the most stable and hence are the heaviest. On average, a scooter may weigh around 220 or 250 pounds. Those having four wheels may weigh significantly more.
How Much Does a Mobility Scooter Cost? 
There are so many different models in the market, and each unit varies according to size, brand, and features. So naturally, the prices vary too. You can buy a good model anywhere between $800 and $2000. Some brands cost a lot more and may sell their scooters for over $3000. 
How Far Can You Go on a Mobility Scooter?
The range of each vehicle is different, and that is what determines the number of miles you can travel. In general, a scooter can go up to four mph, and with increased battery power, it can cover more than 15 to 25 miles on a single charge.
What Kind of Mobility Scooter is Airline Approved?
There is a limit to how much weight you can take along on an airline. Among all the models, only the ones that weigh less and are compact are allowed.
Ideally, a scooter should also be foldable, so it requires relatively less space.
What Kind of Battery Does a Mobility Scooter Use?
Most electrically-operated scooters require two single 24-volt batteries in a series connection. Each manufacturer adds in their own batteries; hence you should never attempt to switch or mix and match different batteries in a single unit. Moreover, since each battery offers different charge time, it is better to replace them together.
Is There a Weight Limit on a Mobility Scooter?
Like most vehicles, there is a weight limit on a mobility scooter too, but users don't have to worry too much about this. This is because all people with average builds can comfortably use the units. Typically, the load capacity is between 250 and 300, so you can sit and also keep your essentials with you.
How to Speed Up a Mobility Scooter
The speeds of such vehicles are kept low intentionally to ensure better navigation for disabled people. However, some people aren't seriously handicapped and hence wish for faster speeds. To increase speed, you can increase the battery power of the unit. This will allow it to go faster, even on rough terrains.
How Long Does it Take to Charge a Mobility Scooter?
This depends on the size and type of your model, but most manufacturers provide a charge time of five to ten hours. This means that to travel 25 to 30 miles, you will have to charge your scooter for around seven hours. To know when your power scooter has charged fully, just check to see whether the indicator light has turned green.
Mobility Scooter Reviews
Looking for a mobility scooter? Here are all our mobility scooter reviews for your convenience: