Nature has blessed us with mobility. We can easily move our hands and feet to go about our daily routines. But sometimes, old age or sickness can take it away. For a person who prefers being independent, this is a very frustrating situation.
If you or your loved one is facing similar circumstances, we suggest that you look into purchasing a mobility scooter. They really help you out when walking on your own is either difficult or hazardous. Better yet, invest in an off-road mobility scooter as they are better at not only tackling everyday needs but also at handling the roughest of foundations. 
In this article, we have listed some of the best mobility scooters for off-road. You can go through the comprehensive review following each product to figure out which one is more suitable for your needs.
At a Glance: Our Top Picks for Mobility Scooters For Off Road
Comparison of the Best Mobility Scooters For Off-Road
IMAGE
PRODUCT

Our Top Pick

Powerful motor provides top speed of 5 Mph
Extended battery economics lasts for 18 miles per charge
Designed with front and rear suspension

View Latest Price →

Best Budget Option

Best for the Money
Travel range rated at 15 miles per charge
Ergonomic arm rests with adjustable seat

View Latest Price →

Designed with quick and easy assembly for storage
Foldable swivel seat with ergonomic design
Equipped with anti-tip rear wheels

View Latest Price →

Durable but light construction
Easy six-piece disassembly construction
Fitted with a comfortable ergonomic seat

View Latest Price →
What Makes a Mobility Scooter Great For Off-Roading?
Not all mobility scooters are built the same. Some are great for indoors, while others are better suited for uneven grounds and outdoor terrains. The latter versions are more suitable for an off-road traveling experience. Here are some features that make a mobility scooter great for off-roading. 
Pneumatic Tires
Unlike the solid tires of a standard model, mobility scooters for off-roading are equipped with pneumatic tires. They are larger and softer, and they also perform better with their front and rear wheel suspension. They cushion the rider from the bumps they may experience on uneven terrain. Managing them is even more comfortable. 
Higher Ground Clearance 
Mobility scooters that have a higher ground clearance beneath them are better for off-roading. This allows them to drive over uneven grounds without much difficulty quickly. Being higher, they also protect the rider from unnecessary bumps.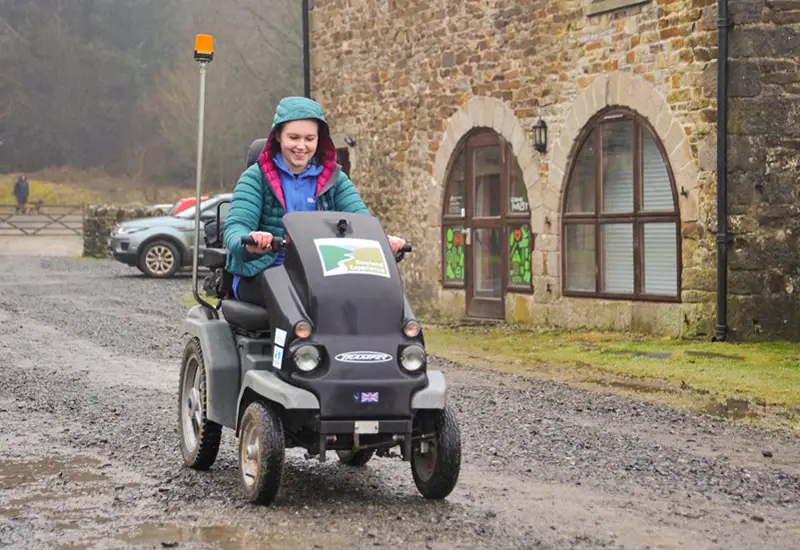 Longer Battery Life
Longer battery life is also a distinguishing feature of an off-road mobility scooter. This allows you to travel farther and enjoy more time outside. 
Lighting System
A full set of lights also makes a mobility scooter great for off-roading. They are equipped with headlights, brake lights, turn inductors, and sometimes backup lights too. These ensure your safety by letting others around you know about your movements. 
Can Any Mobility Scooter Be Used For Off-Road?
Just as you cannot take every car on an off-roading expedition, you cannot use any mobility scooter for off-roading too. Not every model is designed to withstand rough driving conditions. Off-road mobility scooters are generally safer. They are full-sized vehicles with pneumatic tires. Being softer than solid tires of a regular scooter, these are better at gripping terrains. 
They also have a higher ground clearance beneath them so they can easily ride over uneven ground without the base getting caught. Also, their seats have more padding to cushion the rider. If you or your loved one is planning an off-road trip, we would suggest that you look into purchasing a specialized model so you can do it without having to worry. 
Review of the Best Mobility Scooters For Off-Road
Off-road mobility scooters are associated with a number of perks. They allow seniors and people with physical disabilities to enjoy an independent way of life. They have been around for quite some time. That's why there are numerous varying models available on the market. A single brand can have as many as fifteen different variations. 
So how do you choose the right one? Below we have listed some of the best off-road mobility scooters for you to analyze. You can select any of these and rest assured of their quality and performance. 
Best Overall:
BUZZAROUND EX Extreme
What Recent Buyers Report
While this is one of the more expensive models in the market, consumers report that it is a bang for their bucks. They say that it is easy to assemble and disassemble. While disassembled, it can easily fit inside the trunk of a regular car. 
Users also like the swiveling seat, which is very comfortable and roomy. Some buyers actually compared it to getting a new Cadillac. It lasts all day long, allowing the rider to have a lot of fun with its speed and simple maneuverability. 
Why it Stands Out to Us
We find Buzzaround EX Extreme hard to beat for its battery, range, comfort, and other amazing features. Yes, it is more expensive than any of the other models on this list. But it is also a complete mobility solution to all the problems the rider may face. 
It is a 4×4 full-sized vehicle with large nine-inch tires. Both the front and rear wheels are supported by a full suspension system, which ensures the smoothest ride on the roughest terrains. The seat is enormous with extra padding to keep you comfortable so you can ride it all day long without the slightest sign of fatigue.
Looking at this unit, we can say that safety was the number one priority while designing it. The higher weight might be a hurdle in one way, but on rough terrain, the extra weight prevents it from tipping over. Also, the complete lighting system allows passerby to anticipate its movement. 
Bottom Line 
If you are looking for a safe and easy-to-operate option for yourself or your loved one, this mobility scooter is an excellent choice. It will not only ensure independent movement but will also deliver the highest level of comfort. It is easy to assemble, safe to operate and disassembles for transportation. All of these make it the top contender on our list. 
Runner-up:
Drive Medical SFSCOUT4-EXT
What Recent Buyers Report
Recent buyers report that it is a nice, well-constructed machine manufactured using durable materials. They love the fact that it is easy to manage with an unlock mode that allows them to move it freely. They say that its assembly is very straightforward, with all the directions written clearly inside the instruction manual. It is not light and also not very heavy, making it a good choice in its consumers' eyes.
Why it Stands Out to Us
A number of notable features set this mobility vehicle apart from its counterparts, the first being its impressive portability. It weighs a total of 94 pounds, making it one of the lightest models available in the market. The seat features a foldable backrest which enables better transportation and storage. Additionally, you can easily reduce it to five separate pieces without needing any tools. 
It is designed with user-friendliness in mind. It comes with all the bells and whistles of easy maneuverability. The tiller is unique in that it is easy to reach, but the ergonomic handle is also very comfortable to hold. Furthermore, the Delta handle wraps around to give the driver full control. 
The level of safety it ensures is exceptional. It can make fast turns on rough paths without jeopardizing the safety of its rider. The proper working ensures that it efficiently does its job. 
Bottom Line
Drive Medical SFSCOUT4-EXT should be on your list if portability is a priority. It is lightweight and foldable, making it one of the most portable units. It ensures a smooth ride over any surface. Use it on uneven ground, and you will be amazed at how well it holds up. Break it down or build it up, you will be surprised at how simple it keeps the procedure. 
3. Phoenix 4-Wheel Heavy-Duty Scooter
What Recent Buyers Report
From what we have read in recent reviews, consumers absolutely love this comfortable scooter. They like all the adjustment options it offers. The swiveling, height-adjustable seat is also a well-liked attribute of this vehicle. According to recent buyers, the quiet operation and smooth turns set it apart from others. 
Why it Stands Out to Us
We really like it for its robust framework, which is as solid and tough as they come. It is built to last long and ensures effective use. For this aspect alone, it is the best product for seniors. With a higher-than-average weight capacity of 350 pounds, it can easily carry a lot of weight. 
It is very easy to build up and also features a basket on the front. This basket is great for placing groceries after shopping or for keeping newspapers or magazines to keep you company at a park.
This scooter operates using a rear-wheel drive. The braking system is electromagnetic that most people find easy to use. It is supplied with two batteries that can be charged off-board. With its 4×4 design, it is easily one of the most stable options out there. 
Bottom Line 
The Phoenix heavy-duty scooter is designed unlike any other. It can easily travel over any terrain without compromising on comfort. It features an adjustable, padded seat with two incredibly soft armrests that can flip up to move out of the way. It is very easy to steer. The flat-free, non-marking, solid tires come as a bonus. 
4. Pride Maxima – 4-Wheel HD Scooter
What Recent Buyers Report
Overall, the users of this scooter are generally quite satisfied with its performance. They really like the fantastic 500-pound weight capacity, which enables it to carry the maximum weight without exerting the motor too much. Buyers report that it is ideal for bariatric seniors who really enjoy riding it around. Its sturdy build and reliable performance have managed to win over its users. 
Why it Stands Out to Us 
We find this scooter one of the best in the market because of its sturdy structure and convenient design. With a weight limit of more than 450 pounds, this piece can surely work for the majority of people. Meanwhile, the easy assembly and adjustable seat also prove to be a plus. 
Another reason why this specific model has caught our attention is the addition of a complete lighting package. It not only adds a modern touch to the design, but it is also functional. This gives riders the freedom to go about in the dark and evokes a sense of confidence. Moreover, the classic basket adds the vintage bicycle look that once again takes the vibe to the next level.
Bottom Line 
Unlike any other four-wheel scooter, the Pride Maxima bike is carefully designed with utmost attention to comfort and functionality. The adjustable seat and the handy basket are examples of how manufacturers put consumers' comfort first. This product is highly durable and ensures a perfect ride, every time. With the highest weight limit of 500 pounds, this unit stands out from the rest. All in all, it is an excellent investment if you're looking for a comfortable yet smooth ride.
5. Tzora Titan 4
What Recent Buyers Report 
Judging from the feedback it has generated, which is quite positive, this is one of the safest products on the market. Users report that it is easy to assemble and operate. For portability, it presents two options of either folding or disassembling. Both of these are very easy to do, according to consumers. The only aspects buyers do not like are its heavyweight and smaller seat. 
Why it Stands Out to Us
Tzora Titan 4 is a fantastic choice for outdoor trips. It can get you to the remotest of locations through the roughest of terrains. The coach allows you to carry lots of stuff or gear with you. Planning a solo fishing trip is not hard when this is your ride. 
The foldable design makes it very portable. You can easily transport it anywhere without needing to dismantle it. The battery lasts around seven to eight hours, and it can travel up to 15.5 miles in a single charge. 
The battery can be charged both on and off the board. So you can keep a spare one with you if you want to travel a longer distance. Also, the coach can carry a few solar panels so you can charge it on the go. 
Bottom Line
This is an expensive product, so if you are not on a tight budget, you should definitely check it out. It guarantees a smooth, stable, and comfortable ride even on uneven ground. It is sturdy, charges faster, and delivers a reasonable range. To conclude, we will say that this is the right unit that will get you around anywhere you want. 
Benefits of Investing in a Quality Off-Road Mobility Scooter
We all understand how devastating it is to be stuck at home, ill, and unable to move at your own will. In such conditions, newspapers and TVs are the only company. That's not how it should be, and mobility scooters certainly change it. They ensure that limited mobility does not get in the way of enjoying life to its fullest. Here are some benefits of investing in a quality off-road mobility scooter.
Independence
Mobility scooters evoke a sense of independence. Instead of waiting around for other people to assist in conducting various errands and daily chores, one can now do them independently with their own mobility scooter. They normalize the way of living to some extent. 
Increase Accessibility 
The way we socialize is an ever-changing norm. Fortunately, modern mobility scooters fit in well. Many malls and public places are also working towards improving accessibility so anyone can have a good time.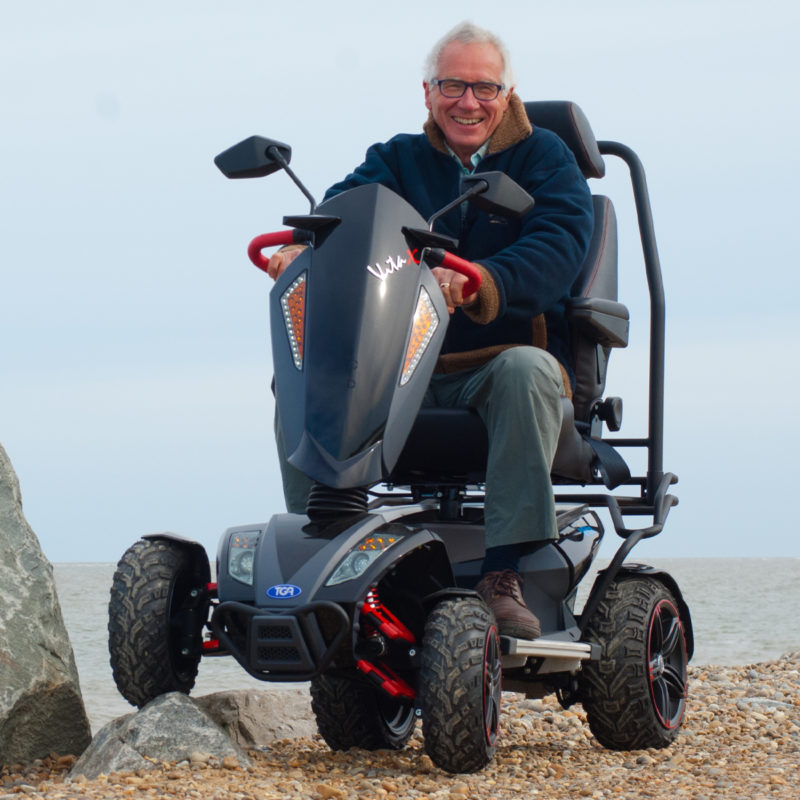 Prevent Injury
Being old or physically compromised can increase the risk of falls and injury by ten-folds. Being on a mobility scooter significantly reduces the risk. They also assist in speedy recovery post-surgery. 
Speed
Off-road mobility scooters go from zero to up to eight mph in a jiffy. This means the rider can keep up with friends or family on a walk outside without tiring themself. It imparts confidence and energy, which in turn improves their health and well-being. 
Flexibility 
They are much more flexible than traditional wheelchairs. Not only can the rider steer them independently, but with a swiveling seat, getting on and off is not much of a problem. Furthermore, some models are foldable or easily dismantled, which enable easy transportation and storage. 
Cautious Considerations to Keep in Mind
Mobility scooters have changed our view of the world. They have allowed people with mobility issues to experience and independently interact with the outside world. Though they are a significant investment, the purpose they serve is undoubtedly worth every penny spent on them. However, there are some careful considerations that you should bear in mind to make your investment more worthwhile.
Rider's Ability 
Currently, there are no fitness-to-drive standards for mobility scooter users. So we would recommend to carefully take into account certain factors that will affect its use. These include mobility, tolerance, weight, balance, memory, sight, perception, and cognitive ability of the rider. Always give first priority to the rider's safety and ability. 
Usage
Since you are looking to purchase a scooter for outdoor usage, we suggest that you look at models that are designed for it. Usually, four-wheeled models or ones that have large and pneumatic wheels are suitable for off-road riding. They deliver a smooth ride by traveling over bumps and terrains in a better way.
Size
With an array of sizes available, be sure to pick one that fits your size better. The seat should be high enough to sit comfortably, the knees should bend at a 90-degree angle with feet flat against the footrest, and the tilter should be in easy reach without needing to curve the back. This is the ideal fit that you should keep in mind. 
Conclusion
Choosing a suitable mobility scooter for yourself or your loved one can be challenging, especially if you don't have any prior knowledge to figure out a good one. We hope this article has provided you with all the necessary information. 
If you don't want to tire yourself out by inspecting all the different models currently available on the market, we have also included a list of the best mobility scooters for off-road traveling. They all have varying prices and features so that you can choose one according to your budget and needs. They are a worthy investment, so rest assured your hard-earned money won't be wasted.
People Also Ask
Mobility scooters have been around for decades. They are a massive blessing for physically compromised individuals. They not only help them get around, but they also promote freedom and independence. With technological advancement, mobility scooter technology has also improved. With more efficient and better units produced regularly, buyers are often confused. Here are some of the commonly asked questions regarding these vehicles: 
How to Charge a Mobility Scooter on the Road 
Unlike electric cars, we don't have a lot of charging points available for mobility scooters. Charging one on the road can be a big issue. One way to do so is to buy an in-car inverter. This device connects to the cigarette lighter of any car and charges the battery of your disability vehicle. 
Can Off-Road Mobility Scooters Go Uphill?
This is the most commonly asked question. Yes, they can go uphill, but the degree of steepness varies from model to model. All scooters are designed differently. So the manufacturers test them and include the slope and gradient information inside the product manual. When you survey the market, you will notice that some products actually stand out for being right on slopes.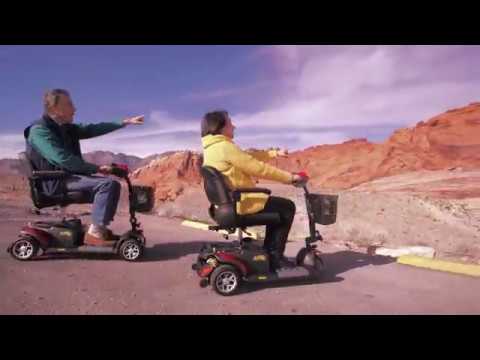 BUZZAROUND EX Extreme in use. (Source)
Can a Mobility Scooter Fit in a Car?
Not all mobility scooters can fit in a car. Some specific models are specifically designed to be lightweight and compact. Some are collapsible, while others can be easily disassembled. Foldable models can easily fit in a car. They are light in weight so you can lift them up easily as well. 
How Fast Can You Go on an Off-Road Mobility Scooter?
By law, mobility scooters are categorized as vehicles. So they are subject to rules and regulations set by the local authorities. Off-road mobility scooters are classified as class three scooters. Their speed is restricted at four miles per hour on the road and eight miles per hour off the road. 
Can You Race in an Off-Road Mobility Scooter?
Off-road mobility scooters are not designed for racing. With the top speed of only eight to ten miles per hour, they are not fast enough for racing. However, racing enthusiasts are pimping them up to create souped-up models to use for racing and record attempts. 
How Long Does the Battery Last on an Off-Road Mobility Scooter?
Mobility scooters come with one-year warranty coverage for batteries, but they last longer than that. With daily usage, the batteries can last for about two years. And if used less frequently, about once or twice a week, they can last up to three years as well. In the end, it all depends on the conditions you are traveling in and how well you take care of it.