Youngsters nowadays are addicted to technology to an alarming extent. Gone are the days where children would engage in physical activities and go out to play, which is rather unhealthy and upsetting. To remedy the situation, it is always a good idea to encourage riding a scooter. 
A few benefits of riding a scooter is how it helps with balancing your weight and improves coordination. However, safety is always to be considered first. The right safety paraphernalia, such as helmets, are a must. Thus, we have reviewed for you some of the best toddler helmets for scooters and have provided all the relevant information needed.
To find more, keep on reading!
At a Glance: Our Top Picks for Toddler Helmet For Scooter
Comparison Chart of the Best Toddler Helmets For Scooters
IMAGE
PRODUCT

Our Top Pick

Come in two different sizes, small and medium
Fitted with an expanded visor that provides maximum protection
Adjust-to-fit dial helps to tighten and loosen the straps

View Latest Price →

Contains molded liner pads for maximum comfort
A certified EPS liner and ABS shell for multiple impact
Has adjustable straps that provide a secure locking buckle

View Latest Price →

Best Budget Option

Best for the Money
Features a multi-directional impact protection for maximum safety
Easy to adjust vertical and tension to make it more comfortable

View Latest Price →

Best used for skating, rolling, and skateboarding
Versatile in that it comes in different sizes
Included is a sweat saver and hook and loop tape

View Latest Price →

Different sizes for both children and adults
An extended rear coverage and sub-limiting webbing for comfort
Designed with an easy to use buckle for children

View Latest Price →
How Do I Measure my Toddler's Head For a Helmet? 
When you decide to buy a helmet, you will need to know the head circumference of your child in order to find the perfect fit. In order to correctly measure your child's head, you can either use a string or a cloth tape whichever works for you. 
Wrap the tape or string around the head a little above the eyebrows and place a mark at the right spot. If you're using a string, you can wrap it around the head and measure it with a regular tape afterward. The resulting measurement is the head circumference that you will use to buy the helmet. 
How to Choose a Toddler's Scooter Helmet
There are certain aspects that need to be taken into consideration while buying a toddler's scooter helmet. Let's take a look at a few of them so you can understand what to look for when you go out to buy one:
Adjustable Straps
Often, parents buy bigger helmets, which shouldn't be the case as they will loosen up and fall off, not serving their purpose. If you have bought a helmet that's too big, adjustable straps could save the day. They allow one to secure the helmet perfectly in place and adjust it according to preference so one can achieve the required level of tightness.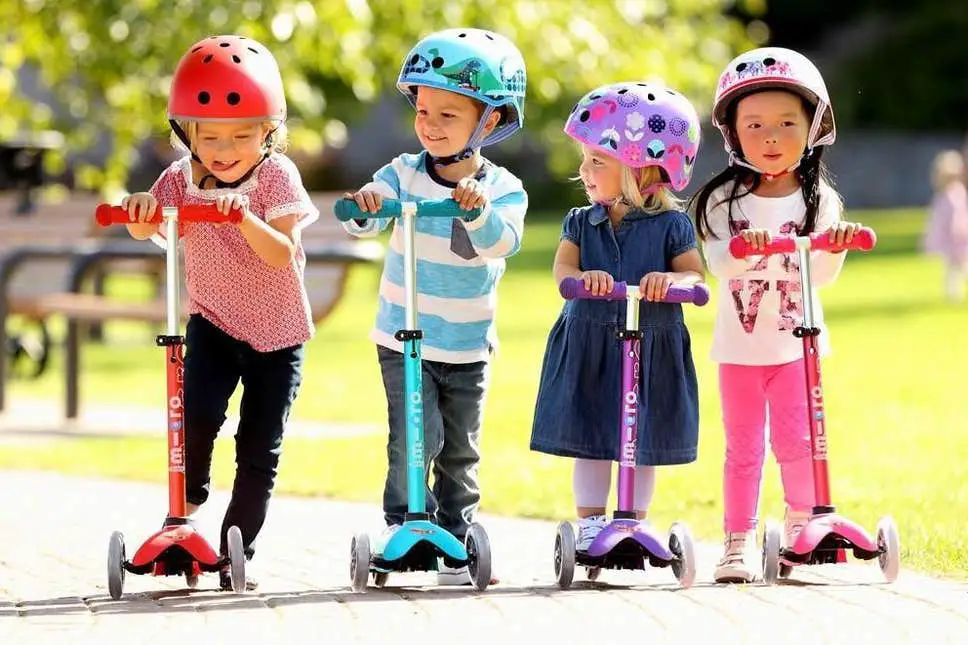 Strong Build
The point of a helmet is to absorb the impact which comes with a crash, thus make sure the one you invest in is built from good quality materials such as ABS plastic. This way, it can withstand crashes and falls without breaking. Good quality helmets have an inner lining, good rear coverage, and integrated mesh as well, which provides greater protection. 
Ventilations and Padding
Invest in a product with a sufficient number of air vents so that you can remain cool. Air vents allow air to pass through the helmet and prevent sweat from pooling up inside. It is also crucial to buy a unit that has internal padding and inner lining, so it is comfortable to wear. 
Review of the Best Toddler Helmets For Scooters
There are many helmets in the market, but not all of them are worthy of investment. It is crucial to buy the right product when it comes to this, as it is a matter of safety. Thus, we have reviewed some of the best toddler helmets in the market to help you make the right decision. Let's take a look at them:
Best Overall:
Joovy Noodle Helmet
The Joovy Noodle Helmet is created to be stylish, comfortable, strong, and meets national standards of quality.
What Recent Buyers Report

Buyers are very happy about investing in this unit due to various reasons. Firstly, it is considered to be a highly reliable and affordable product. It not only offers protection but looks stylish as well. Even though some buyers did find it to have a huge difference between sizes, it is comfortable and easy to adjust; thus, it isn't a big deal.

Why it Stands Out to Us

There's no doubt that this helmet is very deserving of the best overall position on our list. It features a stunning design that is available in seven beautiful, bold, and bright colors. It is designed such that it is not just strong and sturdy but also very comfortable to wear for children.

The design is truly remarkable as it features fourteen air vents and an integrated bug mesh, which allows the wearer to remain cool and provides added protection. Furthermore, the helmet is completely adjustable. It has adjustable straps and chin straps as well, so your child can grow into it.

Bottom Line

There aren't many products out there that receive the amount of love and appreciation this one has. It is considered to be one of the very best in terms of quality, design, and the protection it offers. This is why it is considered to be a great investment.
Runner-up:
Pro-Tec Classic
This high impact and incredibly sturdy Pro-Tec Classic helmet is not only ergonomic but also highly stylish. 
What Recent Buyers Report
This product seemed to have really impressed the buyers with its impeccable design, which is capable of withstanding high impact. Even though some did find that the replacement liners were hard to find, they were willing to overlook it. Overall, the product is loved by consumers greatly. 
Why it Stands Out to Us
Bright colored and bold outdoor gear is considered incredibly stylish these days. The Pro-Tec Classic helmet is available in a wide range of colors and finishes; thus, you can definitely pick out the most eye-catching and stylish one according to preference rather than buying a boring generic-colored helmet. 
However, the helmet is more than just its stellar looks. It is constructed from a high impact ABS shell and certified inner lining, which is why it is capable of providing excellent protection. Furthermore, it has compression-molded lining inner parts that make it comfortable to wear. 
Bottom Line
All in all, this is a pretty impressive helmet. Not only is it designed to be stylish, but it can also be bought in multiple different colors and finishes that add to the package. It can withstand high impact and proves to be incredibly reliable.
Best for the Money:
Giro Scamp MIPS
Smart and innovative design, coupled with the bright colored body makes it one of a kind.
What Recent Buyers Report

Users are very impressed with this unit due to the incredible construction and build quality that it offers. It is perhaps one of the most stylish helmets out there. Apart from that, they found it highly reliable, sturdy, strong, and comfortable to wear as well.

Why it Stands Out to Us

It stands out as it features one of the most innovative and smart designs that take into account user comfort and safety both at the same time. Despite being made to be incredibly tough and sturdy, it is capable of being comfortable to wear even for an extended period of time. It features eight-vent ventilation and a soft inner lining. The external shell is strong and made from polycarbonate, whereas the inner lining is shock absorbent.

Furthermore, it is available in beautiful colors that are bold and bright; thus, it stands out from most counterparts. It is incredibly safe as it uses a multi-directional Impact protection system that redirects energy from crash or impact.

Bottom Line

There aren't many products quite as well designed as this particular unit. It is incredibly reliable and stylish at the same time. One can easily spot this helmet, given its bright and bold colored appearance. Furthermore, it withstands impact well; thus, it proves to be a great investment. 
4. Triple Eight Sweatsaver
It is sturdy and stylish on the outside yet easy and comfortable to wear on the inside. 
What Recent Buyers Report

This is one of those products in the market that consumers loved the most. It is highly stylish with its dual-tone design of black and red. It even comes with a manufacturer's warranty which a lot of its counterparts don't. All in all, it's a great unit to invest in.

Why it Stands Out to Us

There are many aspects to this product that captures interest. Firstly, it looks incredible. It has a black and red body and a matte finish that is both unique and classy. Furthermore, the design is capable of withstanding great impact and remaining sturdy and strong during a crash. Even though it is a heavy-duty design, the unit still remains incredibly comfortable and ergonomic for the consumer.

This unit is available in six different sizes, which is more than what most brands offer; thus, you'll be able to surely find your perfect fit with this one.

Bottom Line

Triple Eight is known to create some of the highest impact and fashionable sports gear; thus, they are expected to come out with nothing but the best. This is a great example of that. This stunning helmet is incredibly well-constructed, sturdy, and comfortable to wear.
5. Bell Pint Toddler Helmet
Unique, ergonomic, and sturdy are characteristic features of this stunning helmet that takes into account the child's safety as well as comfort.
What Recent Buyers Report

There aren't many products out there that are as light and sturdy as this one. It is created with top-quality materials, and that shows how well this model holds up. All of these things, plus the comfort and ergonomics it offers makes it a great investment and a consumer favorite.

Why it Stands Out to Us

Bell Pint is known to create some of the best helmets in the market. This particular product is also a well-designed unit. It is available in different colors and patterns that make it incredibly stylish. This unit is a multi-sport helmet and can be used for scooting, biking as well as skating.

Its construction is lightweight yet sturdy and strong due to which it can withstand impact and crashes without being uncomfortable to wear. It can fit head sizes of 48 to 52 cm.

Bottom Line

Last but certainly not least, this unit is a true gem. It features an incredible design that takes into account not just the sturdiness and comfort but also the style factor as well. It can handle high impact crashes while being comfortable to wear.
Benefits of Investing in a Quality Toddler Helmet
If you are still on the fence about whether or not you should be investing in a helmet in the first place or perhaps want to know more closely what it offers, looking at the benefits of the product will help you. Let's take a look at a few benefits one gets upon investing in a quality toddler helmet:
Safety
Safety is the number one concern of parents when it comes to their children. It is important to make the children realize its importance as well. The number one benefit of a good quality toddler helmet like the ones in our list is that it is capable of withstanding a high impact. Good quality helmets are created with sturdier material with an inner lining and padding to add to the protection.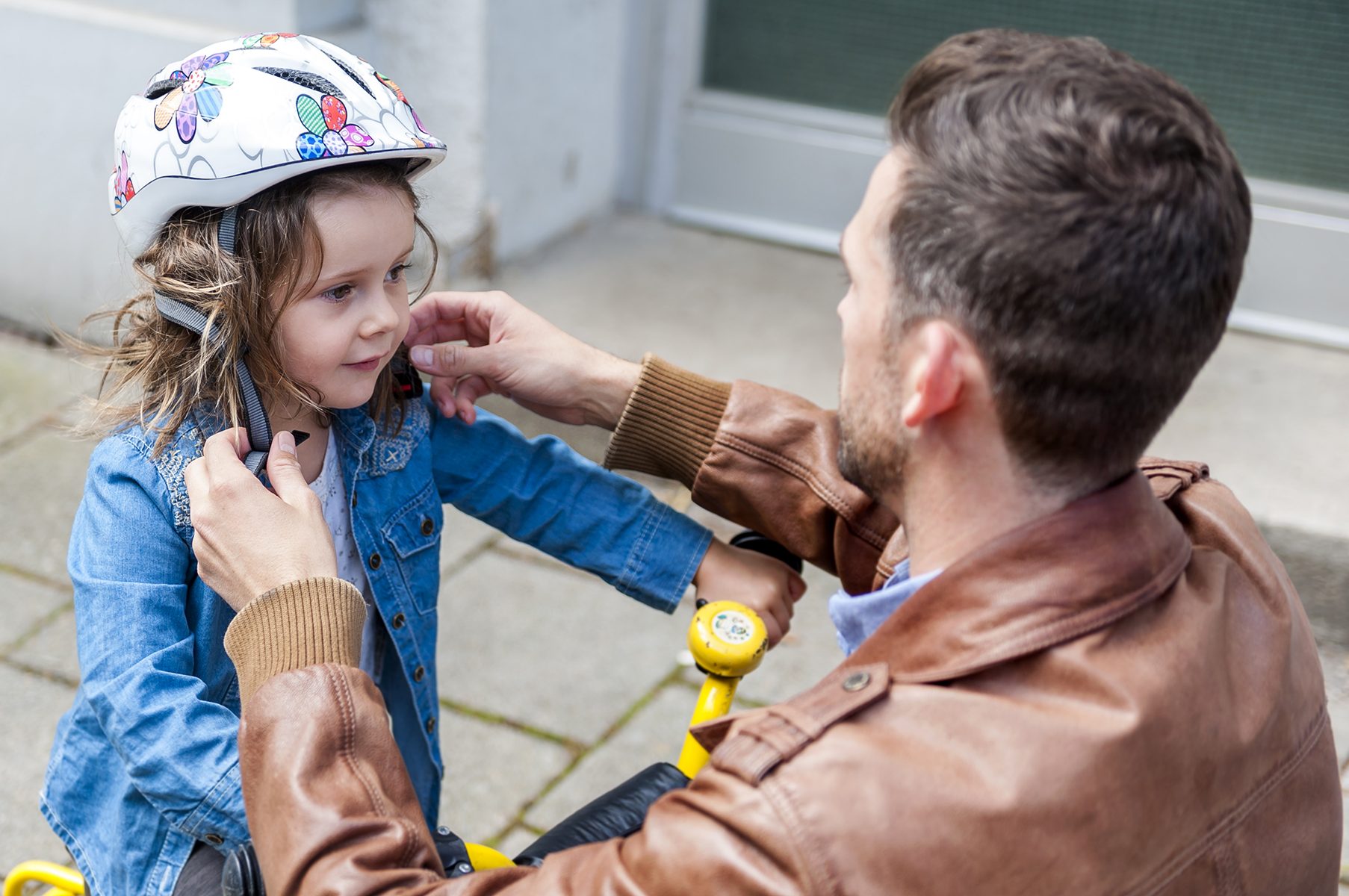 Comfort
It's important not to skimp or buy the wrong product when it comes to buying helmets. This is because often, they aren't comfortable. In fact, they are scratchy and hard to wear. However, investing in a good quality toddler helmet would save you from any such trouble. It will have added padding, which will ensure a comfortable wearing experience. 
Style
Helmets have now also become fashion a statement and really compliment the look. They are available in a wide range of colors, patterns, and finishes; thus, you can find one according to your preference. 
How a Toddler's Helmet Should Fit
No matter how necessary they are, children often resist wearing helmets or safety gear due to them being uncomfortable to wear or too heavy. For this reason, it's important to know how to properly fit a helmet so it isn't uncomfortable to wear for the child and they can go about their way easily. Thus, we have a step by step guide for you on how to properly fix a toddler's helmet:
In order to fit a helmet, the first thing to do is to ensure that the foam located inside the helmet is properly in place. 
Then, adjust the racket on the backside till it's secure and snugly into place. While doing all this, keep the chin strap undone and try moving the head around. The helmet shouldn't be loose when you do this. 
Bend the head so much so that it points to the ground. The test is to see whether the helmet falls off, which it should not if it is properly fitted even with the chin strap undone. 
Now, buckle the chin strap snugly so much so that only a gap of only a finger or two remains underneath. You are now ready to scoot and have fun outdoors!
In case you don't quite get what the description meant or perhaps are having any difficulty following the steps, feel free to see the video below to get more clarification. 
Conclusion
Safety should always be the number one concern when it comes to physical activities. It is upsetting to see how the younger generation is now too absorbed in technology; thus, encouraging outdoor activities is always a good idea while taking safety measures. 
Where riding a scooter can teach a child how to improve coordination, it can also lead to injuries if not fully prepped. Keeping all of this in mind, we reviewed some of the best toddler helmets in the market, along with giving you all the necessary information required. Hopefully, this post proved to be helpful and allowed you to make an informed purchase decision. 
People Also Ask
When it comes to buying the right helmet for your child, people tend to have a lot of questions. It is important to clear any confusion as it is a matter of safety that always comes first. Thus, we answered your most frequently asked questions to aid with the buying process. Let's take a look at them:
Do Toddlers Need Helmets on Scooters?
Yes, it is absolutely necessary to invest in a helmet for your child on scooters. It is a safety precaution that should be taken very seriously and not be skimped on. Helmets are able to provide a great deal of security and safety and make a fashion statement, too; thus, they are an overall great investment. 
What Size Helmet Does a 2-Year-Old Need?
In order to find the perfect helmet, one needs to measure the head circumference of the child. For a two-year-old generally, the measurement is forty-eight cm.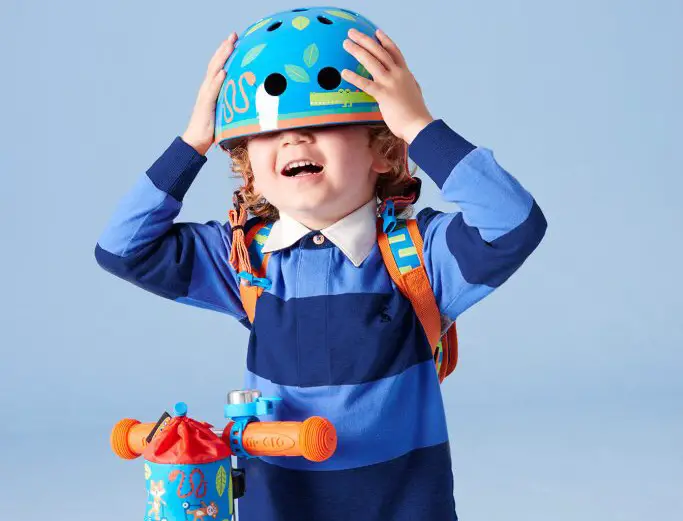 Are Scooters Safe For Toddlers?
Scooters can provide benefits, such as improved coordination and balanced weight; however, according to many child safety experts, a scooter may not be the appropriate toy for a child under eight years of age. 
It is, often than not, motorized and capable of traveling at faster speeds that may make the child prone to injury. However, a toy scooter that is built to be safer, more lightweight, and comes with the necessary weight to balance might be the right choice. 
How Do I Measure my Toddler's Head For a Helmet?
Well, in order to find the right fitting, one needs to know the head circumference of the child. You can do this using a cloth measuring tape or by wrapping a string around it and then measuring the length of the string in case you don't have a tape. Wrap the string around the forehead, starting above the eyebrows to get the measurement.