Hoverboards have been the staple of trends in the past few years. They were once seen as luxury items; however, with time, they're now more affordable than ever. 
One variation in these vehicles is Bluetooth hoverboards that provide great entertainment in an open environment. 
If you're also looking to invest in one, here is all that you need to know. 
What does it mean to have a Bluetooth hoverboard? 
Basic hoverboards are great, but they lack in terms of an overall enjoyable experience. Here's where Bluetooth hoverboards kick in. They can be paired with your phone or laptop and can be used to answer calls. 
Bluetooth hoverboards offer dual-functionality; they are hoverboards along with Bluetooth speakers. For this reason, the sound quality and battery life in these have improved a lot in recent times. 
At a Glance: Our Top Picks for Best Bluetooth Hoverboards
Comparison of the Best Bluetooth Hoverboards
IMAGE
PRODUCT

Our Top Pick

Built-in bluetooth wireless speaker
Self-balancing technology is ideal for beginners
Smooth ride thanks to high quality rubber tires

View Latest Price →

Battery lasts up to 75 minutes
Only takes 3 hours to charge
Maximum weight capacity of 165 lbs

View Latest Price →

Best Budget Option

Best for the Money
LED wheels flash when in use
Built-in bluetooth wireless speaker

View Latest Price →

Best Bluetooth Hoverboard Under $200
Maximum weight capacity of 220 lbs
Can go up to 6 miles in distance

View Latest Price →
Are all Bluetooth Hoverboards The Same?
No, not all Bluetooth hoverboards are built the same way. They all have different functions and specifications. Hoverboards vary on the following factors:
Speed
Some hoverboards go faster than others. However, it is always recommended to get the one that goes around five to ten mph. Anything more than that would not be enjoyable and might cause injuries. 
Battery
Bluetooth hoverboards use the same battery for the Bluetooth speakers as well as motors. A reasonable hoverboard battery charges in two to three hours and can last you for two hours minimum.
Motors
There are different types of motors used in hoverboards, such as a single-motor setup or dual-motor setup. In most cases, a dual-motor setup is preferred. 
Review of the Best Bluetooth Hoverboards
There are many Bluetooth hoverboards available on the market right now. Making the right choice might be difficult for many first time owners. However, to ease your buying experience, we've curated a list of best Bluetooth Hoverboards. Let's head to it.
Best Overall:

SISIGAD Self-Balancing Hoverboard
What Recent Buyers Report
Buyers attributed great confidence to the SISIGAD Hoverboard. Most of them regarded it as the perfect gift for pre-teens. Its self-balancing feature was highly praised, and the kids loved the lights. They also faced no issue connecting it with their phones. 
Why it Stands Out to Us
This hoverboard is best suited for kids and teenagers. Adults can enjoy riding on it too. However, their weight might be an issue. Anything above 150lbs is a no-go for this hoverboard. 
The self-balancing feature works amazingly well and can even compensate for turns and twists. The Bluetooth speakers also work fine on this phone, however, don't expect to be answering calls on it. The Bluetooth range might be an issue, but as long as you're riding it, it won't bother you at all. 
The battery life is impressive as well; you can expect two to three hours of riding time with a single charge. 
Bottom Line
SISIGAD's hoverboard can be a nice birthday present for kids and teenagers. It's well designed and is worth every penny. The Bluetooth works great, and the batteries are good as well. 
Runner-up:

XPRIT Hoverboard
What Recent Buyers Report
The majority of buyers loved this Bluetooth hoverboard and praised its comfort. They proclaimed that their kids loved it, and it had good Bluetooth coverage. In some cases, there was some apparent disconnection of Bluetooth. However, most of them rated their experience as great. 
Why it Stands Out to Us
XPRIT has done great at keeping the overall design profile of this hoverboard minimal. It is featured in various popping colors in the same price bracket. It roughly takes around two to three hours to charge completely and gives a riding time of around one to two hours, with the Bluetooth turned off. You can expect around one hour of riding time with Bluetooth turned on. 
Another great thing is the self-balancing feature, which ensures the safety of the rider. The wheels are also great on all kinds of terrains. You can ride without any issue on carpets and concrete roads.
Bottom Line
XPRIT's Bluetooth hoverboard is well-designed and keeps the aesthetics at its maximum. The variety of color options also makes it a unique choice for many teens and pre-teens who like to match colors with their personalities.  
Best for the Money:

YHR Hoverboards UL2272
What Recent Buyers Report
Buyers initially liked the product because of its price point and overall features. Users reported that it exceeded their expectations. The tires are durable, and the axles don't clog up quickly. They also praised its ability to balance itself. 
Why it Stands Out to Us
YHR has made this hoverboard affordable by cutting out on various things such as a strong plastic shell and other hardware components like the battery. Two to three hours of charging can last you a maximum of 40-60 minutes. This might sound low, but at this price point, you can't complain much at all. This is a sacrifice many buyers are willing to make. 
Pairing the Bluetooth module to the phone is also simple and straightforward; just turn on the hoverboard, open Bluetooth settings on the phone, and you're good to go.
Bottom Line
YHR's hoverboard is an excellent choice for first-time Bluetooth hoverboard owners. It has all the features necessary to make a compelling unit along with a significantly lower price tag. 
Best Bluetooth Hoverboard Under $200:

Hover-1 Chrome 2.0
What Recent Buyers Report
Users adore this product because it has all the features that a good hoverboard must contain. The battery lasts for up to five hours. Many parents are buying the Chrome 2.0 for their kids to keep them off of cellphones. 
Why it Stands Out to Us
This hoverboard immediately catches our eye because of its aesthetic and modern design, LED lights, and Bluetooth speaker. The lights on this product blink and change colors when the rider is moving. The sound it produces is loud and clear, although you must stay in the range of 30 feet with your Bluetooth device, or the signals will start to fade. 
You can easily travel at a maximum speed of 6.20 miles per hour on this. The smaller wheels are great for flat terrains. It has the right amount of speed, which makes this hoverboard great for beginners and young kids.  
Bottom Line
The Chrome 2.0 is indeed a great gift for anyone who enjoys this kind of ride. Safety is the biggest concern with any hoverboard. However, this model takes that away. Plus, with its ability to handle over 200 pounds of weight, it can be suitable for adults too.
Editor's Pick:

TOMOLOO Hoverboard UL2272
What Recent Buyers Report
Most buyers report that their kids loved this Bluetooth hoverboard. They stated that the lights are pleasant, and their kids comfortably started riding just after five minutes of unboxing it. Plus, they loved that the battery charges very fast and lasts for a long time.
Why it Stands Out to Us
The Tomoloo hoverboard can easily hit a speed of 7.45 miles per hour. However, the speed also depends upon the type of terrain and the weight of the rider.
It is imperative to mention that 6.5″ wheels are heat-resistant and waterproof. Moreover, you can install the supported application to check the battery percentage, range, and much more. 
Moreover, the brakes are smooth, guaranteeing the safety of the rider. It can easily handle a weight of 220lbs. This product will guarantee fun with your friends and family with attractive LED lights and impressive design.
Bottom Line
This product can be an excellent gift for kids; they can have fun controlling the LED lights and other features of this hoverboard with the mobile compatible app. The performance is great, and the ride is smooth too.
Hoverboard Bluetooth vs. Non-Bluetooth- Comparison Overview
Regular and Bluetooth hoverboards are the same in most cases; however, there are some stark differences between them. Let's get into them.
Bluetooth Module
The major difference between the two has to be the addition of the Bluetooth module. This module runs off the hoverboard's battery and allows the user to connect the phone to the hoverboard. 
LED Lights
Some regular hoverboards have LED lights in them; however, they're not as great as LED lights featured in Bluetooth hoverboards that are integrated with speakers and provide audio visualization. 
Moreover, RGB functionality is also present on these Bluetooth hoverboards, which can be a major attraction for teenagers. 
Better Battery
Regular hoverboards have batteries designed to be used with motors only, but in Bluetooth hoverboards, the same battery is used to drive the speaker units. 
To counter this, many manufacturers place a bigger and better battery in Bluetooth hoverboards to maximize its running time. You can expect even more battery life by turning off the Bluetooth speakers.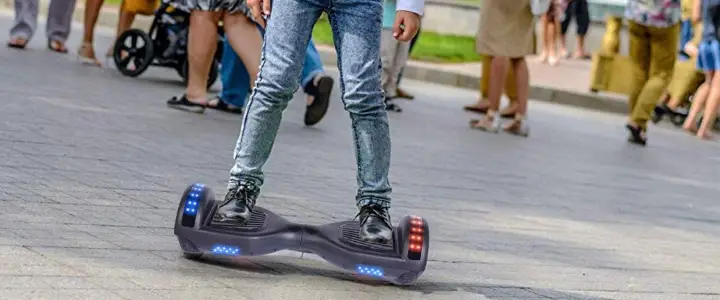 How to Connect Bluetooth to a Hoverboard
Connecting your Bluetooth hoverboard to other Bluetooth devices like phones and laptops is a straightforward and painless process. However, the connecting experience might be different for each model. The following are the basic steps that will help connect your hoverboard with your phone in no time. Let's get started:
Turn on the hoverboard. Depending on your model, you might hear a beep or 'Bluetooth Mode' coming from the speakers. These indicate that the module is on. You might even notice blinking LEDs, which translate to 'Waiting for Pairing.' 

Turn on the Bluetooth of your phone by going into the setting and perform a quick search for other Bluetooth devices. As soon as you see any new device with your hoverboard's brand or model, tap on it. 

In some cases, it might require you to press a button on the hoverboard for a successful pairing. But in most cases, upon connecting, you'll hear a loud beep. 

Once you hear the loud beep, you're good to go. Go to your favorite music streaming app and enjoy your musical hoverboarding experience. 
Conclusion
Bluetooth hoverboards serve both entertainment and utility purposes. They are loved by kids and teenagers all over the world. These were our reviews for the top Bluetooth hoverboards, each with its own strengths and weaknesses. They're easy to set up and use as well. 
We hope you now know how to find the perfect Bluetooth hoverboard for you. 
People Also Ask
Hoverboards aren't that common, and potential buyers might have many questions in their minds.
To help with that, we have curated some frequently asked questions that will surely help you pick a good Bluetooth hoverboard. 
How Much is a Bluetooth Hoverboard?
Bluetooth hoverboards aren't that expensive as people. They're a very affordable and excellent choice for gifts for pre-teens and teens. You can expect one to cost you around $120 to $400. The prices vary according to their functionality and quality. 
How Do I Know My Hoverboard Has Bluetooth?
Usually, manufacturers make it quite clear about their product's hardware. If you're unsure about your hoverboard, then look for speakers on it, or maybe a switch to turn on the Bluetooth module. If there are none, then your hoverboard might not have the Bluetooth functionality baked into it.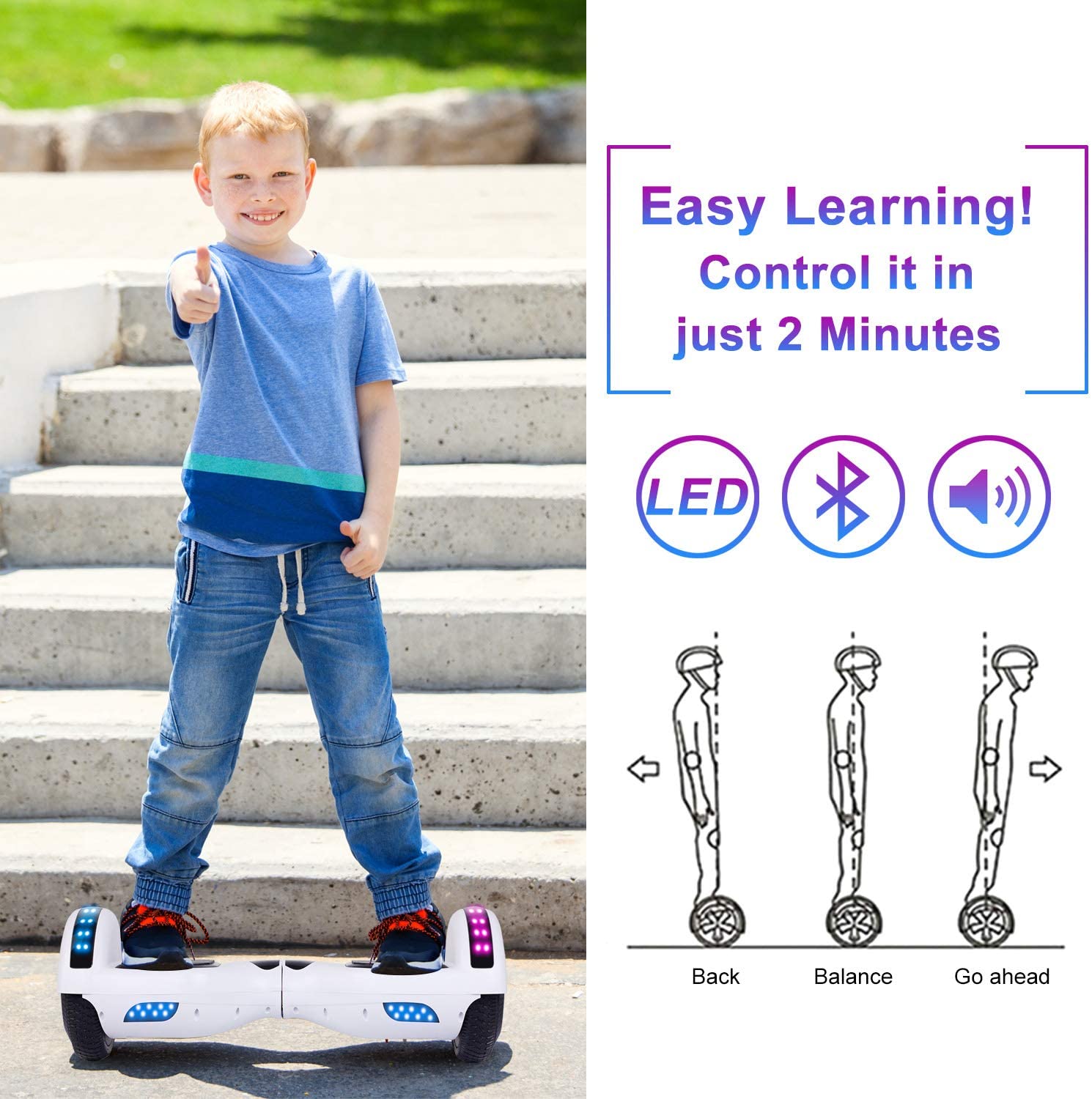 SISIGAD Self Balancing Hoverboard
Why is My Hoverboard Not Connecting to Bluetooth?
There could be many reasons why your hoverboard isn't connecting to your Bluetooth. The first thing you should do is to delete your hoverboard from your other Bluetooth device's paired list. 
You can do this by going into the Bluetooth settings and clicking on 'Remove' or 'Forget this device.' Then try pairing your hoverboard again. If it still doesn't connect, then your Bluetooth module might've gone bad. 
How Do You Turn Bluetooth Off on a Hoverboard?
It's fairly easy to do this on most Bluetooth hoverboards that don't run on the same line as the motors. You might find a switch or button on these hoverboards to turn off the Bluetooth module altogether. 
However, some models might not have the button to turn on/off the Bluetooth module. They might end up wasting precious battery life. 
How to Calibrate a Bluetooth With a Hoverboard
Calibrating a hoverboard, whether it is with Bluetooth or not, is most important. It is because the gyroscope sensor inside depends on the correct calibration to run the self-balancing function. If it's not calibrated the correct way, it might cause injuries. 
You can calibrate your Bluetooth hoverboard on a flat surface and by pressing the button in the way which is mentioned in the user guide. It is because different manufacturers implement different techniques. 
How Fast Does a Bluetooth Hoverboard Go?
Bluetooth hoverboards aren't designed to go faster than six to eight mph. Any case of achieving speeds over that might end up bad and cause the rider to lose their balance. 
Moreover, higher speeds might cause the components to break or deteriorate faster than usual.