At a Glance: Our Top Picks for Fastest Hoverboard
The rapid automatization that took place in the previous century is an example of its own. One of the latest products introduced in the transportation industry is the hoverboard. It falls in the category of bi-wheelers and is optimal for short distance traveling.
It was invented in 2013, and its popularity has been increasing ever since. It was invented by a Chinese-American inventor Shane Chen in the year 2013. However, the design and concept are also known to date back to the 19th century.
Since its invention, various designs of hoverboards have been introduced to the market. They can be divided into different categories depending on their speed or design. However, the fastest hoverboards are the most units sold.
Comparison of the Fastest Hoverboards
IMAGE
PRODUCT

Our Top Pick

Powerful dual 400W motors with off-road tires provide excellent climbing
Long lasting battery will reach a rated range of 10 miles/charge
Fast charge enabled for 2-hour charging

View Latest Price →

Durable design optimized for safety
Equipped with pneumatic tires for a smoother ride
Max speed of 10 Mph for 13.7 mile/charge range

View Latest Price →

Best Budget Option

Best for the Money
Fully lighted with Bluetooth connectivity
Fast charging technology with improved battery

View Latest Price →

Max speed of 7 Mph at a range of 6 miles/charge
Constructed with IPX4 water proofing
Equipped with safety headlights and wheel LEDs

View Latest Price →

Super fast dual 500W motors reach speeds of 10 Mph
Fast charge battery lasts for 13 miles/charge
Equipped with anti-slip foot pads and all terrain wheels

View Latest Price →
How Fast Does a Hoverboard Go?
A hoverboard can have varying speeds. It depends on the company and the type of hoverboard. Generally, the speed of a typical hoverboard ranges between six to thirteen miles per hour.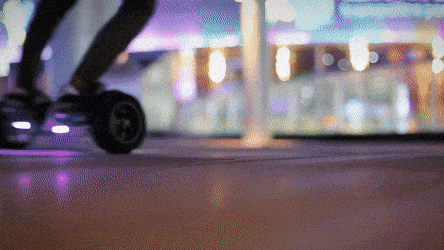 How Fast Do Lamborghini Hoverboards Go?
These hoverboards have a top speed of ten mph and a range of ten miles.
How Fast Does a Razor Hoverboard Go?
They can go as fast as eight mph and have a battery life of one hour at top speed.
What Makes a Hoverboard Fast?
Several factors play a role in the speed of a hoverboard. Similar to any other vehicle, the most important factor is the motor power. The amount of energy that the motor uses to power the wheels determines the speed of a hoverboard to a large degree.
Another prime constituent is the aerodynamic shape of the hoverboard. The shape reduces air friction at high speeds and allows it to move fast. 
The top speed of a hoverboard is also affected by the weight of the rider. With the increase in the rider's weight, the motor has to apply more power to the wheels, and the speed will be hindered if the motor can't generate enough torque.
Most of the time, these products are customizable. You can increase or decrease your hoverboard's top speed as per your needs, but only expert technicians should be allowed to toggle the boards' internal mechanism.
If you need to increase or decrease the board's speed, you can increase the battery output by using a battery of higher watts. You can also increase the top speed by upgrading the motor of your hoverboard.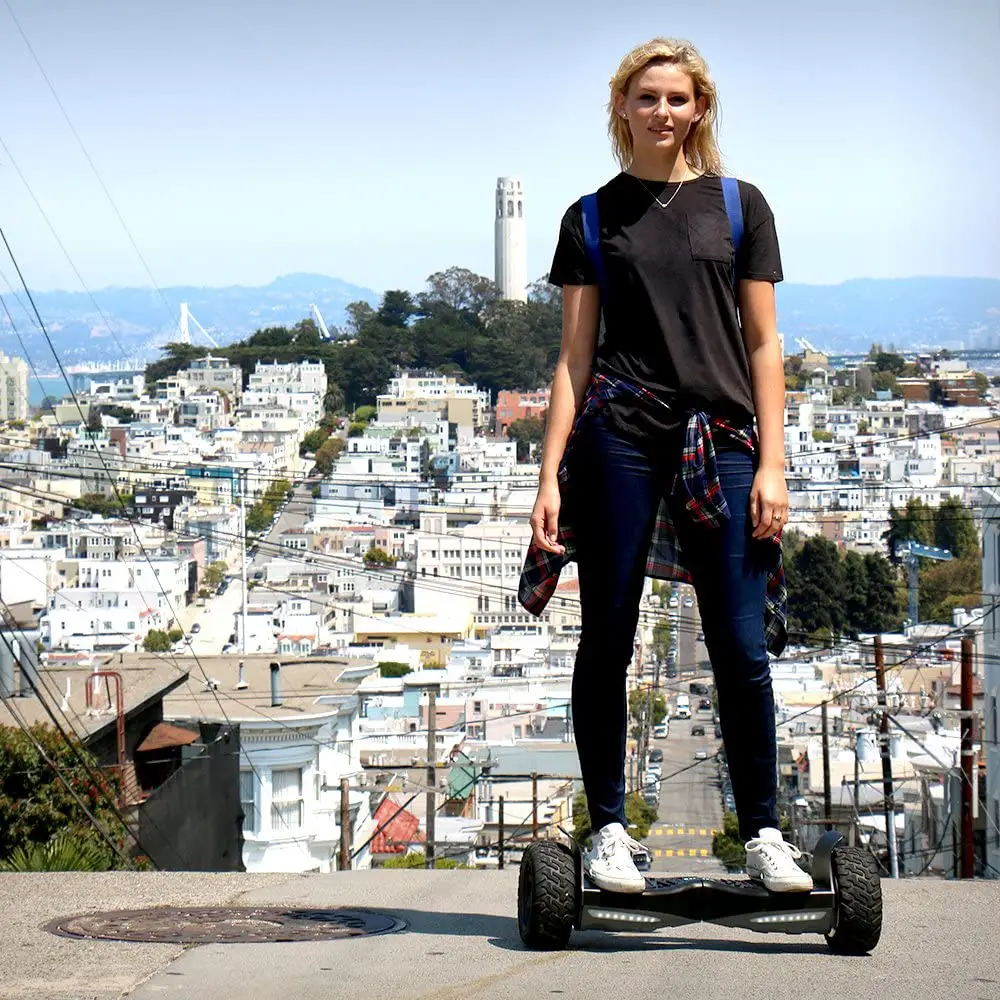 EPIKGO Self Balancing Scooter
Review of the Fastest Hoverboards
Here we are going to review some of the finest and fastest hoverboards currently available in the market. This will help you in successfully analyzing and comparing the best products for a wonderful buying experience.
Best Overall:
EPIKGO Self Balancing Scooter
What Recent Buyers Report
Thousands of customers have bought this product. Many were impressed by the durability and off-road experience of this product. The stylish design and powerful dual motors have also greatly added to the user experience.
Why it Stands Out to Us
The EPIKGO board offers not only great motor power but also an increase in foot space. It is nearly 30% larger than any other board currently available. It's sturdy rubber tires that are all-terrain capable, giving you immense freedom during your ride.
Moreover, it is completely waterproof, making it easy to drive through muddy or wet places. Its built-in fast charging ability takes just two hours to charge. It surpasses its competitors in size as well as in power and gives you an unmatched experience, unlike any other board.
Bottom Line
Considering the battery life, power output, and relative size of this product, it is one of the best products that you can buy. It has unmatched durability and a strong plastic body that can carry weight up to 240 pounds.
Runner-up:
Segway Ninebot S
What Recent Buyers Report
From the release of this product in the market, its popularity has significantly increased mainly due to its customer satisfaction. Many of the buyers suggested this product over any other in the market. This is for the simple reason that it offers comfort in driving and a smooth ride both on-road and off-road.
Why it Stands Out to Us
The Segway Ninebot S comes with an intelligent app management system. It allows the user to toggle the ambient lights and also provide anti-theft security functions. This software allows the user to adjust the speed limit and remotely control the vehicle.
In addition to all these qualities, vehicle self-diagnosis and firmware upgrades are also possible through this app. This product makes its way into the top list due to its user experience and road adaptation.
Designed for a smooth ride, its tires are air-filled and absorb shocks from the rough surface, such as a bumpy road.
Bottom Line
The excellent app functions and the road adaptability are major features that make it stand out from other products. The long battery life, along with a compact body and the top speed of ten mph, adds to the wonderful driving experience.
Best for the Money:
SISIGAD Hoverboard
What Recent Buyers Report
Buyers state that this product serves as a great gift for children as well as the elderly. It has dual Bluetooth speakers and colorful lights that are very attractive to young children. Most buyers recommend it as a great gift for special days, such as birthdays.
Why it Stands Out to Us
It has been designed for people that are new to riding a hoverboard. The latest self-balancing technology is used on this board that makes it easier to ride. The tires provide you extra grip so as not to fall while learning to drive in rough terrain. You can ride this board in smooth, muddy, or even grassy terrain at the top nine mph.
The self-balancing technology makes it easy for a beginner to learn and ensures the safety of the user. This provides you all the specifications you need to start your hoverboard experience.
Bottom Line
The high-quality Bluetooth speakers and the colorful lights provoke the kid's interest in this item. Being a great gift for kids and newbies, it focuses on the safety and enjoyable experience while riding this board.
4. Hover-1 Chrome 2.0
What Recent Buyers Report
Based on the reviews of all buyers, this product gives you the pleasure of a smooth ride while staying in a low budget column. The adjustable seat with the board converts it into a go-kart so you can avail of the experience of both.
Why it Stands Out to Us
The Hover-1 model is equipped with Bluetooth speakers and a durable lithium-ion battery. This comes with excellent sound quality, over-charge, and discharge protection kits. The two motors power the board to reach the top speed of seven mph.
The most distinguishing feature is the ability to attach the go-kart with this product. This allows you to ride it while sitting down and changes the experience to the next level. This feature also allows users of different body types to ride easily and adds further security to the product.
Lastly, the Velcro bands can be adjusted to the perfect fit.
Bottom Line
Overall, this product is for those just starting to learn hoverboarding. You can ride it while sitting down on it like a go-kart. This eases the long duration of riding the board without getting tired. This speed of seven mph is within the safety limits and fit for kids to ride.
5. Jetson Flash Self Balancing Hoverboard
What Recent Buyers Report
According to buyers, this product is designed for both newbies and experts to exploit the fun of different terrains. Most customers recommend this board over other products of the same category due to the pricing and durability, which makes it stand apart.
Why it Stands Out to Us
The Jetson hoverboard works on a battery of 500 watts that powers the board up to a speed of ten mph. On the footpad, anti-slip grips are present, which provide a better grip and a more secure experience. The Bluetooth speakers are also of fine quality.
Moreover, the board comes with a free app that helps you manage the product from the ease of your mobile phone or tablet. The lights around the wheels on both sides are LED and give out a fine color display while on the move.
Bottom Line
The strong footpad and the ability to climb steep places make it one of the top items in this category. This item includes the music, lights, and high speed to get that exciting driving experience all in your budget.
Pros and Cons of Fast Hoverboards
Before buying a fast hoverboard, one must have in-depth knowledge about its general advantages and disadvantages. Let's discuss some of them here.
Pros
Here are some pros:
Fun and Exciting
The main reason for buying a fast product is mainly due to the fun and exciting ride experience that it brings. Some people ride these boards to enjoy new controls at a fast speed. The risk that it brings boosts the adrenaline, making it an exciting activity.
Saves Time
Buying a fast hoverboard helps you to get to other places quickly rather than on foot. In a busy life routine, this is a plus point.
Saves Energy
A fast hoverboard saves you the energy along with time and saves you all the trouble of wasting your time while walking or using a slower mode of transportation. Unlike bicycles, you don't even have to paddle; simply charge and use.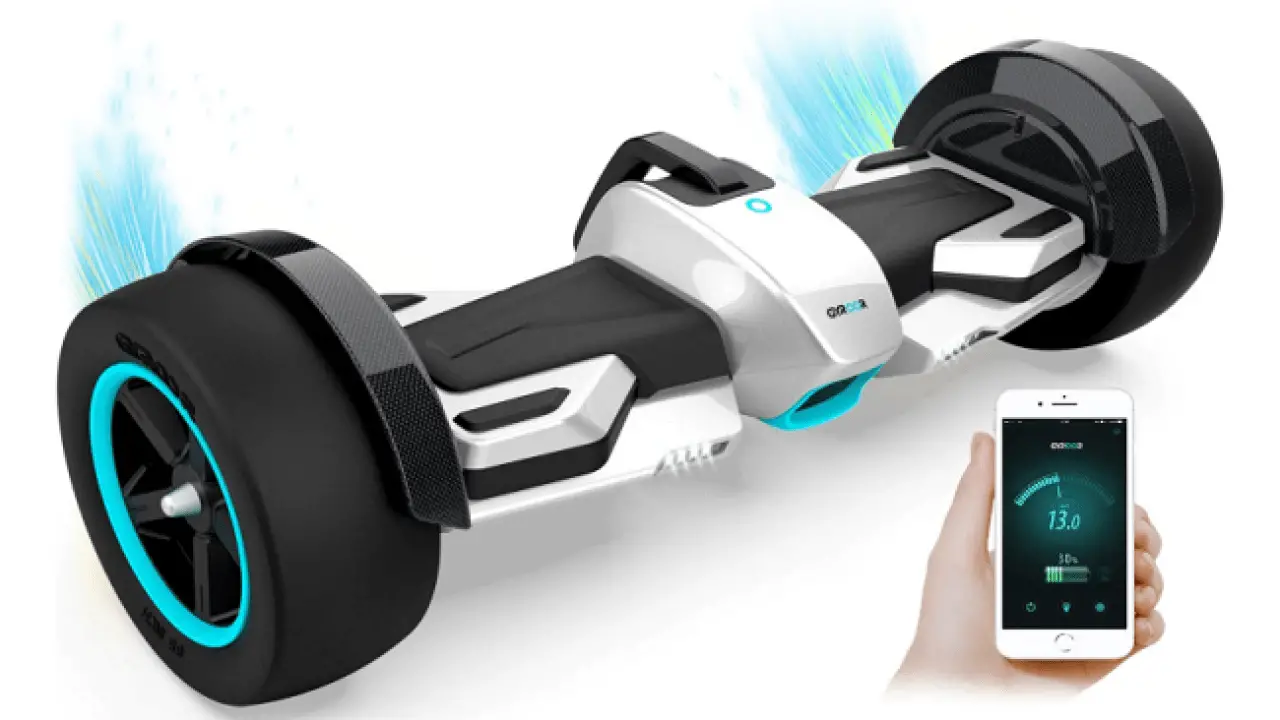 Cons
The cons are as follows:
Low Battery Life
The battery life of the board compensates for the increase in speed. The faster board drains the battery at a faster rate than a slow one and vice versa.
Injuries
When you are moving at high speeds, personal safety should be kept in mind, and all traffic rules should be obeyed. Wearing a helmet can also protect you from injuries.
Conclusion
To sum up, this discussion lists the most competent products currently available on the market. These items have been listed from the most expensive ones providing top speed to the cheapest products in the same category. The highest speed ranging from seven to thirteen mph is a broad range, and you can find the desired product based on their prices and other complementary features.
People Also Ask
The following are some questions that are commonly asked by people regarding this topic.
How Many Years Do Hoverboards Last?
The durability of a product is dependent on the care taken of the product. A well-managed board may last up to three to four years if it is properly taken care of. It may also last longer, depending on the use of the product.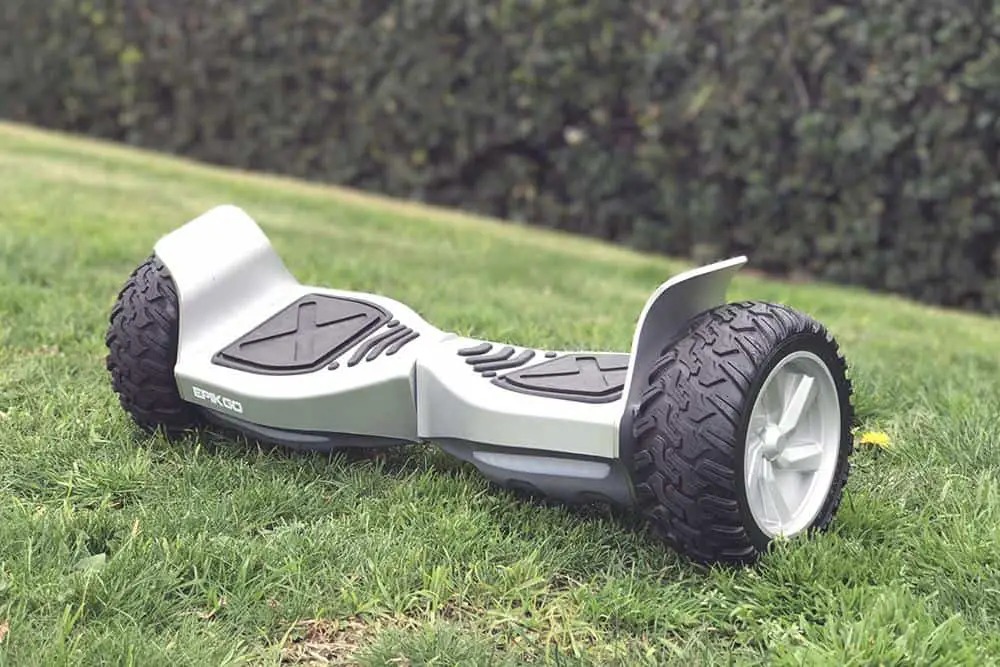 Why Does My Hoverboard Beep When I Go Fast?
When you reach the top speed limit of your board, it starts beeping. The board is programmed to produce the beep sound, so you know that you have reached the speed limit.
Is a Hoverboard Hard to Ride?
Riding a hoverboard is just like riding a bike. It may seem difficult in the beginning, but with practice, it becomes considerably easy. You can easily ride it with a week of practice under the right supervision.
How Dangerous Are Hoverboards?
Hoverboards have a very low center of gravity that can cause falls and severe injuries if you don't maintain proper balance. 
In the beginning, many of these products were sold with uninspected batteries that caused them to catch fire, completely destroying the boards. The fall due to these fires caused major injuries to users.
However, they are now relatively safer. 
Can You Replace a Hoverboard Battery?
Yes, the battery can be changed, but it is recommended that you do it under expert supervision, even if you want to do it yourself. You just have to open the screws at the lower part and remove the old battery. Plug the new battery and tighten its screws, then close the lower half of the board.