At a Glance: Our Top Picks for Best Hoverboards Under $200
Hoverboards have become a futuristic and fun mode of transportation these days.
You can see every other kid and adult moving around on them. Most of the people think that a quality hoverboard comes with a hefty price tag, but it's not entirely true.
If you desperately want a hoverboard but can't spend huge bucks, you are just in the right place. This buying guide has drawn a detailed review of some of the best hoverboards under $200 you can buy. Let's jump in!
Comparison of the Best Hoverboards Under $200
IMAGE
PRODUCT

Our Top Pick

Equipped with dual 300W motors for good speed
Features self balancing technology
Made with non-slip footpads

View Latest Price →

Off-road design that reaches up to 10 Mph
LED front lights and flashing wheels for night time riding
Equipped with Bluetooth speakers

View Latest Price →

Best Budget Option

Best for the Money
Features smart app controls with two modes
Built-in speaker and entertainment lighting

View Latest Price →

Best Bluetooth Hoverboard Under $200
Can reach a max speed of 6 Mph
Features LED lighting and self balancing

View Latest Price →

Quick speeds of up to 7.4 Mph
Made with special infinity-mirror RGB LED wheels
High quality design with full sound and balancing

View Latest Price →
Can You Find a Quality Hoverboard Under $200?
Though hoverboards were initially pricey, it is now possible to find a quality model even under $200. You just need to do some research beforehand. If you are looking for a great hoverboard in the budget range, you need to pay key attention to certain things. 
Durability, safety, and speed are the three words that describe a brilliant hoverboard. Make sure to choose a model that exceeds all safety tests and has good battery life. It must deliver a stable ride even at the maximum speed. Similarly, it should come with a LED light to make the visibility right. Lastly, a hoverboard with a learner mode makes things easier for a beginner and children. 
Review of the Best Hoverboards Under $200
Hoverboards do not always have to be outrageously pricey. If you have some savings, you can find a good model to move around. If you're unsure of where to look for, here is a detailed review of some of our top-recommendations under $200. 
Let's get started!
Best Overall:
Felimoda Self Balancing Hoverboard
What Recent Buyers Report
One of the finest hoverboards out there, this model is quite liked by customers. They rave about the superior build that can easily endure heavyweights. Similarly, the alluring design lets you move in style. The handling is easy and smooth. Moreover, it is great for all-around usage.
Why it Stands Out to Us
Second, to none, this hoverboard is incorporated with a unique set of features. First of all, it is composed of high-quality materials, so there is no question about the durability. Secondly, its beautiful exterior with LED lights helps you move in style.
The whole body is quite compact, and you can take it anywhere conveniently. It uses a 300-watt dual motor to overcome general obstacles and slopes with ease. Being UL-certified, it is completely safe to use.
To add on, the incorporation of self-balancing technology provides additional safety, making it just the suitable choice for beginners. Last but not least, you can choose from a range of colors according to your taste.
Bottom Line
An extraordinary hoverboard, this model is built to last in the long run. With its superior features and brilliant performance, this model manages to tick all the boxes of criteria for the best hoverboard you will ever find on the market.
Runner-up:
HOVERSTAR All-New HS2.0
What Recent Buyers ​Report
Users are very happy with the performance of this hoverboard. What they love about this model is its beautiful design that is complemented by a sturdy build. It is safe to use and moves fast. Moreover, the incorporation of various learning modes allows beginners to learn riding it without any hassle.
Why it Stands Out to Us
Next in line, we have the Hoverstar Hoverboard. It is manufactured using high-end materials to easily tackle anything you throw at it. The alluring design is quite colorful. This model has LED lights on wheels as well as on the front. This makes help riding at night easier.
It can support up to 165 pounds without compromising on the speed. With the 4A battery, this hoverboard can maintain a maximum speed of 10 MPH. You can easily cover almost ten miles once the battery is fully charged. This is a safety-certified hoverboard to make the ride fully safe and sound. Though the model is ideally designed for kids, the availability of various learning modes allows anyone to ride over it.
Bottom Line
If it wasn't for its complex assembly, this hoverboard would have been the best model under $200. However, it is still a good choice to get your hands on. Whether you talk about the quality or the powerful performance, this model won't disappoint you.
Best for the Money:
Gyroor Swift Hoverboard
What Recent Buyers Report
The Gyroor Swift hoverboard has caught the attention of many new customers for its affordable price tag. They really like the exterior and powerful performance of this model. Its suitability for both kids and adults just adds on to its versatility. Finally, it supports an integrated mobile app for a wonderful riding experience.
Why it Stands Out to Us
The Gyroor hoverboard ensures a brilliant price-to-performance ratio. It is surely one of the most budgeted hoverboards with captivating features. First of all, the construction is quite durable and allows the hoverboard to easily bear a weight of up to 265 pounds.
This is a self-balancing model that has lots of colorful LED lights to make hovering easier at night. The flashy LED lights on the wheels make them quite attractive.
The incorporation of a 250-watt dual motor gives a maximum speed of eight MPH. Its battery gets charged in almost two hours. One of the best things is that the board comes with two modes, making it suitable for both kids and adults.
Bottom Line
In case you are looking for a great hoverboard without spending tons of money, this model is just the right choice for you. It is incorporated with all essential features that make a hoverboard worth the investment.
Best Bluetooth Hoverboard Under $200:
XPRIT Hoverboard
What Recent Buyers Report
A very-well reviewed model, this hoverboard has collected lots of appreciation from customers. According to them, it offers a safe and sound ride at a great speed. The overall design is pretty, and the incorporation of Bluetooth speakers takes the riding experience to the next level. Most importantly, it is compact and lightweight, making the portability convenient.
Why it Stands Out to Us
The XPRIT hoverboard mainly stands out to us for exhibiting an exceptional set of features. The overall build uses heavy-duty materials to make the equipment last in the long run. Its beautiful design is incorporated with vibrant LED lights not only on the sides of wheels but on the footboard as well.
The wheels are made from durable rubber to resist damage. The best thing about this hoverboard is its anti-slip footpad that makes the ride very safe. Additionally, it comes with Bluetooth speakers.
The battery charging time is almost two to three hours. When it comes to speed, you can expect it to go up to six MPH. There are various color choices to choose from according to your desire.
Bottom Line
Another great hoverboard under $200, this model has everything you would want, considering the price range. From durable build to amazing design, and from a great speed to safe ride, this hoverboard covers everything, making it a great purchase.
Editor's Pick:
City Cruiser Hoverboard
What Recent Buyers Report
This hoverboard has satisfied most of its customers with its brilliant performance. It offers a stable and safe ride. With this hoverboard, you can enjoy a smooth and unforgettable riding experience. Moreover, the durable build tends to last in the long run.
Why it Stands Out to Us
Last on the list, this hoverboard is known for its quality, durability, and, of course, versatility. It is built from superior materials to make it last a while. The design includes RGB LED lights to illuminate your evening and night rides.
However, the most impressive thing is the integration of Bluetooth technology. The balancing technology, coupled with safety features, makes the ride sound and safe for you. It comes with rubber tires to ensure maximum grip on roads. The maintenance is quite easy as well, making it a great option for beginners and amateurs.
Bottom Line
The City Cruiser hoverboard manages to secure a position in this guide for offering the safest and smoothest rides around. Its solid build is paired with attractive design to make it stand out from the rivals. All in all, you can rely on this hoverboard for an unforgettable ride.
Advantages of Investing in a Quality Hoverboard
You will find a plethora of options on the market under $200 that you can easily afford. A hoverboard might seem merely a luxury at first, but give us a chance to change your mind. Here's why a quality hoverboard is worth the investment.
Safe Ride
A reliable hoverboard surpasses others in every field. It is incorporated with several safety features that make the ride safe and smooth. The incorporation of self-balancing technology allows you to master the art in no time. 
Fast Mobility
Hoverboards are specially designed to make mobility easy for you. A quality model comes with a powerful motor so you can move around quickly. Moreover, it comes with a certain weight limit, making it suitable for both kids and adults. 
Durable
The use of quality materials in the construction of hoverboards improves longevity to a great extent. The finest hoverboards are extremely durable and can tackle obstacles without compromising on the performance. 
Valued Purchase
You can't deny the fact that a piece of reliable equipment adds value to your bucks. With exceptional features and alluring designs, a hoverboard ensures an unforgettable experience for the user.

Conclusion
Getting a safe and durable hoverboard with all the essential features that, too, under $200 can be overwhelming. We have made things easier for you by presenting the best hoverboards currently available on the market. The models reviewed above promise to deliver a smooth ride whenever you want. All you need to do is think with an open mind to pick the right one for you.
People Also Ask
Hoverboards are all the rage these days. However, not everyone can spend hundreds of bucks on a model. Similarly, you must have certain questions regarding these hoverboards in your mind. We have answered some of the frequently asked questions in this section. Have a look:
Are Cheap Hoverboards a Waste of Money?
No, you can easily find many quality hoverboards on the market that come with an affordable price tag. All you need is to be careful while picking the right model for enjoying an excellent and safe ride. Make sure to look for all the essential features to bring value to your money. 
How Much Does a Cheap Hoverboard Cost?
While hoverboards can be really heavy on your pocket, it is still easy to find a reasonably priced model on the market. A cheap hoverboard usually ranges from $150 to $300. This price range can get you great top speed, long-range, as well as short charge times. 
What Age is Good For a Hoverboard?
Most of the hoverboards are ideally designed for children. However, kids should be at least five to avoid any potential accident. Generally, manufacturers recommend an ideal age of six years to ride a hoverboard. Similarly, other models can be used by even adults. 
How Wide is a Hoverboard?
While hoverboards vary from each other in terms of design, most of them come with an average width of 6.5 inches. These are the best-selling ones for their ease of use and a great foot base, even for older individuals.
Such hoverboards are capable of supporting weights ranging from 65 to 220 pounds easily. 
Are Cheap Hoverboards Safe?
Yes, cheap hoverboards are safe. These days, almost all models are UL-certified and pass all the safety tests to ensure reliability. Similarly, they are fire-safe, making them perfect for everyday use. However, it is still better to be a bit careful to avoid any accidents while riding.  
How Much Can a Cheap Hoverboard Carry?
Most cheap hoverboards are equipped with 6.5-inch wheels that can support up to 200 pounds at most. Similarly, if you go for a model with 11 inches wheels or higher, it can bear around 300 pounds without compromising on the speed. It all comes down to your personal preference. 
Do Cheap Hoverboards Explode?
It is a fact that hoverboards explode if incorporated with a faulty battery. Most cheap lithium batteries are at constant risk of exploding. However, these days, most models either lack lithium batteries or come with a quality one. Similarly, they are fire-safe and feature UL certifications to make the experience safe and sound.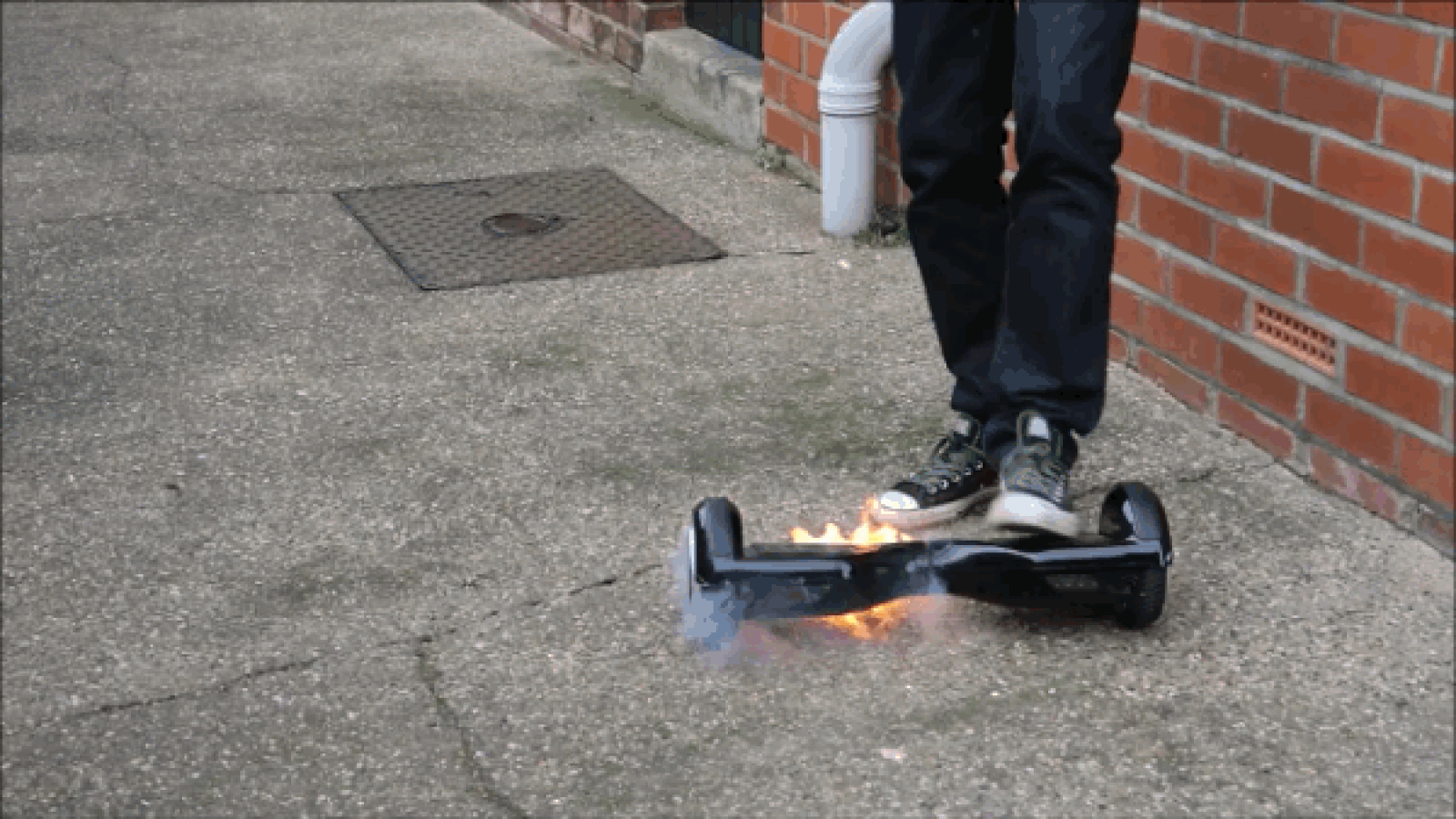 Are Cheap Hoverboards Any Good?
Yes, cheap hoverboards are good if you consider everything before making the final purchase. There are multiple brands out there offering cheap yet reliable hoverboards to meet your everyday needs. They ensure a good price-to-performance ratio in order to live up to the expectation of customers.
Is Hoverstar a Good Hoverboard?
Of course, Hoverstar is built to perform well. It delivers an unforgettable experience with its captivating features. The build is good, and the speed is quite reliable. Suitable for both kids and adults, this hoverboard is perfect for all-around usage. Most importantly, it is UL-certified. 
Are Inexpensive Hoverboards Only for Beginners?
Hoverboards are available in a range of prices. While most beginners opt for a cheap one to master the art, it is not accurate to say that they are not any good for professionals. Those who are on a tight budget can pick an affordable hoverboard to enjoy a smooth and excellent ride.  
How Long Will a Cheap Hoverboard Last?
No doubt, hoverboards are equipped with a sturdy exterior and top-notch features to mark durability. Still, most of them only last for three to four years before eventually dying out. However, it is quite possible to extend the equipment's life for another year with proper care and maintenance.