Home gardening is a universal hobby that many people indulge in. It is easy, healthy, and a good long-term hobby as well. However, gardening requires a lot of equipment, tools, and special materials.
For example, without the right shears, you will not be able to trim your plants effectively. Similarly, garden scooters are also must-have gardening essential. 
Many people do not realize the importance of these scooters. We will discuss exactly that in this article. We will also review some of the best garden scooters and help you decide whether you need one for yourself. 
At a Glance: Our Top Picks for Best Garden Scooters
Comparison of the Best Garden Scooters
IMAGE
PRODUCT

Our Top Pick

Multi-purpose design ideal for gardening and DIY projects
Equipped with strong 3-inch wheels
Tool tray is designed for easy organization of hand tools

View Latest Price →

Made from durable metal frame
Large swivel seat for comfort
Dual storage trays provide more space

View Latest Price →

Best Budget Option

Best for the Money
Constructed from durable steel frame
Provides full rotation and mobility

View Latest Price →

Best Garden Scooter With Swivel Seat
Constructed from powder coated steel
Ergonomic seat with full adjustment features

View Latest Price →

Built from durable metal
Features steerable design
Equipped with adjustable seat

View Latest Price →
What is a Garden Scooter Used For? 
These scooters are less popular amongst gardeners. Their importance and usage are overlooked and underestimated. So, here is a list of ways in which you can utilize these units. 
Carrying Gardening Equipment
Since gardening involves many tools and materials, carrying them all around your garden can be a hassle. So, spacious garden scooters allow you to carry the equipment and ensure more comfort for yourself.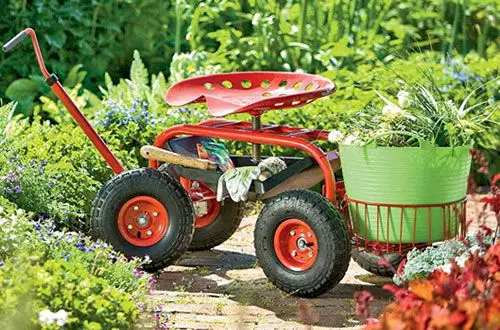 More space for your gardening tools (Source)
Move and Maneuver Around a Large Garden
Many professional gardeners work in large gardens. It gets pretty tiresome to move around the whole area while carrying your equipment. Therefore, a garden scooter can be used for maneuvering around the whole garden without working yourself up. 
Reaching and Working With Ground Plants
Working on a ground-level often strains your back and knees. Moreover, bending down or sitting on your knees is not always comfortable nor practical to work with plants on the ground level. Therefore, a garden scooter is designed such that you don't have to bend down, but can easily reach the ground and even move around easily. 
What to Look For When Buying a Garden Scooter 
All products have certain qualities that make them stand out from the rest. To buy these scooters, you also need to give a lot of attention to detail, so you make an informed decision. 
Let's see the important considerations when buying a garden scooter.
Storage Space
Most of the scooters come with a storage compartment to accommodate your tools and equipment. If you want a permanent storage solution, look for a scooter that has the most spacious storage compartment. 
Weight of the Scooter
Since these units can be dragged around and need to be stored in your garage when not in use, make sure they are of appropriate size and weight. The vehicle should not be too heavy to carry around, and neither should it be too large to fit in your storage area.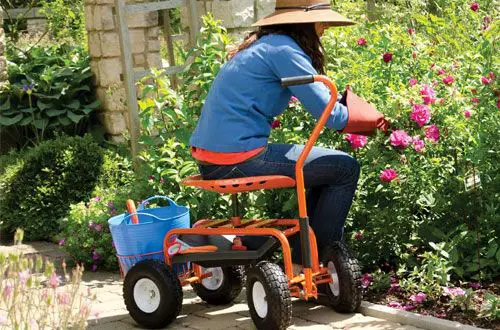 Seat Comfort Level
The majority of scooters come with adjustable seats. These are adjustable in terms of rotation and height. Moreover, comfort level is also very important, so look for seats that are cushioned or padded. 
Construction Material 
Before buying any product for long-term use, you must consider the quality and material of construction. Your garden scooter will be exposed to moisture, dirt, scorching sun, and rough usage. It should be made of resistant and durable materials such as aluminum and stainless steel. 
Review of the Best Garden Scooters
This is the most important section of our article. Here you will find the best garden scooters that are appropriate for use by beginners as well as professional gardeners. Find your pick here! 
Best Overall:
Pure Garden 82-VY021
What Recent Buyers Report
A multipurpose scooter such as this is backed by an exceptional amount of positive feedback and reviews. Many people report that since it is so lightweight and compact, they were able to access crawl spaces easily. Some older-aged people also used this unit and reported it to be helpful in their garden chores. 
Why it Stands Out to Us 
Good construction quality is one of the many features we look for in any gardening tool. Therefore, this product stands out to us with its ABS and high-grade plastic construction that is bound to last longer than other alternative products. In addition to this, we find the size of this vehicle appropriate for its purpose. 
The three-inch wheels are smaller compared to other units that have ten-inch wheels. However, this is the best part, as it would ensure ease of storage, carrying, and reaching tighter spots. 
Bottom Line
To sum up, there are many products on the market, but this model by Pure Garden is the most versatile and multi-purpose one. It is suitable for tasks other than gardening, such as washing car wheels. 
Runner-up:
Kinsuite Scooter for Planting
What Recent Buyers Report 
Some people had trouble with the assembly instructions, but pro-level gardeners found it to be a piece of cake. Most people used it for planting seeds and for growing plants that are usually on the ground level. Also, there were some buyers with temporary injuries and disabilities who reported that the scooter helped them a lot. 
Why it Stands Out to Us 
A vehicle needs to have the right weight capacity. Accommodating larger people is very important for these vehicles, which is why this Kinsuite product stands out to us. It has an impressive load capacity of about 310 pounds. 
Furthermore, the construction is not of plastic; instead, it is heavy-duty metal. This adds a lot of sturdiness to the unit's look and feels and ensures a longer-lasting life. For storage purposes and carrying your equipment from one point to another, the storage basket and tray are exceptional. 
Bottom Line
With a capacity to hold up to 310 pounds and a decent room for storage, including a tray and basket, this unit is truly one of the best. It is also available in an impressive variety of colors, so you can pick the one that best matches your gardening personality. 
Best for the Money:
Peach Tree Garden Cart
What Recent Buyers Report
Older-aged people used and sat on this scooter's seat for hours without experiencing a hint of discomfort. Reports also tell us that the extendable handle is sturdy and allows users to easily move the vehicle around. The seat adjustability, as well as steel construction and its ability to accommodate tall people, has pleased most buyers. 
Why it Stands Out to Us 
There are several features in this unit that make it worthy of buying on our list. However, the most notable thing is that even with rust and water-resistant construction and a top-notch swivel seat, the vehicle is available at an affordable price. This makes it an incredible product for all types of buyers. 
Due to its heightened structure, many tall people enjoy using this scooter. Also, if you want a vehicle only for carrying your goods around, then the unique extendable handlebar is another thing that makes it one of the best scooters. 
Bottom Line 
In conclusion, if you are looking for the utmost comfort during your gardening tasks but are on a tight budget, this product by Peach Tree is the ideal pick. It has a very durable construction and is also great for tall people. 
Best Garden Scooter With Swivel Seat:
Goplus Patio Wagon Scooter
What Recent Buyers Report 
People were particularly pleased with how easy the unit is to install and assemble. Many beginners also assembled the vehicle and reported no difficulty. A few of the buyers also got it as a gift for their kids, and report that it's kid-friendly too. The ergonomic shape and adjustable seat allowed great comfort to all users. 
Why it Stands Out to Us 
With a whopping 310 pounds of load capacity, this scooter by Goplus surely wins the race in terms of sturdiness and construction quality. It also features a user-friendly design, starting from its easy assembly. The swivel seat is another outstanding feature of this vehicle, which allows the user to move around and have better accessibility to the plants around them. 
This seat is also adjustable in height, so tall people, short individuals, and even kids can use it without any hassle. 
We also like how the seat has an ergonomic shape. This is very different from the other products on the market. If you have limited storage space for your garden scooter, the easy disassembling of this model will surely make things easier for you. 
Bottom Line
Summing it up, this lightweight and the fully adjustable garden scooter is ideal for all types of buyers. It has top-quality construction, along with a weight capacity that beats all other units.
Editor's Pick:
Gardener's Supply Company Deluxe Tractor Scoot
What Recent Buyers Report
We were pleased to see so many positive reviews on the product's durability and lifespan. People used this product for over three to four years now and find that it performs just as good as it did when it was new. 
Most of the people used this for weeding purposes. Some reports also suggest that the unit is heavyweight and is, therefore, a lot more stable than other products. 
Why it Stands Out to Us
We like that this deluxe garden scooter has an unbeatable load capacity of holding over 400 pounds. This makes it appropriate not only for larger people but also for carrying larger and heavier goods such as sand packets and heavy-duty tools. 
Moreover, the vehicle features a metal basket for storage purposes. Compared to other units, this scooter's basket is a lot more spacious and has a lot of room to accommodate several things at a time.
In addition to this, the scooter will add great value to your money due to its longer lifespan. It can last you for years, considering the powerful powder-coating that prevents any rust buildup or wear and tear.
Bottom Line
Overall, this scooter is a great pick for anyone who plans on continuing their gardening hobby for a long time. It has an adjustable, comfortable seat and a powder-coated robust construction to meet any kind of usage and weather conditions.
Types of Garden Scooters
There is more than just one kind of garden scooters in the market, so it's important to be aware of the most common types you can find. These are listed below so you can see which one suits you:
Enclosed Style
This type of scooter is fully covered. This means that a whole compartment sits over the wheels, which has the seat, steering, and other components of the scooter in one large cover. These are ideal for people who spend hours out in the sun and need protection from the harsh weather. These are also suitable for children but have fixed seats.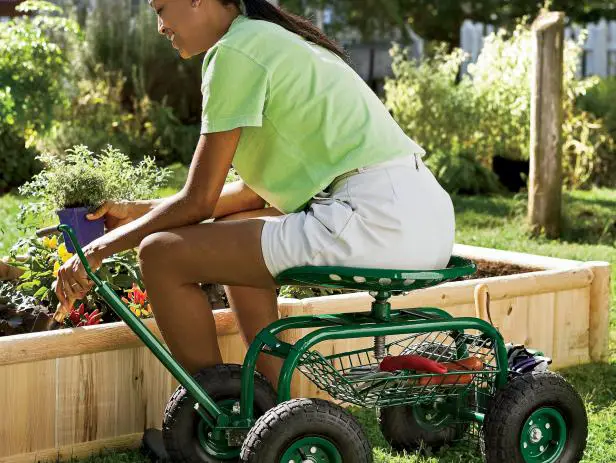 Open Design 
Open scooters are very similar to tractors. They are like a mini-version of tractors, with an open and fully adjustable seat with no boundary for the passenger. These are usually the ones with larger storage space. 
What Are The Benefits of a Garden Scooter? 
Not sure whether you want to invest in a good scooter for your gardening chores? Here are some convincing benefits of owning this vehicle. 
Prevent Strain on Your Back
As mentioned earlier, scooters are the best way to reach ground-level plants and flowers. Crouching down to reach them and then doing a lot of exertion in plowing, harvesting, and cutting the plants is tiresome. 
More so, this is an unfit position that can be rather harmful to your physical health in the longer run. Therefore, these vehicles eliminate this risk and allow you to acquire better comfort and safety out in the garden. 
Carry Equipment, Refreshments, Tools
Make your gardening a lot more fun by carrying all your equipment and accessories with you conveniently. Many people use these vehicles as a fun way to carry their food and refreshments with them throughout the garden.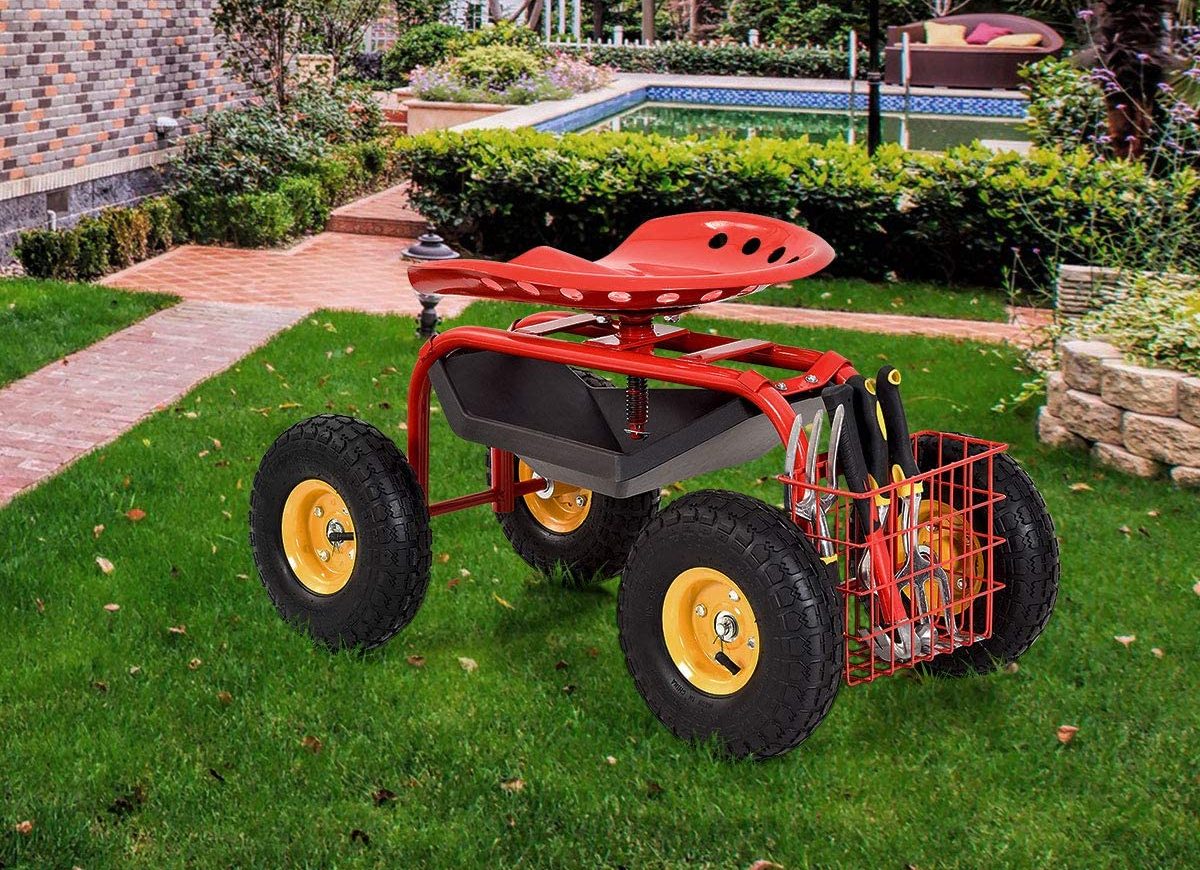 Goplus Patio Wagon Scooter
Appropriate For Larger Sized Gardens
If you have a large back yard or live in the countryside with large gardens, these scooters will benefit you. You will no longer be lazy to move around and do the chores, and neither will you get tired at the end of the day. 
Places and buildings like hospitals and office buildings also have large gardens and can make use of these vehicles to ensure good maintenance. 
Eco-Friendly 
These vehicles are highly functional and fun. In addition, they do not harm the environment and are also good for your physical mobility. They are a better option than tractors. 
Conclusion 
Summing up the article, we hope to have convinced you that you do need a garden scooter after all. Don't let this healthy hobby make things worse for you by putting a strain on your back or mishandling your gardening tools. 
A good-quality garden scooter is the one with a comfortable seat and top-notch construction, and should also be backed by a generous warranty. 
People Also Ask
It's impossible to not have some important queries and confusion about these vehicles. If you are a beginner or a first-time buyer, make sure you read this section thoroughly and find the right answers. 
How Fast Can a Garden Scooter Go?
The speed of your garden scooter depends hugely on the surface you are riding it on. If you are riding it on cement or solid floor, the speed will be much higher than on grass or damp soil. Since these units are not motorized, the speed really depends on how you ride it. 
Are Garden Scooters Easy to Use?
Yes, they are very easy to use due to their minimalistic and simple design. Some of these are kid-friendly, too, and require very little practice to get the hang of. 
What is the Weight Limit on a Garden Scooter?
Weight capacity or limit on a garden scooter varies from one product to another. The maximum weight capacity that some good-quality products on the market have is around 300 to 320 pounds. 
Can Garden Scooters Roll Through Dirt and Grass?
These scooters are three and four-wheeled vehicles. The latter is the best and most ideal for driving through dirt and grass since it is a lot more stable and powerful.
The speed might be reduced, but such vehicles can certainly roll through.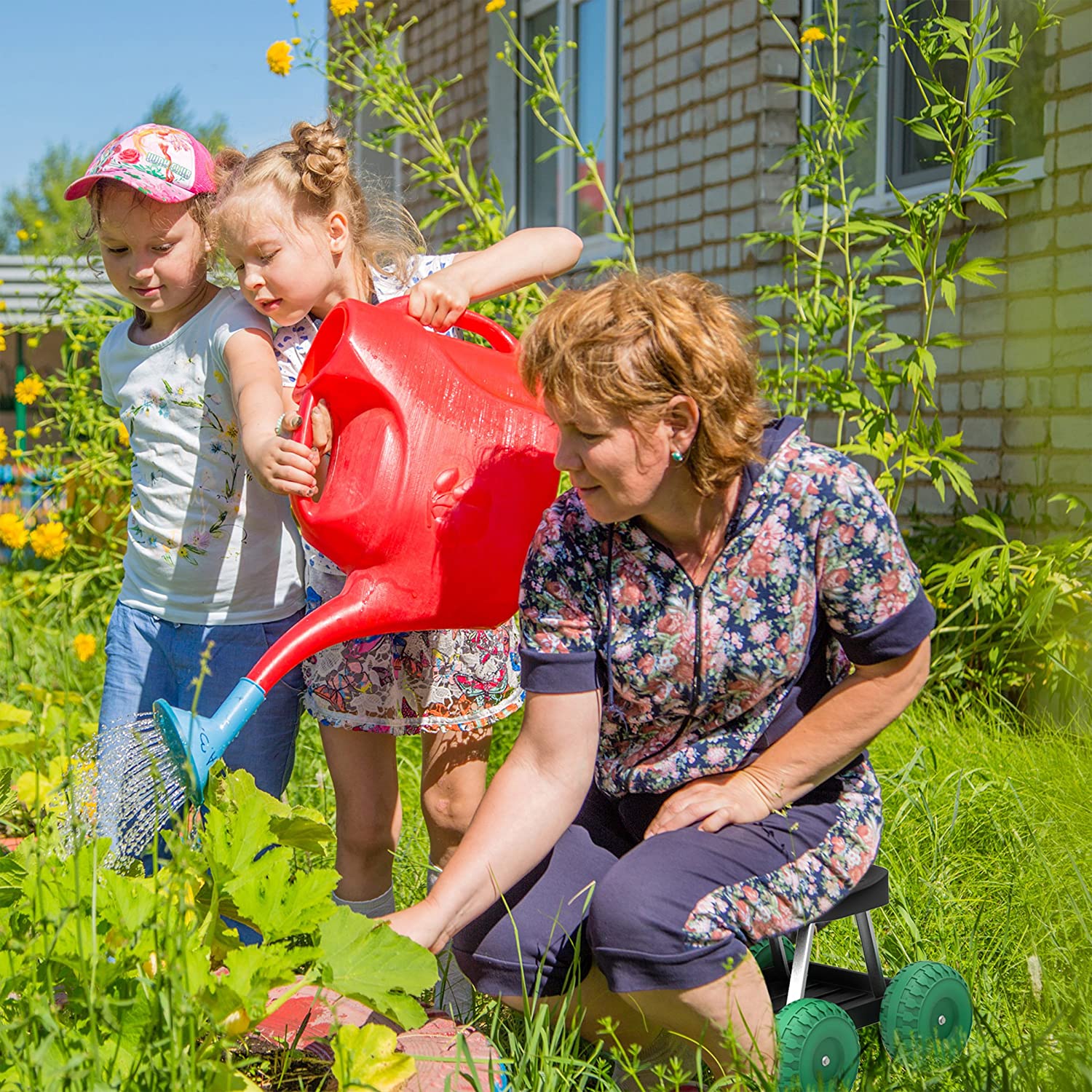 How to Move a Garden Scooter
These vehicles come with a long handlebar that is usually made of metal. It has an ergonomic design and accommodates your hand for you to grip it tightly and pull it around. Some models are designed such that you need to push on this handlebar instead of pulling it to move around.