With increasing concerns about the environment and the air quality, people are now slowly shifting towards other efficient alternatives. 
One of these alternatives is the three-wheel electric scooter that has no carbon emissions and performs the function just as well. 
In this article, we will review some of the best three-wheel electric scooters you can find in the market today. 
At a Glance: Our Top Picks for 3 Wheel Electric Scooter
Comparison Chart of the Best 3-Wheel Electric Scooters
IMAGE
PRODUCT

Our Top Pick

High top speed of 15 Mph
Long driving range of 21 miles
3 wheels for better stability

View Latest Price →

Provides extra comfort with adjustable armrest
Fair ground clearance of 2.5 inches
Reliable 12ah battery with 9 miles autonomy

View Latest Price →

Best Budget Option

Best for the Money
Light weight for easy portability
Endurance to perfomance of 20 to 30 kilometers

View Latest Price →

Best 3 Wheel Electric Scooter for Kids
Many safety features for children
Flexing bar handle provides easy steering

View Latest Price →

Best 3 Wheel Electric Stand Up Scooter
Top speed of 7 Mph and a 6 mile range
Large motor power of 90 watts

View Latest Price →

Best 3 Wheel Foldable Electric Scooter
High top speed of 15 Mph
Quick and easy folding for increasing portability

View Latest Price →

Best 3 Wheel Electric Mobility Scooter
Perfect design for easy servicing
Disassemble design for easy storage and transport

View Latest Price →
Are All 3-Wheel Electric Scooters The Same
Electric scooters are now widely available. However, there is not just any one kind that you can find, which makes the choice even complicated. Electric scooters vary based on the number of wheels, shape, and also on their usage. 
Two-Wheeled Electric Scooters
The most simplistic design is of the two-wheeled scooters. These have a long handlebar in the frost that navigates the front wheel, with another wheel on the rear side. Usually, these are foldable and more compact compared to three-wheeled scooters.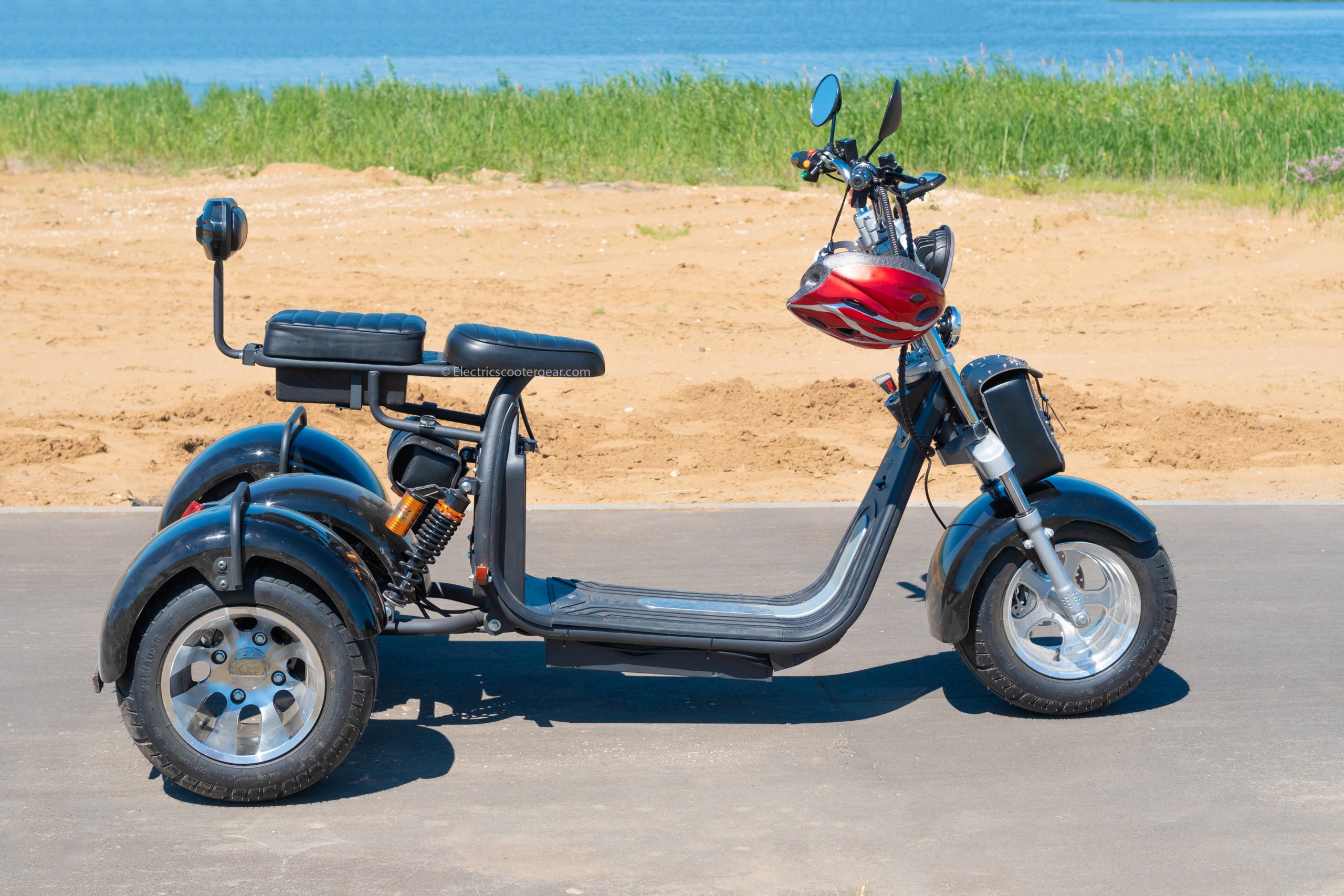 Self-Balancing Scooters
Self-balancing scooters are more or less like the hoverboard that made out to be one of the most popular trends in recent years. However, self-balancing electric scooters come in the option of both two and three wheels. 
They are usually pricier than the usual and more heavy-duty as well. The rider only needs to take charge of the speed by their body's motion, while the balancing is done by the motorized vehicle itself. 
Characteristics of Our Favorite 3-Wheel Electric Scooters
There are certain qualities that make a particular product stand out from the rest. We review all the products based on criteria. 
Here is a list of features that are essential and needed to make a scooter one of the best. 
Construction Quality
Also, sometimes referred to as the frame of the scooter, the construction of the vehicle will determine how long it lasts for you. The best three-wheel scooter is the one that has a good and sturdy frame made of materials like aluminum. 
Transmission System
Gear changing, or the drive train system, should be smooth for a scooter to qualify as one of the best. This will give you greater security, and will also make the ride more comfortable. 
Battery Life
Since these scooters are powered by rechargeable batteries, the best one should be equipped with a battery that has a longer run time.
Shorter run time means more need for charging, which can be quite inconvenient in the long term. 
Weight Capacity 
A scooter has a limit to how much weight it can carry/withhold. Some have a higher range of weight capacity and can accommodate people with heavier bodies too.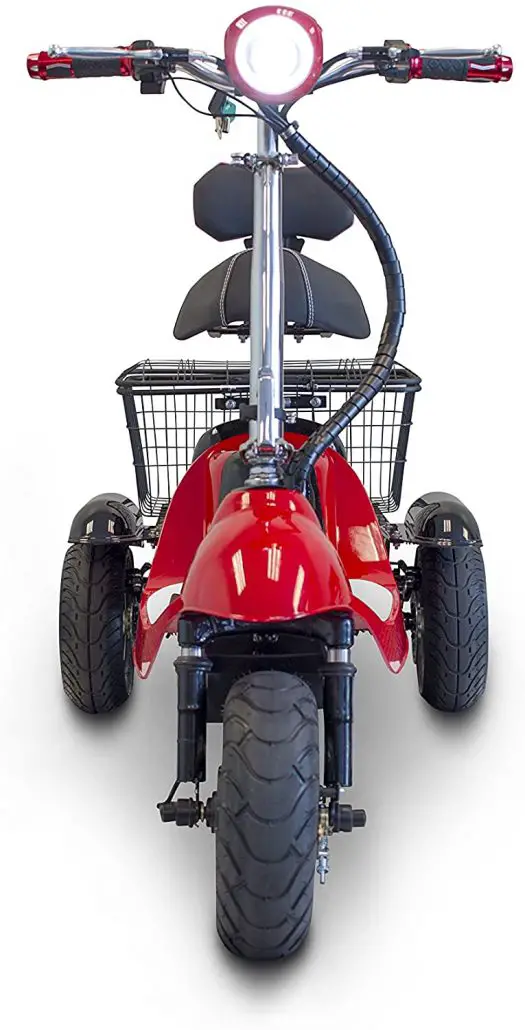 E-Wheels – EW-19
Review of the Best 3-Wheel Electric Scooters
In this section, you will find a detailed list of reviews for all the best three-wheel electric scooters on the market today. 
Best Overall:
E-Wheels – EW-19
A sporty scooter with comfortable seating and an advanced alarm system, which is perfect for people of all sizes! 
What Recent Buyers Report

Buyers specifically comment on this scooter's high-speed, long range, and a fairly reasonable price. They are satisfied with the speed of the scooter that is capable of reaching speeds of 15 mph.

Also, it has the capacity to travel 21 miles without charging it. Its comfortable seats are suitable for riders of all sizes, which makes it a comfortable ride as well.

Why it Stands Out to Us

The sporty looking scooter offers a wide range of features that make it stand out amongst others. If you are looking for an electric scooter at a reasonable price, then EW-19 is the perfect pick for you.

It comes with a designer style two-tone body color and stylish LED front light, giving it an attractive appearance. Moreover, it is faster, having a capability of reaching speeds of 15 mph and can travel 21 miles on a single charge. It offers comfortable seats that are large enough to accommodate riders of all sizes.

The EW-19 comes with all these remarkable features at an affordable price, making it one of the best picks.

Bottom Line

In a nutshell, this sporty vehicle is a fully functional, high-speed scooter that offers outstanding features. If you are on a lookout for an electric scooter, then EW-19 is the best choice. It comes with all advanced functions at an affordable price as well!
Runner-up:
Drive Medical Scout Spitfire Power Scooter
With an advanced battery pack and vibrant appearance, never run out of style nor battery. 
What Recent Buyers Report

A lot of buyer reports tell us that this scooter is easy to assemble and disassemble. People were able to store it easily because it disassembles quite easily. Moreover, reports also suggest that it is lightweight and great for people with spine and back issues too.

Why it Stands Out to Us

For a scooter to qualify as one of the best, features like its appearance and its ease of use matter a lot. For this reason, this one stands out to us with its three color options, along with a sleek finish and a basket in the front. Also, the scooter has an advanced battery system that ensures better run time.

People with disabilities will find this vehicle truly useful, considering the adjustable swivel seat that guarantees full comfort. The scooter also has padded armrests, adjustable height and is very lightweight as well. All these features make this an overall impressive unit and, therefore, appropriate for all types of users and buyers.

Bottom Line

To summarize, we think that this is a user-friendly scooter. The interchangeable color panels make it remarkable and extraordinary in the market. The anti-tip wheels and spacious legroom are also important features that add to user convenience!
Best for the Money:
TopMate ES30
Affordable yet highly versatile design with its anti-tip wheels, anti-sweat electric acceleration, and advanced overcharge protection!
What Recent Buyers Report 
Buyers of this scooter were specifically satisfied with the price range that this product falls into. They comment on how great the quality is despite the unit being highly affordable. 
People have been using this model for over a year and report it to be performing just as well as when it was brand new. Buyers also find it easy to fold and unfold. 
Why it Stands Out to Us
The most distinctive feature of this scooter is its foldable design. When it comes to user-friendliness, this one surely wins the race. Moreover, there is a range of exceptional features as well. For example, there is a temperature control feature that alarms you when the vehicle is about to overheat. 
Also, the aluminum alloy construction gives it a sleek and smart finish while keeping it lightweight. Even the battery is equipped with advanced features such as overcharge protection. This gives the buyers peace of mind, and makes it worth their money!
Bottom Line
In conclusion, this silver-toned scooter is an excellent product in the market with its foldable design and heavily padded seat. It also has anti-tip wheels, along with electric acceleration and anti-sweat handles. These features make it a highly sophisticated vehicle. 
Best 3 Wheel Electric Scooter for Kids:
Rollplay 24V Wave Catcher
Ensure safety and fun for your kids with this scooter featuring a speed limit switch and a skateboard-like ride.
What Recent Buyers Report

The majority of the buyers of this scooter were parents of young children. They particularly enjoyed the speed control feature and also reported that it is affordable and, therefore, suitable for kid's use.

People also suggest that the scooter's battery life is phenomenal, reducing the need for recharging compared to other scooters.

Why it Stands Out to Us

The most important feature in a kid's scooter is its safety. This is why we really like this product since it has an exclusive speed control switch. The switch is easy to access and use, and instantly limits the maximum speed to six mph. This makes it great for kids!

Another feature that we really like is the foldability. For carrying it to picnics, school, and even to ride it on the streets, the foldable design will come in handy. It also has an impressive steering design. There are left and right push buttons that allow the rider to maneuver the steering.

Bottom Line

To sum it up, this is an excellent choice for kids. It is affordable and has a simplistic design that will make it fun and safe for kids to use.

We really like the appearance of the scooter as well, with its speed control and skateboard-like impressive design.
Best 3 Wheel Electric Stand-up Scooter:
Hover-1 Switch 2 in 1 Electric Skateboard & Scooter
A combination of a skateboard and scooter with a water-resistant battery and adjustable height makes this product exceptional.
What Recent Buyers Report

A lot of buyers of this product are teenagers. They enjoyed how the scooter allowed them to adjust the height according to their own. Buyer reports also suggest that the model is backed by a detailed and helpful instructional manual, making it great for beginners and first-timers.

Why it Stands Out to Us

With convenience, style is also very important. So, those who want to ride in style should definitely check this scooter out. It has a detachable skateboard and a handlebar, that quickly reattaches through the lock and release feature. That's convenience at its best.

This detachable feature also makes the scooter easy to carry and store at home as well. In addition to this, we also find the battery quality of this scooter impressive. It has a powerful lithium-ion battery that needs less recharging. The battery is also water-resistant, ensuring maximum durability.

Bottom Line

Overall, this is a great scooter for kids and teenagers. It has a good build quality and has an efficient design that can make portability easy as well.

The adjustable height, along with the water-resistant battery, also makes this one of the best units. 
Best 3 Wheel Foldable Electric Scooter:
Swagtron Cali Drift
The vibrant appearance of this scooter, along with an adjustable handlebar and a foldable design, makes this a great choice for beginners, teenagers, and outdoor enthusiasts!
What Recent Buyers Report

Many people who bought this scooter were riding one for the first time in life. They report that the vehicle is easy to balance and has great stability.

Additionally, reports suggest that the battery life is good and remains fully charged for a long time.

Why it Stands Out to Us

A common trouble with electric scooters is that they need recharging. However, with scooters as powerful and unique as this one, that is never an issue. This is because it remains charged for a long time, and also takes very less time to recharge. Two and a half hours of recharging and many more hours of full charge make this a highly convenient product!

Another feature that we also find impressive in this product is its steering design. It has a great grip quality, along with easily accessible brakes and speed controls.

Bottom Line

In conclusion, this three-wheel scooter is the ideal pick for those who need to carry it, travel with it, or simply have limited storage space. The foldable design will surely do the job for you!
Best 3 Wheel Electric Scooter With Seat:
Shoprider Echo
With an adjustable seat and padded armrests, nothing can go wrong with this scooter. 
What Recent Buyers Report

A lot of buyers were people who needed to give the scooter to elderly people. They report heavy people fitting into the seat comfortably, making it an ideal scooter for larger people. The reports also tell us that the scooter is great for traveling long distances.

Why it Stands Out to Us

This scooter is a complete package of versatile features and design that ensures comfort and convenience. Its first very important feature is its removable battery that makes recharging easy. You won't have to carry the whole scooter with you to charge the battery.

Another important feature is its seat adjustability. Most of the other scooters come with handlebar adjustment, but not seat adjustment. Seat adjustment will allow for people with back problems or other bodily issues to completely adjust themselves.

Also, it has a different, exclusive design with its bright and vibrant blue tone.

Bottom Line

Overall, this is the perfect pick for people who are heavy, have some disabilities, or need a vehicle to travel long distances. It's great for outdoor usage.

The scooter also stands out with its seat adjustment, removable battery, and its spacious net basket. 
What Do I Need to Know Before Buying
Investing in a three-wheel scooter for mobility is an important decision. There needs to be some considerations and thoughts that need to go into this choice. 
The following things are important for you to learn about the product before buying it.
Inquire About the Warranty
A majority of the scooters, if not all, come with some kind of warranty or guarantee backing them up. These add great value to your money. However, make sure you know all about the warranty before you buy the product and claim the warranty so you can make the most out of it. 
Surface Compatibility
Decide where and on which surface you will be riding the bike. This will help you in determining whether the scooter you want to buy is made for that surface or not.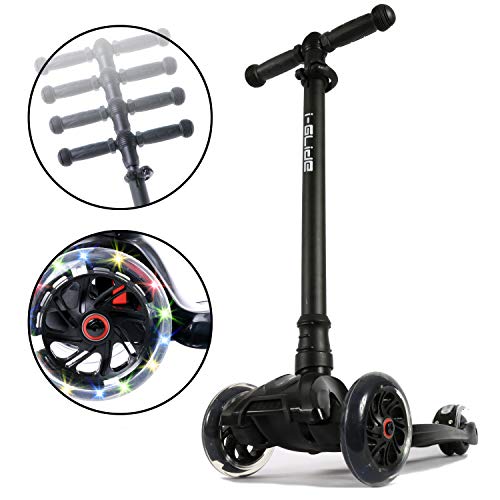 Speed Options
Check the speediness of the scooter. If you are more likely to ride the scooter up on hilly roads, bumpy roads, or on smooth surfaces, make sure you buy the scooter with a speed that best matches your usage.
Battery Maintenance 
Learn about how the battery needs to be kept to ensure its longevity. There are certain instructions regarding how to store the battery when it's out of use. Also, check the guidelines about how it is powered/charged and make sure you have the necessary arrangements. 
3-Wheel vs. 4-Wheel Mobility Scooter – Comparison Overview 
As we mentioned earlier, there are many variants to three-wheel electric scooters. Another variant to electric scooters is one with four wheels.  
If you are stuck between these two options and can't pick one for yourself, this section will be of great help to you. 
4 Wheel Scooter
More stable with a balance on four wheels
Legroom is limited
Larger and heavier than two and three-wheeled scooters
Wider wheelbase is better for rough and uneven surfaces
More appropriate for outdoor use
Higher power, better battery life 
Has more speed due to the extra wheels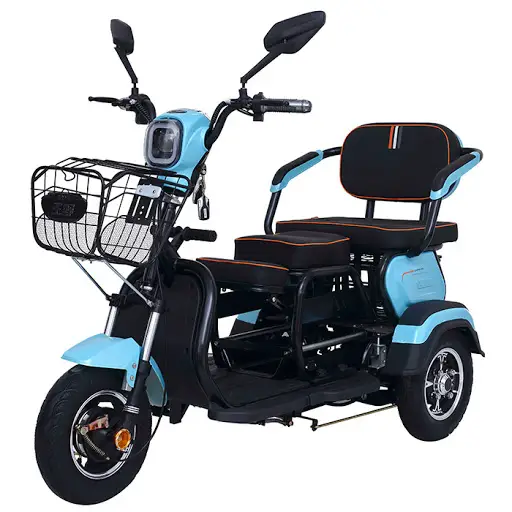 3 Wheel Scooter
Good for indoor usage as well
Lighter in weight compared to four-wheeled ones
Comes with anti-tip wheels
Costs lesser too 
Makes smooth tight and sharp turns
Not the very best for outdoor usage
Verdict
The battle between the two kinds of scooters ends at the fact that three-wheel scooters have better stability with their anti-tip wheels, along with wider legroom and compact built as well. They have a tight radius, making them suitable for indoor maneuvering too. 
Conclusion 
To summarize the article, we can say that you must have found the best three-wheel scooter for yourself on our list. If not, then the detailed buying guide should help you in finding the most suitable product for yourself! 
Make sure to check and reinforce the factors that we have earlier mentioned, such as warranty and weight capacity.