Hoverboarding enthusiasts don't miss a chance to lay hands on better models and other necessary accessories to polish their expertise.
Amid all this, one should never compromise on safety. That's why avid hoverboarders look for sturdy helmets that provide maximum protection without affecting the fun they can have.
If you are fond of hoverboarding, you might already have a helmet. But if you're looking to change and want an advanced model that provides greater benefits, then we've compiled a list to help you with just that. We also talk about how to find the right size. Have a look!
At a Glance: Our Top Picks for Hoverboard Helmets
Comparison of the Best Hoverboard Helmets
IMAGE
PRODUCT

Our Top Pick

Ergonomic inside padding is safe and comfortable
Vented to keep riders head cool
Slide release buckles adjust quickly and easily

View Latest Price →

Aerodynamic design will not hinder performance
Designed with cooling ventilation
Breathable inner foam is comfortable and hygienic

View Latest Price →

Best Budget Option

Best for the Money
Optimized smooth ventilation system keeps the wearer cool
Two inserts allow better comfort and improved size adjustment

View Latest Price →

Micro fiber insert wicks moisture and provides comfort
Passive ventilation system with 11 vents for superior cooling
Easy adjustment options with Lifestyle Fit features

View Latest Price →

Equipped with a high-density foam insert for comfort
Multiple colors and prints to choose from
Quick and easy spin dial adjustment

View Latest Price →
What Makes a Helmet Great For Hoverboarding?
A helmet would not be new to hoverboarders because it holds crucial importance in their lives. In simpler words, it's a life-saving armor that plays an undeniable role in every riding session. Here's why they are essential for hoverboarding:
Hard Frame
Since helmets exhibit extraordinary strength against crashes and collisions, their exterior is made from materials that offer exceptional durability. As a result, the product attains superb stiffness and resists dents and breakages to a great extent.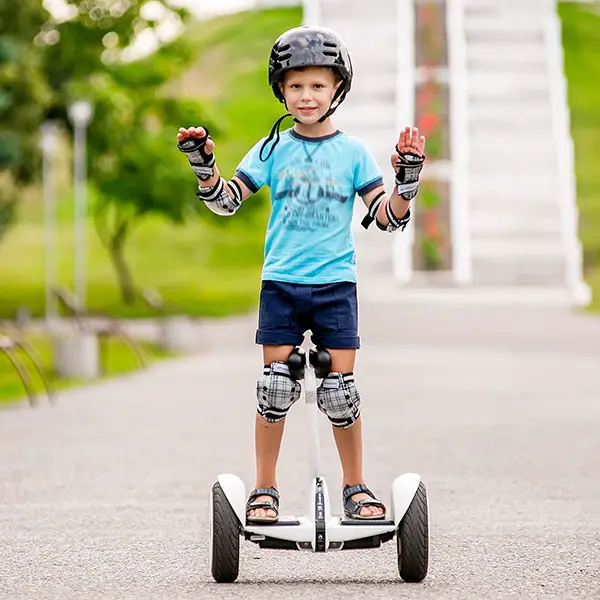 Shock- Absorbing Interior
This protective gear is always kept soft from the inside by installing EPS foam pads all over the interior. The foam possesses the ability to captivate and resolve the intensity of loud impacts. In this way, the helmet absorbs jerks, ultimately providing safety to your skull.
Adjustable Dials
One product cannot suit everyone. That's why they come with size options, in the form of wheels or knobs. These can be used to adjust the size and get the fitting you want. With the dials, you can loosen or tighten the helmet.
What Size of Hoverboard Helmet Do I Need?
The size of a hoverboard helmet matters a lot. One wrong selection can greatly affect your skills and performance. 
The first thing that needs consideration is the size of your head. Use a measuring tape for this but be mindful of the shape of the helmet. Some shells come in an oval shape, while some are designed in round shape. 
If your head is round, then choosing an oval-shaped helmet will create a huge cavity above your head, which will result in wobbling noises. So, pick a helmet that has a suitable shape for your head.
Review of the Best Hoverboard Helmets
Riding on hoverboards is risky if done without necessary protective gear and accessories. The market contains a plethora of hoverboard helmets that have received immense appreciation from people. The products included in our review have excellent characteristics and are approved by experts.
Best Overall:
Razor V-17
What Recent Buyers Report
People had a positive response to the product. Most customers liked the availability of vibrant and diverse colors. The size options also added great convenience for buyers. Kids were also happy to have it, as it didn't weigh a lot. All in all, the buyer feedback was quite satisfying.
Why it Stands Out to Us
With a total of 17 vents, this product ensures no heat buildup inside it. So if you are going to use your hoverboard in a sunny area or hot climate, this feature will mean a lot to you. The exhausts are intelligently spread throughout the entire frame so that the body temperature does not rise, and you enjoy good breathability and little discomfort.
It is also equipped with a quick-release buckle system, which smoothly runs through the chin and can be adjusted to different fittings. Thus, you can tighten or loosen the strap with ease and keep on riding your hoverboard in peace.
The product fulfills the durability criteria set by the Consumer Product Safety Commission (CPSC), meaning it is a reliable and long-lasting product.
Bottom Line
With an adjustable buckle located in a user-oriented position, customization of the fitting takes just a few seconds with this product. The unit is lightweight but performs well in terms of impact resistance and strength.
Runner-up:
JBM Skateboard Helmet
What Recent Buyers Report
Other than for hoverboarding purposes, people also found this unit ideal for many other sports like skateboarding, biking, cycling, and skating. Therefore, reports suggest that it is a multi-purpose product. They loved the performance and advised others to trust this product. 
Why it Stands Out to Us
Manufactured with the best quality of thermoplastics, this product features a PVC shell that will serve you for an impressively extended time. PVC shells are known for their robust quality. The toughness of the shell promises to protect your head from serious injuries.
While being stiff on the outside, the helmet is soft and breathable from the inside. The inner surface is lined with thick EPS foam to absorb shocks and impacts significantly. This padding also provides the user with a cushioned and gentle feel.
You will find several vents on the top and rear part of the helmet. In this way, you'll never have complaints about heat flashes or insane sweating.
Bottom Line
The EPS foam pads, with an improved breathing capability, are embedded beneath the PVC shell of this outstanding unit. Moreover, the product comes with an adjustable strap as an accessory. So, you just have to fasten the buckle accordingly and experience the joy of safe biking, cycling, and skateboarding.
Best for the Money:
OutdoorMaster Skateboard Cycling Helmet
What Recent Buyers Report
Since it is ASTM and CPSC-qualified, more people showed interest in buying it and reported that it performs exactly as it is advertised. Some individuals, having oval-shaped heads, faced difficulty in acquiring a comfortable fit with the product. Nonetheless, people enjoyed using it and said it has an incredibly hard and protective feel. The lifetime warranty is also what fascinated buyers a lot.
Why it Stands Out to Us
The interior comprises a comfortable liner that you can take out and wash, making it a lot more hygienic and practical. The package has an extra set of lining, which can be used as a replacement of the original one or as a substitute. The core part of the helmet, which is the oval-shaped shell, is made from ABS plastic. This material adds to the life of the unit.
Moreover, the lifetime warranty adds to the buyer's peace of mind. Finally, the rear side of the helmet includes a dial, especially for adjusting the size and fitting.
Bottom Line
Besides having an intelligent and versatile design, this helmet also features high-quality construction. The ABS exterior is also quite loved since it adds to the durability. Apart from that, each component and the whole construction of the product are backed by a lifetime warranty.
4. MONATA Skateboard Helmet
What Recent Buyers Report
Many buyers report this product to be their favorite accessory due to its incredible functionality and appearance. They had no issues with air circulation and experienced no heat buildup. Instead, they were impressed by the number of vents provided on it. Customers also showed satisfaction with the EPS foam padding, which kept them safe on every jerk.
Why it Stands Out to Us
Size adjustability is an important factor when choosing the best helmet for protection. Therefore, the easy-to-use size adjustment wheel in this unit makes it stand out. This wheel is situated at an easy-to-reach location, right at the back of the helmet. By using this adjustment feature, people can change the size and make the helmet more comfortable. 
Moreover, this feature will be beneficial for kids growing up as they will be able to adjust the size and use it in the longer run.
In addition, the interior is protected with EPS padding along with a retractable liner. The microfibers present in the liner trap the moisture released by the body and prevent smell build up.
Bottom Line
Sweating while hoverboarding is inevitable, but this product prevents sweat from hindering the fun. The Monata unit has eleven wide vents that encourage the intrusion of natural air and lead hot flashes outside the helmet. To top it off, the product is super lightweight and appropriate for adults and kids.
5. Flybar Skateboard Helmet
What Recent Buyers Report
The hard ABS shell impressed buyers the most. People reported that they had been using it for a long time, but they didn't notice any dent or scratch. So, they were happy with the extended life of the helmet and the value it gave to their money. The extra paddings on the inside also provided extra comfort to the buyers.
Why it Stands Out to Us
Flybar helmet introduces excellent flexibility. Besides the size adjusting wheel, it also includes adjustable chin straps. Thus, you get full control of the fitting and comfort of the product. The strap is also padded so that it does not leave marks on your chin.
The EPS foam pads lie under the heavy-duty ABS shell. Furthermore, if you want to insert more pads for a more snug fit, it is possible.
It features 12 ventilation points to promote a healthy amount of air circulation. These vents help in drying sweat and suck out the heat.
Bottom Line
To conclude, the Flybar product with its EPS foam padding is the best protective gear to guard your skull and brain against heavy impacts. Also, the vents keep the inner environment cool and ensure that you are comfortable and not out of breath.
When is it Time to Replace My Hoverboard Helmet?
Just as an intact hoverboard helmet keeps you safe from head injuries, a product in bad condition can worsen the situation for you. Therefore, you must be alert of the condition of the protective gear you are using.
Don't ignore minor cracks on the helmet. These cracks diminish the tensile power of the product, and it can break at any moment, even on small collisions. So, don't continue using the product if you notice a crack or split upon inspection.
Also, keep an eye out the distortion or deformation of the frame. The dents appearing on the helmet indicate that the material is losing its strength, and it's time to replace it.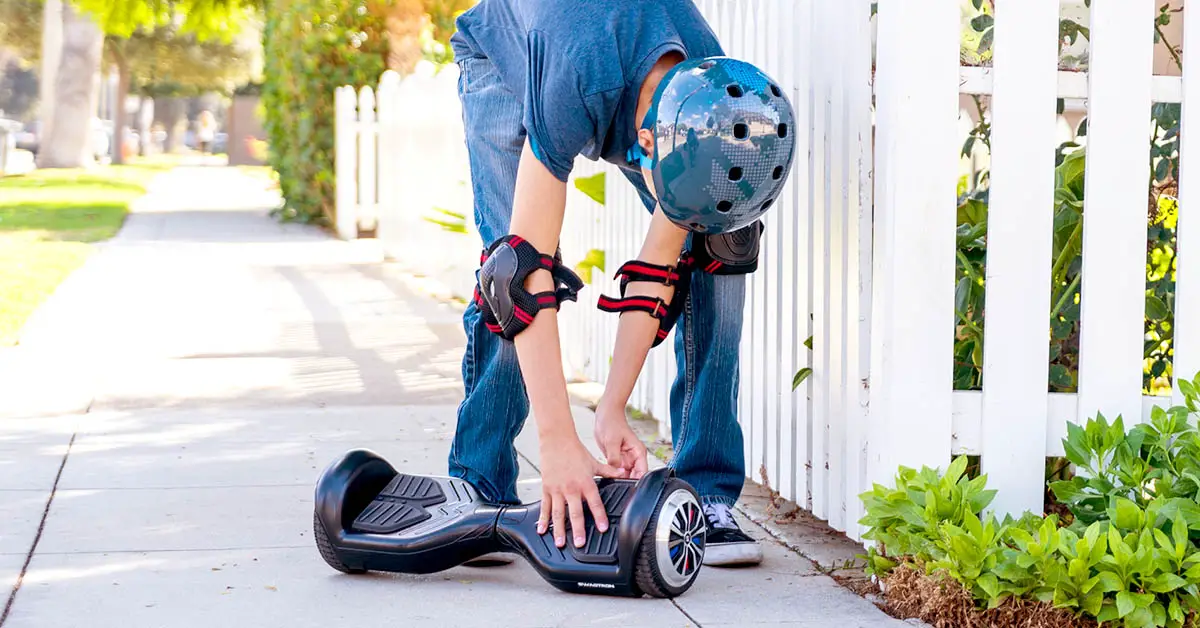 Advantages of Investing in a Quality Hoverboard Helmet
Besides being a piece of safety equipment, a hoverboard helmet has many other noteworthy qualities. These qualities make the product worth every penny. Let's discuss the benefits of owning a good-quality product:
Saves From Head and Brain Injuries
The head, brain, and eyes are three of the most sensitive body parts. A helmet provides full protection to these vital organs by covering them with a tough shell-like frame. The frame is made from hard material to survive clashes during accidents.
In a nutshell, these units make your hoverboard rides safe and risk-free.
Air Channels
The construction of a helmet consists of hole-like openings distributed closely on the surface of the shell. The exchange of air occurs through these vents. Fresh air enters the helmet from these openings and pushes the hot air outwards through the same exhausts.
Moisture-Wicking Liner
These units have inner liners made from fabrics that absorb sweat and moisture, thereby keeping the skin dry and infection-free. These liners are removable and washable. So, after a long ride in summers, you can just slide the liner out, wash and dry it, and place it back.
Better Vision
This protective equipment is designed to shelter your head without covering your eyes or hindering your vision. They just fit around the forehead, keeping your eyes unaffected by the scorching sun and droplets of rain.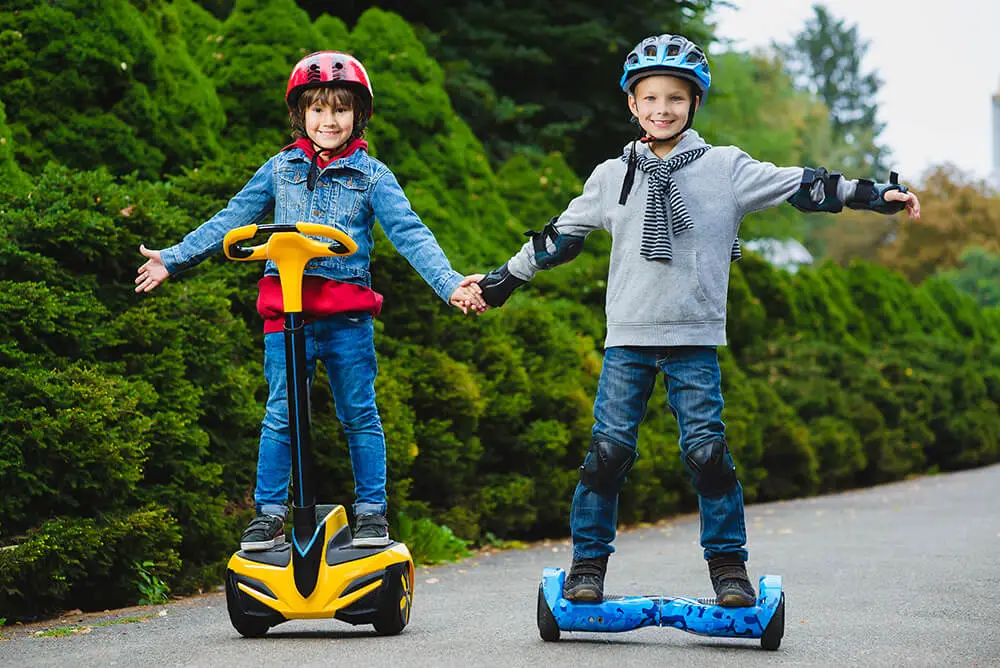 Conclusion
All the products reviewed in this article are unique in their way. They excel in terms of durability and performance. By meeting the rider's demands, they ensure the utmost convenience and comfort. The vents and moisture-absorbing liners are introduced in these helmets to encourage consistent air circulation and prevent skin infections.
With all these advantages, these products can be your favorite life-saving companions for biking, skating, hoverboarding, longboarding, and cycling.
People Also Ask
Hoverboarding is recognized as a mainstay sport and most often carried out as a recreational hobby. People involved in this activity look for top-quality helmets. They also search for answers to queries regarding the use and technicalities of the product. Here are answers to some common questions:
Are Helmets Required For Hoverboards?
Nobody would wish to endanger their lives, but an accident of mishap can be avoided by taking the necessary safety precautions. The hard shell of the helmets keeps your head and eyes safe during collisions and prevents injuries. For this reason, they are of inevitable worth for hoverboards.
How Do I Know Which Side is the Front of My Helmet?
To find out which part is to be placed on your forehead, you need to compare the helmet's dimensions by placing it in an upright position, such that the strap faces downwards. The part that is raised more than the other is for the forehead. The second half portion, forming a deeper arc or a curve, is the rear side.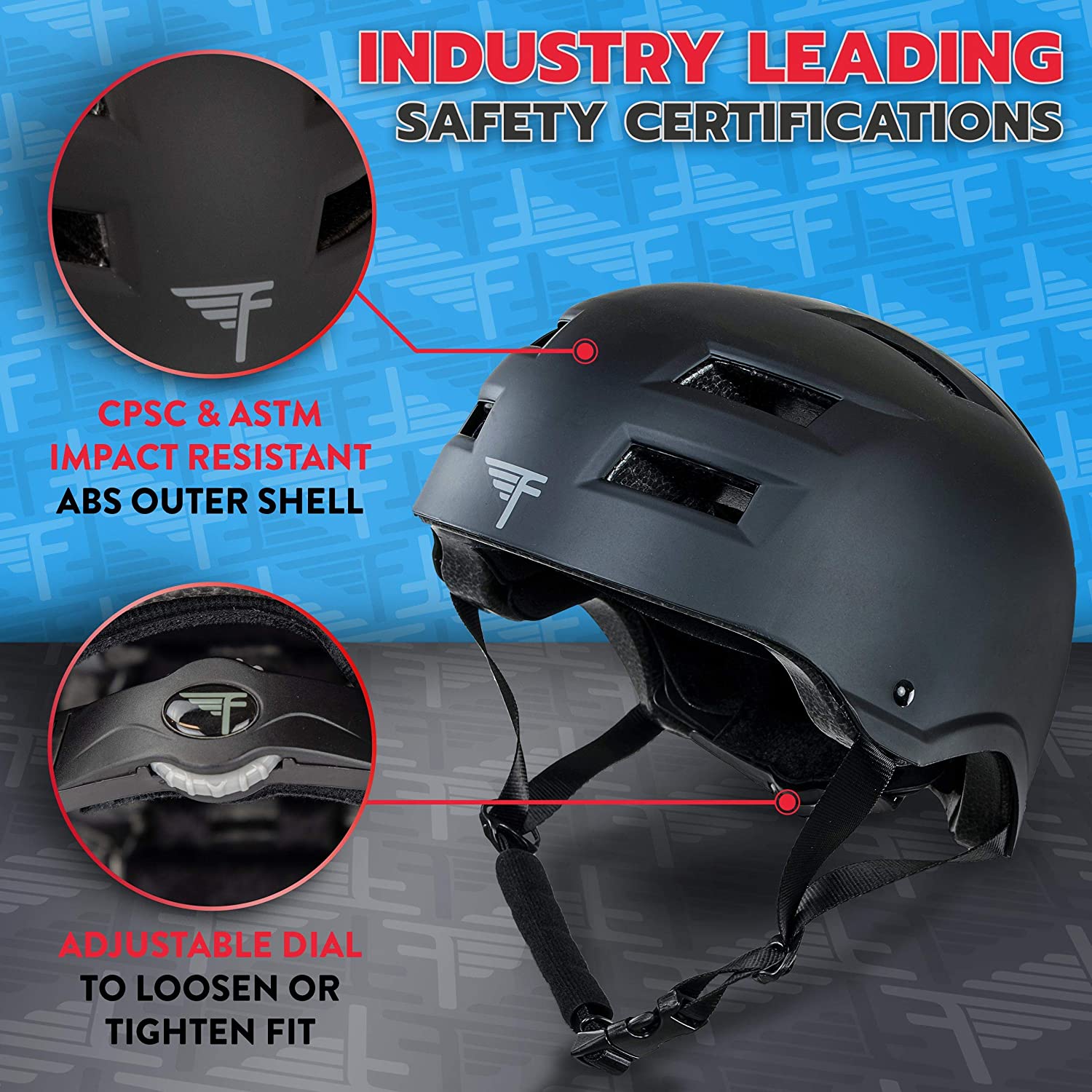 Flybar Skateboard Helmet
Do Hoverboard Helmets Expire?
Some units come with the expiry date mentioned on them or somewhere on the packaging. The products are not accountable for any incident or mishap occurring after this date.
For products that don't have an expiration date, we know that everything works for a limited period. Thus, it's safe to switch to a new product when you notice any damage or wear and tear on the unit.
How Long Do Helmets For Hoverboards Last?
The expiry date listed on the helmet indicates the maximum lifetime of the product. If there is no date mentioned as the expiry, we can take the manufacturing date as the reference. Usually, top-notch units are good to be used within three to five years of the date of manufacturing.
How Tight Does a Helmet Need to be For Hoverboarding?
Fit the helmet around your head in a balanced manner, where it's neither too tight nor too loose. It shouldn't be too loose that it wobbles every time you make a move. Loose helmets also slide backward and make you feel uneasy throughout the ride.