For people tired of sitting in rush hour traffic and playing parking space roulette, electric scooters are a good choice to get wherever you're going more quickly and with less stress.
Electric scooters also provide a fun way to get around in a jiffy. We know speed isn't the only factor to consider when deciding which electric scooter to purchase, but it can be an important factor, especially in the event that you need to take your scooter onto main roads. 
The ability to reach speeds over 35 MPH can keep you safe as you share the road with cars and trucks. While the Dualtron X is the winner in the speed game as the all-out fast electric scooter on the market, there are other electric scooters that have attractive options that can still compete in the acceleration category. 
If you want to purchase an electric scooter that can shred some pavement, you'll want to review the models below and compare the features of each. 
Each of these electric scooters best addresses a specific need, but all are designed to get you where you need to go fast.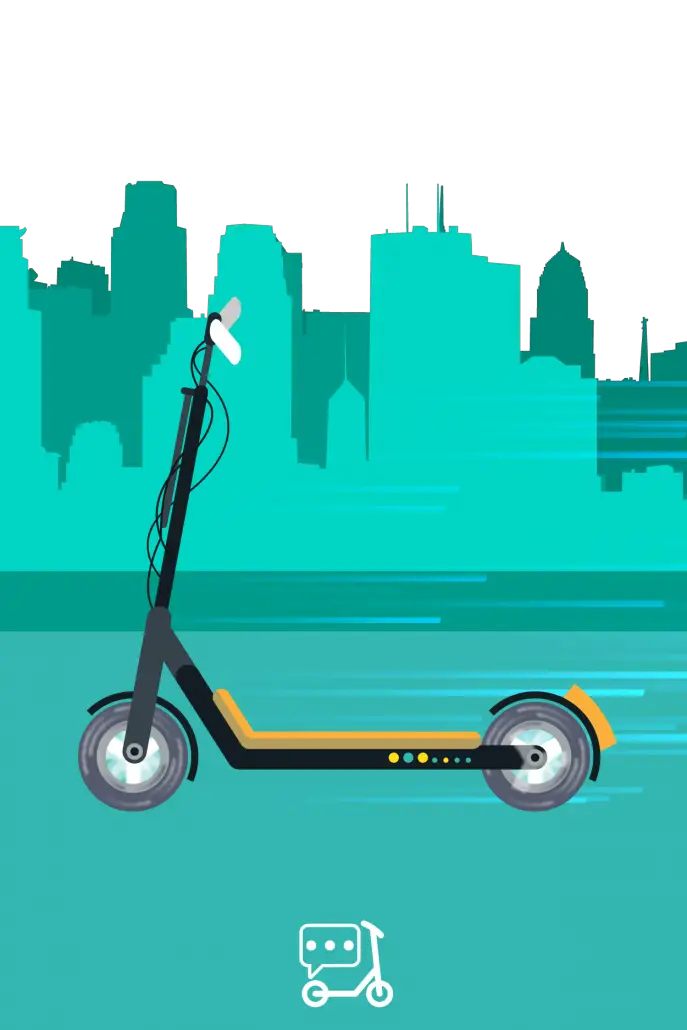 Fastest Electric Scooter Winner
Dualtron X is currently the fastest electric scooter available on the market. This is a powerful scooter that can reach a supersonic max speed of 60 MPH. 
That makes it the fastest scooters on the market today. While you won't often need to travel at that breakneck pace, it is nice to know that this scooter has the ability to pick up speed in a flash. 
The Dualtron X's two 3360W dual drive motors allow it to reach top speed in record time. It's solid 13" wheels and wide deck allow for a solid ride as you zoom through the neighborhood. 
This model comes standard with powerful headlights and brake lights and even includes a USB port to charge your phone in a pinch. And with a max range of up to 120 miles, you can zip back and forth to work and even throw in a few errands before you need to recharge the battery. 
It's foldable, but at a hefty 140 pounds, this scooter is not designed to be carried, it's meant to be ridden!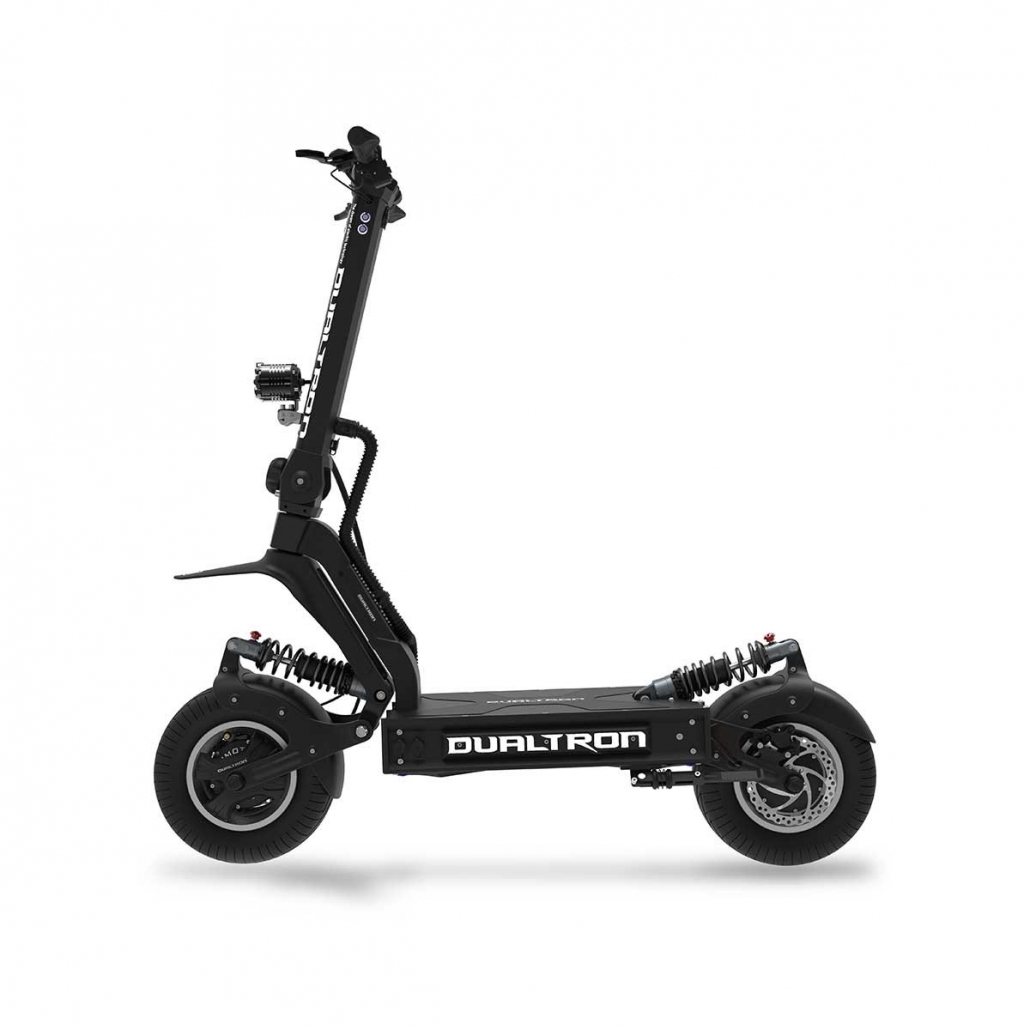 Fastest for Larger Riders
The second scooter on our list is the Quiewa Q1Hummer. This electric scooter doesn't reach the speeds of the Dualtron X, but still clocks in at a respectable top speed of 34 MPH. 
With a load capacity of up to 550 pounds, it is easily the fastest electric scooter for larger riders. The Q1Hummer also allows the rider a wide variety of ways to easily customize their speed from leisurely joyride to swift work commute. 
This feature allows you to adjust the speed to stay compliant with your local laws. This scooter comes with 10" pneumatic tires and a key fob so you can lock and unlock the scooter remotely. It also comes with an LED headlight/brake light combo to make you more visible as you dash around town. 
Weighing in at 55 pounds, the Q1Hummer is lighter than the Dualtron X but still weighs enough to make carrying it regularly an unattractive option. 
But this scooter proves that a scooter doesn't have to be light and flimsy to be fast. It is solidly built and doesn't compromise speed for sturdiness.-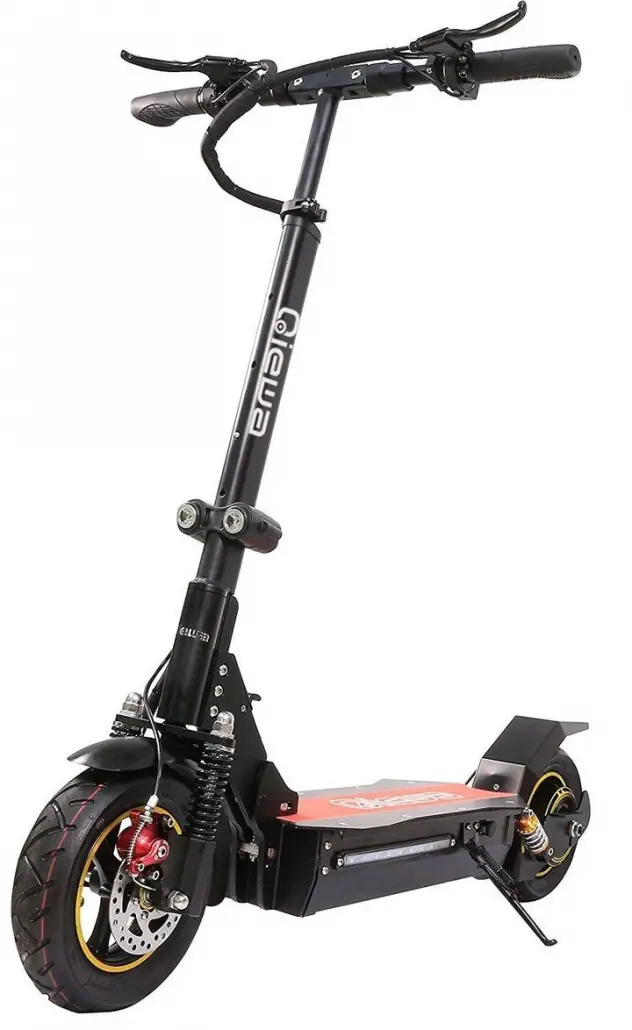 Fastest Scooter for the Money
The Turbowheel Lightning is aptly named. Not only is it a speedy scooter, but it also gives you the best bang for your buck. 
It's max-speed clocks in at a swift 40 MPH, putting it in between our first two scooters in terms of acceleration, but this scooter is loaded with extras. 
Depending on the size battery, this scooter can race through town for up to 45 miles between charges. In addition to the bright headlights and tail-lights and the 10" pneumatic tires, this scooter also comes with:
Dual USB charging ports, 
A color LED speedometer and battery meter,
An LED voltmeter,
The ability to run single or dual engine mode 
The Turbowheel Lightning gives you the ability to enjoy the fleetness of a superior motor while also enjoying those little extras that come standard.
Check out the short video review of Turbowheel Lighting below:
Our final scooter review is for the Hollyburn SS model. This fleet scooter is also the safest electric scooter in this category. 
The Hollyburn SS is made to last, with a Magna-Shell ST3 all-mountain chassis, stainless steel brush guards, aluminum underbody rock plating, an aluminum motor shield, and a motor debris guard. 
The tires clock in at an impressive 14 inches, giving you full stability while zooming around town. With all of these safety features and the solid construction of the Hollyburn SS, you might think that it can't keep up with its speedy competitors. 
But you would be mistaken! With a max speed of 39 MPH, you won't sacrifice acceleration for safety in this scooter.  When you do have to slow down, the Hollyburn SS also features a unique braking system that recharges the batteries when you brake. 
The Hollyburn SS is even foldable and fully weather protected in case you find yourself racing to work or school in the rain. 
Overall, this is a solid scooter that is designed to maximize safety without sacrificing speed.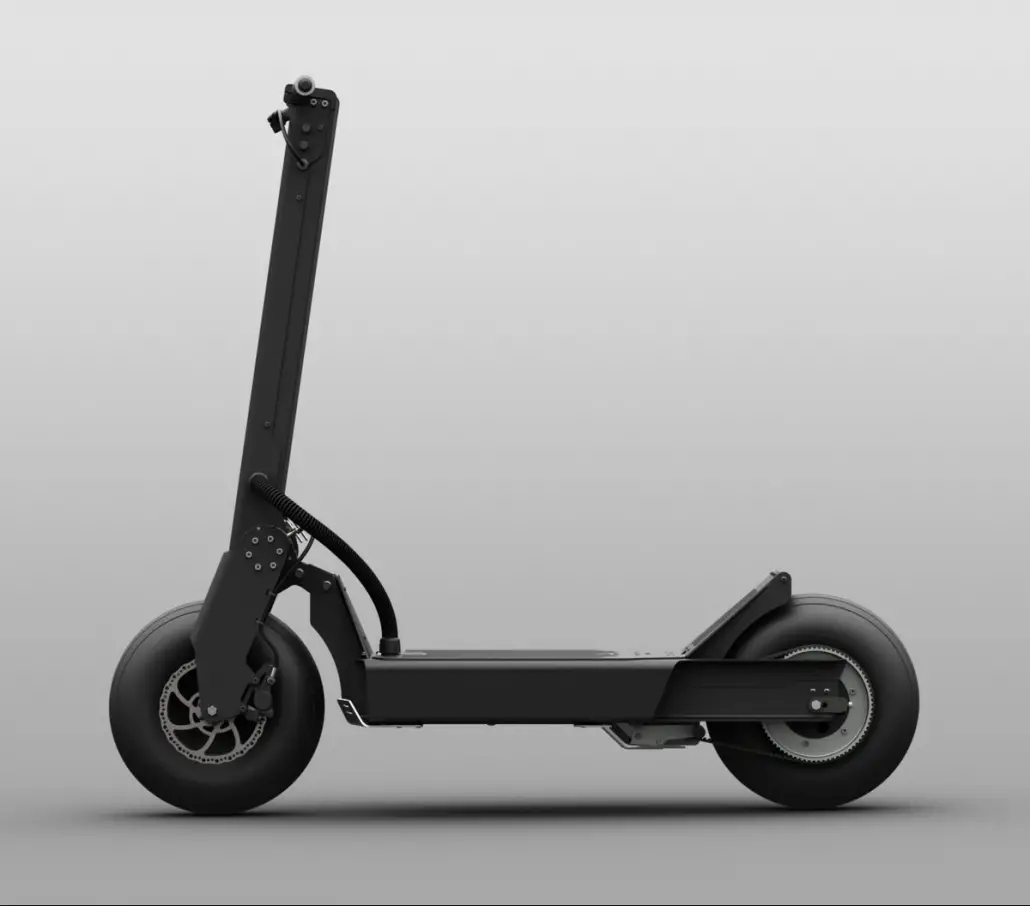 As fictional race car driver Ricky Bobby famously said in Talladega Nights, "If you're not first, you're last." These are the fastest electric scooters will ensure that you always get there first. 
To recap, if you want the fastest overall speed by far, the Dualtron X is the scooter for you. If you need a scooter that will accommodate heavier weight but not compromise on quickness, the Quiewa Q1Hummer is your best choice. 
If you're on a budget but don't want to compromise on acceleration, you'll want to look closely at the Turbowheel Lightning. And if safety while zipping through town is your primary concern, the Hollyburn SS is the smart choice. 
Regardless of your needs, it is clear that today's electric scooters pack a lot of speed into their design, making them the ideal choice for commuters who want to cover a lot of ground in a short amount of time.