Electric scooters are a common sight around town or on city sidewalks. Chances are, if you're reading this article, you're very familiar with their performance on sidewalks and pavement. 
But did you know that there are also scooters specifically designed to be ridden off-road? As in on trails, dirt, grass, and gravel?
Below are some of the best off road electric scooters you can buy this 2020!
Off Road Electric Scooters
Best Overall
Hollyburn P5
Best Suspension
Nanrobot RS11
Best for Kids
Razor RX200
Most of the best electric scooters on the market today are designed for pavement. They aren't designed to accommodate the uneven terrain and softer ground of cross-country riding. 
However, there are a few models that are built to handle the rough terrain of an off-road excursion. The models reviewed below all stand out in a specific area of all-terrain design, with the Hollyburn P5 topping the list. 
Depending on your needs and trail riding priorities, any of these four scooters would be a good choice for your next off-road scooter adventure.
Hollyburn P5
Top Speed
35 mph
56 kph
Range
28 mi
45 km
Charging Time
1.5 hrs
Fast Charger
Weight
86 lb
39 kg
Motor (Single)
4400W (Max)
45 lb-ft (61 Nm)
Battery
48.1V
25.1 Ah
Tire Diameter
14 in
35 cm
Load Capacity
280 lb
127 kg
Hollyburn P5 – The Hollyburn P5 is built to take the punishment of dirt and gravel riding. Like the Hollyburn SS, this model packs 4,400 watts of power to motor you through the softest dirt and up the rockiest hills. 
With a max speed of 35 MPH and a max range of 28 miles per charge, you can shred some serious outdoor trails in each ride session. The EK High Tensile chain drive is known for its strength and durability. 
The tires, Kenda Scorpion 145/70-6, are covered with knobs that grip the terrain and ensure you won't slip when taking a tight corner. No need to avoid sticks and gravel as you explore off-road with this bad boy. 
As with all Hollyburn electric scooters, the chassis' Magna Shell construction and Crusher Five Point armor will stand up to any ground debris you encounter. 
With this solid construction and the Hollyburn reputation for impeccable reliability, it's no wonder that the Hollyburn P5 is considered the leader in all-terrain electric scooters.
Best Suspension - Nanrobot RS11
Nanrobot RS11
Top Speed
45 mph
72 kph
Range
40 mi
64 km
Charging Time
8 hrs
Fast Charger
Weight
110 lb
50 kg
Motor (Dual)
3600W
Battery
60V
38 Ah
Tire Diameter
11 in
28 cm
Load Capacity
330 lb
150 kg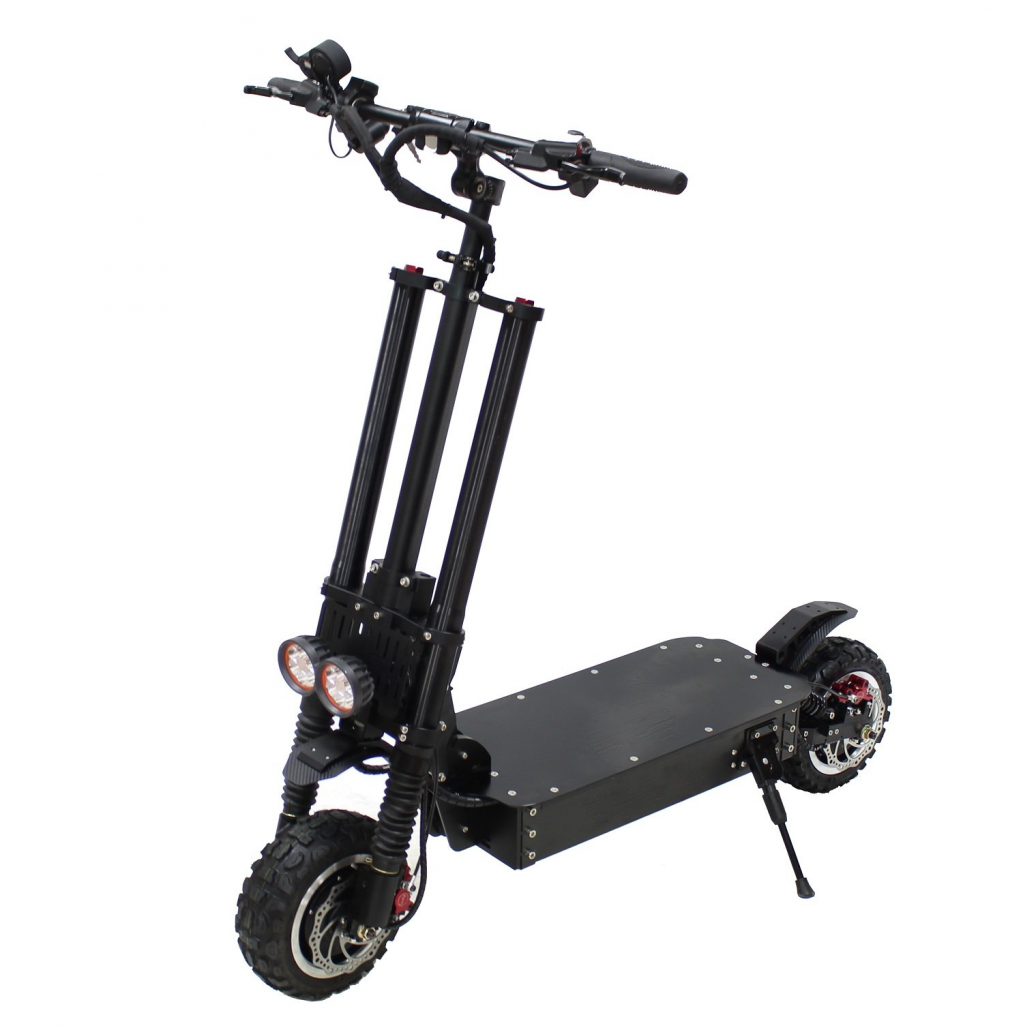 Nanrobot RS11 – The next off road scooter on our list is the Nanrobot RS11. This scooter has numerous features designed to make a bumpy trail ride feel more like a trek down city sidewalks. 
The Nanrobot RS11 comes with 11" knobby, all terrain tires that can iron out the most uneven terrain but also perform on the softest of dirt trails. It also provides dual spring suspension both front and back for an ultra smooth ride. 
With this scooter you also get all of the features that you would expect from the Nanrobot brand. The dual 1800 watt motor reaches peak speeds of 55 MPH and the scooter can explore off-road trails for up to 43 miles before needing a charge. 
At a weight of 110 pounds, this all terrain beast is meant to be ridden, not carried! All in all, the Nanrobot RS11 is a serious presence on any kind of terrain.
Best for Kids - Razor RX200
Razor RX200
Top Speed
12 mph
19 kph
Range
40 mins
Charging Time
12 hrs
Weight
46 lb
21 kg
Battery
24V
Tire Diameter
8 in
20 cm
Load Capacity
154 lb
70 kg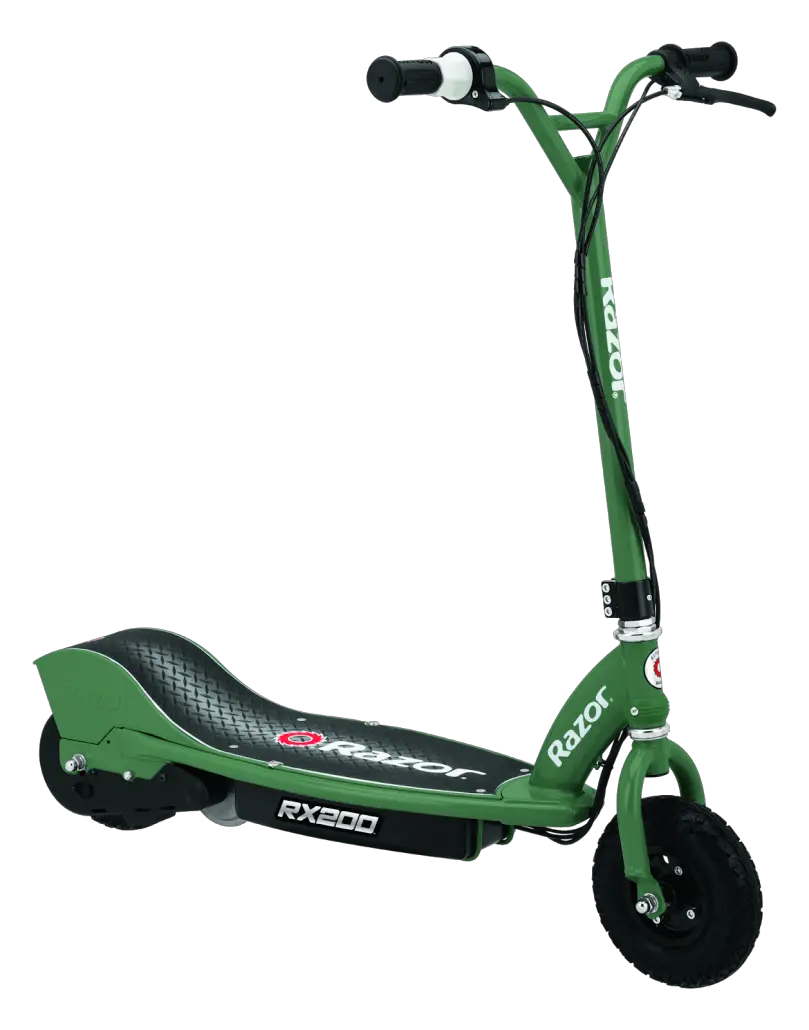 Razor RX200 – Most of the all-terrain electric scooters on the market are clearly designed for adults, in terms of performance, speed, and size. 
One-off road electric scooter that is perfect for kids is the Razor RX200. Ages 13 and up can enjoy the thrill of off-road exploring on this moderately priced scooter. 
Building on the impeccable Razor brand reputation, the RX200 amps up the features to make this scooter the perfect trail riding accessory. 
With knobby all-terrain tires and sturdy steel construction this scooter is made specifically for off road riding. For this all-terrain version, Razor created a new gear ratio that provides higher torque, which is designed to provide better control on rougher terrain. 
Because this electric scooter is designed for kids, the top speed is 12 MPH, but for trail riding, that's about as fast as you want to go anyway. The hand-operated rear disk braking system allows for pinpoint stops. 
If you want a good scooter the whole family can enjoy, the Razor RX200 is one you should check out.
Want to be an electric scooter trailblazer but don't know where to start? Are you tired of being limited to riding on paved streets and sidewalks? 
The best off road electric scooters reviewed above are a good choice for people who want to get out and explore but also want to inject some speed and fun into their excursion. Each off-road electric scooters addresses a specific consumer need without sacrificing durability and strength. 
To recap, the Hollyburn P5 wins the all-terrain race in terms of reliability and build quality. The Nanrobot RS11 provides the smoothest ride with the best suspension on the market. If weight is a factor, then the Dualtron Ultra is the smart choice. 
The Razor RX200 is the best choice for kids who want to hit the trails on a scooter. Why let bikes have all the fun? 
With one of these, scooters you can pack a backpack of supplies for a day trip and trek off into the great unknown. 
No pavement required.
Related Content: Top Electric Scooter Accessories, get the right gear!
https://scootertalk.org/wp-content/uploads/2019/09/Screen-Shot-2019-09-30-at-9.22.06-PM.png
1358
1314
OSMfpClcC8
http://scootertalk.org/wp-content/uploads/2019/09/logo-site-2-1.png
OSMfpClcC8
2019-09-21 19:25:25
2020-01-24 03:02:24
Best Off Road Electric Scooters of 2020